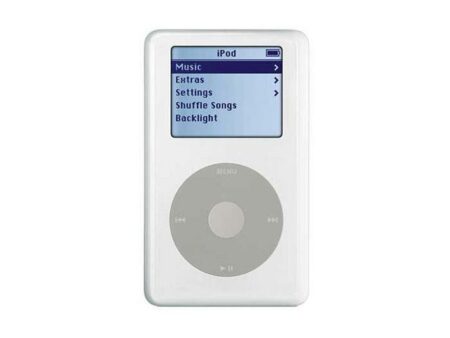 I am just jealous...
Summary
You have to find a good place to store all your CD's…
Just two weeks ago I bought this cool new Apple iPod 20 GB MP3 player for my dad. He is a mechanic but he is always in the field or driving around in his company provided van. He needed an easy way to listen to his favorite music without having to switch CD's or tapes. I also bought him my favorite iTrip FM transmitter so there is no need to plug in anything.
I recommended the iPod to him because I have had one of my own for more than two years now that he has used on some occasions as well. I bought this from Costco Wholesale for $239.99 plus tax; I think this was a good deal.
DESIGN & CONTROLS
This iPod is designed like all other regular (not mini and not nano) sized MP3 players. It is exactly the same size as my older 15 GB unit that I have owned for more than two years but I think it is a tiny bit heavier (probably because of the larger hard drive).
The only major difference I noticed when I compared it to my 15 GB unit was that this newer one had a Click Wheel (the play/pause, menu, & skip buttons are on the wheel instead of being separate) whereas my old one was a touch-pad kind of deal. Another difference I noticed was that this 20 GB unit had a full-color screen; my old one was plain grayish… I think I am jealous. Besides these and of course the bigger hard drive I did not notice any other upgrades or differences.
I did notice that it is a bit easier to use than the older design (3rd generation). You control the whole iPod with the Click Wheel. I personally think this is a better design and it makes navigating through song menus faster and easier, but it did take some time to get used to it since I had been using my old one for such a long time now.
FAVORITE FEATURES
I mainly like the 2-inch full-color LCD with LED back-light. I mean it just makes my 3rd generation model seem so last century. This new feature also adds the capability to view pictures as slideshows (with music if you like).
I also like the new Click Wheel that makes navigating easier and quicker. I have to keep switching my fingers to and from the touch wheel to the play/pause, menu, and skip buttons. But with this new design, I do not have to take my thumb off the click wheel.
INSTALLATION
There is not much of installation needed; just plug in the firewire or USB cable to your computer and install the software from the CD. Oh yeah, you will have to format the iPod before you can use it (this is a one time deal only).
The iTunes software is easy to use and is very customizable. It allows you to create many different types of playlists (regular or smart). I also bought the Griffin iTrip for my dad that requires the iPod to have some FM station MP3 files transferred as well. When you play your songs using the iTrip you do not want it going through the stations so all you do is create a smart playlist that will have all your songs and omit all the iTrip stations.
You can also go to Apple's website and look for new operating system updates and so you can have the most stable iPod. The updates may also increase battery life and more features.
EXPERIENCE
I have used it for about a week, even though it is for my dad. I just told him that I am putting songs on there and setting up everything for him. I guess it is time to give it back to him now. Well after a week's use, I regret to say that I do not like my older 15 GB unit the way I used to. I think I am now more interested in something new and fresh like this iPod 20 GB.
I have transferred about a thousand five hundred high-quality MP3 and AAC songs on this but I still have room for about a thousand more (a high quality that is). I took it to school one day after I fully charged it, and the battery lasted me the whole day without the need for recharging. I still had some juice left to keep it going a couple more hours. At school, I use the player all the time and my older one dies before the end of the day; so I plug it in while a drive back home. I plug this new one in at home only because it lasts and lasts.
I have also transferred about 50 pictures to the hard drive to show my friends. First I had to read up on how to do the slideshow thing in the manual. Then I went to school and played the slideshow with the songs on the iPod playing in the background as the pictures changed one after the other. This is a great idea, but with this small screen size, you may miss some necessary details.
This unit is just like the older version on the outside because it gets scratched just as easily. I only took it to school twice and I already see some scratches on the chrome finish on the back. I wish Apple comes up with a new material that shines just like the current but does not scratch as easily.
The built-in equalizer is very helpful but it will cost you some battery life (no need to worry, you get 15 hours of battery life with this). Also, the back-light helps when in dark areas or in a car at night. One thing I will suggest is to set your back-light timer to 2 or 5 seconds; it will just stay on long enough for you to see what you need to see.
Apple-designed the headphones with comfort in mind. They go on easy and hardly ever irritate your ears; you will not even notice that they are there. It has a long cord, so you can put the iPod in your pocket, backpack, purse, etc and it will not get in your way. The sound quality is clear and sharp. I am just waiting for one of those Bluetooth iPods so I will have no wires to deal with.
FINAL THOUGHTS
Since I have been using the older version of this iPod I have noticed some major and positive upgrades or changes in this newer model. There are a lot of things that were improved in this model that just makes listening to music and looking at photos fun and easy. I have always recommended Apple iPod to everyone and I will continue to do so until I find some major flaws. So if you were thinking about it, do not wait just go and get it; you will not regret it (believe me).