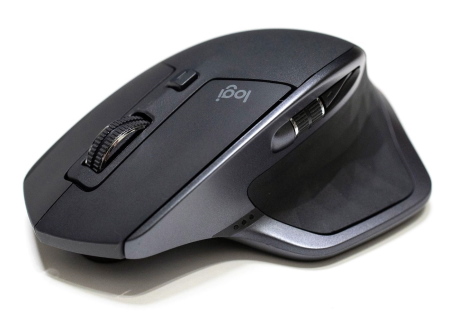 Precise, fast and comfortable!
Summary
It is a bit pricey but packs a lot of features while providing smooth operation.
Pros
Very comfortable, highly customizable, long-lasting battery, and quick charging.
Cons
Somewhat expensive, a little heavy and the gestures aren't easy to use.
During the last upgrade of my desktop computer, I replaced my mouse along with the keyboard. When I purchased the Logitech K800 Wireless Keyboard, I also decided to get the Logitech MX Master 2S mouse after reading a lot of reviews online. I was using my trusty old Microsoft Arc mouse that I have had for 8 years. It was very old so it was time for an upgrade.
I had initially gotten the Logitech MX Anywhere 2 mouse but using it just for a few hours, I knew it wasn't for me. It was too small for my needs. So I did some more research and settled on the MX Master 2S and returned the MX Anywhere 2.
INSTALLATION
In the box, comes the MX Master 2S itself, a unifying USB receiver, a Micro-USB cable for charging the mouse, and user documentation.
Installation is straightforward as you just need to plug in the unifying receiver into an available USB port on your computer, you need to open the Logitech Options application. The Logitech Options app will allow you to add a new device once it is turned on and in proximity to the receiver. Once the mouse is added in Logitech Options, you can customize it to your needs (such as Gesture buttons, middle click, horizontal scroll, etc behaviors). You can also toggle smooth scrolling, change the scroll wheel and thumb wheel direction, SmartShift settings, and more. Logitech Flow is built into Options so you can configure settings for that also. It will also let you upgrade the firmware for all your connected Logitech devices.
One thing I would recommend is to plug in the unifying receiver in a USB extender cable or a USB HUB instead of directly into the back of your computer (unless it is in line of sight of your keyboard). In my case, my desktop sits behind two 27 inch monitors so I experienced some lag when it was plugged into the back of the desktop. But once I moved it to my Sabrent USB 3.0 Hub and Multi-in-1 Card reader, that problem went away.
DESIGN
The Logitech MX Master 2S comes in three colors but I purchased the dark gray one that features a rubberized body silver trims. The thumb grip is prominent so you can rest your thumb on it comfortably. The thumb grip also has the gesture button that you can program perform any number of actions. I personally only have the gesture button press set to show my virtual desktops in Windows 10. This is not a compact mouse, which is exactly what I wanted. I was looking for a mouse with some heft to it and actually provided some support for my hand and palm. One gripe I do have is that the back and forward buttons are somewhat small for my thumb.
FEATURES
The MX Master 2S packs a lot of features to meet most users' needs where it can be as precise or as fast as you need it to be. While I don't use it for games, but I am sure it will be great at that because it has features like minimal latency, DPI (dots per inch) switching on the fly, and more.
The Darkfield sensor is one of the best features that was one of the purchasing decisions for me. It allows the mouse to perform precision tracking on pretty much any surface — but the surface should be smooth.
You can pair the mouse with three devices and can easily switch between them with the Easy-Switch button on the bottom of the mouse. This mouse also supports Logitech Flow that allows you to move your mouse cursor across three computers, copy/paste text, images, and files between computers.
The fact that you can customize/reprogram buttons and adjust the sensitivity. While the customizations are great to have, it would be helpful to see exact numbers for some of the settings such as the DPI sensitivity. But that can be easily addressed via a software update.
One feature I absolutely love is when the mouse automatically switches to free-spinning vertical scrolling if you scroll really fast. The sensitivity can be adjusted in Logitech Options. If you scroll slowly then it will default to the Ratchet scrolling behavior.
PERFORMANCE
I have been using the MX Master 2S as my daily driver in my home office where it gets used for daily Systems Administration tasks, web browsing, emails, and whatnot. The battery life is advertised to provide up to 70 days of use if you turn off the mouse when it is not in use. I haven't had the mouse ever die on me as I charge it once a week with my Logitech K800 Wireless Keyboard. It also charges very quickly and you can continue to use it while it charges.
FINAL THOUGHTS
With Covid-19 affecting the whole world, most of us are working from home these days. The Logitech MX Master 2S helps to make your working from home easy and comfortable. The buttons are highly customizable, it provides multi-device connectivity and long battery life. But if you are looking for something lightweight and portable, this is not the mouse for you. I would highly recommend this Logitech MX Master 2S mouse for all your productivity needs.