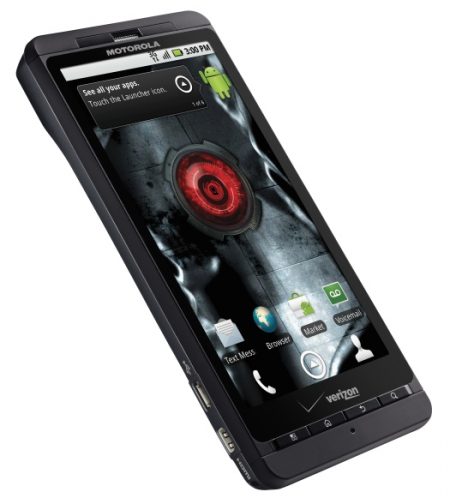 Big but just the right size!
Summary
Excellent smartphone for people who want bigger screen and don't care about the size of the device itself.
Pros
Big screen, fast CPU, excellent call quality, WiFi hot spot, 16GB microSD card + 8GB internal memory, free GPS navigation, excellent noise cancellation and FM radio.
Cons
Can feel a little overwhelming to some, physical menu, home, back and search buttons and no Froyo yet.
I am one of those who purchased the Motorola Droid X on launch day (07/15/2010) and best of all, I was due for an upgrade. I had the ever-popular Motorola Droid (original or 1) before and while I loved it, I wanted a bigger and faster device. I was debating between the iPhone 4 and the Droid X but guess which device won me over?
So on launch day, I went to a nearby Verizon store to test the Droid X myself before making the purchase. I had tested the iPhone 4 beforehand at an Apple store just days after it was launched. Only after 15 minutes of playing with the Droid X at the Verizon store, I knew that I wanted this phone. So I came back and ordered it through my company's, mobile phone agent. While I was at it, I got the Vehicle Windshield mount also because I use the Google Maps Navigation a lot (even though I have a TomTom). I will also be getting a screen protector or a full body protector soon. I was lucky to receive the Droid X the next day when most people were turned down because most stores were out of stock.
Now keep in mind that I had used Blackberry's (such as the Blackberry Storm I/II, Blackberry 8830, etc) for a while before I got the original Droid (I used that for about 3 months or so and had it rooted and overclocked to 1Ghz with custom everything). Now let's see how the Droid X compares to the original Droid and maybe the iPhone 4 with whatever little experience I had with it at the Apple store (and also why I didn't pick the iPhone 4). Yup, this is going to be a very long read!
DESIGN AND BUILD (4.5/5)
Like the Droid, Droid X is built to last. It's lighter, thinner but larger in size because of the 4.3″ screen and no physical keyboard (that's a good thing, for me anyway). Motorola did a very good job with the overall design. I wasn't expecting the Droid X to sell out so quickly because I thought the larger screen resulting in an overall larger phone would discourage a lot of people. Boy was I wrong! Comparing to the original Droid, the Droid X is roughly half an inch (0.42 to be exact) longer, 0.2 inches wider, and 0.1 inches thinner. This smartphone is more often compared to the iPhone 4 than any other at the moment. It has a more powerful 1GHz processor made by TI (Texas Instruments) and a pretty good graphics processor too. What stands out the most is the 4.3″ WVGA 480 x 854 pixel 16:9 TFT widescreen LCD which is very close to the retina display on the iPhone 4.
There is no physical keyboard on the Droid X, which is a plus in my books because I really didn't like the one on the original Droid (but I hear the Droid 2 will sport an enhanced physical keyboard). But there are some physical buttons on the phone that I like and some I don't like as much. While the Menu, Home, Back, and Search button on the front are solid and work fine, I preferred the capacitive buttons on the original Droid (and the Droid 2). You will also notice a little microphone hole right under these buttons. On top of the phone is the speaker for phone calls, the notification LEDs, and the sensors.
The volume rocker is on the right as expected and works as expected too (the overall volume being a bit on the low-end, but I hear that's also going to be fixed in the next update). Then there is the red camera button that works fine; you can press and hold it for a few seconds to start the camera app. The power/lock button is on the top center with the 3.5mm headphone jack on the right of it. There is also a second microphone on the right of the headphone jack that is used for noise cancellation.
On the bottom, left side is the micro USB and micro HDMI ports (yes you can do HD video out). On the back, the first thing that stands out is the little hump where the 8-megapixel camera with dual-LED flash is. The camera has a mechanical shutter which is supposed to generate better photos, but we will see later if that's true or not. The camera also shoots HD (as in up to 720p or 1280 x 720 pixels) video at 24 frames per second (fps), but I would have preferred 30 fps. Then there is the battery compartment cover and right under is the speakerphone. Below is another microphone and I think you can use that when recording video.
SETUP
Setting up the Droid X is really simple: just flip it over and insert the battery, close the battery compartment cover, and power up the phone (activation comes next). Please make sure NOT to pull/remove the plastic tab that says "Pull" on it — doing so can and will break your phone even before getting started with it. The "Pull" tab is used for battery removal only (I know it should be labeled better; I almost pulled it out myself)! You can log in to your Verizon account online to activate your phone or call their customer support to get it activated. Then tap the Activate button to begin the activation process. Once, it is activated, login to your Gmail account and you will be all set.
DIALER AND CALLS (4.5/5)
A dedicated dialer/phone app (virtual) button is a huge plus in my opinion if you are coming from another Droid phone. Motorola improved the dialer app a lot on Android 2.1 and added a much-missed feature that was not on the original Droid, the speed dial function (where you press and hold a number on the dialer to call someone). The call log is renamed to recent but it shows you the same information but you can filter to show all calls, missed calls, received calls, or outgoing calls (up to you). On the other hand, contacts and favorites are the same and work as expected. Overall the dial pad is much improved as it has larger buttons for the numbers, a dedicated voicemail, and voice dial buttons too.
The call quality is much better than on the original Droid because of the much-improved noise cancellation and Motorola phone are known for very good if not the best audio. The call volumes are a bit lower than the old Droid but it is good. When you connect to a wired or Bluetooth headset, the volume decreases a bit more so that was a bit annoying for me. In any case, a fix for the volume comes as promised by Motorola in one of its support forums so I can wait.
INPUT METHODS (5/5)
There are two different virtual keyboards pre-loaded on the Droid X and they are both very good. First is the multi-touch keyboard that looks very clean and is a major improvement from the Android 2.1 stock keyboard. If you are coming from the original Droid, then you would appreciate this upgraded keyboard. The fact that the Droid X has a more screen real-estate, the keyboard keys can be a bit larger themselves so it is easier to type. Then there is the all-new Swype keyboard where you can either tap or swipe (as in touch once and drag your finger from letter to letter to build words) that is also very nice. It does take a little bit to get used to the Swype keyboard but once you learn the tricks, I think you will be typing much faster. I have just gotten to trying the Swype keyboard myself so I can't really say much about it.
I, on the other hand, use a third keyboard (not pre-loaded) that I prefer over all others, for now, is the HTC IME keyboard. I like it because the actual keys are wider than that of the multi-touch keyboard and look much cleaner than the Swype keyboard. Another feature I like about the HTC keyboard is the little tricks that you can use such as press and holding the 'S' key to get the '@" symbol. So that saves you from clicking back and forth between the symbol option and that saves time.
Then there is of course the speech to text option that is available on all keyboards. Basically, if you can't or don't feel like typing or Swyping, then just say what you want and Android will type it for you. Most of the time it can get everything you say correctly. So overall, you have at least three different ways of imputing text on the Droid X but you have other options too because Android is so flexible.
CONNECTIVITY (4.5/5)
The Droid X has CDMA, WiFi, Bluetooth, HDMI, and USB connectivity, so use what you want when you want. I usually like to connect to my home or work wireless to get a faster connection (this can save you on data if you don't have an unlimited data plan). Bluetooth pairing with my Jawbone II headset was quick and easy. You can connect the Droid X to your computer using the micro USB cable that comes with it; it can be used to charge also. When plugged into the computer, you can mount the microSD card and access the data on there quickly and easily.
WEB BROWSING (4.5/5)
Android 2.1's Webkit HTML 5 browser is awesome, especially with its pinch-to-zoom feature. Overall zooming is very smooth on the browser and it also adjusts the web page automatically on the screen so nothing is out of view. The only thing I don't like is that it only works once when the page loads and only when you double-tap to zoom. You have to reload the page if it doesn't adjust correctly but that doesn't happen too often. This works perfectly 99% of the time but there are some sites (that are poorly designed) where it can't figure out the section boundaries correctly so things tend to not display properly. Clicking on links on websites is easy and works as expected. The browser overall is very nicely designed and works great on a day to day basis. Unfortunately, sites that use Flash like Hulu and YouTube may not work on the browser. There is a YouTube app that works great for searching through and watching videos. I would, however, recommend switching to high-quality mode for best quality videos.
MESSAGING (4/5)
Motorola attempted to improve the messaging experience on the Droid X and they did to some extent. I like the fact that the Droid X supports all standard protocols like POP3, IMAP, Exchange, and free Hotmail/Live and Yahoo accounts. Exchange support was improved upon by Motorola but it is still not up to par with Blackberries. First, I would like to mention that there is a little notification bug on some Droid X's out there where you would get the Exchange email but no notification would alert you about it (again Motorola has stepped up and said that this would be fixed in the next update and in the meantime they are giving away free licenses to Touchdown email app). The Touchdown email app works better but it takes a little bit to get used to (I won't go into details about Touchdown as it is not standard for the Droid X). Once you are used to it, however, you will not have any issues. On the other hand, the messaging app does support signatures for all email accounts (this was a major gripe on Android 2.1 for me). There is also a universal inbox that would combine all emails from all accounts (except Gmail of course) into one huge list. It's a nice feature to have if you like seeing all emails (including text and media messages) in a single view.
The Gmail app is still separated which could have just been part of the email app thus included in the universal inbox. There really is no need to have a standalone app for Gmail in my opinion. Although, you can turn off all notification for the Gmail app itself and add your Gmail account using IMAP so it can be included in the universal inbox. But that's just me, you may like it separated. That's just the beauty of Android, you can do whatever you like with it. The original messaging app (used for text and media messages) in Android 2.1 was removed and replaced with Motorola's own Text Messaging app. This app is very similar to the original app but has a dark theme and has some small enhancements here and there but nothing major.
CAMERA (4.5/5)
Again, the Camera and Camcorder app is one that Motorola came up with and it is an improvement from the standard Android 2.1 camera app. They tried to bring some of the nice features from the Android 2.2 (Froyo) camera app to 2.1 and they sure did. Features like, scenes, effects, face detection, and picture modes are all very nice and welcoming. The camera as you know already can take photos up to 8-megapixel resolution (that's 3264 x 2446 pixels). But I like 6 megapixels (3264 x 1840 pixels) which are wide-screen and looks much better on the phone itself (plus the image size is smaller too). There is a touch-to-focus frame when you are in the camera app that allows you to move the focus to any point in view; a very cool and much-welcomed feature in my opinion. Different scene modes are easy to get to, usually within a few touches and swipes (same goes for effects).
The flash on the camera works well but it's not great (the two LEDs are not bright enough when in a dark environment). But it's a phone so you really cannot expect much from the camera app. Although, the camera on the Droid X does a much better job than the original Droid did so it is definitely an upgrade. I saw some people complaining that the dedicated physical button for the camera is not a good idea for them and usually results in blurry images because it causes the phone to shake a little bit when you press it to take a picture. But I didn't notice that issue on my Droid X. I was able to take pictures just fine without them getting blurry when I pressed the button. I guess you just have to know how to use it. Half-press it to focus and full press to take the picture. I think if you are used to using a real digital camera or any modern camera than you shouldn't have any issues.
The picture modes are what sets this camera app apart from Android's standard app. Specifically, the Panorama assist mode which lets you take panoramic pictures and stitches them together easily. There is also a multi-shot mode that takes a total of 6 shots before saving to the SD card. This can come in handy when you want to take several pictures in a short period of time such as sports or kids (then you can later decide which to keep and which one's to delete). Another mode I like is the self-portrait mode which basically turns on the face detection feature and when you turn the camera to yourself, it will automatically take the picture as soon as it detects your face (you won't even have to press the button). I think these features are very cool. The only reason for not giving the camera full marks is because the quality of the images is not all that great when you are not in well-lit areas (or at night).
VIDEO RECORDING (3.5/5)
The Droid X boasts being able to take high-definition video (720p to be exact) and it somewhat lives up to that standard. Every single video I took at 720p was grainy even in very good lighting outside in the sun. When you have less than sufficient lighting the grains increase but again it's a phone, not an HD camcorder. While recording a video, you have to keep your hands very steady so you don't get shaky or choppy videos. You will also notice that while recording the video looks very choppy, this is because the Droid X captures video at 24 frames per second, not the standard 30. But it plays at 30 fps which is a good thing I guess. On the phone, these recorded videos look better than if you would view them on your computer or a TV. On your computer, the video will play bigger and as a result, you will see the grains better too. We will discuss HDMI out quality later.
MULTIMEDIA (4.5/5)
Motorola has done a very good job with upgrading the Android the music player too. The stock Android music app did not have better audio effects options. But on the Droid X, you can set your preset equalizer settings for both wired headset or the phone speaker. It works great for a wired headset and you really hear the difference and it is definitely a plus. However, if you listen to music through the phone speaker, then the audio effects won't really make that much of a difference. One thing I wish I was able to do in this music player is the ability to exclude certain folders on the SD so you don't have games sound effects playing when you have shuffle turned on.
Another awesome feature that I wished the original Droid had is the FM Radio. Yes, that's right, the Droid X has an FM Radio built-in and an app comes with it. The only thing I don't like is that the radio only works with a wired headset. Why? Because it uses the wired headset as the antenna (yup no built-in antenna like most other phones that have FM Radio). Anyways, so all you have to do is, plug in a wired headset and run the FM Radio app. The first time you run the app, it will scan for all available stations (depends on how good of an antenna your headset is actually). I noticed that if you hold the cord of your headset, you tend to get better radio signals. So it will scan and store each discovered station–you can do a manual scan if you wanted also.
Now, I became a big fan of Pandora when I got my first Droid. So naturally, I downloaded the Pandora app from the Market and logged in to my account. If you thought Pandora sounded great on the original Droid, you will be surprised how crystal clear it sounds on the Droid X (I know I was). I just love listening to Pandora at work on my Droid X. One thing I would recommend, however, is that you use WiFi when listening to Pandora or use any other high data demanding app for that matter (if you don't have the unlimited data plan).
HDMI Out
There is also the new HDMI-out feature that lets you output the videos and phones from the gallery to your TV. Yup, that's about it. What you do is, plug in a micro HDMI cable to the Droid X and to your (compatible) TV and run the Gallery app. It will take a few seconds to recognize it and you will see the gallery switch to a player. Would have been nice to see everything on the Droid X screen on the TV through the HDMI out, but this is better than nothing. Maybe, future hacks (when we have actual ROM's) will be able to enable this feature.
DLNA
Personally, I wouldn't say that setting up and using DLNA is the easiest of the Droid X. I have a Sony Bravia HDTV with DLNA and a Buffalo 500GB NAS (Network Attached Storage) device with DLNA also. So, I run the DLNA app on the Droid X and have the Sony Bravia TV search for it (because they are on the same WiFi network at home) and it finds it fine. Obviously, you cannot use the send to server feature because the TV is not a server. So you have to search for it and play your media (videos, music, and photo slideshows) from the TV itself. But the initial setup is can take a bit to get set up and working as expected. As for the NAS device, all I have to do is turn it on and search for it on the Droid X itself. But, I had the hardest time trying to play my videos, music, and photo slideshows from it on the Droid X. So, my advice is to be patient with the DLNA feature and you will get what you want.
ANDROID OS (4.5/5)
Android 2.1 Basics
The Motorola Droid X comes with Android 2.1 with Motoblur skin on top of it. I haven't used any other Motorola phone with Motoblur, but it is actually not all that bad. So when you first set up your device, you will be asked to sign-up for or sign-in to your Google account. Once you are logged in, you can then activate the phone (it dials *228 for you) by choosing option 1 when prompted. Once your phone is activated you are all set to start exploring the endless entertainment and/or productivity possibilities. You will have access to the Android Market and other (free) Google services such as Maps, Gmail, Voice, Talk, Navigation, and many more. Motorola has its own Launcher app (with blur) so the icons and widgets are different. You get the Phone and Contacts icons with the application drawer icon at the bottom which is nice because Android 2.1 does not have a dedicated icon for the phone (2.2 does). You have a total of seven (7) fully customizable home screens to do pretty much anything you want. Just press and hold any app icon from the drawer to bring it to the home screen or press and hold on the home screen to add widgets, folders, or app shortcuts. One of the features I like about blur is that you can resize the Motorola specific widgets. When you first get the phone the overall performance of the entire system is very snappy and instant. The phone boots up in about 30 seconds or so. But as you use the phone and add things to your home screens, you will gradually notice the phone slowing down but not too much because it has a very powerful 1GHz processor. Now I would have preferred Android 2.2 or Froyo (as in Frozen Yogurt) to have been on here like it is on the Droid 2 that just launched (because I was so used to it on the original Droid), but Motorola promised that we would get it beginning of September of 2010. So, let the waiting begin.
Searching
As found on all Android powered phones, there is a dedicated search button that you can use to quickly find whatever you want. You can search through your apps, emails, contacts, music, YouTube and more (depending on what apps you have installed). You can use voice input to search also. Just press and hold the search button and the voice input prompt will pop up and you just have to say what you are looking for (something like "Navigate to the nearest Starbucks" or "Call John Smith Mobile").
Multi-Tasking
Multi-tasking has been around with Android since the beginning and was a major selling point for me. The iPhone just got the ability to do multi-tasking but that is also limited/controlled by the Apple gods. Blackberry has multi-tasking too but I think it is handled very well on the Android OS. Android 2.2 has improved it a lot but it can still improve a lot. Maybe a dedicated/standard "Exit/Close" option for all apps would be nice, so you can close apps when you don't want them running in the background. But Android handles running apps very well. I don't think you need any kind of task managing app at all, but they may come in handy when you want to see everything that is running and close what you want quickly (without going into the built-in application manager). But multitasking shouldn't be the only feature you look for in a smartphone because it's certainly not the most important.
Android Market
The Android Market now has over 100,000 apps that you can choose from. There are lots of free apps and games too (actually more free apps and games than the Apple app store). The market is growing fast as more and more developers are getting on the Android bandwagon because of the Apple App Store and Apple SDK restrictions (now more than ever). But you are not limited to just getting apps and games from the market at all. You have the freedom to download apps from just about any source available.
Maps and Navigation
The Google Maps and Navigation app is really cool and very useful (I don't even use my TomTom Go 930 anymore). You have a voice search and the navigation works very nicely. You can find for instance the nearest Starbucks by just sayings "Find the nearest Starbucks" or "Navigate to the nearest Starbucks". The nice female voice will guide you to your destination with turn-by-turn instructions and she even says street names which is a plus. At the end of your journey, she will say that your destination will be on the right or left and show you the picture of the building or place using Google Street View. And best of all, this is all absolutely free. I think I will sell my TomTom now.
Other Preloaded Apps
Motorola preloaded a lot of other very useful apps with the Droid X but some not so helpful also. Apps such as 3G Mobile Hotspot (has a monthly fee of $20), Backup Assistant, DLNA, Files (file manager), and My Verizon. Some not needed apps (at least for me) are Blockbuster (I use Netflix), Amazon MP3 (I have better places to get my music), and Visual Voice Mail (has a monthly fee). Now if you "Root" your Droid X, you will be able to remove what you don't need (or what's safe to remove) and not have to deal with accidentally getting charged for something. We will discuss rooting later. Anyways, if you root your Droid X, you will be able to download a free app to do WiFi tethering for free (without the $20 monthly fee).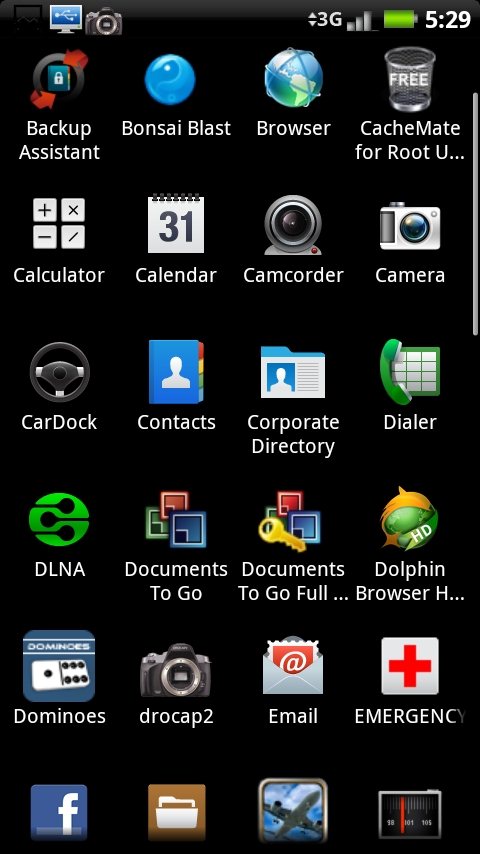 Widgets
On the Droid X the widgets are separated into two different categories, Motorola and Android widgets accordingly. Let's first talk about Motorola widgets because those are the most interesting (as-in different). There are a total of fifteen widgets that allow you to do toggle different modes (Bluetooth, WiFi, GPS, etc) to view your messages and calendar on one of your home screens. A cool thing about the Motorola widgets is that you can resize them on the fly (yup, just touch and hold then drag the resize tabs to the size of your choice). I personally like this feature a lot better than removing and re-adding if you just want a different sized widget. Some of the widgets like the messages (displays your unread messages) and the calendar are my favorites. I also like the fact that you can just click on the widgets to see an enlarged version to browse through the unread messages or calendar events. I personally do not like the fact that Motorola chose to remove the Android News and Weather widget because I prefer that over Motorola's news widget. The Android news widget is much easier to set up and use (don't have to add RSS feed URLs). All you have to do is type in the keywords to get the news about what you want (uses Google News to grab the news you want). But you don't like news from Google News than Motorola's news widget is for you.
Facebook and Twitter
I personally do not like the built-in Facebook and Twitter features because they don't allow you to update your status easily. You have to go through a lot of menu items to do that. So I just logged off of those accounts in the My Account app and downloaded the official Facebook and Twitter apps.  They work much better and they also have their own widgets that allow you to stay up-to-date and update statuses quickly.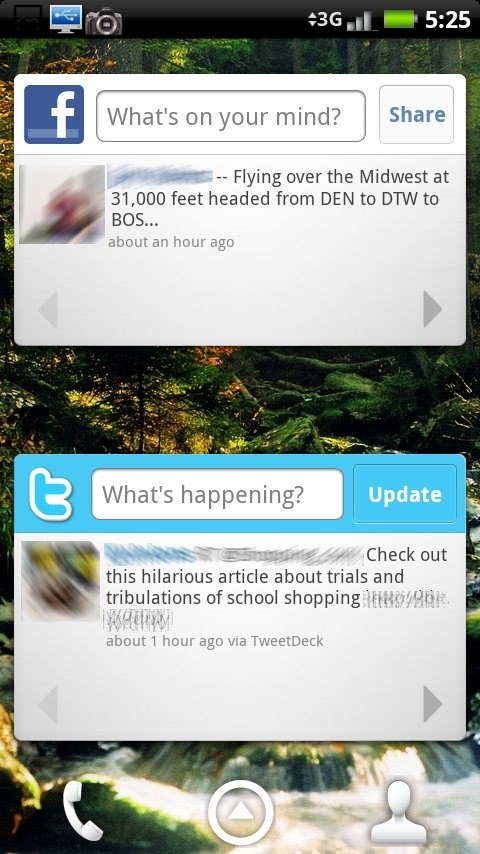 SECURITY (4.5/5)
The Droid X has a pattern lock feature for security and it works pretty well. It's a 9 point pattern lock system that is easy to use and remember. I think it's pretty secure unless someone sees my pattern and remembers it. Or if they know how to get to Recovery mode to reset the device to factory defaults. I wish these smartphones could have fingerprint scanners like a lot of laptops do. They save the prints in the hardware so even if you reformat your hard drive, the prints are still there. There is also a password lock feature too, so you can pick a numeric code or alphabetic. I am currently using a 7-digit numeric combination to secure my phone. One new feature I noticed is that you have the option to select a lock timer. Basically, your phone will not enable the pattern or password lock until a specified number of minutes or you can choose to lock it when the display is turned off (when you press the power button). I have mine set to 10 minutes so I don't have to keep typing the combination everything I turn the display back on.
BATTERY LIFE (4.5/5)
Coming from the original Droid, I was expecting the battery life to suck as usual because first of all, this beast has a huge 4.3″ LCD (and we all know how much juice the display uses) and it has a powerful 1GHz processor (we also know that the faster the processor, the more power it consumes). So, I put it to the test with just factory settings in the Battery manager. Brightness was set to automatic, screen timeout was at 30 seconds, the battery manager was set to smart mode and I didn't use any task manager app for this test. The test was from 6:00 AM (when I unplugged it from the charger) on a typical workday to 8:00 PM in the evening. I like to read the news, check my Facebook and Twitter updates, read and reply to emails first thing in the morning, so that's exactly what I did from 6 AM to 7 AM and when I was done the battery was at 90% (I was already getting a bad feeling about this). Then I played a game or two of Spades and Flight Director by the time it was 8 AM and the battery level was at 80% (see what I mean). Then I enabled the Bluetooth radio and connected my Jawbone II headset for my commute to work; a 30-minute drive later, I disconnected the Jawbone II and turned the Bluetooth off but the battery level was still at 80% (looking better at 9 AM). Then I got settled at work and enabled the WiFi radio and plugged in my wired headset to listen to Pandora for an hour or so and noticed the battery was down to 70% at 10 AM. Now I checked my emails, some back and forth texting with my wife, had a few short (10 to 15 minute) calls here and there, read some news, browsed some forums/web pages, and listened to my MP3's stored on the SD card using the music player app for a few hours (down to 60% up until 2 PM). Yup, it was looking much better now. Then I was back to my music, emails, SMS, and web browsing but this time over 3G instead of WiFi and I was down to 50% battery left by 3 PM. So 9 hours after I unplugged from the charger, I was only down to 50% battery. This is looking way better than the original Droid. At 5 PM with all my music, emails, texting, browsing, and calls I was down to 40%. Then it was time to turn on the Bluetooth again for the commute back home but this time it was going to take longer because of traffic (so a 45-minute drive back home). At around 6 PM, I was down to 30% and still going strong with all my news, forum, and web browsing. I like to read the news when I sit and relax at home. So at 8 PM when I was tired and ready to relax and watch some TV, it was down to 20%; this is when I plugged it back in because I didn't want to monitor the battery anymore.
I still had some juice left after 14 hours of good use with everything from reading and replying to emails to Bluetooth phone calls. I think if I had not plugged it back in and let it die, I would have probably gotten about 3 or 4 (maybe more) hours out of it. So as you can see, the battery life is much better than that of any Android device I have seen or used and way better than the Blackberry Storm I had before. I think it does better than the iPhone 4 with the same kind of usage. I have a couple of co-workers that have the iPhone 4 and complain about battery life all the time. In any case, it all boils down to how much you use the Droid X and how you utilize the power saving features.
OVERALL PERFORMANCE (4.5/5)
The TI OMAP3630-1000 processor runs at 1000MHz (1GHz) which is a lot of horsepower for a mobile smartphone. A 1GHz processor seems to be the standard these days for higher-end smartphones and the Droid X is no exception. I would like to point out that like most computers, the Droid X will slow down over time depending on use (how many widgets you use, how many emails you wanted to be pushed to the phone, etc). And like most computers, there are ways of bringing it back up to its original speed quickly and easily.
I have been using the Droid X since July 16th, 2010 (yup I ordered online and got it the next day), so just over a month now. The Droid X is really snappy with everything you do with it such as scrolling, dragging, pinching, flipping, or opening apps. The accelerometer is very quick because the TI processor has the horsepower to handle it well. One thing I would agree on with iPhone fans is that the iOS is very polished and seamless (if you may). For instance, while the pinch-to-zoom on the Droid X (or any Android phone) is good, it is still not as fluid as the iOS implementation. There is still lots of room for improvement and I think Google will do just that in the next few releases. Since the Android OS has better (in my opinion) multi-tasking, it tends to slow things down a bit if you have many resource-hungry apps running simultaneously. But luckily Android has a very good task management system built-in that closes things that are inactive for long periods or are hung. I personally don't use Task management apps and wouldn't recommend then either.
The call quality is very good because I get excellent signal strength where I live and work. Voice quality is crisp and clear if not better than that of the original Droid. Call quality on the other end of the calls is also loud and clear (no echos or background noise). The speakerphone is very good too but could be louder (Motorola promised this would be fixed in the next OS update). The battery life is way better than what I used to have with the original Droid. Taking pictures and recording videos is good and the quality is again good too. WiFi connectivity was quick and web browsing was as fast as on my computer. I enjoyed typing on the virtual keyboard because there is more screen real-estate. The touch interface works very nicely with the phone and doesn't require special training or getting used to it. Everything works as expected.
ROOTING THE DROID X
Even before the Droid X was released, there were rumors (that later were verified to be true) that it has an encrypted boot-loader and that rooting would be virtually impossible. It took a guy named Birdman (via alldroid.org) exactly one (1) week (yup one week — nothing is impossible) to find a vulnerability and exploit it to be able to gain root access on the Droid X. Now, before I say anything else, I should say that Rooting your Droid X (any Android device for that matter) will void the warranty (that is if "they" find out). You can also brick (render it unusable) your smartphone if you don't know what you are doing after you gain root access. So try it at your own risk and do not blame anyone else (or us). Just to make you feel better, I have my Droid X rooted and themed safely.
What is Rooting?
Rooting your Droid X or any other Android device basically means getting Super User (SU) access to the system. Once you have SU access, you can pretty much do whatever you want, like removing unwanted pre-loaded apps, use free WiFi tethering, or block all ads. You can overclock the Droid X, but I don't think you need to at the moment. Also, do note that running the CPU faster uses up more battery power, can produce more heat, and can fry the processor too. Other new things are discovered daily that you can do after you root your Droid X.
Why Root?
Everyone has their own reasons to root their Android devices. The reason, I did it was simple — to remove preloaded apps that I didn't want, to block all mobile ads on the phone, and use absolutely free WiFi tethering. There are other benefits to rooting but you just need to read up on what you can do to see if it is worth your time or not.
How to Root your Droid X?
Unfortunately, I won't give you step by step instructions here (because we don't have permissions to do so), but can point you in the right direction and tell you how I did it. I suggest, reading up on what other people have experienced with their Droid X's during and after rooting. Search online with keywords like "root droid x". You will come across lots of forums with lots of useful information. Read and understand before trying anything. There is a Windows application that allows you to root your Droid X with one click. There is also an Android app for the Droid X that will install on the phone itself and root your phone.
What to do after rooting your Droid X?
The first thing I did after rooting the Droid X was to remove preloaded apps like Amazon MP3, City ID, Visual Voice Mail, Blockbuster (I use Netflix), and 3G Mobile Hotspot (yup because it costs an extra $20 a month). Then installed an app called "Wireless Tether for Root Users" from the Android Market so I could do the same thing as 3G Mobile Hotspot but without the extra fee. Then I used the same method (exactly the same in fact) many people used on the original Droid to block all ads on apps and on the browser. Basically involves, replacing the "hosts" file with one that blocks all ad providers. What else? Well, you can also install custom themes at the moment like Nextheme, Sense UI like the theme, and more. But this is where you have to be very careful. I know because I bricked the first Droid X I bought and had to get a replacement (yup I had to lie to get a warranty replacement and this was before the SBF image was available). But there is a way to restore (unbrick) your phone now if you do mess up (search for "droid x sbf" to recover your bricked phone).
What I want now?
Now, all I want is Froyo (Android 2.2) on the Droid X to see how much performance improvements we see. Will it be similar to the Nexus One's improvements? Or will Motorola's Blur will hog it down? We will just have to wait and see until we get Froyo. Another thing to know is that the Droid X boot-loader is still unbroken because it is encrypted with a 2048 bit key. It is hard to crack but not impossible or someone might just get lucky. Maybe Motorola will let us crack it if the Droid X becomes even more popular! Who knows, maybe the hackers out there will find a way soon. So since that is the case, we cannot install custom ROMs on the Droid X at the moment like we use to be able to on the original Droid. It is just a matter of time until we have a workaround or a breakthrough. You just have to be patient and wait.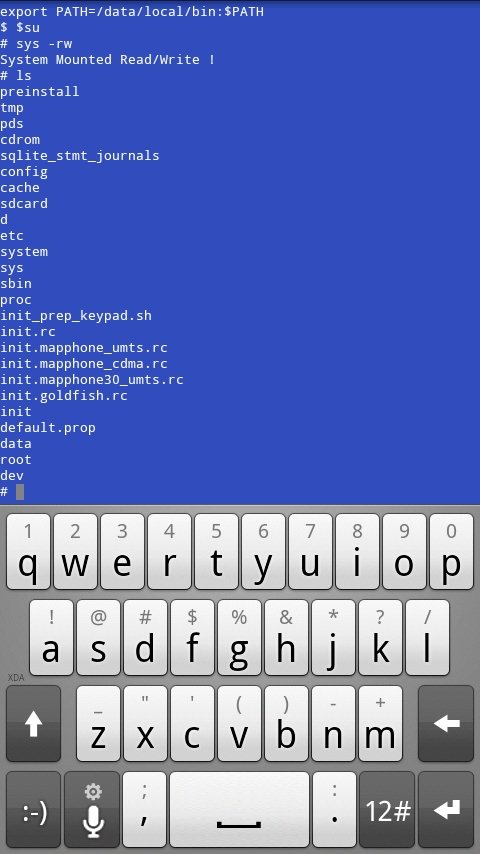 APPS I USE AND RECOMMEND
Dropbox – 2GB storage and sync with an unlimited number of devices.

Beautiful Widgets

 – Excellent weather and clock widget that makes your phone's screen look even sweeter ($1.95 USD).

News and Weather Widget

 – I only use the news part of it (free – preloaded in Android 2.2).

Auto Bright

 – Switch auto-brightness on with one touch (free).

Documents to Go

 – Open any Office or PDF on your phone ($14.99 USD).

Dolphin Browser HD

 – Better browser than the stock (free).

Grocery IQ

 – Helps to make and using shopping lists easier (free).

Meebo IM

 – All-in-One instant messaging client (free).

Pandora Radio

 – Online Radio (free).

Speed Test

 – Test your 3G or WiFi data transfer speed on the go (free).

TouchDown

 – Better email, calendaring, contact and task management app (free / $19.99 USD).

Wireless Tether for Root Users

 – Free WiFi tethering (free).

Yelp

 – Search for places to eat, shop, drink, and play (free).

Google Sky Map

 – Map of stars (free).

Skype Mobile

 – Cheap Voice over IP calls (free).

YouTube

 – Watch YouTube videos (free).

Google Voice

 – Lets you place calls and send a text using Google number (free).

Kindle

 – Buy and read books from Amazon (free).

Tapatalk Pro

 – Super fast forum access (free / $2.99 USD).
FINAL THOUGHTS
The Droid X is a very well built and high-end smartphone that works and performs very well with the Android 2.1 operating system (even with Motorola's Blur on it). It's also a very good phone besides some of the minor issues. But no device will ever be perfect, so it will be unfair to compare it against a perfect device that I can imagine in my head. The touch interface is very solid and performs great when compared to the Blackberry Storm or even the original Droid. Overall there are some polishing that needs to be done mostly software-wise to get the best out of the device (Froyo should make it better). Now you may want to know if this is an iPhone killer or not right? But do you really need a smartphone to kill the iPhone to use it the way you want to? Does it do what you need it to do? If you answered yes, then you can get the Droid X or stick with your iPhone (no one is forcing you to do anything). One more thing to keep in mind is that the Droid X runs on Verizon extremely reliable 3G network while the iPhone runs on AT&T's spotty 3G network. The overall user experience of the Droid X and the Android 2.1 OS is very good and better than a Blackberry or the iPhone (strictly my opinion). The video camera also needs some improvement but you can only expect improvements from an open-source system. So I would highly recommend the Droid X or other similar Android smartphone to anyone looking for a very good experience and a bigger screen. The Droid 2 is supposed to best the original Droid but let's see how it does. I think I will keep my Droid X for now.