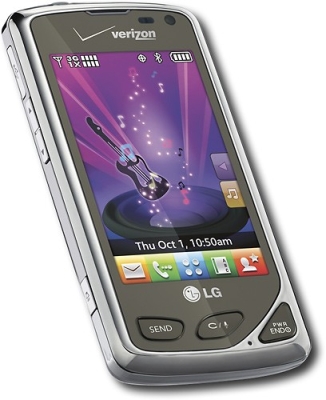 Should be Called Anti-Touch Instead!
Summary
The Touch needs a lot of improvement. No physical keyboard.
Pros
Light weight, thin, cheap and some good features.
Cons
Very difficult to scroll and type. Very frustrating to use.
Touch screen phones are hitting the market left and right these days, but not all of them can provide the performance, features, and ease of use that we all want and need. This LG Chocolate Touch VX8575 cell phone that I got for my wife was very cool at first but then got really frustrating really fast.
My wife liked the lightweight and thin design with the added benefit of the touch screen.  But what we didn't know was that the touch screen was the feature that was going to give my wife and I a lot of grief. We got the phone from a Verizon store after playing with it for about 15 minutes. It cost us about $50 after her new-every-two discount and mail-in-rebates. So, keep reading to find out why we were so frustrated with this phone.
LOOK, FEEL AND BUILD
The LG Chocolate Touch is a compact bar mobile phone that's very lightweight and thin. It has only three physical buttons on the front–Send/Clear/End. It also has three buttons on the right-hand side of the phone–Lock/Music/Camera. The left-hand side has the volume up/down and speakerphone buttons. There is also the covered port for the charger or micro USB cable. There is a 3.5mm headset jack on the top and that's about it.
The most beautiful feature of this phone is the full color 3.0″ touch screen LCD with 400 x 240 pixel resolution. The screen has both vibrate and audio feedback when you touch, and it feels reasonably responsive. But the touch is not accurate at all. When you want to scroll, it will select the item where you started your attempt to scroll. Typing with the virtual keyboard was a pain too as we had too many errors. This was even after calibrating the touch screen with the built-in tool. We used an aftermarket stylus to navigate through the menus of this phone and that seemed to work much better. It just didn't like our fingers.
It comes with two black-plates–one purple and the other black. My wife chose the purple for some odd reason, but it was her phone so I am not complaining. I personally would have preferred the black. All of the buttons are placed in easy to reach and expected positions on the phone. The dial pad buttons are large enough so you don't make any mistakes. I personally like the quick Lock button on the top right.
BATTERY LIFE
The specifications say that the battery should give you around 5 hours of talk time and around 470 hours of standby time. But as you know, the times may vary depending on how you use it. So in our tests with average use of most of the features (SMS, MMS, camera, web, games, etc), it lasted us about four days which is really good. Some similar devices out in the market today don't come close.
THE INTERFACE
The Chocolate Touch user interface is very much similar to the LG enV Touch, but I can't say for sure because I haven't used the enV. This is just what I have read and heard elsewhere. But what I can say for sure is what the interface is like on the Chocolate Touch with firsthand experience.
The home screen can have a number of widgets like shortcuts to pictures, browser, message, etc. Just touch the arrow that's docked on the right side (called the Shortcut Bin) of the screen and a drawer will show up that contains shortcuts to various apps. The home screen also has five soft buttons at the bottom for messages, dial pad, main menu, contacts, and favorites. The main menu is easy to navigate as all the icons are unique and labeled. All of the phone, display, sound, touch, and Bluetooth settings can be found under the Settings icon (obviously). The Tools icon will give you access to your calendar, alarm/world clock, stopwatch, notepad, drawing pad, and more. You can pretty much get anywhere from the main menu.
The home screen also has an icon for your music (right under the arrow); it's called the Music handle. You can use this to play your favorite music, access the shop, and listen to the FM radio You can move these two icons up or down as you wish. You can also add review widgets to the home screen and move them around as you wish.
INSTALLED SOFTWARE
There isn't anything major preinstalled on this Chocolate Touch worth mentioning besides the Browser, VZ Navigator, Drawing pad, and Calendar. There are no office-related tools that will open word or excel documents, but then again this is a phone not a PDA/Blackberry. There is also a Bing search icon in the main menu, but that just opens the browser and takes you to Bing. The My Verizon icon does the same thing, except it takes you to your account information on Verizon's website. The phone came with a few demo games like Rock Band.
NAVIGATING, BROWSING AND COMMUNICATING
The contact list is easy to get to and to navigate. The only major issues my wife and I both had with this phone was the touch/scroll/tap features. Navigating the home screen was no problem, but scrolling through the settings or your contacts was a pain in our necks (and behind too). When you wanted to scroll, it would select the item or contact where you started your scroll from. Basically, if you can't navigate through the menus and access your contact and music quickly, what's the point of having a phone that advertises doing all of this quickly? So that's why I returned this phone, paid the $35 restocking fee, and got a new phone for my wife. This time I got her the Samsung Rogue SCH-u960 cell phone which she is much happier with. We don't have to use a stylus to navigate this.
The SMS and MMS feature is really nice and easy to use. If the touch and scroll worked as it should, the Chocolate Touch would have been perfect. To send a new text/pix/video/voice message, just go to your message and touch the new button at the top. Then choose either text/pix/video/voice and then select a contact. Then just start typing your SMS or add your media file then just click Send. To access your email, you can either use an application that you download and pay for monthly or use the browser to login to any free email account. It would have been nice if an email app came with the phone so you wouldn't have to pay any more money than you have to, but that's something my wife can live without.
The web browser is good and frustrating at the same time. It displays HTML pages very nicely with the accelerometer working as expected. The scrolling however was a pain yet again. You can feel the vibrating effect but the page just wouldn't scroll unless you do it a few times. Sound reasonable right? Wrong! Then if you encountered scripts on a page, the browser would get stuck while loading. Zooming also was somewhat crippled due to the touch/scroll/tap bug or whatever issue this device has. Good luck typing a new URL as the address bay is too tiny and the virtual keyboard doesn't do a good job of being accurate also.
CAMERA AND MULTIMEDIA
The 3.2-megapixel camera is basic and it also doesn't have a flash, but it takes decent pictures in fairly lit areas. Don't even bother taking a picture at night or in dark areas. The shutter speed is decent too–takes about half a second to take the picture, but saving pictures takes a few seconds (which I didn't like). So taking another picture after the one you just took is out of the question. Video recording is not even worth mentioning as the resolution is only 320 x 240 pixels at only 15 frames per second. Again, recording videos is also only recommended in good lighting.
Video playback of 3gp and WMV files was smooth and good. Music playback was crisp and clear as expected. The music player has all the standard options that are needed to play your songs without any issues. You can quickly skip or search your songs. You also have the option to listen to FM radio, but you are forced to insert a headset with a 3.5mm jack (the radio will not work otherwise). You can, however, listen to your music and perform other tasks at the same time (just hit the End key to go back to the home screen).
FINAL THOUGHTS
The LG Chocolate Touch VX8575 is a sleek looking phone with a very nice price. It plays all your music without any issues with crystal clear sound. The call quality is also very good. The web browser is decent and gets the job done. The touch feature on this device really needs some refining because it is really hard to scroll through the menus and contact list. Navigating through web pages is also somewhat frustrating. We had to return this phone because we got so tired of the issues we came across related to the touch/scroll/tap feature. So, with that said, I would not recommend this phone to anyone. You will be better off with the LG enV Touch if you want something similar.