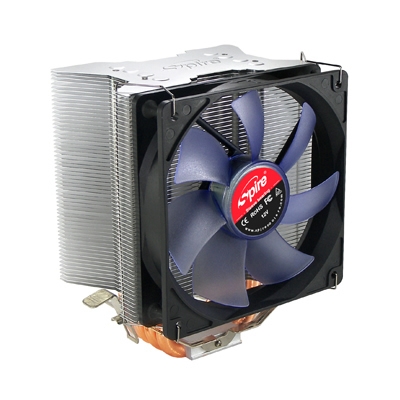 One of the best coolers out there!
Summary
Excellent cooling performance with a very silent fan.
Pros
Keeps the CPU temperature well below 30°C at all times. Easy to install and control.
CPU's make all computers run but with a downside of it heating up to give you all that speed and processing power. Without any kind of cooling, you would fry the CPU, motherboard, and whatnot. So, that's why we have CPU coolers to make sure everything runs nice and cool. The Spire TherMax II CPU cooler is one that is compatible with most CPU socket types available today.
Now, the TherMax II looks different than most other coolers but what matters most is how well of a job it does in keeping your CPU cool. The heat-sink uses the direct heat pipe technology that provides very good cooling. Combine that with a 2,200 RPM 120mm UV-reactant BlueStar fan and you have got yourself one cool CPU cooler. Let's now see how well it does its job.
LOOK AND FEEL
At first glance, this cooler looks huge and bulky, but once installed you will overlook that and only notice its performance. The TherMax II is made using both copper and aluminum. The heat pipes are just pure copper with no nickel coating. The pipes run through the aluminum fins that will eventually cool it. Spire includes a high-performance 120mm, 2,200 RMP and 93.3 CFM rated fan that is also UV reactive. The fan does NOT come pre-attached to the heat-sink. It gives you the flexibility to choose a different fan if you wish, but if you don't know how fans work; you may install it the wrong way. Meaning, if you install the fan up-side-down, then you can fairly easily overheat your CPU which will result in frying it to a nice crisp. Please make sure the side with the rubber cushions on the holes is sitting on the fins of the heat-sink and the side with the Spire logo is facing outward. This will force the air to go through the aluminum fins.
The fan has the standard 3 pin motherboard power connector. If you have a motherboard that has controls for the CPU fan than you probably won't need the external controller. My Asus A8N-E Deluxe motherboard has a built-in cool and quiet feature that adjusts the CPU fan speed automatically depending on the CPU temperature. This will keep the noise level at a minimum. But Spire also includes an alternative three-way cable that can be plugged into an external fan controller (also supplied in the package). This way you can control the speed of the fan yourself instead of leaving it to the motherboard to decide on its own. So you basically have more control.
The four heat pipes that run throughout the heat-sink actually form the base that comes in contact with the CPU itself. The pipes run through the heat-sink twice in a U form/shape. The pipes at the base are shaved a little bit to make a flat surface. The thermal compound is included in a tube but is not pre-applied on the heat-sink. This cooler also has an attached bracket that clips on to the motherboard attachment (or one of the supplied attachments for each socket type) for tool-free installation. In my case, I did not have to swap the attachment as mine fit right on.
INSTALLATION
The installation is fairly easy but if are doing it for the first time then you can follow the easy step-by-step instructions in the supplied Quick Start Guide. The very first thing you need to do before installing the cooler is to attach the fan to the heat-sink. Attaching the fan is very simple and should only take a minute (or less). Just place the fan on the heat-sink and place the supplied clips appropriately on the holes on the fan and the other end simply clips underneath on the thin fins. Then you need to make sure your motherboard is strong enough to hold this heat-sink securely. If it is not, then you can install a supplied backplate to make it stronger. For our test system, we used an Asus A8N-E Deluxe motherboard with an AMD Athlon 64 4000+ processor. The motherboard was strong enough as it already has a backplate installed.
TEST SYSTEM
| | |
| --- | --- |
| Motherboard | Asus A8N-E Deluxe |
| RAM | 2 x 1 GB Kingston |
| CPU | AMD Athlon 64 4000+ 2.4GHz |
| Thermal Grease | Tuniq TX-3 |
| Cooling | Spire TherMax II CPU Cooler |
| Graphics Card | PNY Verto GeForce 7600 GS 256MB PCI-e |
| Storage | Western Digital 320 GB SATA |
| Power Supply | Dynex 400 Watt |
| PC Case | AZZA Helios 910R Mid Tower Case |
| Operating System | Microsoft Windows 7 Enterprise |
TEST METHOD
First, I will test the system at idle by leaving it idle for 15 minutes. Then I will perform a load test using CPU Burn-in v1.01 for 15 minutes also. I will use SpeedFan v4.40 to measure the temperatures. Then I will install the stock heat-sink and fan that came with the Athlon 4000+ processor and test again. Just so we can compare it to something.
PERFORMANCE
From the tests, we can clearly see that the TherMax II improved the core temperature by almost 50% (on average) at idle and full load when compared to the AMD stock heat-sink and fan. At idle with the stock heat-sink and fan the average temperature was about 52oC and at load, the average temperature was 69oC. On the other hand, with the TherMax II, the average temperature at idle was 28oC and 37oC on load. The difference in temperatures tells you how good this Spire TherMax II performs.
During idle testing, the TherMax II's fan ran at about 1,042 RPM, and at load it was about 2,185 RPM on average. Even at full speed, the fan was barely noticeable. I was not able to hear the fan over the case fan noise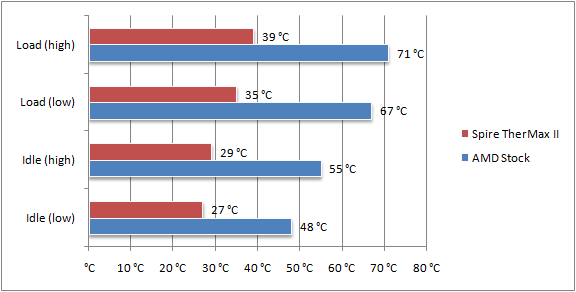 FINAL THOUGHTS
The TherMax II is an excellent cooler for the cost of just about $40. The performance is excellent and the fan is quiet. The cooler was very simple to install for my AMD based system. Also, the installation is completely tool-free so you can get this up and running quicker. There is also a PCI fan controller included which is very easy to install and use. The cooler performed very well in all-out tests and it beat the AMD stock cooler by a very large margin. Overall, the Spire Thermax II is a large heat-sink that is very silent and performs extremely well. I would highly recommend this CPU cooler for anyone looking to replace their stock heat-sink with something that can handle a lot more. This cooler can also beat some of its competition out of the water.
Yes, we have very competitive pricing plans and accept a variety of formats. Please contact us for more details.
Yes, you can. Just use the contact us form to send us a message and we will consider reviewing the product. It does depend on a few factors such as product availability, funding, and time.
Please provide as much of the following information as possible:
Manufacturer Name
Manufacturers Website
Product Name
Product Model / Serial Number
A link to the product itself
Unfortunately, we do not accept user reviews at this time. But feel free to voice your opinion in the comments section of recent articles.
We do, however, have plans to implement this feature in the future.
Yes, please contact us for more details.
Please note that we test and review all products fairly and will not change our review and rating of products.
No, we do NOT sell anything on BayReviews. And we will never sell anything on BayReviews. We do, however, display ads that may direct you to other sites that probably do want to sell to you.
We buy products we review because we review what we own first.
We do, however, sometimes receive review samples but we still test and review everything fairly. When a review sample is provided by a partner, they cannot dictate how the review will turn out.
Our review and ratings are always based on our testing and experiences with the products.
All reviews on BayReviews are written by the editor-in-chief and our very knowledgeable staff writers and editors.