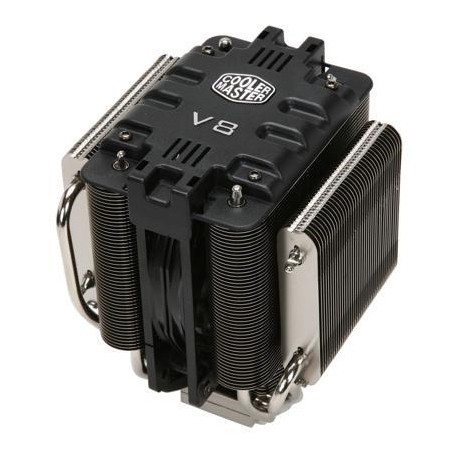 16 Heatpipes Make this the Air-Cooling Champion!
Summary
The Cooler Master V8 CPU cooler features a total of 16 heatpipes to expel over 180 Watts of energy while overclocking your Intel Extreme QX9650.
Pros
Outperforms similar heatpipe coolers and high quality craftsmanship.
Cons
Height could hinder installation for a few types of computer cases.
Have you ever really looked at a stock Intel CPU heat-sink? The design leaves a lot to be desired particularly in light of the explosion of aftermarket CPU coolers which has occurred over the past 10 years. In this review, we will examine the Cooler Master V8 cooler and its features which are far superior to anything that I have seen before.
The massive heat-sink can be rapidly installed on your AMD or Intel motherboard and will help extend its life by expelling any stray heat that has been proven to damage electronic components. Does the Cooler Master V8 come with everything needed for installation on your processor and motherboard? Do all heat pipe CPU coolers offer the same cooling abilities for the Intel QX9650?
SHIPPING AND PACKAGING
The Cooler Master V8 comes in a large square box. Once you pull the contents out, you will see that they placed the heat-sink itself inside a large clear plastic clam-shell like container. Even with the US Postal Service employees throwing the box around their trucks, there is little chance that they can harm this cooler with such robust, shock-absorbent packaging.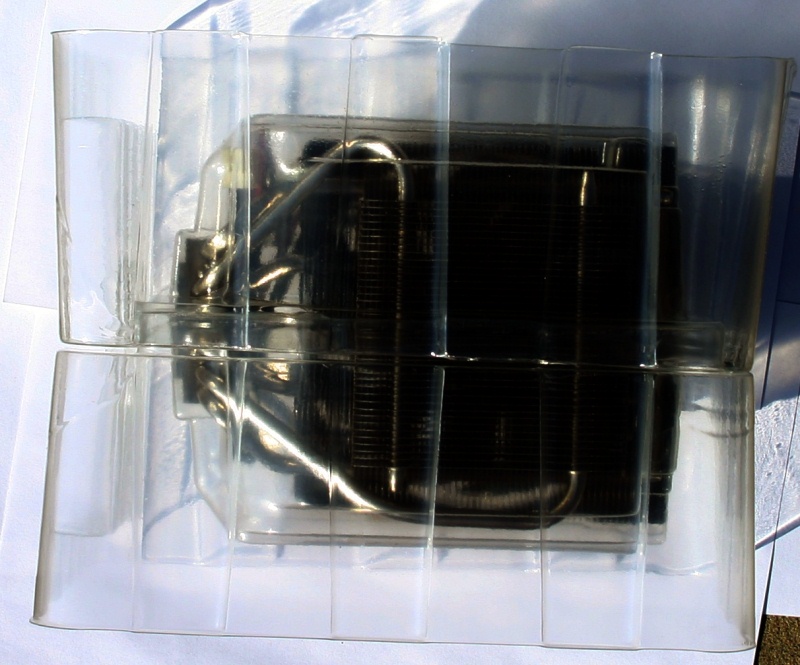 Inside the box, you will also find several retention clips for rapid installation of this Cooler Master product on many types of AMD and Intel motherboards.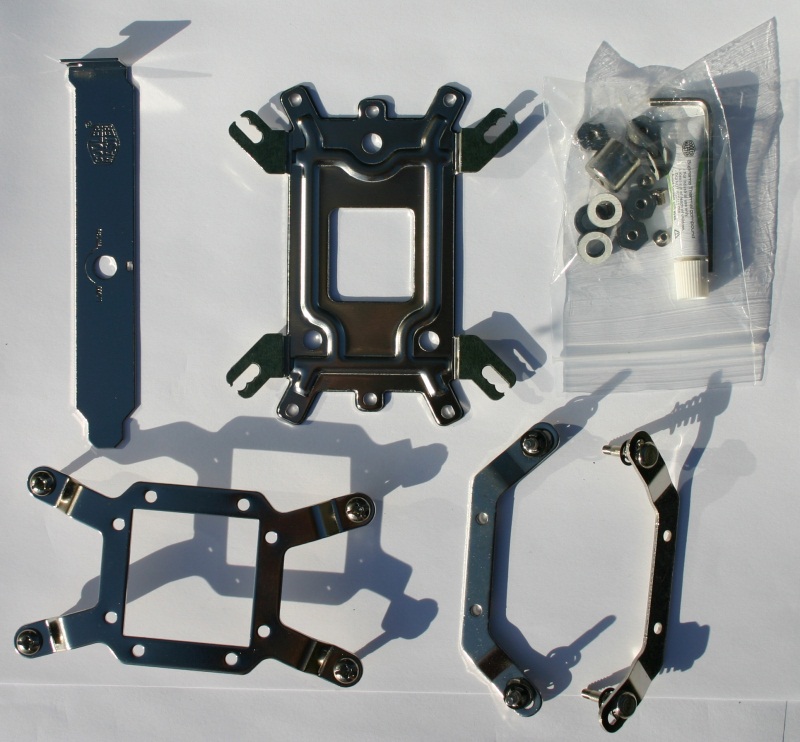 Instruction Manual
The instruction manual is a large foldout sheet of paper and printed in easy to read the black and white text. Several illustrations guide you through the process of installation. I strongly advise reading it over before attempting to install a CPU cooler for your first time.
APPEARANCE
The most obvious difference between the Cooler Master V8 and many other retail CPU coolers on the market today is the number of heat pipes that radiate out from its core.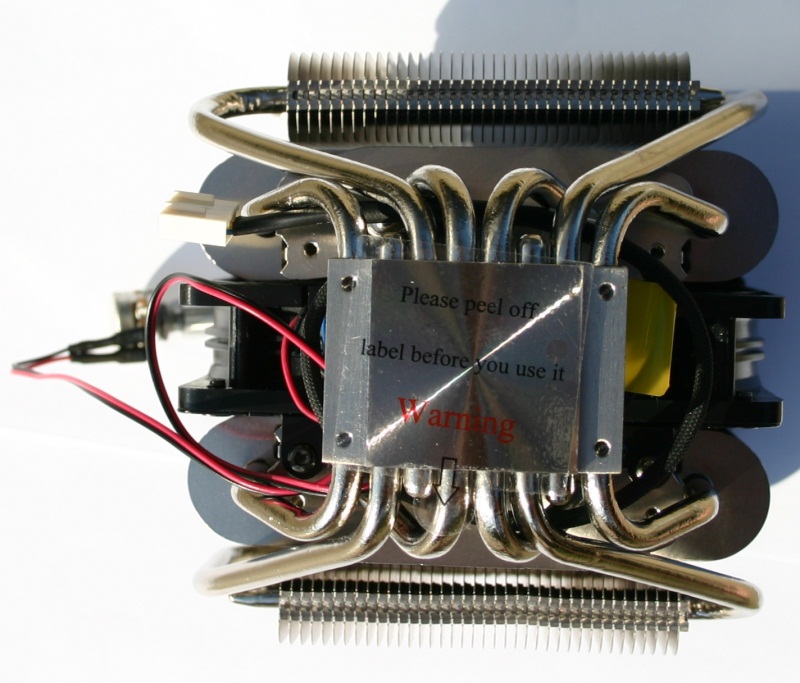 Inside the Cooler Master V8 CPU cooler, you will find a massive 120MM fan which blows air through four modular sets of cooling fins. The high-velocity airflow then causes the heat to be ejected out the rear of your computer case through the rear exhaust fans. To reach optimum efficiency with a heat-pipe style cooler, you should set the CPU fan mode to maximum performance in the BIOS menu of your motherboard. The metal fins radiate heat that must be dispersed or it will radiate back down to your processor increasing overall core temperatures.
The top of the Cooler Master V8 features a stylish, black plastic retaining cap that houses the 120MM fan. The V8 logo is easily seen inside your computer when viewed from a distance and gives your computer a muscular automotive-inspired look that no other product can offer!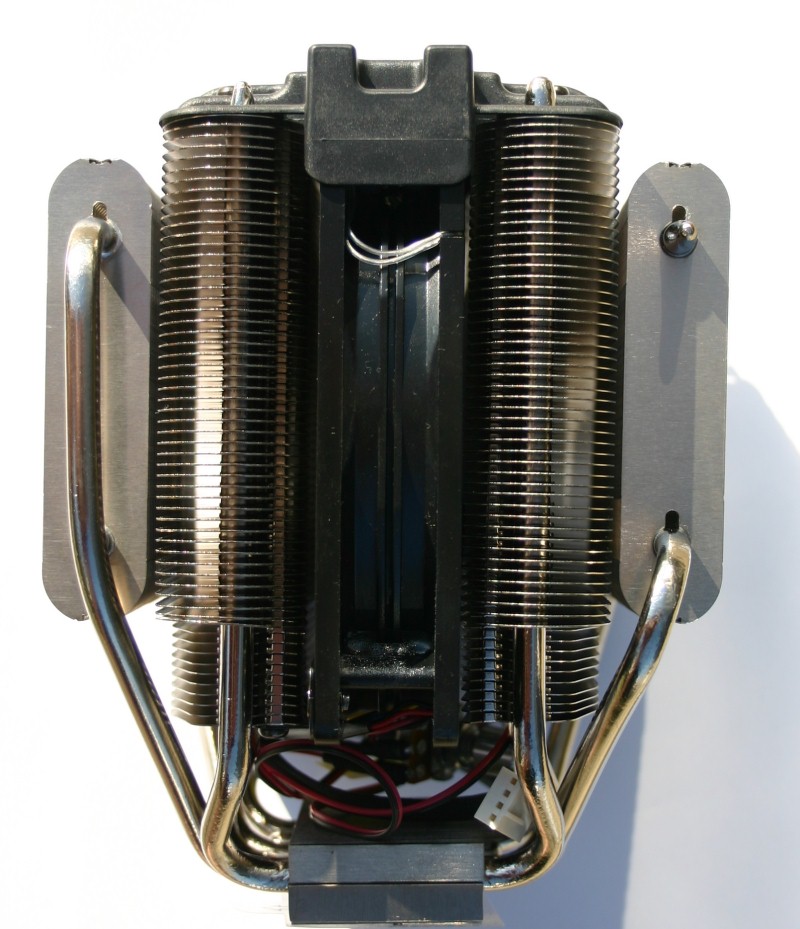 Enough about appearance though, let's put these heat pipes to a series of extreme torture tests and see how far they will let me overclock the Intel Extreme QX9650 socket 775 processor!
INSTALLATION
For this review, I installed the Cooler Master V8 heat-sink on the Intel QX9650 Quad Core Socket 775 processor and used a Cooler Master GX-450W power supply to feed its transistors with highly efficient power. You should refrain from using a stock Dell power supply when overclocking any processor because the copper cabling and diodes were not designed to boost power above standard operating amperages. As a result of using a stock power supply, you will likely not be able to reach the CPU frequencies seen later in this review.
You have two heat sink compound options to consider when using the Cooler Master V8. While this is not a thermal paste review, using a good product is critical to getting the maximum performance out of your processor. The first and most obvious option is the Cooler Master Supreme Thermal compound that comes with the V8 CPU cooler. I was tempted to use this but there was no indication on the tube that is was actually the preferred Cooler Master ThermalFusion 400 product. Instead, I elected to use my longtime favorite; Arctic Silver 5 High-Density Polysynthetic Silver Thermal Compound.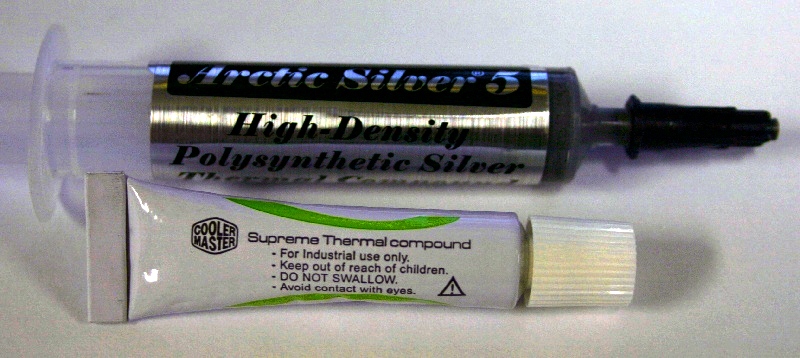 Intel QX9650 Quad Core Install
Assembling the Cooler Master V8 RR-UV8-XBU1-GP is a simple five-step process that you can complete in less than 10 minutes on an Asus P5QL-VM Socket 775 motherboard.
First, locate the two Intel retention plates with the motherboard mounting screws already attached for you.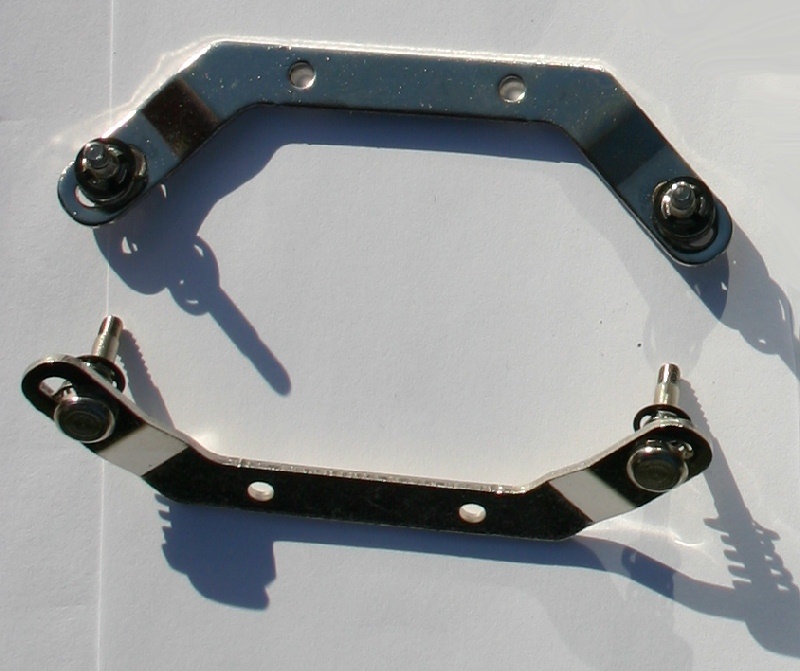 Second, find the four Philips screws in the little plastic bag and use two on either side of the base of the heat sink to attach the retention plates securely. The mounting screws on the retention plates should be pointed upwards or away from the top of the Cooler Master V8 heat-pipes.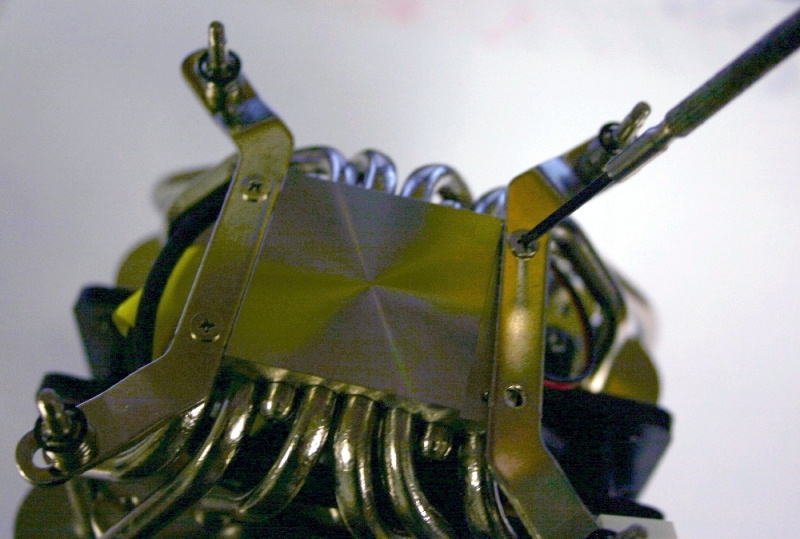 Third, you are now ready to install the massive heat-pipes of the CPU cooler on your Intel processor. Before you start, pull the 4 pin power and the fan speed controller out from the base. Also, apply your Arctic Silver 5 compound with a piece of thin plastic so that you can get an even distribution of the material. Try to cover the base of the heat-sink and the top of the processor so that you cannot see the metal underneath.
The Thermaltake Armor A90 system case has a removable side door that gives you rapid access to the underside of a Socket 775 motherboard socket. The ability to access the underside of the motherboard is critical to installation since you will be tightening the four provided bolts from underneath.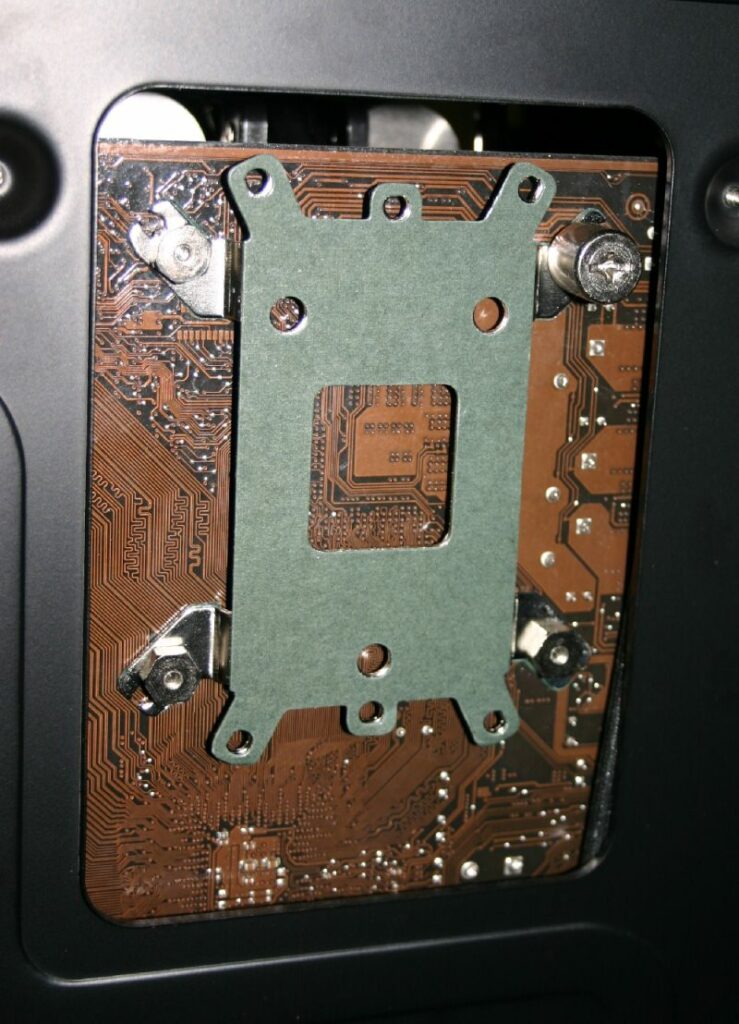 Last but not least is the fan speed controller module. The wiring is long enough for installation in an expansion slot next to your Nvidia graphics card. Simply, mount with a Phillips screwdriver and set the speed to high. I noticed no difference in overall fan noise when the 120MM fan was running at maximum speed. You will also help improve the cooling abilities of the Cooler Master V8 if you leave the fan speed controller at high speed.
PERFORMANCE
For the testing portion of this review, I used an Asus P5QL-VM DO/CSM LGA775 motherboard, Intel QX9650 Core 2 Quad Socket 775 processor, Crucial Ballistix Tracer 4 GB (1 GB x 4) DDR2 1066 all running under Windows 7 Ultimate 64bit edition. The Intel QX9650 3.0 GHz Quad-Core processor is the fastest Socket 775 processor available that will work in most motherboards. The speed comes from 12 Mb of cache which also generates a tremendous amount of heat. The 45nm processor has a stock thermal design power rating of 130 Watts. Conservative estimates also state that it can reach as much as 150 Watts once overclocked. All of this makes the Intel QX9650 the ultimate heat-sink scorching tool!
As a comparison, a Scythe SCMN-1100 MINE Rev.B 3 Heat Pipes CPU Cooler was installed on the QX9650 first, and then it was replaced with the Cooler Master V8. Each time the same tube of Arctic Silver 5 was used and careful tightening of the attachment bolts ensured a tight bond to the Intel processor. A temperature probe on the air intake of the computer case was installed and CPU temperature measurements were only taken at an intake temperature of 77.9 degrees Fahrenheit.
To create the following chart, the Intel Extreme QX9650 multiplier was adjusted in the BIOS and the system was then booted into Windows 7 Ultimate. POV-Ray 3.7 RC3 was then started to put a 4 core SMP load on the processor for 15 minutes.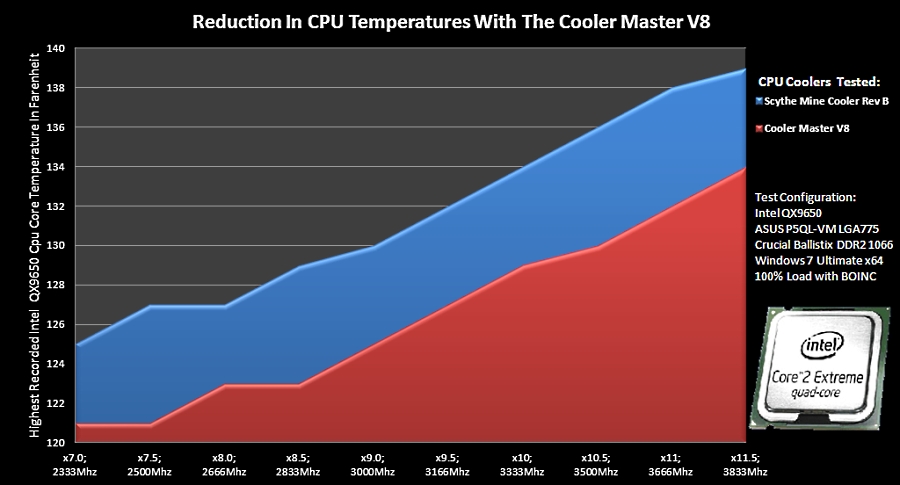 As you can see, the difference between the two heat-pipe coolers began to increase with higher clock frequencies. The Scythe SCMN-1100 began having trouble at 3.83 GHz with excessive heat and could not keep the processor stable in Windows 7 for longer than 10 minutes. Since 4.0 GHz was not possible, I had to leave those results off the chart. The Cooler Master V8 allowed me to hit speeds as high as 4.25 GHz with the Intel quad-core though.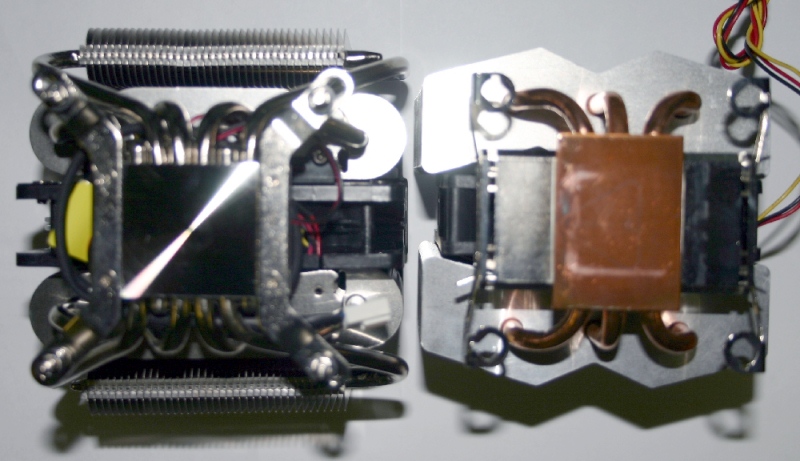 The reason the Cooler Master V8 dominated this round of performance testing can be easily seen in this photo of both heat-sinks. First, the mirror-like finish on the base of the Cooler Master V8 means 100% contact with the surface of the processor. Next, when both of these products were placed side by side, the V8 was taller. Height plays a large role in the effectiveness of these coolers because they are able to draw the heat further away from your processor die. Finally, the 6 small heat-pipes on the Scythe SCMN-1100 dramatically reduce its ability to efficiently move heat from your processor cores.
CPU SUPPORT
Cooler Master provides several retention clips and tools with this product so that it will work with the following list of processors. While not officially supported, a little engineering can also be undertaken to get this heat-sink on your favorite Intel Xeon processor with little problem.
Intel
Core i7 Extreme / Core i7 / Core i5 / Core i3 / Core2 Extreme / Core2 Quad / Core2 Duo / Pentium / Celeron
AMD
Phenom II X6 / Phenom II X4 / Phenom II X3 / Phenom II X2 / Phenom X4 / Phenom X3 / Athlon II X4 / Athlon II X3 / Athlon II X2 / Athlon X2 / Athlon / Sempron
Please note that while this heat-sink is compatible with a wide range of processors on the market today, it is not going to work on an AMD Socket G34 processor because of its smaller square base that does not fully cover an AMD Opteron 6128 eight-core CPU.
FINAL THOUGHTS
With Intel and AMD producing multi-core processors that generate more heat than ever before, you need a CPU cooler that can survive the extreme heat produced. To save money, you also want the confidence of knowing that your new heat-pipe cooler can work with a wide variety of processors. The Cooler Master V8 has survived our torture testing to show that it can take all that a Socket 775 processor can throw at it. Whether you just like the design or are looking for silent PC operation, this product will get the job done for you. Today, you can purchase the Cooler Master V8 for just $50 at most online retailers. At this price, I highly recommend this for any computer user. Suitable as its own trophy, the Cooler Master V8 has a design that will stand the test of time by faithfully providing years of reliable service on your computer.