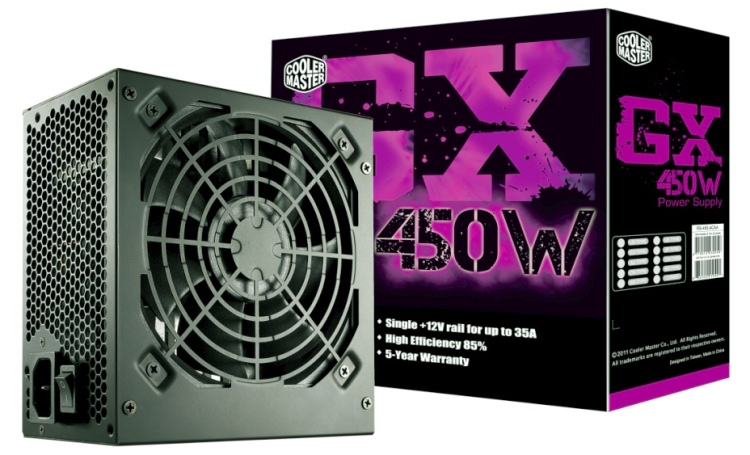 Energy Efficient Design Saves 25W over the Competition!
Summary
The Cooler Master GX-450W boasts an 85% efficiency rating in a highly functional design that will be at home in almost any desktop computer.
Pros
CPU 4+4 plug, 35 amp 12VDC rail, meets 80 Plus efficiency requirements, extra-long cables.
Cons
No modular connections.
Ever since the release of the first Cooler Master GX series power supply, people from around the world have been asking for a lower wattage version. Now, the new 450-watt version has been released and it is specifically targeted at systems in the upper-mid range which uses one PCI-e x16 video card.
The Cooler Master GX-450W is filled with protective features like a single high efficiency +12V rail and a high-efficiency design that meets 80 Plus requirements. I was excited to get my hands on this efficient power supply because it would finally allow me to replace my older Diablotek PSDA400. Here are just a few of the questions that will be answered in this review. Why it is so important to have long, quality built CPU 4+4 cables on your computer? How does the Cooler Master GX-450W compare to the Diablotek DA Series PSDA400?
APPEARANCE AND DESIGN
The intake fan for the GX-450W is 120MM in size which aids in both higher volume airflow as well as reducing operating noise inside your computer case. Underneath the blades of the fan, you can see the efficient transformer and double-layer EMI filter inside the power supply. The extra protection from outside electromagnetic interference limits the exposure to noise and static that other power supplies just let through.
Inside the box for this Cooler Master power supply, you are going to find a 120VAC power plug and detailed instruction manual along with the protective plastic wrapped unit itself.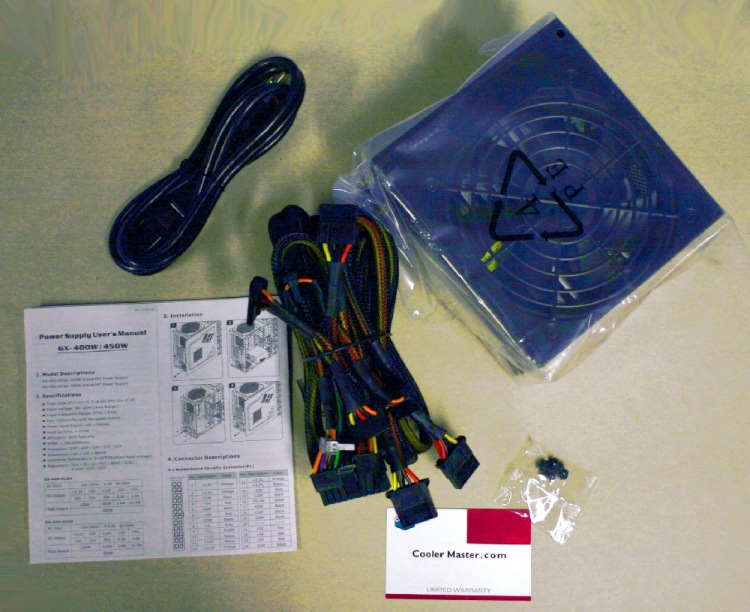 The AC Input and DC Output ratings are clearly printed on side of the power supply to rapid reference while mounted in a functioning system.
IMPORTANCE OF PROPER POWER SUPPLY CABLING LENGTH
In life, we all soon discover that it's the little things that matter. A friendly smile from your cashier at the grocery store or a wave from your neighbor all helps to make life an enjoyable experience in the face of everything else that is going on in the world. The reason I needed a new power supply for my Intel QX9650 gaming rig was that Diablotek neglected to mention online that their power supply cables would not work in many computer cases. My Diablotek power supply did give me a wave but it was with the middle finger in the eyes of this power-user!
The CPU 4 pin connector wire on my Diablotek DA Series 400-Watt ATX Power Supply PSDA400 unit was only 16" long. The 4 pin CPU lead barely reached the power port in my Thermaltake Armor A90 system case and it also blocked the free PCI-e x16 slot. As a result, I could not plug a PCI-e video card into my ASUS P5QL-VM motherboard. As you can see in the photo below, my video gaming career was going to be over without a better power supply.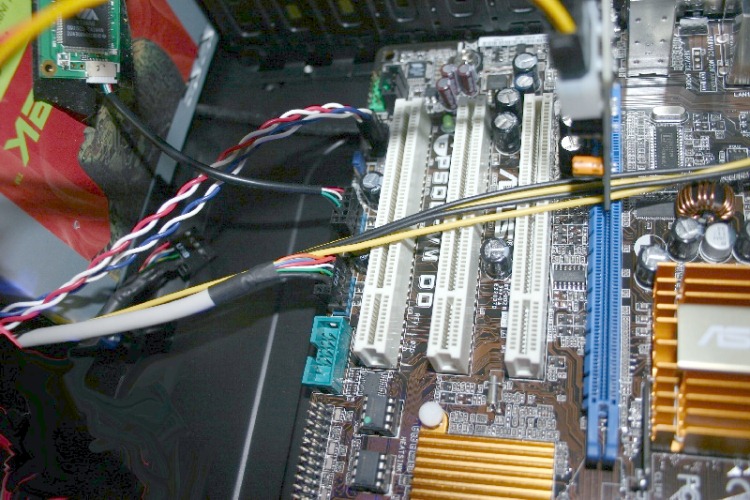 The GX-450W Power Supply has dual CPU 4 pin connectors that stretch out to over 25" in the total length of 600mm. The CPU 4+4 pin connector is used in many high-end motherboards to provide more amperage to the CPU circuitry on-board. As a result, the Cooler Master GX-450W will be pin-compatible with the ASUS KGPE-D16, ASUS P6X58 Premium, TYAN S8236, and Intel DP55KG. For the computer user that wants to run a dual-socket AMD G34, this power supply is going to be a great way to get into this otherwise expensive category of computing.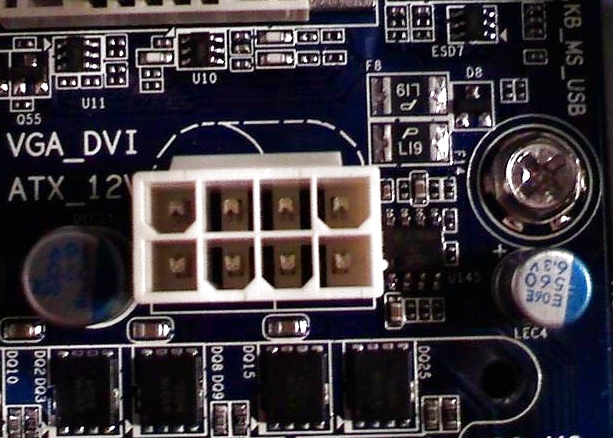 In addition to your standard Peripheral and 24 pin motherboard cabling, this power supply also offers a PCI-e 6 pin plug to connect to your favorite ATI or Nvidia video card. The 5 SATA power connectors will give you the ability to add a massive suite of high-performance hard drives to your computer.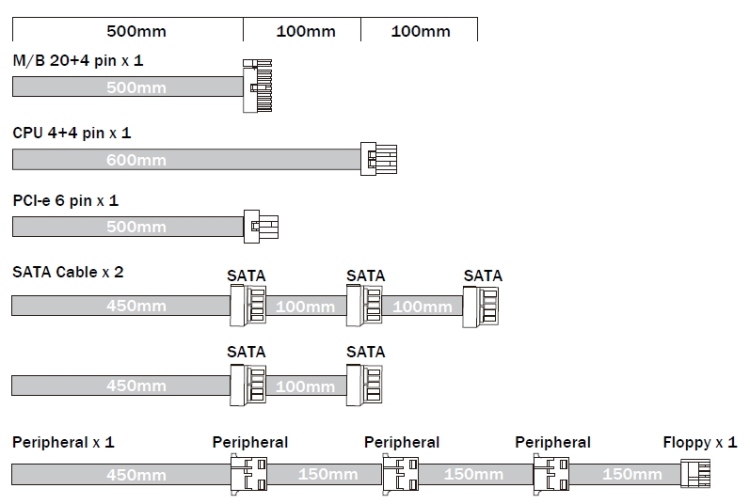 PERFORMANCE ANALYSIS
Some exciting developments in the field of power supply construction over the past few years have resulted in dramatic efficiency gains. The new 80 Plus certified power supplies from Cooler Master can cut your peak power consumption and at the same time produce clean amperage for use when overclocking your processor.
Quantifying the exact efficiency of your power supply is a tricky task because it requires you to measure the power drawn from both the wall outlet and from the multiple cables that connect to the peripherals on your computer. Rather than go through the hassle of attaching complicated testing equipment to the Cooler Master GX-450W power supply, I opted to use two different power supplies and compare the wattage drawn from the 120VAC connection itself.
TEST SYSTEM
| | |
| --- | --- |
| Motherboard | ASUS P5QL-VM DO/CSM LGA775 mATX Motherboard, Intel B43 Chipset |
| RAM | Crucial Ballistix Tracer 2GB (1GBx2) DDR2 1066 BL2KIT12864AL106A |
| Storage | ST3500630AS, WD1002FAEX |
| PC Case | Thermaltake Armor A90 |
| Operating System | Microsoft Windows 7 Ultimate x64 Edition |
RESULTS
In the chart below, you will see the results of testing three different Intel processors along with two power supplies for power consumption. The Intel E1400, Intel E3300, and Intel QX9650 were all used to create this rather unique way of looking at how the highly efficient design of the GX 450W pulls much less power than its competitor on the market today, a Diablotek DA Series 400-Watt PSDA400.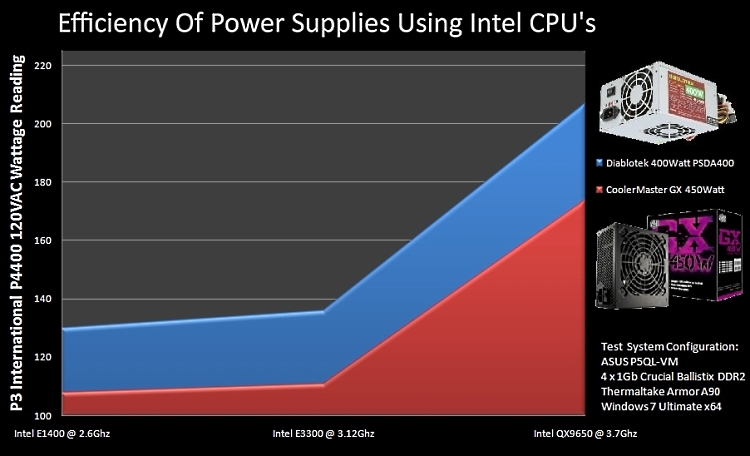 As the prior chart shows through decreased wattage use, the Cooler Master GX-450W power supply reaches its peak efficiency at 50% load or about 200 watts. You can see these same gains on your computer and save over 25 watts per hour that you run your gaming system.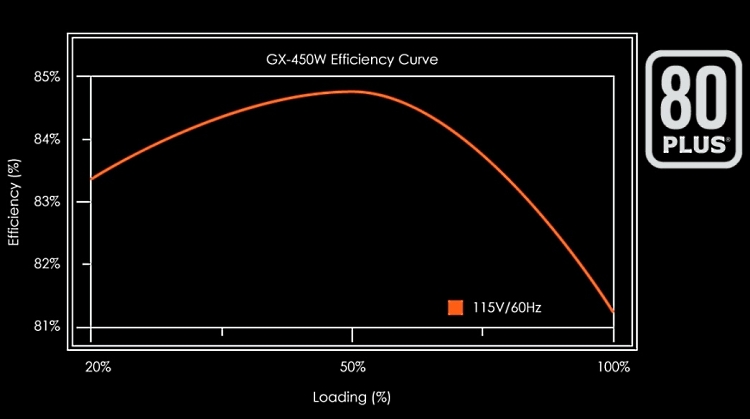 To complete this round of testing, a Coolmax LCD Power Supply Tester PS-228 was used to see how the no-load phase of the GX-450W holds up. The power supply passed with an 11.9VDC reading on the main 35 amp rail. A reading of 5.0VDC and 3.2VDC can also be seen. The PG got a value of 410ms.
TROUBLESHOOTING
Installing a new power supply in your Dell computer or gaming workstation is a relatively simple task but even the most experienced builders can have troubles. If your computer system does not turn on after installing the GX-450W power supply, use the following troubleshooting steps listed below:
Please make sure the main power is seated properly on the motherboard.
Please make sure the P1 and P2 connectors are installed onto the motherboard properly.
If the power supply still does not work properly, check the power cord for any lose connections.
If you continue to have problems then Cooler Master has kindly offered their direct email support address in the Power Supply User's Manual. They have a great tech support department and can answer almost any question that you may have about the GX 450W.
FINAL THOUGHTS
While today, I am using the Cooler Master GX-450W to power my ASUS P5QL-VM motherboard and Intel QX9650. The CPU 4+4 plug gives me the chance to run this 80 PLUS power supply on an ASUS KGPE-D16 Dual Socket G34 motherboard. The power supply proved itself against the competition by consistently pulling less power with three different Socket 775 Intel processors running at 100% load. The only reason I reserve a full 5-star rating is the lack of modular cable management with this particular Cooler Master product. Still, the GX-450W should be your first choice for any mid-level gaming system since it can reduce your power consumption while at the same time offering the plugs you need to begin playing right away.