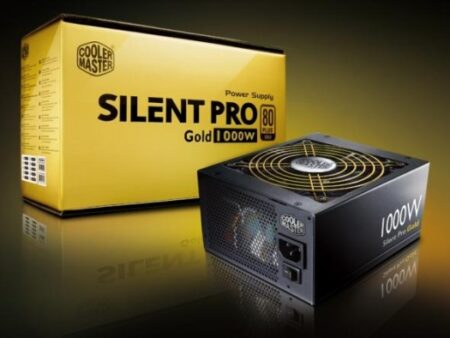 Rock Solid Stability while Overclocking!
If you are building a new gaming machine or just a multimedia computer then you should check out the expandability that the Cooler Master Silent Pro M1000 power supply has to offer. The Cooler Master Silent Pro M1000 power supply is filled with efficiency and design features that make it one of the smartest purchases you will ever make for your computer. In this article, we will look at how each of these features combines to make a modern server operate at its peak efficiency, even while overclocked!
My old 500-watt power supply was having trouble keeping up the demands of just my AMD 1090T x6 processor and multiple SATA hard drives. Simply put, if I ever wanted to add some PCI-e video cards to my ASUS M489GTD Pro motherboard, new power supply was needed. I looked at all the products offered on the market today and decided that the modular design of the Cooler Master Silent Pro M1000 would be a great fit for my computer. The PCIe cabling would not get in my way initially but could be added quickly if the need arose.
WHAT'S IN THE BOX?
The Silent Pro Gold 1000 Watt Power Supply comes in a large protective cardboard box. Inside you will find an instruction manual, 5-year limited warranty card, modular cabling, and of course the power supply itself. The power supply weighs 2.388 kg and measures 150 x 180 x 86 mm (5.9 x 7.09 x 3.39 inches). The case is made of thick, black metal that gives a surprisingly high amount of strength and rigidity. Looking inside, I marveled at the intricate cabling and angled aluminum heat sinks on every component inside. It is a shame that they do not make a clear case for this product since it would look great in a clear acrylic computer case with LED lighting.
THE UNIQUE DESIGN FEATURES
As with any high voltage product, it's the electronics design inside the case the makes the difference. Cooler Master has incorporated several features in this product that will ensure it offers the maximum stability for your computer for years to come.
First, at the heart of the power supply, Cooler Master uses HTT patented technology to create an "L-shaped" heat sink that vents the heat waves away from the sensitive electronics in this power supply. Their attention to this detail is part of the reason why the unit operates at drastically lower temperatures than its competitors. Reducing the ability for heat to build up also means a longer life span in your gaming machine.
The modular cable design and capability to handle six PCI-E connections drew my attention from the start. As you expand your gaming system with new graphics cards, you can use the provided power cables to simply plug-in more power. The ability to do this without having to replace the power supply or have bulky cables splayed out across the inside of your system case is a wonderful reason why this Cooler Master product is so useful.
HyperPath and Hybrid Transformer designs reduce the size of the transformer in this power supply while at the same time reducing energy loss. Both of these features mean higher efficiency and less thermal output.
Finally and without a doubt, the single best feature of this product is the 135 mm ultra silent fan. Many other power supply manufacturers will add large fans to their electronics but only this fan is superior because of the unique HTT technology that aids in efficient heat removal. The 135 mm fan spins slow, even at higher wattage consumption levels, because the large diameter blades move more air per revolution.
80 mm box fans spinning like small jet engines in your home office computer are not a practical way to experience Call Of Duty; World At War. Most high-end computers use these fans to reduce the heat build-up inside the case. I work in a large network operations center and prefer the sound of a silent computer upon returning home. The Cooler Master Silent Pro Gold M1000 delivers near silent operation due to all of the excellent engineering design features that have been built-in. I can play the latest video games or create 3D graphics in near silence thanks to this wonderful product and at the same time have very low heat output as well.
OPERATING NOISE LEVELS
When running under a full load of my server, the Cooler Master 1000 Watt power supply cannot be heard over the sound of the CPU fans in the case. Testing by Cooler Master has shown that at 40% load (typical computer power usage with this product) that the power supply only makes 20 dBA of fan noise.
POWER CONSUMPTION
Even though this is a 1000 Watt power supply, actually reaching these peak consumption levels is going to prove a challenge for all but the multi-graphics card user. In my system, I was only able to reach a peak load of 374 watts using a P3 International P4400 Kill A Watt electricity meter.
The previous product used in this system was the Cooler Master RS-500-PCAR-A3 500 Watt PSU with dual 12VDC rails The old power supply was pulling 390 watts under full load and generating a ton of heat, 93 degrees Fahrenheit to be exact. The Silent Pro 1000 Watt PSU is pulling 16 watts less. Yes, this seems minimal but as you turn up the power demand, this 80 PLUS BRONZE CERTIFIED product will increase your energy savings.
EXTENDED USE TESTING
Before I gave this power supply my seal of approval, I wanted to test it under constant load for at least two months. In the past, my other computer systems would take other power supplies down in a few short months with constant use. The Cooler Master 1000 Watt power supply has proven itself with consistently high +12V rail readings, even with a constant 100% processing load.
The real story with this power supply is its ability to run so coolly. I began rendering a 1080P animation using POV-Ray that utilized all of the six cores in the AMD 1090T processor on the ASUS M489GTD PRO motherboard. At the start of this test, I got an initial reading of 85 degrees Fahrenheit at the back air vent of the PSU in a temperature-controlled room that was set to 72 degrees Fahrenheit. After two full months of use, I am still getting a value of 85 degrees.
FINAL THOUGHTS
While truly testing a power supply requires sophisticated digital scopes to evaluate the switching frequencies, my extended use of this product has shown that it can deliver the power your computer needs for months at a time without any sort of degradation in performance. The modular design allows us to add more cables for graphics cards in the future but only when needed. The impressive, compact design of the case itself also means that you can add this to many mid-level computers that otherwise could have never held such a product.
Yes, we have very competitive pricing plans and accept a variety of formats. Please contact us for more details.
Yes, you can. Just use the contact us form to send us a message and we will consider reviewing the product. It does depend on a few factors such as product availability, funding, and time.
Please provide as much of the following information as possible:
Manufacturer Name
Manufacturers Website
Product Name
Product Model / Serial Number
A link to the product itself
Unfortunately, we do not accept user reviews at this time. But feel free to voice your opinion in the comments section of recent articles.
We do, however, have plans to implement this feature in the future.
Yes, please contact us for more details.
Please note that we test and review all products fairly and will not change our review and rating of products.
No, we do NOT sell anything on BayReviews. And we will never sell anything on BayReviews. We do, however, display ads that may direct you to other sites that probably do want to sell to you.
We buy products we review because we review what we own first.
We do, however, sometimes receive review samples but we still test and review everything fairly. When a review sample is provided by a partner, they cannot dictate how the review will turn out.
Our review and ratings are always based on our testing and experiences with the products.
All reviews on BayReviews are written by the editor-in-chief and our very knowledgeable staff writers and editors.