24 Cores Of Processing Power Were Too Much To Pass Up!
Summary
The HP ProLiant DL165 G7 server utilizes the AMD Opteron 6100 series processor to give you 24 cores for your next virtualization system but how good is the HP product support?
Pros
The DL165 G7 is a high performance, low cost, ultra-dense rack server designed for memory intensive High Performance Computing (HPC) environments, web serving and memory intensive applications.
Cons
Poor HP technical support, you are on your own here folks!
You have to admit it is a dream for all computer builders to use Microsoft Windows Server 64bit on a 24 physical core system. I had to dig deep into my suite of testing tools to show off the power that this server really has. Once you test it this way, you quickly find uses for it. For example, I have used it to query a 100GB database in SQL Server with 25 table joins. Yeah, you can do that with 64bits, 128GB of DDR3 RDIMM's and an SSD drive array.
To increase my attraction to this processor dense product was its form factor, 1U. Yes, 1U. You can elect to add an external drive array 100% dedicated to feeding the 24 monster processors inside. To bolster your ability to crunch, you get 256 GB of peak memory capacity.
Finally, to top it all off, the HP ProLiant DL165 G7 Opteron 6172 server just costs $5,000 fully loaded. Intel products cost over $15,000 for the same capacity. Well, I must admit that I am an old school fan of the Journal of 64bit Pervasive Computing. Rock on Sharikou! The AMD Opteron series really rocks if offered by vendors that can actually support their products!
PURCHASING OPTIONS
Simply put, I wanted an HP server that offered the most processing capability for our move to virtualization. I have already seen the positive results of the HP StorageWorks MSA 70 2.5" SAS array kit so I had no need for bulky 2U or 4U cases that could hold multiple drives. Instead, if I needed more capacity, I can add the MSA 70 at a later date after our virtualization project was completed. The biggest problem for me was finding a 1U product that could offer the same processing power as the HP ProLiant DL580 G5. The HP ProLiant DL165 G7 Opteron server fits my pricing points exactly.
SUPPORTED AMD G64 PROCESSORS
The HP ProLiant DL165 G7 server supports AMD Opteron 6100 series Socket G34 processors. All of these processors feature 12 Mb of L3 cache and 64-bit data width. Commonly referred to as Magny-Cours, they are the flagship of the AMD server line because of their ability to support up to 12 physical CPU cores in a single .45nm package. They have an 80-watt thermal design power rating which explains why they consume so little power when under extreme processing loads. For comparison, the Intel side of the server CPU market is much more power and thermal intensive. The Intel Xeon 7500, the most advanced available, offers only 6 physical CPU cores and has a thermal design power rating of 130 watts. Using two Intel Xeon 7500 processors would generate 260 watts of heat in your virtualization cluster which is going to pose a significant problem for data centers wanting to reduce power consumption.
The HP ProLiant DL165 G7 supports the following processors: AMD Opteron 6128, AMD Opteron 6128 HE, AMD Opteron 6134, AMD Opteron 6136, AMD Opteron 6164 HE, AMD Opteron 6172, AMD Opteron 6174
MEMORY EXPANSION CAPABILITIES
Like it or not, AMD leads the server market with its processor, integrated memory controller technology that now has over two generations of advancements. The technology has expanded in this server to 24 DDR3 DIMM Slots for a peak memory capacity of 256GB in a 1U chassis with no discernible heat side effects like Intel products seem to suffer from.
Recently, we decided to upgrade this server with more memory. The initial evaluation period had passed and the server had proved itself to be fast and stable enough for the needs of virtualization. I ordered four of the HP 8GB 2RX4 PC3-10600R-9 Kit Part Number 593913-B21 memory sticks for the server. Since the server was already pre-configured with single rank memory chips, I had to install these 8GB DDR3 RDIMM memory chips in banks 3 and 9 on each side of the motherboard. If you do not do this, the memory controller will not be able to recognize the memory.
INTEGRATED 2.5″ SAS HARD DRIVE CAPACITY
The HP ProLiant DL165 G7 features 8 2.5″ SAS drive ports. The HP Smart Array P410 Controller supports RAID 0 to RAID 50 with just these eight physical drive slots. You can manage the
HP has just released a new line of SAS drives that have 600GB of capacity. The model is defined as HP 581286-B21 600GB 6G SAS 10K 2.5IN HDD. The new drive is an attractive option for data centers because you can get 2.4TB of RAID 10 storage with a full eight drive array.
Alternative Drive Option; 2.5″ SATA SSD Testing
I was looking for a way to increase the disk access speed for VMWare ESxi in this server and installed the Kingston SNV425-S2 128GB SATA II Solid State Drive in a drive cage in one of the ports. Next, I ran the following test from within Windows Server 2003 64bit to determine the speed of the SSD drive in this system.
I created a file folder with 133 MP3 files across 4 sub-folders for a total of 714Mb. The goal of this test is to see how fast you can copy your own MP3 collection to a new hard drive. Copy files in this fashion are called a write test.
Here are the results of a copy from a HP 146GB 10K RPM SAS drive to the Kingston 128GB SSD :
Less than 1 second
Less than 1 second
Since the drive was so fast, I decided to stress it with a larger file. I used a Dynamics AX database archive that was 2.91GB in size for this test using the HP 146GB 10K RPM SAS drive to transfer the file to the Kingston 128GB SSD :
7 seconds
7 seconds
As you can see the SSD drive was a tremendous success in the HP DL 165 G7 Opteron server. I plan on using two 256GB SATA SSD drives in my final virtualization roll-out to help improve disk access and write speeds. The other benefit is that this technology is expected to peak over 512GB in the future which will be cheaper than the HP 600GB SAS option offered today.
NETWORKING
The server tested for this review is using the HP NC362i Integrated DP Gigabit Server Adapter which features four Ethernet connections. HP supplies a utility that allows you to team these connections together for a bundled or teamed four Gigabit Ethernet connection. You can buy this server in a number of networking configurations so it is best to analyze them all for the one that suits your business needs. Remember, this server is designed for the demands of virtualization. With this technology, you can now simultaneously run over twelve different Windows Server 2003 operating environments that each have their own networking demands. As a result, the four Ethernet ports give your virtual servers the capability to demand network bandwidth at a moment's notice.
TECHNICAL SUPPORT FOR THE DVD DRIVE
At this point in time, you may experience some severe problems trying to get a DVD drive operating with the new HP ProLiant DL165 G7 AMD Opteron Server. The power supply and SATA DVD Drive cabling are not compatible in many of these server models.
Time-line Of Technical Support Case With HP
8/20/2010 – We initiated an HP support call and we promised an on-site technician to look at the problem, the next business day.
8/27/2010 – No one arrived from HP Support. HP sent us an email claiming that the power connector is in the power supply and told us to read page 39 of the manual. No manual or reference to one was sent to us on the trouble ticket. I reviewed the documentation for the server (HP ProLiant DL165 G7 Server Maintenance and Service Guide posted on Aug. 4, 2010) and it showed an IDE CD-ROM drive installation which was not possible for this server.
10/7/2010 – Received replacement HP server from CDW. The power supply in this server came with the needed plug to make the SATA drive work.
10/8/2010 – Returned the defective HP ProLiant DL165 G7 server to CDW with a note indicating that the HP Power Backplane Model: AC-063-3 A REV: 03F was missing the necessary plug to make the HP DV-18S SATA DVD 1977217A-42 drive kit work.
10/13/2010 – HP technical support from India called today. They asked me to order part number 1977217A-42 because it comes with the correct adapters to power the SATA drive. I told them I already had and he said I made a mistake because I ordered the kit from CDW. He stated that I must order these kits from HP directly to get full support from their technical staff. I asked him why the power supply did not have the adapter needed and he stated: "Power supply was (an) American designed product so it was prone to manufacturing error." To keep from getting too upset, I asked him to cancel the support case.
As you can clearly see by the dates, HP is not motivated to resolve these issues quickly. They will bounce you around their call center and make you order additional, unnecessary equipment.
POWER CONSUMPTION AND CONCERNS ABOUT THE PSU
During boot, I recorded a 312-watt surge. While rendering the POV-Ray benchmark with all 24 cores, I recorded a peak wattage use of 362 watts.
For the first time, I will be left exposed as far as the redundancy of power supplies with the HP ProLiant DL165 G7. The HP AC-063-3 A, 750-watt power supply came with this 1U server, but there are no secondary power supplies in this product. In a 24/7 up-time situation this may pose a problem for my company in the event of a power supply failure. To limit the risk, I took extra measures to ground the chassis on the telecom rack with an extra wire. By doing this, I hope to prevent any stray power surges from damaging the power supply.
PERFORMANCE CAPABILITIES AND BENCHMARKING
First, before we consider the benchmark results we need to look at the theoretical performance of this system. The 1U chassis limits the peak disk operations of this system. Only being able to hold eight 2.5" SAS hard disk drives means that you will want to consider using an external drive array to tap into the full power of this system.
The single processor core performance of this server is average at best. The real factor here is the combined power of 24 physical processor cores which are bolstered by the large on chip cache size.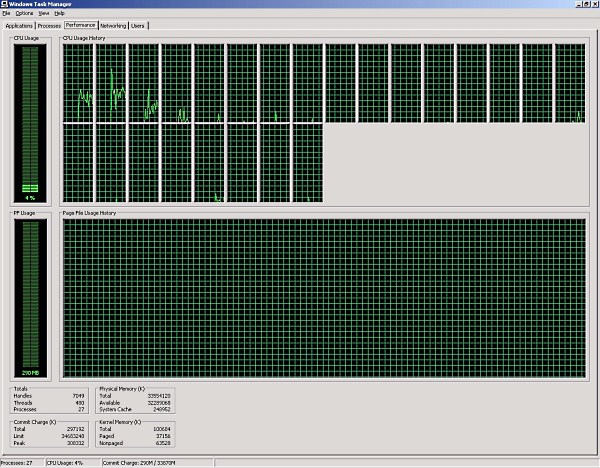 Super Pi V1.1 Results
Super Pi is an application that extrapolates the specified digits of PI into a text file. Using just one CPU core at a time, the program has proven to be a very reliable stress test for many AMD and Intel products. Processors with large on-die cache sizes and high memory bus speeds tend to do better in this benchmark. Low processing time in this benchmark will directly translate to faster performance of web browsers so it is very important to pick a computer chip that excels in this test. For comparison, the AMD Phenom II 4X Z965 AM3 Black Edition Processor can complete this benchmark in 19 seconds.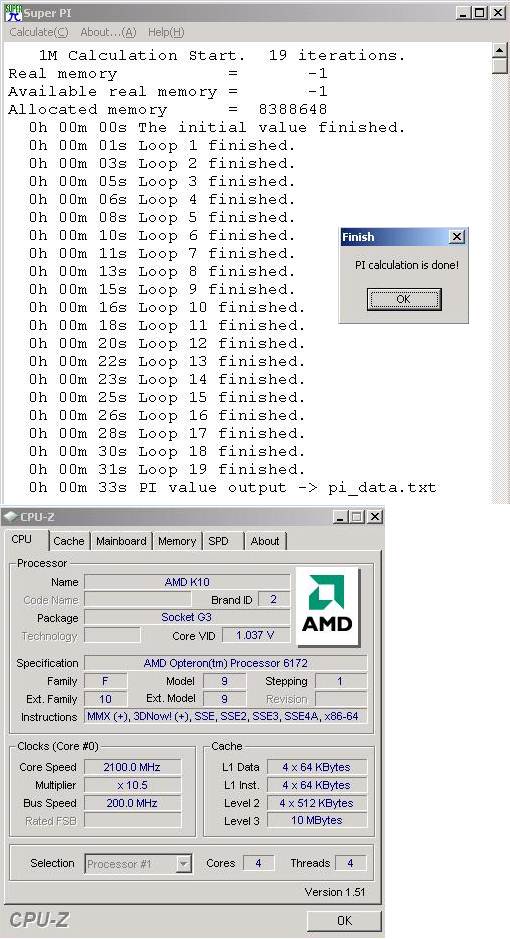 Here are the results of three runs at 1,000,000 digits of PI :
33 seconds
34 seconds
34 seconds
POV-Ray 3.7 Beta Results
POV-Ray stresses the floating-point unit and memory bandwidth of the processor to render stunning 2D images. A new version of the freeware 3D animation utility has been released that offers SSE2 enhanced processing extensions along with multi-core optimizations that will utilize all the available cores in your computer. As a comparison, the AMD Athlon 64 X2 4000+ 2.4 GHz Processor completed this test in 26 minutes 2 seconds at stock clock speed.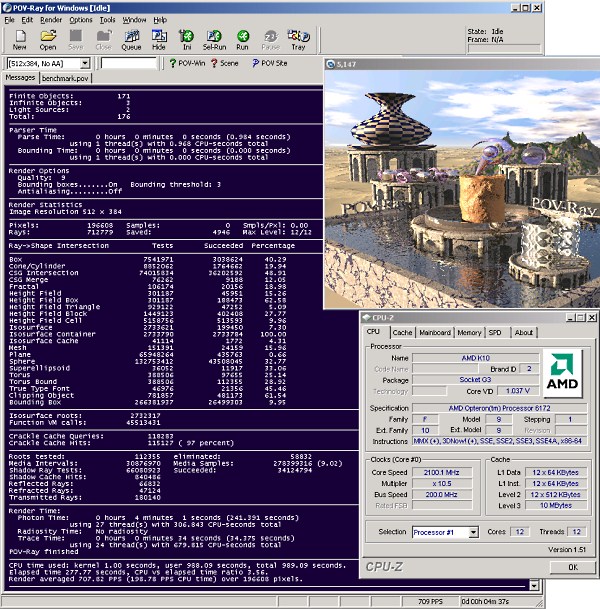 Using the benchmark.pov file at 512×384 NO AA :
4 minutes 37 seconds
4 minutes 35 seconds
4 minutes 39 seconds
FINAL THOUGHTS
The raw potential of the HP ProLiant G7 Opteron server should make any IT department take notice. You have 24 cores available, 24 DDR3 DIMM Slots for a peak memory capacity of 256 GB, and 8 2.5" SAS drive bays.
Alarmingly HP support has taken a nosedive in the past year. They now outsource their services overseas to India call centers that only concerned with getting you off the phone. The lack of any logical support from HP has caused me to reconsider my company's relationship with HP. Since I can no longer trust the initial quality of their products, I cannot give the HP ProLiant DL165 server my complete approval. In all, I give the HP ProLiant G7 AMD Dual Opteron Server one thumb up and one thumb down.