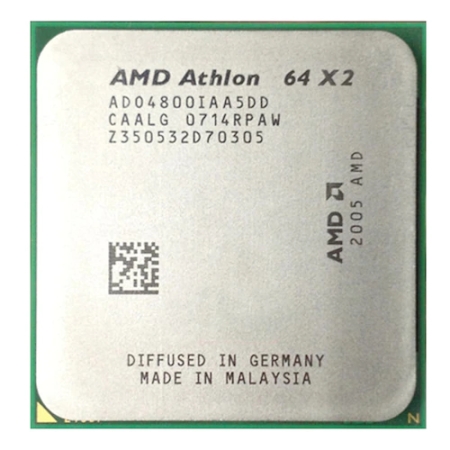 Nice Dual Core CPU!
Summary
If you are thinking about upgrading your computer or in need of a new customized one, get one with this processor.
Pros
Fast, reliable, and not too expensive…
I have been waiting to try these new AMD Athlon 64 X2 4800+ processor for a while now and I got my chance when a new client of mine asked me to build a system for him with the new dual-core processor. I told him about these X2 series processors and he readily agreed to get this 4800+. The X2 series of processors are just the FX processor with dual cores and some other enhancements, so you can only expect the best power and performance from these.
AMD says it is their intention to make the FX series processors the ultimate desktop PC processor, therefore the jump to dual-core technology. AMD claims that these new processors are perfect for not only games but for all multi-thread projects that would require a dual-core processor. After some benchmark tests, I can confidently say that Intel is not even close to these AMD processors; now that AMD has the new FX-60 available, I think Intel will have a hard time just trying to catch up.
THE INSTALLATION
I think AMD's choice to stick with the 939 socket design is great because it will compatible with your current 939 sockets compatible motherboard. Since this is a 939 socket compatible processor, it is as easy to install as all previous 939 processors that AMD made. If you have installed as many processors as me, by now you will be able to install these correctly and quickly without any problems. And AMD makes their processors easy to install anyways. But if you are still not sure about some steps or if it is just your first time installing these–follow the instructions in the quick installation guide. If you follow the steps listed in the guide properly, you should have no problems what so ever. If you install the stock heat sink and fan, your job will be even simpler, but you may need to follow instructions for the other heat sink if you choose not to use the manufacturer-supplied one.
Overclocking
This 4800+ is a very overclocking friendly processor, just like all AMD processors; this was the main reason I switched from Intel a while back. Even though this processor is fast, you can easily achieve an overclocked speed of about 2.6 GHz without much effort; I did not have the cooling system to go any higher (I used the stock heat sink and fan for this overclock). If my client wants I can always get better cooling on it and try to go higher (I am pretty sure it can achieve higher speeds). I have read many articles that suggest this processor can be safely overclocked to 2.7 GHz with better cooling. If you want to overclock your system, here are some tips you may need: you should lower the HT (HyperTransport) multiplier to 3x or 4x or the HT frequency to 1.1 GHz or lower; the default HT multiplier is set to 5x; I did not have to raise the Vcore voltage from 1.4V; I did have to raise the memory voltage to 2.9V and had it run at 333 MHz instead of 400 MHz; you will definitely need a very good cooling system; also use good thermal grease like Arctic Silver for optimal performance. By now you are probably wondering about the temperature… right? Well, guess what, with good cooling or even the stock cooling at 2.6 GHz, the temperature never went over 45 degrees. At 2.7 GHz I was able to keep it well below 55 degrees. So basically, you will be pleased with the low voltage needs of this processor. I always like to recommend against overclocking your processor if you use the stock heat sink and fan for cooling it because you can seriously hurt your system. But in this case, I was able to overclock about 8 percent without it overheating or crashing. But I would still advise caution as it is an expensive processor and I assume everyone would regret frying it. And this processor is very fast already so you technically do not have to overclock it (for a little while anyway). I would highly recommend you use Arctic Silver thermal grease to install your heat sink because it transfers heat more efficiently to keep your processor running cooler at all times. You can purchase these from your local computer store or online for about five to eleven bucks apiece.
Suggesstions
Even with normal usage, your heat sink will/may accumulate dust and dirt over time, so the best thing you can do to prevent this is to clean the inside of your computer every two to three months or so. Some months ago, I had not cleaned mine for over six months and I noticed that the processor was running hotter than usual, but after I good clean up of the heatsink and the inside of my computer, it was back to normal again. You can use the Falcon Dust-Off duster to blow all the dirt and dust off; it will only cost you between four and nine dollars per can.
The First Boot
The first boot is always the trickiest one of all as anything can happen; you will never be able to predict if the system will work properly or not. So, it is best to clear your CMOS/Bios settings to factory defaults to start out with a clean system and avoid any complications that can cause serious crashes or problems. Some new systems will not work properly if you do not reset the settings anyways. You may not have to do this if you are just replacing or upgrading your processor only. You can always go back and change the settings to your needs once you have it working properly. Some motherboards now allow you to have multiple settings saved which will come in handy in situations like this.
Installing the Operating System: Once you have the system running up to where stops and asks for an operating system, you can then go ahead and install your favorite operating system, or if you already have an operating system installed, just boot up. One thing to keep in mind when booting up for the first few times is to keep a close watch on the processor and memory (RAM) temperatures; especially if you used a different heat sink and even more if you overclocked the processor. I also suggest that you make sure the memory sticks you used are compatible and can overclock without problems. If your memory sticks are one of the cheaper ones or are not compatible, your system may be unstable or will not boot at all. I can say this from experience.
SO, WHAT'S HOT?
First and most importantly, the dual-core computing makes this processor stand out from the rest and on top of that, the high-speed rating of this processor moves it almost ahead of the long line of processors even more. Even though it is rated at 2.4 GHz which looks lower than some single-core processors but it feels ways faster as it has dual cores.
When you compare any AMD processor with its competitor Intel's processors, you may think that AMD processor is slower (because of Intel's higher speed rating standards), but when you use these processors for yourself, you will notice that they perform way better than any Intel can and then some. I will always recommend AMD processors over any Intel just because they are easy to overclock, install, use, maintain, and plus they perform better too.
With these processors, your computer will boot up way faster (does not matter which operating system you have installed) and your applications will startup much quicker than you would normally expect. This is one of the fastest dual-core processors I have had experience with and I am glad I got the chance with this new client of mine. If you cannot afford this Athlon 64 X2 4800+, I would highly recommend the AMD Athlon 64 X2 4200+ or AMD Athlon 64 X2 4400+ as an alternative; they perform about the same but cost a lot less.
Many of my customers often ask me if 64-bit dual-core processors actually are better than the 32-bit single-core ones. I always assure them that it is the best way to go and once they try it for themselves, they know they will be ready for the future with great power and performance. If the client does not mind paying a bit more for the upgrade I would highly recommend the newer dual-core FX-60 processor. I think the dual-core processors are more powerful and they will probably stick around for a long time and replace the single-core processors very soon.
This processor uses the 939 pin design like most AMD 64-bit processors. The 1024 KB x 2 (2048 KB or 2 MB total) L2 cache memory will run the 2000 MHz (1000 MHz x 2) of FSB (Front Side Bus) with maximum performance. You will experience more power and speed if you combine this processor with the right motherboard that will speed up your DDR memory.
AND, WHAT'S NOT?
A full review is not complete without the cons or not so hot parts of the product. So now you are probably wondering that this processor is too good to be true… right? Well, guess what, it is real and the performance and power are amazing. So I did not really notice or experience any problems with this processor. All AMD processors are very reliable and you can never go wrong with an AMD. I usually update all software, drivers, and games to make sure there are no problems. I do not like to take any chances with the systems I build, even though this one was for me. I would recommend that you check for driver and software updates at least once a month or as needed. I would also recommend updating your motherboards BIOS regularly to keep it performing at its best and to remove any issues that exist.
EXPERIENCE
I have used this new system for about a week and my client has had it for about two weeks now. Both of us think that it is an amazing system for all your computing needs. As of now, neither my client nor I have come across any problems of any kind; the whole system runs at high speed and does not ever get hiccups with high maintenance software or games. My client later overclocked it and it has not overheated as of yet. I did perform some benchmarks while I had it with 3DMark 05 and got a score of 6210 (actual data). CPU test 1 score was 3.3 frames per second, and the CPU test 2 score was 6.2 frames per second (higher is better in these tests). This benchmark is accurate as of February 06th, 2006. The computer runs very fast with Windows XP Pro SP2 installed on it and boots up in just less than 15 to 20 seconds and becomes ready for use.
WARRANTY INFORMATION
As usual, AMD provides us with a three-year limited hardware warranty that includes phone support. You can visit amd.com or dial (408) 749-3060 to get warranty support. You may be asked for the serial/model number and date of purchase for this unit, which can easily be found by the following instructions in the manual or ask one of the representatives on the phone.
FINAL THOUGHTS
My client is happy with his decision to go with the new dual-core processor but if money was not an issue for him, I would have recommended the dual-core Athlon FX-60 that costs an arm and a leg for us not so rich individuals. My client loves his new system and cannot stay off of it. After experiencing this processor for a week or so, I wish it was a little cheaper so I could upgrade my own system at home. This is the best processor for your gaming rig, but not everyone can afford it yet.
The AMD Athlon 64 FX-60 is the boss of all processors and costs a lot too, but this processor is not too bad in price and performance. So if you want a very fast computer and do not care too much about the price, I would highly recommend the new dual-core FX-60 processor or all FX series processor for that matter. You will definitely be amazed by the speed and power of these processors. Best of all, your computer will startup faster, all applications will run quicker, and you will be able to multi-task seamlessly. And plus your wallet will be a lot lighter (I think that is a good thing).