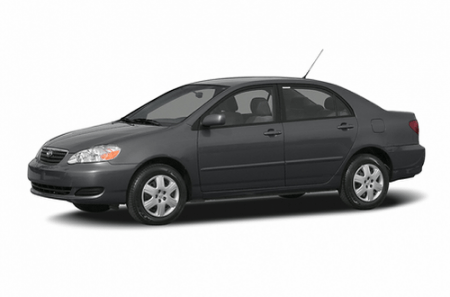 Corolla = Petals of a Flower = Lightweight and Fuel Efficient!
Summary
One of the best solutions for the rising price for gas these days.
Pros
Low cost, inexpensive, lots of features, power everything, comfortable, quiet, and fuel efficient.
Last month, I decided to get myself a brand new car to replace my older 2001 Toyota Corolla. I was only interested in a Honda or a Toyota for the right price.
So I went to Serramonte Honda and test drove one of their Civic's (the EX to be exact). Honda Civics are very good vehicles, but the prices are ridiculous for the features they have. I looked at the DX (basic model), it had no AC and no radio or CD player (not even a cassette player); so the DX was out of the equation now. Then I looked at the LX and EX models and liked the LX for the features and somewhat on the price. I negotiated for an hour or two for the price I wanted but they would not come to an agreement on a price that I wanted so I just stood up and walked out. Then I went to a Toyota dealer to look at the new Yaris because I saw an ad for it and it looked cheap for the price, but it turned out to be a little too small for my needs. So we decided to look at the Corolla; I decided upon the LE model because I wanted power windows, door locks, keyless entry, cruise control, AC, and things like that. My wife and I test drove it and like the way it felt and handled the road. So we sat and talked about the price with our salesperson. To cut to the point, I told him that I wanted $15,300.00 (plus tax and license); after about 5 minutes, he came back and said it's a deal. So now I have a brand new 2006 Toyota Corolla LE to play around with.
THE TRIM
The Toyota Corolla comes in many variations (CE, S, LE, and XRS), so we had a lot to choose from. I just wanted and/or needed a low cost, compact, and with good gas mileage car for my daily commute to work and back, but I also wanted everything powered so we mostly looked at the S and LE trims. I decided to buy the LE model because I had everything I wanted. It has a 6-disc (in-dash) CD changer, power windows, power door locks, power mirrors, keyless entry, woodgrain interior trim, all-season floor mats, cruise control, a plethora of safety features. And it also has a 4-speed automatic transmission with overdrive to save a lot of gas.
THE EXTERIOR
I personally like the color we got (Charcoal Gray) that my even my wife approved. I was disappointed that I could now get mud flaps and the body protection kit in the deal, but the other day I went to Walmart and got the rubber door corner protectors for about $6. At some point in time, I want to install the auto-dimming rearview mirrors in this car because I have problems with light-reflecting directly into my eyes. I just installed those Xenon Super White headlights that I purchased at eBay for about $18 (that's four bulbs for less than $20). Now my headlights are brighter and better looking than before. One thing that I noticed was different is that Toyota put the antenna on the rear end of the center of the roof. The problem with that is if you go in a car wash then you may have a little bit of a problem. It came with four 15 inch Dunlop tires with are great but I personally prefer Bridgestone. It does not have alloy rims, but I plan to get some when I replace the tires once they ware out.
THE INTERIOR
The cloth seats are comfortable (for those long drives) and are of good quality so it is always best to invest a little bit on seat covers to prolong the life of the seats. The dash meter displays are nicely illuminated and easy to read and understand. You can also adjust the brightness of the illumination on all the interior lights. The steering wheel can tilt up and down but does not telescope, so you have to move the seat closer when needed. The gear shifter is in the middle of the driver seat and the front passenger seat, next to the parking brake lever.
There are two cup holders right where the parking brake lever is and two for the back seat passengers. The trunk is huge so you have a lot of storage space in the back. The glove compartment is the same size as in the 2001 model (average size). There are two little compartments in the center console for your pens, notepads, etc; you can use the other for your sunglasses or other similar items.
All of the power windows, doors, climate, and stereo controls are nicely organized for easy access. The driver can control all windows and mirrors quickly and easily. Only the driver window has auto up but no auto down. The turn signal, lights, and wiper control levers are placed properly and work as expected since I am so used to Toyota's configurations. I really like the fact of how easy it is to use climate controls, but those automatic climate controls are much better and easier.
I immediately put six CD's in the changer and they work like a charm without any problems or distortions. There are no steering wheel controls to adjust the volume and track changes of the audio, but I do not mind reaching for the control in the center console. One thing I would have liked a lot is an iPod integration or auxiliary input connector, but I guess it is not available in this low-end compact car yet. There are two 12V cigarette lighter connectors; one on the center console and the other inside the center console armrest. The armrest has a lot of storage space; it has two compartments. A small one for your regularly used items and the bigger one to store CDs and things like that. I store my 50 CD spindle in there and it fits without any problems and even has room for more.
My wife and I were talking about getting a portable navigation system as those much heard of TomTom's; they cost less than the built-in navigation systems from the dealers. Right now, I use my laptop for directions as it has software that does not even require an Internet connection; but the downside to that is that I have to stop and look at it for directions. I am also planning to install some pull-down sunshades for the rear passenger windows since none of the windows are tinted.
OTHER NICE TOUCHES
I got two keyless remotes and a total of three keys (third one for valet). Every time you unlock and open the door with the keyless remote the amber turn signal lights flash twice and every time your lock the doors with the keyless remote, the lights flash once. The remote also has a panic button to scare potential criminals from breaking in or stealing your car.
THE DRIVE
So far we have driven about 700 miles in this baby and I only have two words for you: comfortable and quiet. The brakes are nice and smooth so you will not have your passengers flying out of their seats every time. The engine is quiet so you will not get distracted during your conversations. I really like to drive this car as it is very stable, almost like a wider car.
Speaking of the engine, it has a 1.8 liter 4 cylinder engine that gives you the power of 126 horses at 6000 rpm (rotations per minute); I know it is not much, but it gets the job done. I even saw a module on eBay that sells for about $50 that will give me 25 more horsepower. It is enough to overtake most other vehicles on the road considering the way I drive. The automatic transmission shifts seamlessly with you noticing. The overall ride is great as it is quiet and smooth.
The longest drive I have been on in this car is to Lincoln, CA from San Mateo, CA (that's about 125 miles one way). The trip was comfortable and smooth, without any problems or break downs. A good thing about these new cars is that your oil changes should now be performed every 5000 miles (twice a year) instead of the older 3000 miles (four times a year). If you are concerned about reliability, all I can say is that it is a Toyota and they are known for their reliability. But since this vehicle has a bunch of electronics, I do not know how long they will last.
FINAL THOUGHTS
I have had this car for about a month now and I just love how it rides and I have no regrets what so ever. But I sometimes think maybe I could have gotten a better deal on the price. We have not noticed any problems with any of the features of this vehicle as of yet and I am sure that it will stay that way for years to come. I plan to keep this vehicle for about five or six (or until the 3-year warranty expires) years and trade up for the next latest model or even make. So, as far as recommending this car for your daily commute, I would say go for it. I mean, you cannot go wrong with a Toyota ever. And since the gas prices are going up like a rocket going to the moon, I think you would want a vehicle that has better gas mileage than those expensive BMW's, Mercedes, and other big cars.