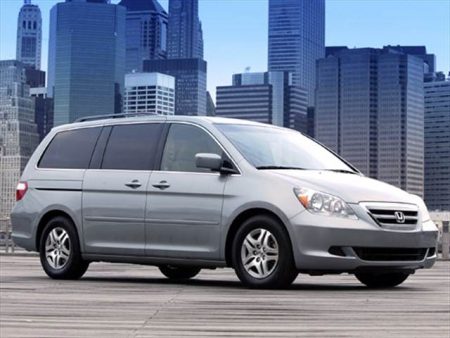 Touring in the Touring with the Family!
Summary
If you have a big family or if you family is growing, then you need a minivan that will give you safety, comfort, and convenience.
Pros
Lots of features, fully loaded, reliable, comfortable, and big.
Cons
We have no regrets what so ever with this vehicle.
About two months ago my dad decided he wanted to get a minivan to replace his old 1989 Mazda MPV. So we discussed it and decided that the new one will either be a Toyota Sienna or the Honda Odyssey.
Mazda was out of the question as we personally do not like vehicles made by Ford; we have always had reliable Toyota's and Honda's in our family. We got a chance to try out the Sienna when my uncle visited use with his new one, so the only one left to check out was the Odyssey. We went to the Honda dealer in Colma, California to look at the newest Odysseys. At first, we looked at the EX-L model then the Touring and fell in love with it. We negotiated for an hour or so and finally got a price of about $37,000.00 with tax and license included; even though my dad was pushing towards $36,000, we decided to go ahead with the deal because they would not go any lower since these Touring models are very rare and they only get one or two at a time. The invoice price for this model is about $33,000.00.
TRIM LEVEL
The Honda Odyssey comes in many classes (LX, EX, EX-L, and Touring), so we had a lot to choose from. We all wanted a high-end luxurious van for all our touring needs so we mostly looked at the EX-L and Touring models; my dad also wanted ] leather interior, DVD player, and maybe the Navigation system if the price was right. Both the EX-L and the Touring models have DVD and Navigation options. We decided to get the high-end Touring model with a DVD player and no navigation because they were all sold out and no other dealer near had one in stock. This particular model has a 6-disc CD changer, heated leather front seats, DVD entertainment system, power side door and tailgate, front and rear parking sensors, tri-zone climate control, a lazy Susan, cargo-net, and run-flat tires.
EXTERIOR
I personally like the body color parking sensors on the front and rear bumpers so they do not stand out that much. The run-flat tires are great for long travels because you would not want to stop in the middle of nowhere to change tires. I read in the manual that you can drive about 150 miles on a flat with these tires on an average of 55 miles per hour. We decided to get the silver one because we have always like silver and it will not look dirty too quickly; we do wash it every week though. I also like the heated rearview mirrors. We all think that the Odyssey is one of the nicest looking minivans in out on the road nowadays; I see a lot of Sienna's on the road but these Odysseys look way better. Although I wanted to get the body protection kit (the full leather nose guard and door protectors), my dad said he did not need it.
INTERIOR
I have looked at many minivans but I think the Odyssey has more room and space inside. First of all, the leather seats are really comfortable (for those long drives) and are of really good quality. In our Touring model the driver seats is powered and has two memory settings; meaning you can save two seat positions so every time you unlock the doors with the remote (drive 1 and driver 2), the seat will automatically adjust to your setting. The foot pedals are adjustable; you can bring them toward yourself about 6 more inches. This is nice for smaller drivers. The dash display is nicely illuminated and easy to read and understand. One thing I wish this had an adjuster for the illumination (maybe it does and I just have to figure it out), but it is not a big deal. The steering wheel can tilt up and down but does not telescope so you have to move the seat closer when needed. The gear shifter is on the right of the steering wheel on the dash next to the 6-disc CD changer and the tri-zone climate controls.
There are a lot of cup holders in this vehicle so you will never have problems storing those soda cups, cans, and more. There is also a lot of storage space in there like the two glove compartments (upper and lower), the hidden lazy Susan, and the huge trunk space. All of the leather seats have magazine holders and a zipped up section with netting for smaller items. The interior rearview mirror automatically dims so at night the headlights do not bother your eyes from the back.
All of the power windows, doors, climate, and stereo controls are nicely organized for easy access. The driver can control all windows, doors, and the moon-roof. Only the driver window has auto up and down. I wish the moon-roof was automatic but it is fine. The turn signal, lights, and wiper control levers are placed properly and work as expected since we are so used to Honda's configurations. I really admire how easy it is to use the tri-zone climate control; the driver can have their own setting, the front passenger can have their own, and the rear passengers have their own. We usually set it to Auto and synchronize it so everyone stays the same, but adjust it as needed.
We also got three months of XM satellite radio free so that was one of the nice gifts from Honda. I immediately put six CD's in the changer and they work like a charm. The DVD drive for the DVD player is located in the bottom center of the front panel. One thing I do not like about the remote control for the DVD player is that you cannot control the volume, only the driver or the front passenger has that capability (maybe that is a good thing if you have kids). Since our van does not have a navigation system, the CD changer is located right on top. The steering wheel controls the volume and track changes of the audio and the cruise control settings.
One thing that I would have liked a lot is an iPod integration connector, but I guess they are still working on that; there is an audio/video auxiliary input connectors in the third-row seat armrest. You can hook up MP3 players, video games consoles, VCRs, and more; plus there is a 110V AC power outlet available there also with a maximum of 100 watts.
My dad and I were talking about getting a portable navigation system like the new TomTom's; they will cost users a lot less than the built-in navigation system. Right now I use my laptop for directions as it has software that does not even require an Internet connection; plus I can charge it if the battery runs out.
The power tailgate and rear doors are a nice touch because sometimes you just want to jump in and be safe (like in the rain or something). The rear doors have a manual sunshade that you can pull up and hang on the special clips on the top. I wish it had shades in third-row windows. The third-row seats fold flat into the flow for better storage.
OTHER NICE TOUCHES
Like I said before, you get two key-less remotes (Driver 1 and 2) and a total of three keys (one for valet). Every time you unlock and open the door with the key-less remote the LCD (Liquid Crystal Display) screen on the dash will say "Welcome Driver 1/2" even before you put the key in the ignition. It will also set the appropriate driver's seat position. The remote can also open the rear sliding power doors and power tailgate. Like I said before, there are buttons on the left of the steering but not on the driver door that you can use to control the doors and moon-roof. The steering wheel also has two more buttons to customize many user settings like the wiper, internal lights, auto-lock, auto light off, and more. There is also a sunglass holder and three home link buttons that you can use to open garage doors, turn on lights, and more.
DRIVING AND HANDLING
So far we have driven about 500 miles in this baby and I only have one word for you: comfortable. The brakes are nice and smooth so you will not have your passengers flying out of their seats every time. The engine is quiet so you will not get distracted during a conversation. I really like to drive this van as it is very stable, almost like a car.
Speaking of the engine, it has a 3.5-liter V6 engine that provides 244 horsepower at 5750 rpm (rotations per minute). It is enough to overtake most other vans and trucks on the road. This van may not be able to beat those fast sports cars because of the total weight of 4655 pounds. The automatic transmission shifts seamlessly with you noticing it. Another nice feature is the ability too turn-off three-cylinders when you drive below 25 miles per hour (to save gas). The overall ride is great as it is quiet and smooth.
The ability to turn off three cylinders allows you to have better gas mileage there for you have an estimated gas mileage of 20 mpg (miles per gallon) city and 28 mpg on the highway. So far we are hitting close to 20 mpg on average mostly on the highway.
We have not yet gone on very long trips yet, but we have traveled about 135 miles one way and we have not had a breakdown. Honda says that the first scheduled maintenance will not be until we reach 100,000 or so miles. If you are concerned about reliability, all I can say is that it is a Honda and they are known for their reliability. But since this vehicle has a lot of electronics, I do not know how long they will last; a friend of my dads who works at a Honda dealer said that they mostly get to repair electrical problems.
FINAL THOUGHTS
My dad has had this minivan for almost two months now and he just loves it, but he regrets not getting the one with the navigation system. But I assured him that if he gets a portable GPS navigation system, it will cost him less and may provide better quality maps. So for now, he is hanging in there but I think he will purchase the portable one pretty soon. We have not noticed any problems with any of the features of this vehicle as of yet and I am sure that it will stay that way for years. My dad plans to keep this vehicle for three or four (or until the 3-year warranty expires) years and after that, he will trade up for the next latest model. So, as far as recommending this minivan for your family, I would say go for it. I mean, you cannot go wrong with a Honda ever.