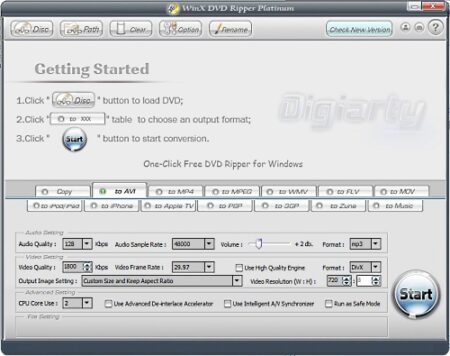 Rip DVD's to many Formats Quick!
Summary
Can backup copyrighted DVD's without an external decryptor.
Pros
Very easy to use, fast, all-in-one features and inexpensive.
Cons
Copy doesn't mean copying DVD-to-DVD and cannot convert from one format to another.
I don't usually rip DVD's but when I got the chance to try out the WinX DVD Ripper Platinum software, I just couldn't resist. It is a very lightweight tool that you can use to copy or rip almost any DVD movie to many popular formats like AVI, MPEG, WMV, MOV, 3GP (Blackberry and others), iPod/iPad, PSP, and more. It's pretty easy to use and the ripping is fast also.
Recently, I have been using Slysoft CloneDVD with AnyDVD to copy my movies but thought to try this one also. I usually like to copy DVD to DVD for my backups because I don't like movies taking up precious disk space. So let's see how this WinX DVD Ripper does compare to Clone DVD.
INSTALLATION AND STARTUP
The installation is simple and quick but the setup file is a bit larger than other similar tools (around 9MB compared to CloneDVD which is only about 5MB but combining that with AnyDVD it comes to around 8MB). Since the decrypter is built-in and it supports many output formats, I don't mind the size. So just run the executable setup file and follow the simple prompts to install this ripper. You will not need to reboot and can start using this right after installation. You will notice the "WinX DVD Ripper Platinum" icon on your desktop that you just double click to launch. You will see a nice splash window for a few seconds and then you will be taken to the main window. You will also see the Registration window if you haven't entered your license key yet (just type it in and you will be all set to go).
LOOK AND FEEL
The main screen/window looks somewhat packed at first glance but it really isn't. It literally takes about four or five clicks to start ripping. There are six buttons and three icons at the top (Disc, Path, Clear, Options, Rename, Check New Version, About, Contact, and Help). The Disc or Path buttons can be used to select the source DVD or folder that contains the movie to be ripped or converted. The Clear button is used to clear all your selections and restart from the beginning. You can use the Rename button to specify the output file naming format. The Options button will bring you to another window where you can specify default Audio/Subtitle languages and output folder, type, profile, format, resolution, frame rate, quality, etc. And as expected the Check New Version button will take you to the winxdvd.com web page where you can download the latest version of the software. Then you have the About icon that will show you the version and license information window. Then you have the Contact icon that will either take you to the FAQ section of the Help file or open your default email program so you can ask your questions. Last but not least, is the Help icon that, well opens the help file. Halfway down the main window, you will see a lot of tabs for output format and the big Start button. You can copy or convert it to a different format really easily.
SUPPORT INFORMATION
To learn more about the WinX DVD Ripper, you can email their support department at support@winxdvd.com (remove the spaces). Their support team will try to help you out within 24 hours.
TEST SYSTEM
| | |
| --- | --- |
| Motherboard | Asus M2N-E |
| CPU | AMD Athlon 64 X2 6000+ Dual Core (overclocked) |
| CPU Cooler | Coolink Corator DS |
| Graphics Card | PNY GeForce GTS 250 1GB |
| Power Supply | Arctic Cooling Fusion 550RF 550W |
| Storage | Seagate Baracuda 7200.10 SATA 3Gb/s 320GB |
| Optical Drive | TSST SH-S223F SCSI DVD-RW/CD-RW Combo |
| PC Case | Thermaltake Element G |
THE TEST
I will copy two original DVD titles (2012 and Twilight) that I rented from Netflix and back them up to my hard drive in MPEG format. I will record the time it takes to do this. Then I will compare the results with that of CloneDVD with AnyDVD. I will only test the ripping capabilities as WinX DVD does not burn to DVD like CloneDVD.
RESULTS
Looks like WinX DVD Ripper performed very close to CloneDVD. WinX DVD ripped Twilight in 17 minutes and 2012 in 15 minutes while CloneDVD with AnyDVD did the same in 16 and 14 minutes respectively. So there isn't much difference in performance except for the fact that WinX DVD can export to a lot of different formats and it costs a lot less. One thing I would have expected from WinX DVD was a feature to convert between all the formats it can export to. So if later I decide that I want to put a movie on my iPod or Blackberry, I really don't need to get the original DVD or burn it to a DVD first. The whole ripping process didn't take a lot of CPU time at all (on average only about 30 to 40 percent).
EXPERIENCE
As I said, I used 2012 and Twilight as my test subjects and they were perfect because they use the new encryption. WinX Dvd warns you but still rips the DVD's without any issues–CloneDVD just rips without any message. You have to select the DVD titles that you want to rip with WinX DVD while you just select the DVD and languages/features you want using CloneDVD. WinX DVD is easier to use because everything is on one wizard-like window where you have a sliding wizard-like interface with CloneDVD. WinX DVD costs a lot less than CloneDVD alone and if you add AnyDVD then you are talking around $80 whereas you will only pay $30 for WinX DVD. The ripped video quality was very good the same as the one ripped with CloneDVD (I couldn't tell the difference at all).
FINAL THOUGHTS
WinX DVD Ripper Platinum works as expected but it does have it's small shortcomings as well. It held up to all my tests and produced good quality outputs. The 1:1 output in MPEG format was about 5GB as expected but other formats resulted in smaller sizes. The tool is cheap and easy to use. If all you need to do is ripping a DVD to a file then this is the tool for you. If you want to copy a DVD to another, then you may want to look at other options. Overall you can rip a DVD movie in a few minutes with a few clicks and also have more options to control the way your output looks and feels. This is the cheap alternative to ripping DVDs (even copyrighted ones) for your own backup only (you don't want to break any law's do you?).