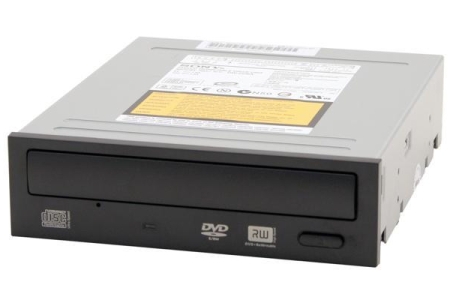 Cheap drive but expensive media...
Summary
If you do not want to spend too much on a dual layer drive, get this!
Pros
Cheap, reliable, and fast…
Cons
The media is not so cheap… yet!
At the beginning of this year, I was browsing the newegg.com online store and stumbled upon this drive, the Sony DW-D22A DVD DL±RW.
And at the time it was selling for only $65.00 plus shipping and tax. So I jumped on it and got this as soon as I could; even though I could have waited another week and saved another $10. But I was still happy with the deal I got. I mostly use this drive to copy (I think backup is the better word) my movie collection; I do this to share it with my family (I do not want to damage the originals that I paid close to $20 each). I also use it to burn home videos and photo slideshows, and sometimes for data backups.
WHAT'S SO HOT ABOUT IT?
It can burn single layer DVD±R disks at 16X plus it has the capability to burn double layer disks at 2.4X. Double layer disks are new which allows you to burn a hole movie (1:1 ratio) to it without any compression (quality loss).
WHAT'S NOT SO HOT ABOUT IT?
The only problem with the double layer is the price of the media itself. Since the technology is still fairly new the price is still higher than regular DVD±R media. I would not mind paying about a buck or two for a single disk, but $9.99 was just out of the question at the time. Fortunately, like all new technology, the price has gone down a lot (move than half) to about $4 each. This is still a bit on the expensive side, but now I can at least try it out.
ABOUT THE DRIVE
This drive comes in two colors, black and white. I bought the black one because my case is grayish and I white would just stand out too much. Amazingly, this drive can read and write to all popular DVD media formats (CD-R/RW, DVD±R/RW, and DVD DL±R/RW). The dual-layer media is compatible with all newer (I would say after the year 2000) DVD players.
I still have my old Sony DRU-510A drive still install on my system. Compared to that older drive, this new model is faster and quieter. I have burned 80 minutes CD-Rs in about two and a half minutes. Also any regular (4.7 GB) DVD-R media burns in about 10 to 11 minutes and DVD+R in about 7 to 8 minutes (this does not include ripping time for movies). The dual-layer DVD media takes about 40 to 45 minutes to burn (8.5 GB at 2.4X); again this does not include ripping time.
WHICH SOFTWARE TO USE?
I mostly use three different software titles for all my burning needs. These help me burn data CD/DVDs quickly and easily. Some help to copy or backup my purchased movies. And others help master my own home movies and photo slide shows (since I like taking pictures a lot). Here is a list of software I use and what I use them for:
Nero Burning Rom

 (Price: $80 – $100)

This is the most used software for me because I use it to burn all my CDs and data DVDs. It is fast and easy to use. I use it because it is fast, reliable, and I really like the user interface.

DVD Shrink

 (Price: Freeware)

I always use this software to backup my movie collection. It rips and burns a DVD in one simple process and even automatically compresses it if needed. It requires Nero software to be able to burn.

Photodex ProShow Gold or Producer

 (Price: $30 – $70 – $400)

I use this application to transform my digital pictures from plain old pictures to slideshows with sound on DVDs. It is one of the best slideshow creator software I have used so far (I have tried about 20 so far).

Roxio Easy Media Creator

 (Price: $70 – $100)

I tried the newest version of this software but did not like the way it looked and felt. I liked the way it looked before when Adaptec used to own it. Roxio has just turned something good into something useless.
These are some software I would recommend using with this drive in the order I put it in because I have come to rely on these after a lot of testing. There is a lot of software available for burning today, but you have to decide what you like by yourself. So take advantage of the trialware and see what you like.
EXPERIENCE
So far I have used to burn music/data CDs which usually take less than two and a half minutes each. Burning data to a DVD±R takes between 10 to 15 minutes. On the other hand, burning data to a DVD DL±R takes about 40 to 45 minutes.
Copying movies takes a lot longer because the ripping process takes time also. To copy a full movie to a regular DVD±R/RW disk it takes me about 20 minutes to rip and 15 minutes to burn (a total of 35 to 40 minutes). Also, to copy a full movie to a DVD DL±R/RW takes about 20 minutes to rip and about 40 to 45 minutes to burn (about an hour or so).
Burning my photo slideshows and home videos take the most time for me because they have to render first. The rendering process takes about an hour or so depending on the size of the slideshow. The burning process from there takes about 15 minutes.
I have created my wedding slideshow with my old drive and it took me a total of about three hours to render and burn. I am currently working on a newer version of that slideshow and I bet it will take half as long to render and burn (I have a faster/powerful PC and DVD drive). As of yet, I have not wasted any media as a result of the burner messing up. This drive is an OEM, but it is of high quality because it is Sony.
FINAL THOUGHTS
The Sony DW-D22A is a great drive for the price because of its speed it can achieve. There are faster drives available now but I am happy with this for now. I have seen another Sony dual-layer drive with a 16X speed selling for about $70 at newegg.com, but I will wait until they reach double that to upgrade. So go ahead and try one out for yourself.