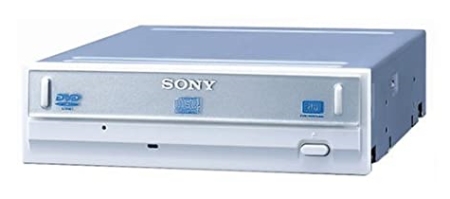 A faster dual layer burner!
Summary
One of the fastest and the most reliable drives available today…
Pros
Fast, reliable, and Sony…
Two weeks ago, a client of mine came to me and said that he wants a faster DVD burner, so I went to the newegg.com online store and found this Sony DRU-810A DVD DL±RW burner selling for about $70.
And at the time it was selling for only $65.00 plus shipping and tax. I showed it to my client and he excitedly said he wanted to get this one. So I jumped right on it and placed the order. My client said that he will mostly use this drive to back up his movie collection and documents
WHAT'S HOT ABOUT IT?
The main reason for this purchase was the burning speed as is always the case for burners. Everyone wants a drive that is faster and faster than everyone else's drive. So this drive can burn single layer DVD±R disks at 16x plus it has the capability to burn double layer disks at a whopping 8x speed. Double layer disks are new which allows you to burn a whole movie without any compression or quality loss.
WHAT'S NOT SO HOT ABOUT IT?
The only problem I can think of is actually not of this drive, but the dual-layer media. Since the technology is still fairly new the prices are still higher than regular DVD±R media. I would not mind paying about a buck or two for a single disk, but $9.99 was just out of the question at the time. Fortunately, like all new technology, the price has gone down a lot to about two to three bucks each. It is still a bit on the expensive side, but at least now you can afford to try it out and see for yourself what the quality is like.
ABOUT THE DRIVE
This particular drive we purchased is white with a nice faceplate that has the Sony logo and other markings on it. My client chose the white one because his computer case is grayish so white would match better. Amazingly, this drive can read and write to almost all popular CD or DVD media formats (CD-R/RW, DVD±R/RW, and DVD DL±R/RW). The dual-layer media is compatible with all newer (I would say newer than the year 2000) DVD players.
I still have my old Sony DRU-510A drive still install on my system. Compared to that older drive, this new model is way faster and a bit quieter. Just for testing purposes, I have burned 80 minutes CD-R's in about two and a half minutes or sometimes less. Also any regular (4.7 GB) DVD-R media burns in about 10 to 11 minutes and DVD+R in about 7 to 8 minutes (this does not include ripping and rendering times for movies). The dual-layer DVD media takes about 20 to 25 minutes to burn (8.5 GB at 4x); again this does not include ripping and rendering time. I said 4x for dual-layer because I could not find any 8x media to test it with, but they will be out soon (the price will be a bit higher of course).
WHICH SOFTWARE TO USE?
My client uses Nero for all his burning needs and I later introduced him to DVD Shrink for all his movie burning needs. I personally like to use three different software titles for all my burning needs. These help me burn data CD/DVD's properly, quickly, and easily. Some of them help me to copy or backup my purchased movies. And others help master my own home movies and photo slide shows (since I like taking pictures a lot). Here is a list of software that I use and what I use them for:
Ahead Nero Burning Rom

 (Price: $80 – $100)

This is the most used software for me because I use it to burn all my CDs and data DVDs. It is fast and the interface is very easy to use.

DVD Shrink

 (Price: Freeware)

I mostly use this software to backup my movie collection. It rips and burns a DVD in one simple process and even automatically compresses it if needed. It requires Nero software to be able to burn. If you use a dual-layer burner with this, you will not need any compress and retain the original quality of the movie.

Photodex ProShow Gold or Producer

 (Price: $30 – $70 – $400)

I use this application to transform my digital pictures from plain old pictures to slideshows with sound and text effects and put them on DVDs. It is one of the best slideshow creating software I have ever used so far (I have tried more than 20 so far).
These are some of the software titles I would recommend using with this drive in the order I put it in because I have come to rely on these after a lot of testing and personal experience. There are a lot of software titles available for burning today, but you have to decide what you like by yourself. So take advantage of the trial-ware and see what you like and what you do not like.
EXPERIENCE
I had tested this drive by burning several CD and DVD media and I had not experienced any problems with the drive or the media after burning. My client has had this drive on his computer for about two weeks now and he has no complaints about it what so ever.
Burning data to a DVD±R takes between 8 to 12 minutes. On the other hand, burning data to a DVD DL±R takes about 30 minutes. Copying movies takes a lot longer because the ripping and rendering processes take a lot of time. To copy a full movie to a regular DVD±R/RW disk it takes me about 18 minutes to rip and 12 minutes to burn (a total of 25 to 35 minutes). Also, to copy a full movie to a DVD DL±R/RW takes about 18 minutes to rip and about 30 to 35 minutes to burn (about 45 minutes or so). Burning my photo slideshows and home videos take the most time for me because they have to render first. The rendering process takes about an hour or maybe more depending on the size of the slideshow. The burning process from there is about the same as above. As of yet, I have not wasted any media as a result of the burner messing up, and neither as my client.
FINAL THOUGHTS
The Sony DRU-810A is a great drive for the price because of the speeds it can achieve. This is one of the faster drives available for dual layer burning and you can be sure this drive will last you a long time as it is made by Sony. If you are like my client and think $70 is nothing for this drive then go ahead and purchase this drive. It is also great if you burn a lot of movies and want the best quality possible.