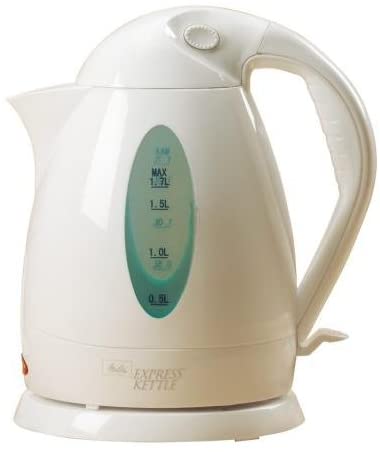 Tea--Coffee--hot water anyone?
Summary
This electric kettle will heat up water quickly and easily.
Pros
Now you can make a quick hot drink without a microwave oven…
We have been using this Melitta Express Kettle at our shop for some months now and it has been really nice. We mostly use is to make coffee lighter for the guys who do not like dark coffee. Some of our guys use hot water to make tea for themselves. I am just surprised that it has lasted us for such a long time in the shop; I mean, you can just imagine how dirty and rough the guys can get in a repair shop.
WHAT IS IT AND HOW DOES IT WORK?
First of all, this is an electric kettle that will allow you to heat up water without the need for a stove. You can pretty much take it anywhere there with an available power outlet. It is perfect if you are in school or at work and want a really quick cup of tea or coffee. This unit is not as fast as my parent's electric kettle that I have at home, but it gets the job done at work.
To use this Melitta Express Kettle you need to fill it with however much water you need (usually less than 1.7 liters or roughly 7 cups). After you have filled the kettle with the amount of water you want, just place it on the base and flip the power switch to the on position to start the heating process. The red indicator light on the base will turn on to notify you that the heating process has begun.
That is all you have to do to get your water heated up because the unit turns off automatically when the water is at boiling temperature. It also has boil-dry protection that will turn the unit off if there is no water in it.
Another great feature I like is that when the kettle is resting on the base it can rotate all the way around in both directions (360 degrees) without any problems. So you do not have to worry about setting it on the base a certain way. Also, the water level indicator is designed so that you will be able to see how much water is in the.
EXPERIENCE
I have mostly used this kettle to heat up water for tea or light coffee. I usually operate this kettle once or twice a week. All the employees use this kettle to heat up water for tea or make their coffee less strong. Unfortunately, it takes a while to boil the water; about 10 to 15 minutes for the whole thing full. You can also use it to cook rice and other meals that require boiling.
I have not had any disappointing experience with this unit as it always performs the way it should. Even though this unit is somewhat slower than my parent's kettle, it will get the job done without much trouble or wait. I would recommend this kettle you if you just need an electric kettle that gets the job done.
FINAL THOUGHTS
If you are like us and like tea or coffee quickly, get one of these electric kettles and you will be all set. Get one for your office for all your tea needs or to make bulk coffee in emergencies. If you are a cook or can cook, you can reduce your cooking time significantly. So get an electric kettle and get going.