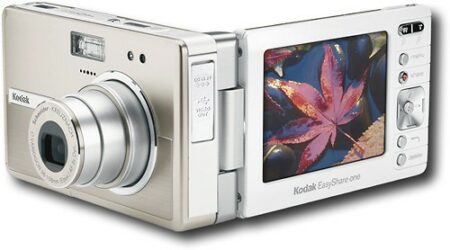 Got A Kodak Moment?
Summary
Great new features but the picture quality is not enough.
Pros
Fast shooting and wireless capability…
Cons
Slow startup and picture quality could be better.
Have you ever wanted to share your photos right from your camera? Maybe you are just tired of plugging in the USB (Universal Serial Bus) cable to transfer your pictures. Or you think it is just a pain to take out the memory card from the camera and plugging it in the memory card reader to copy your photos.
If your situation matches any of the previous statements, then you need this Kodak EasyShare One digital camera. You will be amazed by what it can do; I think it is one of the first cameras with this feature. As you already know, Kodak practically invented photo sharing, but now they just made it even better.
REASON FOR MY PURCHASE
The main reason I purchased this particular camera is because of its unique and easy photo sharing capability and the large three-inch LCD screen this is touch screen capable. It also has 256 MB of internal memory; that's right… you will not need to buy additional memory cards just to get started with this thing. You can say I am just wasting money on cameras that I do not need, but I just had to get it and try out the first and all-new wireless photo sharing feature. Yup, you read it correctly… it has wireless built-in.
LCD VIEWFINDER
This camera has a three-inch swivel LCD (Liquid Crystal Display) screen but does not have an optical viewfinder. This is fine because the LCD is big enough and the picture quality on it is excellent. I personally like to use the viewfinder to take pictures that need precision (like macro shooting) and also when I want to save a little battery life by turning the LCD off. The LCD on this camera has 230,000 pixels resolution which is bright and clear at all times. It is also a touch screen so you can use the stylus to navigate through the menus.
BATTERY AND POWER
This camera can charge using a lithium-ion (KLIC-5000) rechargeable battery, a 5 volt AC adapter, or the Kodak EasyShare Docks Series 3 terminals. With the battery fully charged you can get about 145 shots (give or take a few) before needing to charge again. This camera has less battery life because of the larger LCD and its inability to turn it off to use the viewfinder; a viewfinder would have been a wise addition.
MOVIE MODE
The EasyShare One has a very nice video mode that records video clips with audio at 640 x 480 pixels @ 30fps (max) and the length is only limited to the amount of memory you have; the internal memory lets you record about six minutes of video. I did take some video clips of my family just to test it and it turned out to be very good quality.
ISO & WHITE BALANCING
The ISO and White balancing settings are somewhat customizable so it is not much you can do manually to customize your shot. The ISO sensitivity ranges are Auto (80-160), 80, 100, 200, and 400. The white balancing settings are pretty much automatic and the settings are Auto, Daylight, Tungsten, and Fluorescent. Most compact digital cameras I have seen have some more settings but some high-end ones do have manual settings.
SHUTTER
Now, this camera is definitely not about speed because it takes about six or eight seconds to fully startup (pretty slow). Fortunately, you will not notice the shutter lag on this camera. Autofocus (AF) is very quick and accurate almost every time. This AF system gets the picture in focus in less than a second or maybe two in low lighting. If you take lots of continuous pictures than you will be glad you purchased this camera.
WIRELESS CAPABILITY
I am not saying that this is the only camera with wireless capability, but this is one with one of the best wireless features. Unlike some other wireless-capable cameras, the EasyShare One uses an 802.11b wireless card that comes with the camera and will work on any 802.11b network. All you have to do is insert the card into a slot on top of the camera, then go to your photo preview mode. As a result, the camera will begin searching for available wireless networks. Then you have to select the network you want from the list and the camera will be ready to transfer photos wirelessly. The whole process is very easy because of the extremely user-friendly interface.
I tested this camera with my home wireless network that has wireless security (WEP) enabled. Unfortunately, it was a bit tough to connect since the security was on, but once I turned the security off temporarily, I had no trouble connecting.
EXPERIENCE
So far I have used this camera for about three or four weeks and have taken lots of pictures with it (about 400 or so). I have taken pictures outdoors, indoors, in sunlight, on a cloudy day, and even on a rainy day. And on every single instance, I was amazed at the quickness and quality of this camera. It is noticeably faster than my Olympus C-8080 digital camera. I like to use the built-in flash, even during the day, to light up all parts of the subject I am capturing which this camera allows me to do that without any problems. I can pretty much take this camera everywhere I go, and it will fit perfectly in any one of my pockets. Plus it is lightweight so you will not feel uncomfortable while carrying it.
Since I like to take lots and lots of pictures that do not include me in them, this camera makes shooting quick and easy. Sharing pictures was another issue I was quickly getting tired of with my other cameras. Now that I have the wireless capability on this camera, I can transfer pictures to my computer via my home wireless network. I can even print wirelessly to the printer (HP OfficeJet 7310) on my network.
PROTECTING YOUR INVESTMENT
As always, I purchased a carrying case for this camera also because I do not want to see it getting damaged or scratched. So far, I did not notice any scratches or damages on the camera since I have been using the case to store the camera. So if you want to protect your investment, it will only help to purchase a good case for this camera. For great quality pictures, you should not touch the camera lens with your fingers. Keep the LCD clean at all times and when storing, cover the LCD with a piece of cloth to prevent scratches. Or wrap the camera in something to protect it. I also suggest that you buy a lens cleaning kit so you can get the dust and fingerprints off easily when they do get on the lens.
PICTURE QUALITY
At four megapixels, the images are very clear and the colors are accurate, but I did notice a reddish tone in the white areas of the images. I like to set the resolution to the maximum (4 MP) setting because I want to have the flexibility to edit the pictures later. I sometimes want to crop and enlarge the pictures to make larger prints so the higher the resolution the better the quality. But when I compare the quality with some of my other cameras, I was not really happy with the results. I did notice some (colored and non-colored) noise in the pictures; even the one's taken in broad daylight.
FEW THINGS TO NOT LIKE
One of the things I did not like about this camera is the slow startup time, and the picture quality. I thought that since Kodak has been around for a long time, the quality would be great, but I am sorry to say that it is not so great. For almost a $600 camera, I would have expected more color accuracy and faster startup.
FINAL THOUGHTS
If you are looking for a compact, lightweight, and reliable digital camera that will provide you with good pictures quickly then this is the camera for you. If you want to transfer pictures to your computer wirelessly then this camera is for you. If you do not care too much about the quality of the pictures than this camera is for you. I would recommend this camera to everyone who is willing to try it and has the budget to do it. I would not say that it would make a great gift for someone because the picture quality is not as you would expect from Kodak. On the other hand, since it is Kodak I would like to say this will definitely last you for a long time.