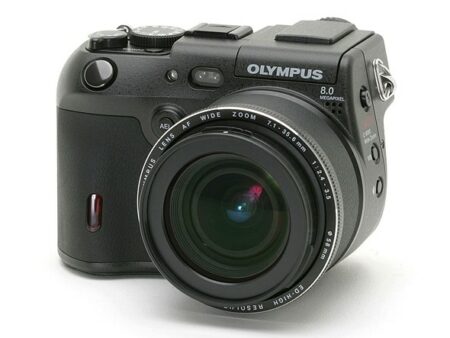 Eight Megapixels of Excellence!
Summary
The best choice of point and shoot camera's out in the market that has the flexibility of manual settings.
Pros
Very fast, reliable, and great quality.
Cons
In low light areas the auto focus take a bit longer than usual.
Three months after Olympus releases the C-8080 (8 megapixels) digital camera, I was drooling to get my hands on it. I decided to sell my Olympus C-4000 Zoom and buy the C-8080. I got this Camera online after I found the cheapest vendor on Epinions.com and saved about a hundred dollars on the total price. I thought that was a good deal, but a couple of months later I found out that I would have saved even more if I had just waited.
Nowadays, I am interested in the Canon Digital Rebel XT / EOS 350D Digital Camera. I am still not sure if I should buy it or wait for the next model (please let me know which one I should get and which not to get).
THE PACKAGE
32 MB Olympus xD-Picture Card
Olympus BLM-1 Lithium-Ion battery
Olympus BCM-2 battery charger
Infrared Remote Control
Lens cap & keeper strap
Lens hood, Shoulder strap
USB/AV cables
Software CD-ROM
Users Manual
VIEWFINDER AND LCD
The C-8080 has an electronic viewfinder (EVF) which has the same view as the LCD screen. The viewfinder helps you see what you want clearly when in very bright or very dark environments. The refresh rate for the EVF is 60 frames per second, which is very good. It also has diopter correction for people who wear eyeglasses. I use the EVF often when I go outside to take pictures of nature during the day. When the sun is shining bright during the day, the LCD will not show you the clearest picture, so it is best to switch to the EVF.
The LCD, on the other hand, is 1.8" TFT and it is bright and clear even in some bright environments. The most important feature I like about the LCD is its ability to flip up and tilt down. With this feature, I can take the camera as low or as high as I want without having to go higher or lower with the camera. The LCD can tilt down 45 degrees and tilt up 90 degrees; that is a lot of flexibility anyone will be happy with. This is one of the reasons I purchased this camera.
POWER
The C-8080 is powered by the BLM1 Lithium-Ion battery pack. This is a rechargeable battery pack that provides about 300 to 400 pictures before having to charge it again. The BCM-2 charger that is included in the package, can charge the battery fully in about 4 to 6 hours. I did not buy an extra battery pack because the original battery can last a very long time before it needs recharging.
NOISE REDUCTION
The Noise Reduction System (NR) of this camera is the most efficient that I have seen. This noise reduction system minimizes image noise in high ISO shots, low-light images, and long exposures. With Noise reduction on, the shoot may take a bit longer than usual, but it is definitely worth the wait. I like to use NR when I am in an environment without appropriate lighting. NR helps reduce the noise created by a lack of proper lighting.
MOVIE MODE
The C8080 has a decent movie mode that records video clips at 640 x 480 pixels @ 15fps. The coolest thing is that it can also record audio with the video, but you can also turn that off at the Movie menu if you do not need audio. Now the length of video you can record depends solely on the memory card you are using. Recording time remaining is displayed on the LCD screen and decreases as you record. Another cool feature this camera provides is the ability to scroll through video clips (frame-by-frame). This comes in handy when you wish to cut out certain parts of the video clip.
I took some video clips when I went to see the fireworks show this 4th of July and they came out very nicely. Now the clips are not of the highest quality but they are decent enough for everyday use. Of course, if you want a high-quality video, you would just get a camcorder.
ISO/SENSITIVITY
The C-8080's sensitivity range provides the ability to slightly change images without reducing its quality and details. Sensitivity options are Auto, and ISO 50, 64, 80, 100, 125, 160, 200, 250, 320, & 400. This camera's range of sensitivity choices goes along nicely with the White Balance feature and other image adjustment controls. I usually like to leave the ISO setting to Auto, but I play around with it when I have free time to see what the pictures will look like.
WHITE BALANCING
The C-8080 has 11 white balance (WB) settings: Auto, and pre-sets such as Shade, Cloudy, Sunny, Evening Sun, Daylight Fluorescent, Neutral Fluorescent, Cool White Fluorescent, White Fluorescent, Incandescent, a Custom (manual) setting, and a One-Touch setting. This camera also has a WB color adjustment feature that allows us to fine-tune WB. This function works with both the pre-set and manual settings. I hardly ever change my WB settings, because I like to just point and shoot. I leave my setting at Auto and forget about it.
SHUTTER
Olympus' TruePic image processor provides the fastest image processing times that I have seen so far. It takes about one second to startup. The shutter fires very quickly without virtually any lag, but sometimes it takes about a second (in bad lighting). When taking pictures, one right after the other, the shutter speed is anywhere between one and two seconds. Autofocus (AF) is also faster and more accurate than my old C-4000 Zoom. The AF system gets the picture in focus (in good lighting) in less than a second. The AF system hardly ever lags to get the pictures in focus, and in low light situations, it takes a bit longer and uses the focus aid beam.
EXPERIENCE
I have been using the Olympus C-8080 for about a year now, and it has given me a wide range of high-quality pictures. I take it everywhere I go, and it gives me great-looking pictures. I always get crystal clear pictures every single time. I like to take a lot of pictures, especially of my family and the beautiful nature. I like to visit places and take a lot of pictures. My mom has a beautiful flower garden and I usually go to her place and take close-ups of some very pretty flowers and other wonderful trees. The Olympus C-8080 allows me to do this really quickly. I use the built-in flash, even during the day, to light up all parts of the object I am capturing and this camera allows me to do that without any hassle. My C-4000 Zoom was slower and it could not give me the flexibility I needed, so I upgraded to this C-8080 and I have not regretted this investment ever.
PROTECTING YOUR INVESTMENT
I bought a carrying and storage case for this camera and thus far I have not had a scratch on it anywhere. So if you want to protect your investment, I suggest you purchase a good case and always use the lens cap when you are not using the camera. For great quality pictures, you should not touch the camera's lens with your fingers. Keep the LCD clean at all times and when storing, cover the LCD with a piece of cloth to prevent scratches.
I also purchased a lens cleaning 2-in-1 pen which helps me get the dust and fingerprints off in just a couple of seconds from the wide-angle lens of the C-8080. I would highly recommend purchasing some sort of lens cleaning apparatus to take full advantage of this camera's potential.
PICTURE QUALITY
The image quality the C-8080 provides is amazing and is better than most of the eight-megapixel digital cameras I have used. The color is accurate and can easily be customized in the menu settings. I usually use 3264 x 2448 resolutions for my pictures because I sometimes want to crop and edit pictures; this gives me that flexibility and quality. Well, since I am still new to digital photography and digital cameras, I do not know everything in detail about this camera but I can tell you this, every picture I have taken with this camera came out perfect (for me). I have never had a ruined picture in the time I have used it. Every picture is just beautiful without question.
A FEW CONS
I have discovered a few nicks here and there while shooting pictures in a place that lacks proper lighting. The autofocus takes a bit longer than usual to get the object/scene in focus. Is also makes some weird noises when doing this, but not always and it is not loud at all. I think the noise is the autofocus feature trying to focus in the low light situation, but I might be wrong. To fix this problem, I try to get more light in the area, or turn the camera off and then back on again. Doing this usually fixes the problem with the weird noise, but the improper lighting is a problem you have to be patient with.
FINAL THOUGHTS
I am not saying that this is the perfect camera for anyone, but from my experience, I can say that it will not fail to provide you with excellent pictures. I have tried the Sony's 8-megapixel camera and this C-8080 speeds ahead of it without hesitation. This camera will last you a long time and help you secure your memories in perfect quality every time.