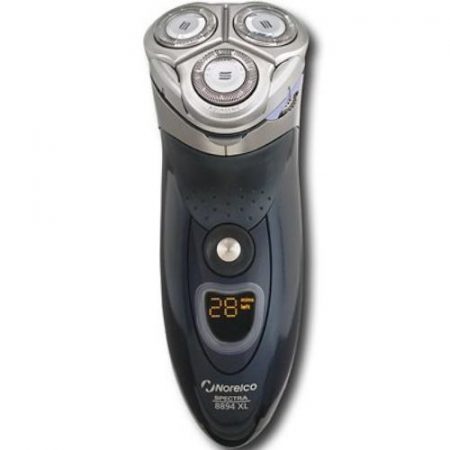 Great Shaver!
Summary
Great stylish shaver for a fare enough price.
Pros
Quick, compact, safe, and easy to use…
Cons
The cleaning gets tiresome after a while.
I bought this Norelco Spectra 8894 Xl Electric Shaver because I was going on vacation and needed something that could help me shave with less work while on the go. This is the shaver that I liked the most because all you have to do is turn it on and shave away. No rinsing needed. Just shave and well you are done. I have been using this shaver for about 10 months now and I have totally fallen in love with it.
DESCRIPTION
In this model, there are three floating shaving heads called the Spectra Shaving System. Basically this razor head formation allows individualized shaving for your face and allows the user to benefit from its ability to meet the unique contours of your face. The three heads are designed so that you may get a close shave even in hard to reach areas of your face.
PROS
First of all, let me tell you about the slick leather pouch that stores and protects this razor. It not only keeps it safe, but it comes in handy when traveling. You can squeeze it in any tight space in a bag and it will not disturb anything.
I cannot tell you much about the counter razor stand because somehow I lost it and did not have enough time for any actual experience with it. The power cord is compact and fits in the leather pouch with the razor. The coiled design of the cord prevents it from getting tangled. The cleaning brush comes in handy when you do not want to wash the razor; like when you travel and you do not have that much water at your disposal. The protective head cap for the razor keeps the heads safe from most elements that can harm it, but it has a tendency to come off really easily. The instruction manual is easy to read and helpful. It quickly guides you through the operations and quick start features of the razor. It covers every feature of the razor in detail.
The razor itself is designed so it is easier to hold, use, and store. I like its sleek look. The noise makes while shaving is not too loud, but I would have preferred it could have been quieter. The LCD in the middle of its body shows you the amount of battery life left (in minutes) and warning messages. It shows tells you when to wash or clean your razor and even when to change the razor heads. The comfort control setting helps to adjust the comfort level to your specific need.
Now amazingly the battery lasts me about a month or sometimes more before I have to recharge it. Recharging does not take that long. The manual says that the first 10 minutes of charging will give you 6 minutes of shaving time. Mine takes about an hour to hour and a half to fully charge. Finally, the pop-up trimmer comes in handy when you want to shave off the sideburns but if you have a beard or mustache, it will not do you any good. I will suggest that you use a mustache or beard trimmer for that.
CONS
I do not really have any cons for this razor but I just want to say that the cleaning gets tiring after a while. Actually the razor warns me to clean the razor about once a week. And you have to wash it for about a minute before the warning goes away.
EXPERIENCE
My experience with this shaver has always been good because I like to shave every morning and in 2 to 3 minutes I am done with shaving. The manual recommends shaving after washing your face or after a shower, but when you wash you face you it will not dry quickly and the razor heads will not glide that easily. So what I do is, I shave before the shower and I am all good.
FINAL THOUGHTS
I would highly recommend this shaver because it provides an extremely close and comfortable shave. With a fully charged battery, you can shave for about 3 weeks to 4 weeks without having to recharge (initial battery charge required 4 hours but subsequent charges require only about 1 hour to hour and a half). This electric shaver eliminates all cuts that can occur with a blade. Couple this with the LCD panel for maintenance information and the ability to easily and effectively clean the shaver under hot water. I would certainly purchase another Norelco electric shaving system.