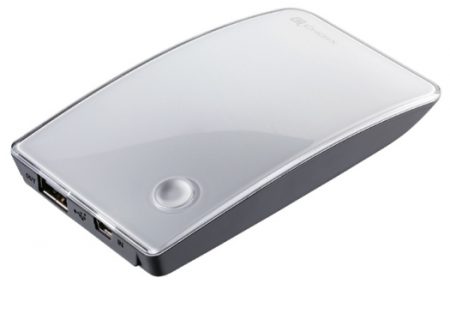 Choiix Power Fort Backup Battery Pack really works! Go Get One!
Summary
The Choiix Power Fort has enough power to double the battery life of many of your favorite portable devices like MP3 players, hand-held gaming devices and the Apple iPhone.
Pros
Lithium battery, Flashlight and 10 Whrs capacity.
Cons
Needs a Sony PSP and Nintendo DS USB adapter.
Today's digital on the go society has left us with a menagerie of battery-operated devices that need recharging. We are left hunting in airports or school classrooms like zombies for outlets to satisfy our hunger for more power. Now with the Choiix Power Fort 10Whrs Rechargeable Power Backup Battery Pack from Cooler Master, we finally have instant access to a quick boost to keep those precious Apple iPhones and MP3 players fully charged while traveling.
The Power Fort uses a state of the art, Lithium Polymer battery which has enough capacity to recharge your cell phone multiple times off of just a single charge. For security, Choiix also integrated three powerful white LED lights on the front of the battery pack to help you find your way in dark places. The supplied USB cables give you the ability to recharge multiple devices as well. To maintain the glossy case appearance, we also get a black velvet carrying case to store the Power Fort and any cables when not in use.
Packaging And Size Of The Choiix Power Fort Power Backup
The Choiix Power Fort comes in a clear plastic container with an instruction manual, black velvet carrying bag, standard to mini USB cable, and standard to micro USB cable. You can easily fit this 10-watt hour power pack in the palm of your hand due to its efficient size. The rectangular white and black plastic case of this product measures 4.3" long x 2.5" wide x .5" high and weighs 3.6 ounces. In fact, it is so small you can carry it in your front pocket without anyone even noticing it.
On top of the battery pack is a power button and four blue LED's. When you press the white button, the LED's shine brightly to indicate the current state of charge. Four mean 100 to 70 percent power remaining, three mean 70 to 45 percent, and so on. When the blue lights do not shine at all, the 10Whr, Lithium-polymer battery is completely drained. When you press the power button twice, three powerful white LED lights turn on. They are positioned at the front of the battery pack and can last for at least 10 hours with ease. If you point the flashlight forward it will brighten an entire room. Putting the Choiix Power Fort flat on a table will almost completely mask their light giving you the flexibility to limit output.
The back of the rechargeable battery pack has a full-size USB port labeled Out and a mini USB port labeled In. They are firmly seated in the case so you can be sure they will last a long time without experiencing any damage from normal use.
Power Fort 10Whrs Rechargeable Battery Pack User's Manual
The instruction manual is a two-sided, foldout sheet of paper. Since the operation of the rechargeable battery pack is rather straight forward, there is little need for a long technical manual. You can also download a PDF version of the manual from the product site.
Power Consumption And Estimated Time Taken While Recharging The Choiix Power Fort
Recharging your Choiix Power Fort Backup is as simple as plugging it into any nearby computer and placing the supplied mini USB cable into the input port on the front of the product. As an added bonus, you can still charge a cellular phone or portable game system while recharging. My experience has shown an average recharge time of 2 hours 30 minutes. Of course, you have the right to be curious about how this product can perform in various situations so let's examine them now.
The circuitry used to recharge the battery in this product is not only highly efficient but it also has protection mechanisms built-in. The battery itself is guaranteed for 500 uses with a generous 85% capacity remaining when you finally hit that milestone. To extend the life beyond 500 uses, Choiix added overcharge protection, over-discharge protection, over-temperature protection, over current protection, and short circuit protection. With all of these independent programs, the micro-controller has the ability to respond to multiple situations at once. For example, you would not be able to quickly recharge a Nintendo DS video game system if you tried to operate this product inside a car that was 140 degrees Fahrenheit. The air temperature would trigger a protection mechanism to prevent damage to the Lithium-Ion battery.
Using a Kill A Watt P4400 power meter, I monitored how much power the Choiix Fort Power Backup consumed while recharging. Since my product sample did not come with an AC Adapter, I used a GameStop USB AC Adapter that was rated for an output of 5VDC at 1 amp. If you cannot use a computer USB port to recharge, make sure you pick up the Power Fort Advanced Version which includes a universal AC USB charger and a Car USB Charger. After just 2 hours 29 minutes the Choiix 10Whr Fort Power Backup was fully charged. The power meter showed that it pulled a maximum of 6 watts and a total of 0.01 kWh.
Increased Operating Times For Various Battery Operated Devices
Before we examine the increased run times for several portable battery-operated devices, I want you to be aware that a USB adapter is going to be needed to make the Choiix Power Fort work. Most cellular phones use mini or micro USB ports for recharging but some proprietary products do not. Luckily, I have a USB AC adapter for my Nintendo DSi XL but I had to fabricate one for my Sony PSP Portable. The effort was worth it though because I can now play Grand Theft Auto and Burn Out Dominator while on the road. You can find this USB to Sony PSP adapters at most retailers in your area and I think the small price you pay is more than worth the increased battery life.
In each of these tests, Round 1 was used to test the base battery life of the product. Round 2 was used to see how far the 10 Whrs Power Fort could extend the operating time of the electrical device.
Nintendo DSi XL Power Life Test
The Nintendo DSi XL responds very well to the Choiix Power Fort by instantly showing an amber light when you plug the power lead-in. I left the portable gaming system scanning for WIFI signals with Treasure World DS and the screen brightness set to 5 for both rounds of testing.
Round 1: Took 5 hours to drain the battery.
Round 2: 11 hours 24 minutes of Treasure World DS gameplay were needed to fully drain the battery. No intervention was needed to keep the juice flowing from the Power Fort.
Philips GoGear Vibe 4Gb Power Life Test
The Phillips GoGear MP3 player is my favorite portable audio player. I use it to listen to Sublime or Lady Gaga while programming and driving to work. As a result, I run the battery down quickly so I was eager to see what the Power Fort could do for me. The screen brightness was set to max and a set of Sony MDR-V150 headphones were plugged in.
Round 1: 6 hours 20 minutes to drain the battery.
Round 2: The device ran from 7/20/2010 3:00 pm until 7/22/2010 12:35 pm with the Choiix constantly recharging the internal GoGear Vibe battery.
Sony PSP Power Life Test
First, the Sony PSP did not indicate if it was receiving a charge by connecting the USB adapter. As a result, I had to build one by hand using a full-size USB cable and splicing the 5 VDC wires into the AC power adapter. To test the performance of the battery pack, I set the screen brightness to maximum and then put Burn Out Dominator in demo mode. The spinning optical disc drive of the Sony PSP and its 3D graphics can consume quite a bit of power so the results of this test were important to this portable gamer.
Round 1: 5 hours 5 minutes to drain the battery.
Round 2: 12 hours 7 minutes were needed to drain the Sony PSP and Choiix C-2010 rechargeable battery.
Final Thoughts
At a minimum, we see that the Choiix C-2010 doubled the running time of all my electronic gadgets. I believe this product is my answer to recharging the Nintendo DSi XL while I am on the road in airports. If you find it embarrassing to pull out your Nintendo handheld in an airport then the Choiix Power Fort Backup by Cooler Master was made just for you. As you have seen by the increased run times in the Sony PSP, Philips GoGear Vibe Portable MP3 Player and the Nintendo DSI, this small battery pack has plenty of reserve power for your next road trip. The cost is just an investment in time since you can use this battery over 500 times.
In all I give the Choiix 10Whrs Fort Power Backup two thumbs way up!