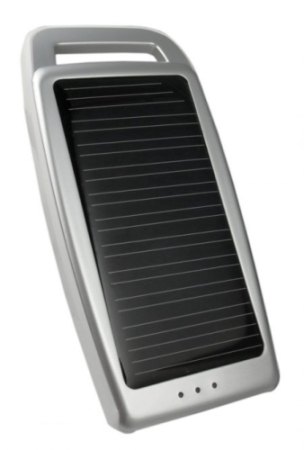 Charge up on the go with the Arctic Cooling C1 Mobile Solar Charger!
Summary
The Arctic C1 Mobile USB Charger offers 4440 mWh of power to keep your Apple iPhone or Nintendo DS game console humming along while on the road or at school.
Pros
Integrated solar panel, charge from your computer and adapters for Nokia, Sony Ericsson, Samsung, Motorola included.
Cons
Solar recharging capability minimal.
Have you ever been stuck on the golf course with a dead cell-phone? Your family and office cannot get a hold of you in an emergency and the inability to complete that last phone call could cost you the big deal of the year! The Arctic C1 Mobile USB Charger with Solar Panel can solve this problem for you by giving you a quick boost of power to complete that phone call. Which products are compatible with the Arctic Cooling C1 Mobile Solar Charger? And how effective is the 80 ma solar panel?
The battery charger comes in a large protective, clear plastic enclosure. Once you get it open, inside you will find the charger itself and several charging adapters for many popular cellular phones. The Arctic C1 Mobile easily fits in the palm of your hand. A large loop is built into the plastic case so you can hang it from a back sack or tent while camping outdoors. Several adapters for Nokia, Sony Ericsson, Samsung, Motorola phones in addition to mini-USB adapter are inside this package so you are going to be set for recharging many devices. In addition to these products, you can also charge the Philips GoGear Vibe 4Gb, Nintendo DSi XL, and Sony PSP Black with this battery charger.
Recharging the 4440 mWh battery can be quickly done using a desktop computer. Simply plug in the supplied USB extension cable to an available, powered USB port and then set the mini-USB adapter into the Arctic Cooling C1 Mobile input port. A single red LED will come on indicating the Lithium-Ion battery is charging. After about an hour or two, depending on the 5 VDC output of the computer, the red LED light will blink off.
INSTRUCTION MANUAL
The instruction manual is a single fold-out sheet of paper in numerous languages. A chart details how the various adapters work with the charger and a diagram details the purpose of each of the functions of the Arctic C1 Mobile. I also want to remind you that this is not a waterproof product, the electronics inside are susceptible to high heat and humidity so story it in a dry location. In the manual, we also find that this product comes with a 2-year limited warranty.
CHARGE TEST
To test the output of the Arctic C1 Mobile DCAC00-APC00-CSA01, I used a variety of portable electronic devices. For each charge test, the electronic device was completely drained in a room temperature room. After it turned off, it was turned on again to ensure no power was left in the on-board battery.
Nintendo DSi XL
1 hour 25 minutes to reach full charge. It drained the Arctic C1 Mobile completely.
Sony PSP Black
1 hour 35 minutes to reach full charge. The recharging operation drained the Arctic C1 Mobile completely.
APPLE IPHONE AND IPOD TOUCH SUPPORT
For those of you who own the Apple iPhone, you know how much power it can consume while roaming for signals in airports. The Arctic Cooling Mobile USB Charger is your answer because it can give you an extra boost of power until you reach the next wall outlet. The charger offers through its data pin to allow charging of Apple devices. Many chargers on the market today just cannot do that.
SOLAR CHARGING CAPABILITIES
The Arctic C1 Mobile has an integrated 80 ma solar panel which is securely held in place by the plastic case. The solar panel itself is encased in a tough, scratch-resistant, clear plastic cover so it can resist the shock of a hard fall or damage if placed in a briefcase. You can only get 400 Mhr of charging capability from this product when placed in full sunlight. The battery has a capacity of 4440 Mhr. So if you do the math, you will see that it would take several days of solar charging to fill the large Li-ion rechargeable battery inside this product. I still liked the feature because it gave me a way to keep the battery topped off in between uses.
FINAL THOUGHTS
Whether for hiking, camping, or just the world traveler, you should be able to find a number of uses for this product. The only real problem with this device was the low power output of the solar panel, but if you just use it to top of the battery you will not be disappointed. In comparison to other portable battery packs in this category, the Arctic C1 Mobile is certainly setting the trend for future development with its solar panel.
The small size of the Arctic C1 mobile means that it can fit in your purse or briefcase with ease while traveling or just going to work. The solar panel gives you a way to recharge without the need for a computer or wall outlet. The wide range of supplied power adapters means that you can quickly use this charger once it is removed from the box. I found it gave me a needed boost for my devices and hope that you pick up one of these cool products as well. With our connected society, keeping your cell phone powered up is more important than ever. Pick up the Arctic C1 Mobile today so your friends and family can always stay in touch!