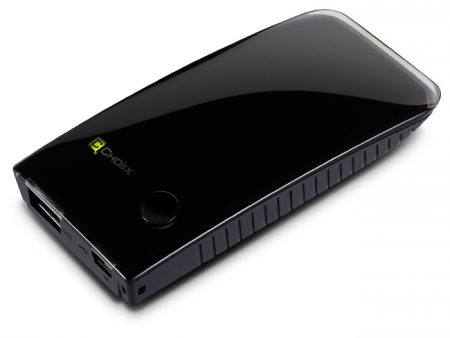 Keep Your Apple iPhone 4 Charged Longer!
Summary
Gives you the essential boost of power that your Apple iPhone needs while on the road in a stylish case that will make your friends or coworkers envious!
Pros
Built-in overcharging protection and doubles Apple iPhone 4 battery life!
Cons
Limited capacity may not fully charge all devices.
Have you ever been in the middle of a sales call in an airport or restaurant only to realize that your Apple iPhone is about to run out of power? Finding a charge in the next five minutes is close to impossible and the risk of stranding your caller could cost you thousands in sales.
The Choiix Power Fort 5.5Whrs gives you the ability to get that quick recharge. No more desperate searches for the nearest power outlet for your Apple iPhone 4 battery charger. In this review, we will look at the accessories that come with this handy, portable battery pack, and how it performs with various electronic devices.
PACKAGING AND ACCESSORIES
Your Choiix 5.5Whrs Lithium battery pack comes in a very attractive cardboard box with the product itself prominently displayed inside a clear plastic shell.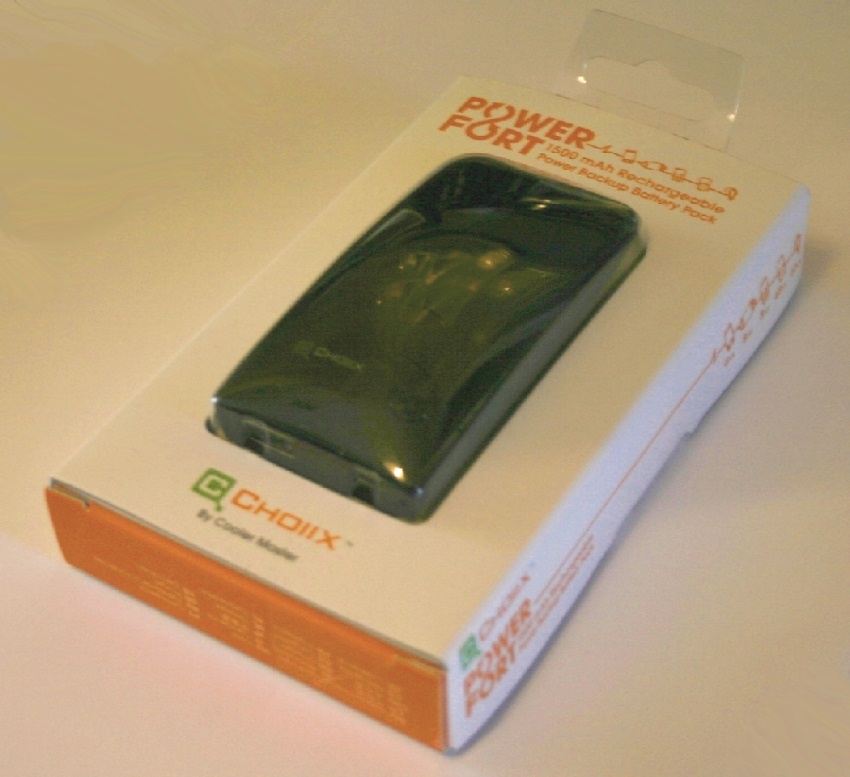 Inside the box, you will find the battery pack, two USB base charging cables, an instruction manual, and a handy little black pouch. I keep my Choiix Power Fort in the pouch because it shelters the product from damage in my car. The USB charging cables are designed only to charge the power pack or recharge your electronic devices. Keep this in mind since they cannot be used to transfer digital photos or files from your electronic camera equipment.
A full fold-out instruction manual details all the functions of this portable Lithium-Ion battery pack. Make sure you take the time to submit the product registration card so your investment will be protected should any harm happen.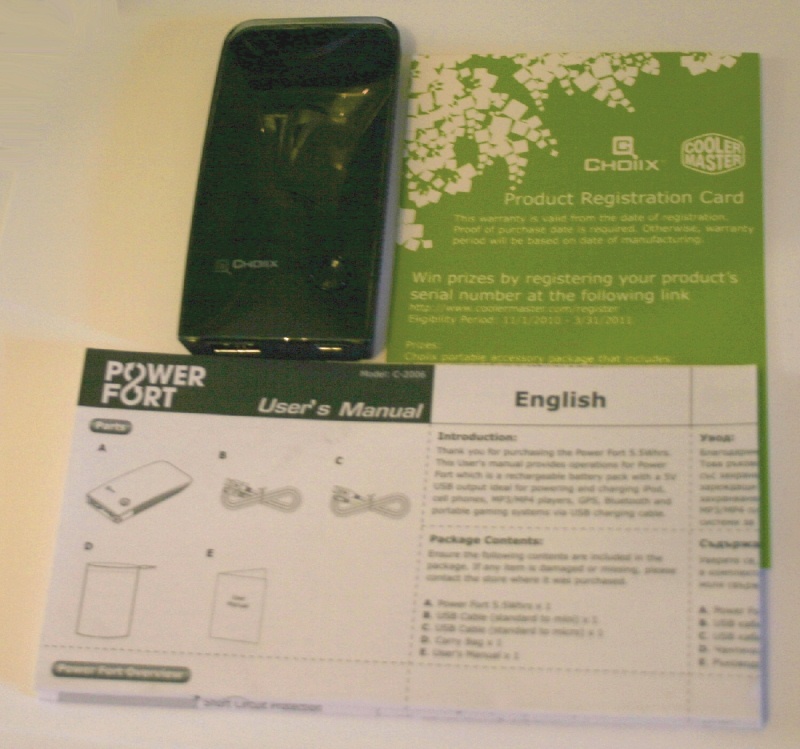 APPEARANCE AND DESIGN
The product is securely enclosed by a two-piece plastic shell. In this version, the top features a gloss black plastic top with a matte finished bottom. The slim curve design encloses the 1500 mAh Lithium-Ion battery and is actually lighter than a typical ceramic coffee cup. On the bottom of the top cover is a combination of green and amber battery life LED indicator that will help you stay on top of its current charge rate. To save power, a little recessed black button can be pressed to get the indicator light to turn on.
The bottom of the battery pack features two USB ports. The port labeled IN is the charging port. You can plug it into any computer or wall charger that offers 5VDC output. Choiix claims the Power Fort can handle up to 300 recharge times with 85% capacity remaining. The OUT port allows you to connect any standard USB cable to your electronic device for fast recharging. I have used this charger multiple times and find that these ports are solidly constructed. They should last for years in regular service. Always consider quality when purchasing your electronic products!
HOW DOES IT WORK?
The Power Fort 5.5 Whrs has a high-quality Lithium battery with ultra-low self-discharge cell design. In my extended testing, it has been shown to keep its charge for over two months while sitting on the shelf waiting to charge a device. To the extend battery life span even further, the Power Fort will switch into a sleeping mode when it's unused for a period of time. If your Power Fort does not respond to pressing its power function button, simply charge it for at least eight hours and it will turn back to normal mode with full capacity. The Power Fort features internal safety protections to avoid battery damage like overcharging of its battery or of your handheld electronics.
ROBUST CHARGING PERFORMANCE
The Choiix Power Fort product line has always impressed me with its ability to quickly charge my Nintendo DSi XL or Apple iPhone battery. The Choiix Power Fort C-2006-K1S0 offers powerful 1 amp charges that are as much as 2 times faster than normal USB power adapters. As a result, you can get your Apple iPhone 4's battery filled faster while on the go.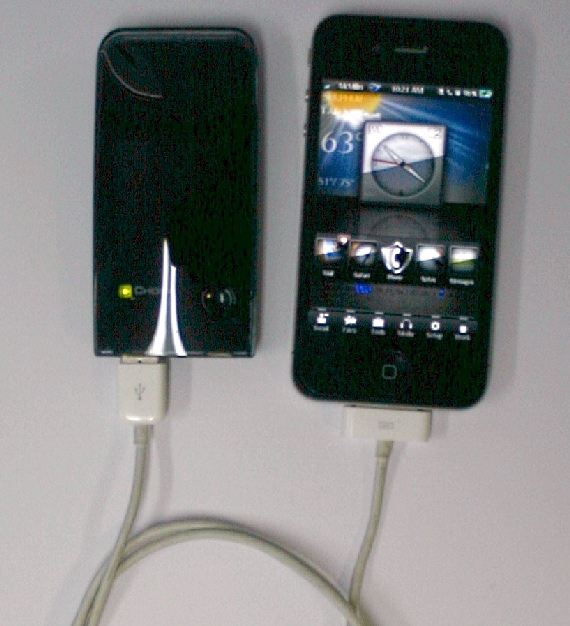 In this chart, I tested an Apple iPhone 4 for battery life. The stock battery lasted 911 minutes. The Choiix Power Fort boosted the battery life to 1729 minutes before the phone shut down. Of course, no games or videos were played during this test so keep this in mind. Heavy use pulls more power which in turn means you will need to charge more frequently. Just another reason any Apple iPhone user should consider a battery booster like the Choiix line of products.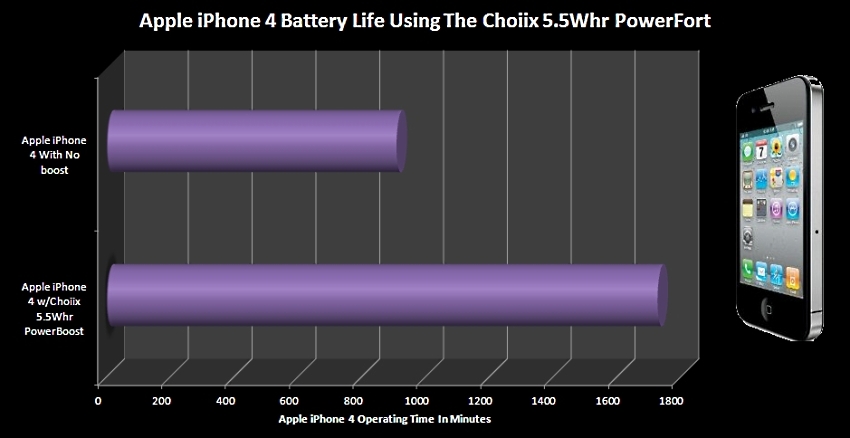 As any portable gamer will tell you, the Nintendo DSi is a power hog. I used the WIFI hunting game called Treasure World with screen brightness set to level 5 to put the ultimate power demand on my favorite handheld device. Running on its own, the battery lasted just 152 minutes. Using the Choiix Power Fort 1500mAh, the Nintendo DSi was able to run for 218 minutes. Impressive when you consider that this is a 69% boost in playing time!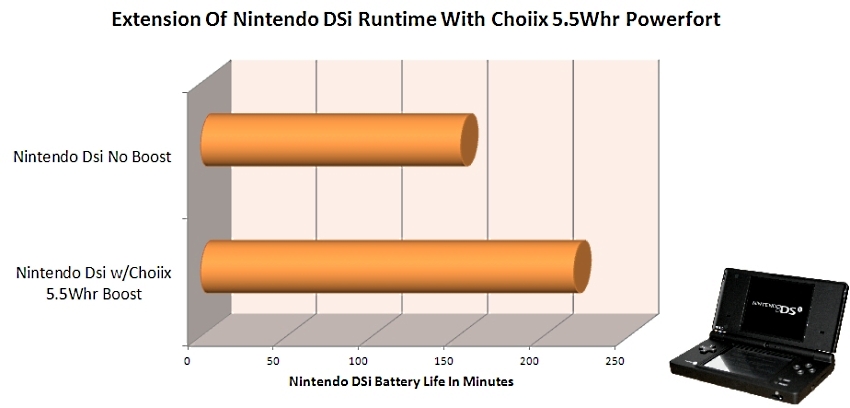 CHOIIX POWER FORT CAN QUICK RECHARGE IN LESS THAN 3 HOURS
I was very impressed with the recharge time that this smaller Choiix Power Fort offers me. Using a high output GameStop brand USB 120Vac USB charger, the Power Fort was able to take a full charge in 1 hour 42 minutes. Repeated charges also showed nearly the same results with one complete charge taking just 1 hour 35 minutes. Your results will vary depending on the temperature of the room and the wattage output of your USB charging adapter. I recommend using your computer's USB port to charge this product since most systems can produce over 1 amp @ 5VDc.
FINAL THOUGHTS
The Choiix 1500mAh Power Fort will easily double the battery life of your Apple iPhone 4 and is compatible with many other USB charged portable electronic devices. The small, attractive, black case of this Lithium Ion powered battery can easily fit in your automobile glove box or purse. While it does have reduced capacity when compared to the Choiix 10Whrs Power Fort, this version is still highly effective at giving you that essential boost to your electronics. The price is also comparably lower than the competition. If you have not tried one of these yet, then I encourage you to buy one today and see what you have been missing!