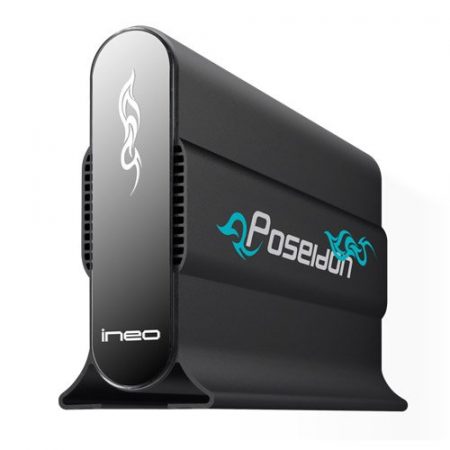 ineo NA316N1 is the New Standard for Single Bay NAS!
Summary
The Ineo NA316N1 Poseidon series is an intelligent Plug-and-Play, high speed USB 2.0, external SATA hard drive enclosure with Ethernet 10/100 capabilities.
Pros
BitTorrent, supports 2Tb hard drives and Print/File server.
Cons
If 100Mbs Ethernet is ok for you then there are no problems.
As I was preparing for a long airplane flight across the country, I realized that I should make a backup of the data on my ASUS 1005HA netbook. The 10″ netbook had hundreds of digital photos and other important documents that were irreplaceable in my busy digital lifestyle.
The solution for me was to place a Seagate Barracuda ST31500341AS 1.5Tb SATA hard drive inside the ineo I-NA316N1-R 3.5 inch Single Bay NAS so that I could upload my files quickly on my home network. Since I can use LogMeIn to remotely access my network from anywhere in the world, the digital files would be readily available to me at any time while on vacation.
How could you use an ineo I-NA3161N1-R Single Bay SATA NAS on a daily basis? What kind of USB transfer speeds can this ineo Poseidon SATA NAS produce? How fast is the ineo 3.5" Single Bay NAS Server on a Linksys WRT54G wireless router network?
A NAS stands for network-attached storage. This product from ineo allows you to place almost any 3.5" SATA hard drive inside the provided metal enclosure. You can then plug it into a wireless network router or spare USB 2.0 port to access the files. In this review, you will see how easy it is to get your own state of the art NAS operating in just a fraction of the time it takes to archive data on DVD or CD-ROM discs. You can also set up this ineo product as a File server, SAMBA server, or FTP server for remote access from anywhere in the world with an active broadband connection to the internet.
IN THE BOX
First, this external hard drive system comes sealed in a thick, protective box so you should have little worry about shipping it across the country through USPS or UPS. In the photo below, you can see the two thick foam pads that wrap around the Poseidon NAS.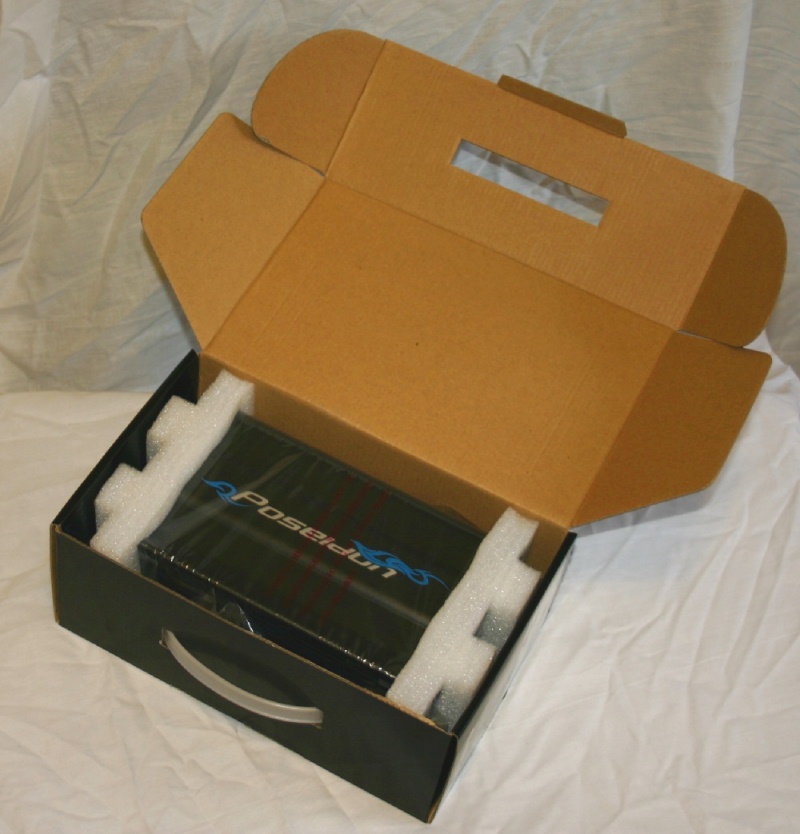 The packaging did an excellent job of explaining the functions featured in this product. Seen below is the back panel of the ineo NA316N1 box which shows the many roles it performs in your home or office networking environment.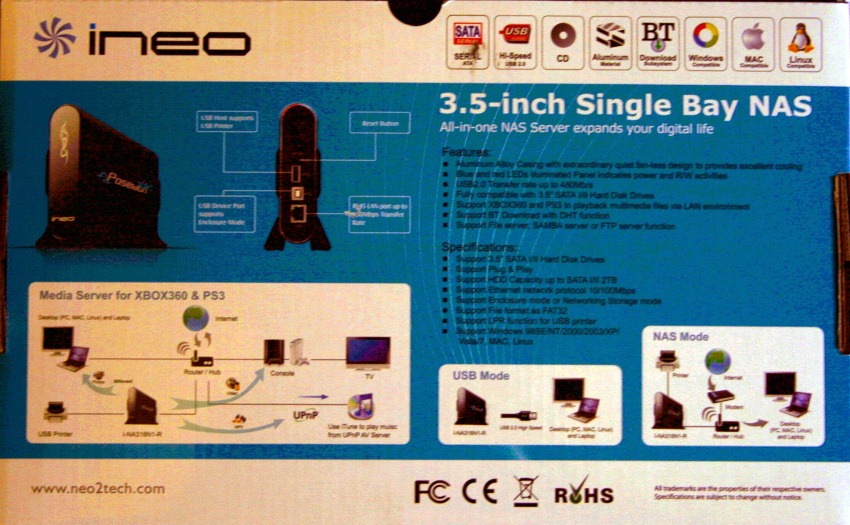 The kit inside the box comes with everything you need to get this system operational except for the SATA hard drive and Philips screwdriver for installation.
The 26-page instruction manual that comes with the I-NA316N1-R NAS offers complete step by step help for installing your hard drive. I also found it very helpful when trying to initially connect to the NAS over my home Linksys WiFi network.
The build quality of this ineo NAS is top-notch. The solid metal frame and mounting rail had me marveling at how other manufacturers should have been building their products. I estimate that the NAS itself weighs about 18 ounces, which gives it the stability needed to rest comfortably on a desk or home office workstation. The all-aluminum alloy casing with a quiet fanless design not only provides excellent cooling abilities but also dramatically reduces hard drive noise. Blue and red LEDs can be seen on the top illuminated Panel which indicates power and read/write activities of the SATA hard drive inside.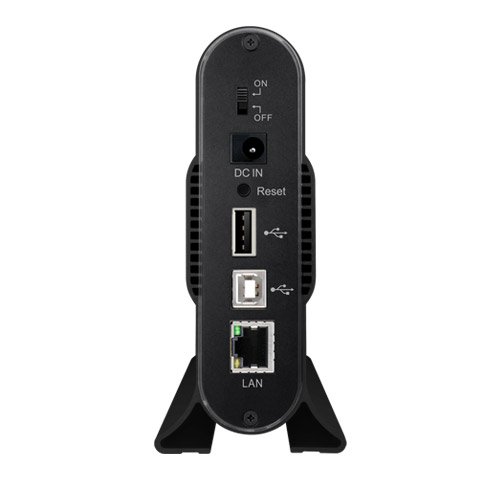 ASSEMBLY AND INSTALLATION
Placing a SATA hard drive in this ineo product is much easier than installing the same drive on a computer. The all-metal case gives you the strength needed to get a large hard drive installed as well as the rigidity required to survive the occasional fall. As a result, you can replace the hard drive as often as you wish with the only real limitation being the currently stated maximum capacity of 2.0Tb.
For my initial install, I placed a Seagate Barracuda 7200.11 1500 Gigabyte SATA hard drive in the enclosure. First, you should remove the two screws from the bezel where the ports are located on the back of the ineo NAS.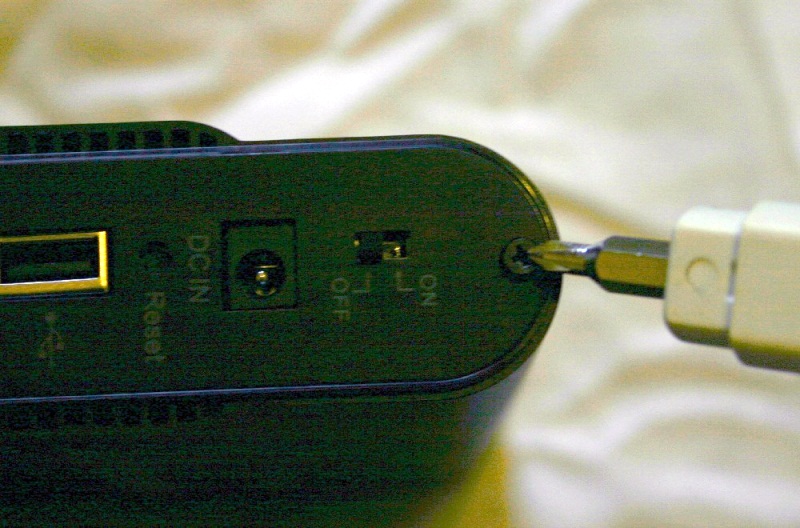 Now slide out the mounting tray from the housing. I found it helps to use a small knife blade to pry the housing outwards.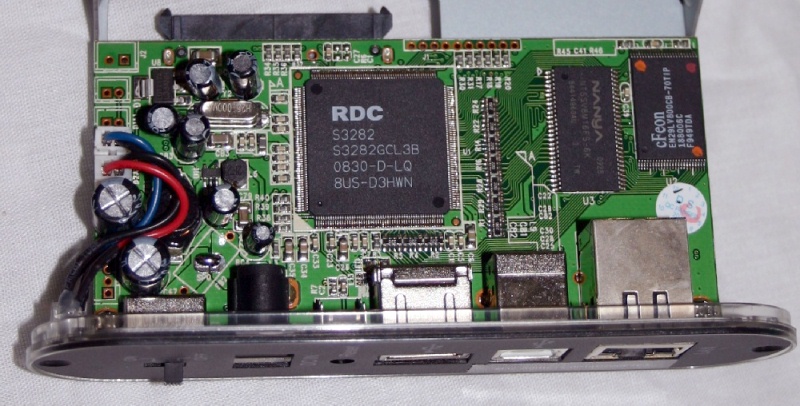 Next, using the provided screws, slide the SATA hard drive into the connector on the daughterboard and tighten to about 10 lbs of torque to keep it from sliding in the tray.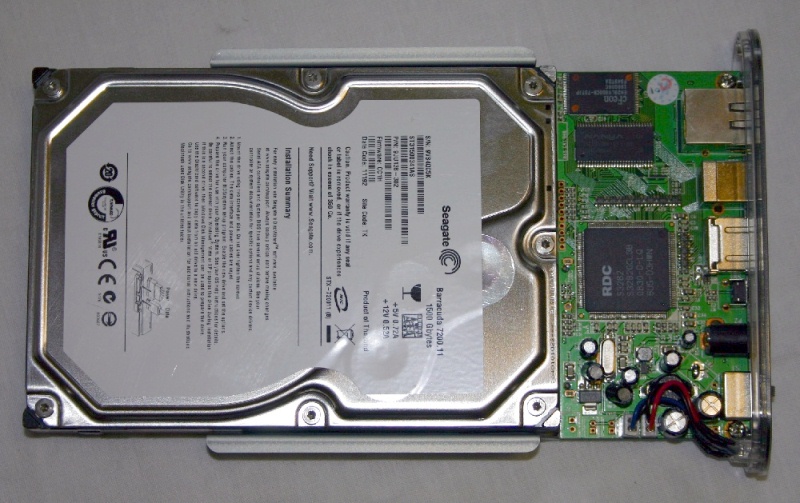 Place the hard drive and mounting tray back into the Poseidon housing. Slide until the housing is flush with metal housing and tighten the two Phillips screws to about 5 lbs of torque.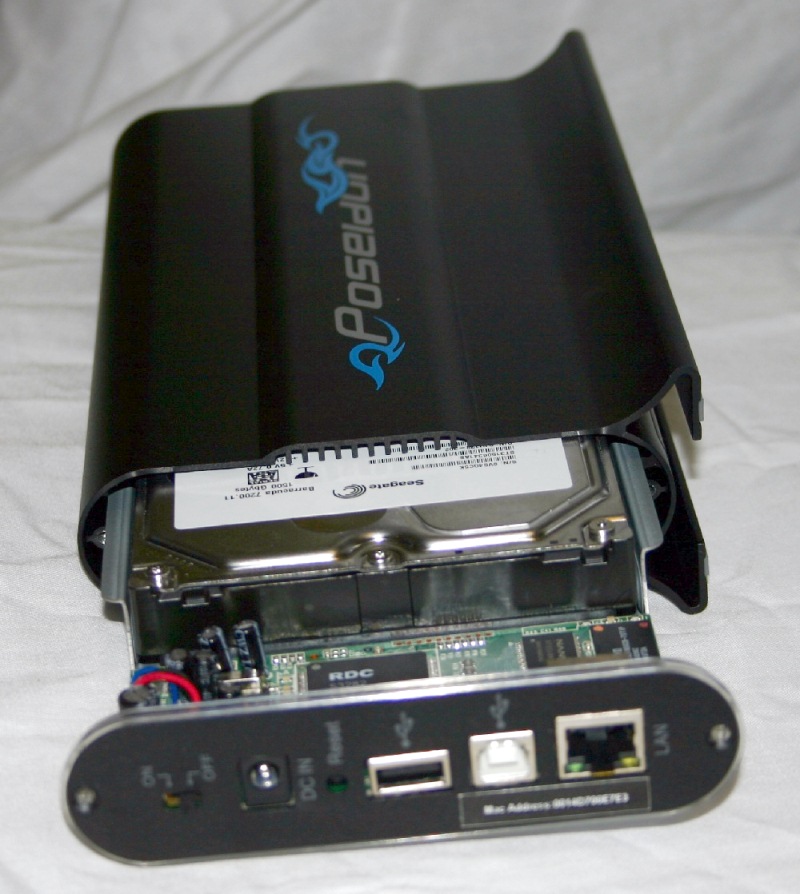 You are now done with the networking storage system installation process. Once power is connected and the switch on the back panel is turned into the On position, you can configure the networking portion of the ineo NAS.
LED Lighting Tip
If the power and activity lights on the case are too bright for you, there is a solution. When the case is open, you can simply unplug them to turn them off. I did this because while using BitTorrent, the activity light blinks rapidly and distracts me while watching television.
Microsoft Windows 7 Installation
Microsoft Windows XP Professional through Microsoft Windows 7 will automatically detect the ineo NAS as a new USB drive when you plug in the provided cable. Quick and simple! Let's look at how fast it can transfer files
USB MODE
You can directly access the ineo NAS via the USB Device Port located on the rear panel. Using the supplied USB 2.0 Type A Male to Type B Male Cable, you can connect the product to any Windows XP Professional or Windows 7 Professional computer to transfer files directly from the SATA hard drive inside. When connecting the ineo I-NA3161N1-R to my netbook or ASUS P5QL-VM motherboard, I did have to shut it off and back on to get the operating system to recognize it.
Disc Write Performance In USB Mode
Transferring a folder of 714Mb worth of 133 MP3 files to the NAS from my ASUS 1005HA netbook using USB Mode took 57 seconds. Now, this transfer was done in USB 2.0 using the noticeably slower Intel Atom processor that was not necessarily designed for high disk write speeds.
For my next USB Mode test of the ineo I-NA3161N1-R Single Bay SATA NAS, I used a ASUS P5QL-VM DO/CSM LGA775 motherboard, Intel QX9650 Core 2 Quad Socket 775 processor, Crucial Ballistix Tracer 4GB (1GBx4) DDR2 1066 all running under Windows 7 Ultimate 64bit edition. In addition to the built in USB 2.0 support on the motherboard, a StarTech 2 Port PCI Express SuperSpeed USB 3.0 Controller card is also installed to give us the broadest possible comparison of transfer speeds for this ineo NAS.
The transfer of 714Mb of MP3 files to the ineo NAS took just 29 seconds in USB 2.0 mode.
Using the Startech PEXUSB3S2 USB 3.0 controller card, the ineo NAS took 25 seconds to transfer the same 714Mb of MP3 files. Well, believe it or not, the USB 2.0 ineo Poseidon does transfer faster using the USB 3.0 controller. However, I believe this is due more to the speed of the PCI Express interface than anything else.
POWER CONSUMPTION
Using a P3 International Kill A Watt P4400 power meter, I was able to measure a consistent power draw of 11 watts at 120VAC for the ineo NA316N1 NAS. Most desktop computers pull more than 100 watts so if you are looking for a file server, 11 watts is a drop in the bucket for energy consumption.
NETWORKING FEATURES
Supports XBOX360 and PS3 to playback multimedia files via LAN environment
Supports BT Download with DHT function
Supports File server, SAMBA server or FTP server function
The initial setup screen for the ineo NAS offers plenty of customization options for you to configure to almost any network situation that you may desire. The hostname and group name can be changed to suit the needs of your network topography. Additionally, SMB and FTP services can be shut down with a moment's notice thanks to this menu. Finally, the hard drive installed is identified by name and the free size indicator is quite handy for determining how much space you actually have left on the device.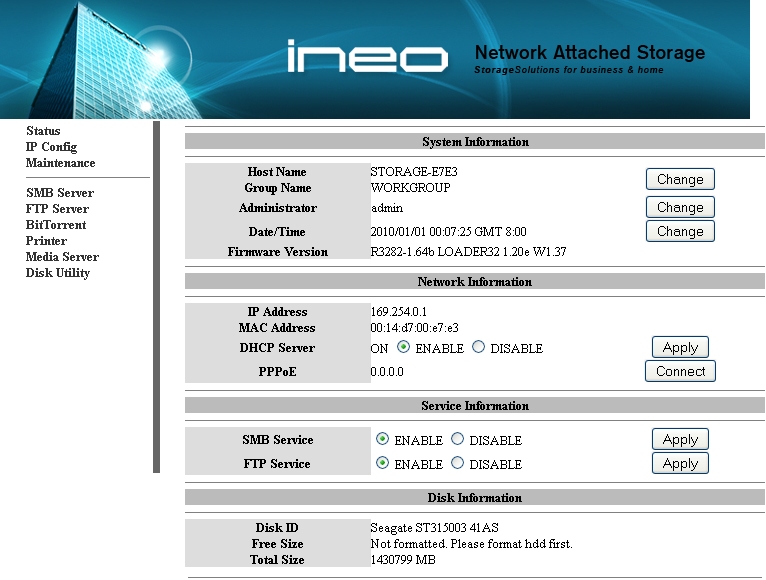 The Disk Utility menu on the integrated webserver of the NAS will prove quite handy during the initial installation. From here you will need to format the newly installed hard drive. No, you cannot use a previously formatted NTFS partition. The process took me just 3 minutes to complete. You should set the Sleep Time in this menu as well so that your hard drive is not constantly spinning all the time.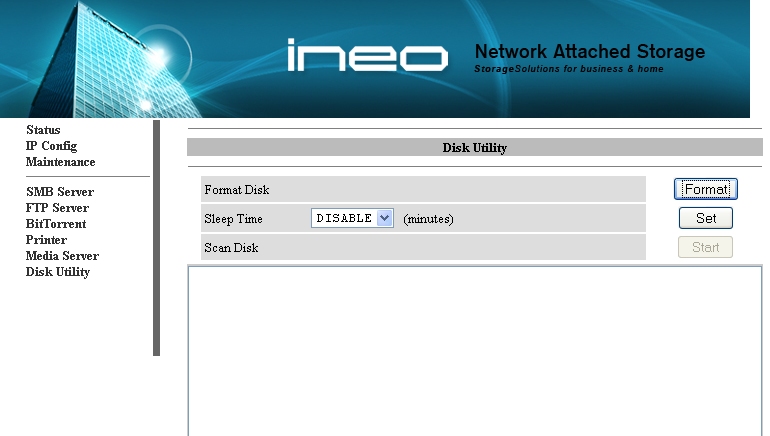 BitTorrent Support
One of the features that I just had to test was BitTorrent functionality. The ineo NAS supports BitTorrent which is quite an impressive feature to pack into such a small case from this techno junkie's point of view. I always thought BitTorrent required a fast CPU to handle all the networking requests. As a fan of this media sharing service, I knew that I had to test it out. To be legal, I created a new Torrent File using a POV-Ray animation that I made. The web-based BT Configuration manager allows you to upload a Torrent File and it will manage the download/upload natively inside for you! You can set minimum upload and download speeds to keep traffic under control. The file transferred in about one hour from an outside network to the ineo. Using the Mail Setup icon, I was also able to get an email to my Google account when the upload completed.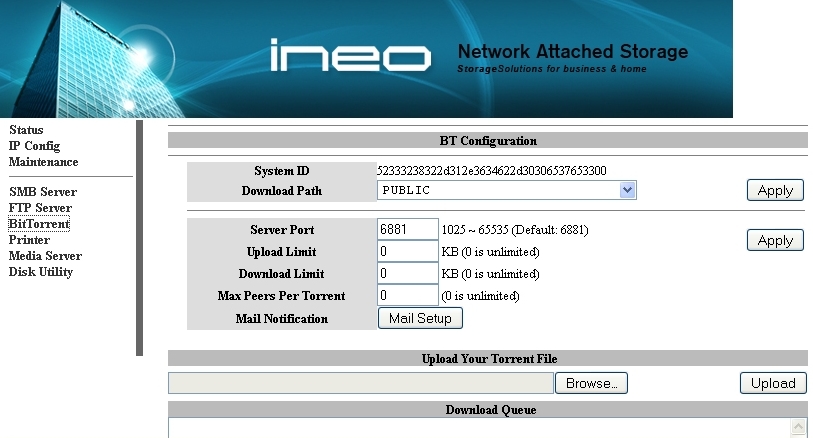 Apple iTunes Support
Great news for Apple iPhone and Apple iPad junkies! The ineo Poseidon SATA NAS also has a Media Server feature which will allow you to share any photo, music, or video that you wish to in a PUBLIC directory. A handy built-in utility will also build your iTunes Playlist Cache for the ultimate in entertainment integration. Seriously, who needs a dedicated computer-based file server when the ineo NAS does it all?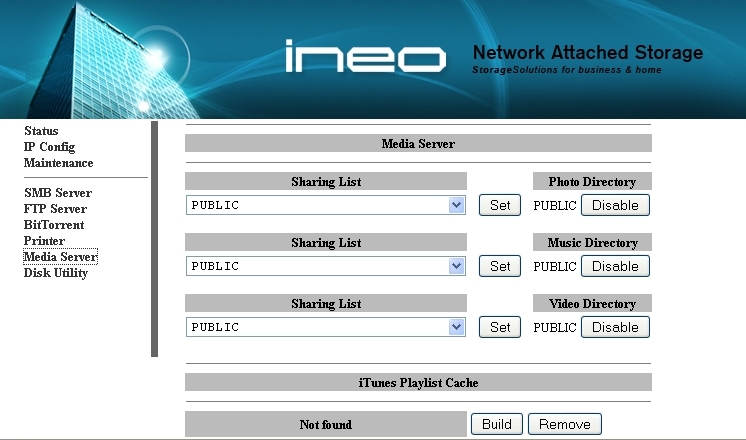 Network Performance Testing
To show the kind of performance you can expect from this NAS on a WIFI network, I ran a brief benchmark using three computer systems. Each computer used the FTP server on the ineo to upload 2GB of files using the networking capabilities of the Linksys WRT54G Wireless Router. As you can see from the graph below, the performance was very strong; the last trailing section of the graph was when the three computers were all uploading data at the same time. The ineo NA316N1 NAS can handle multiple file transfers with minimal drop in network bandwidth.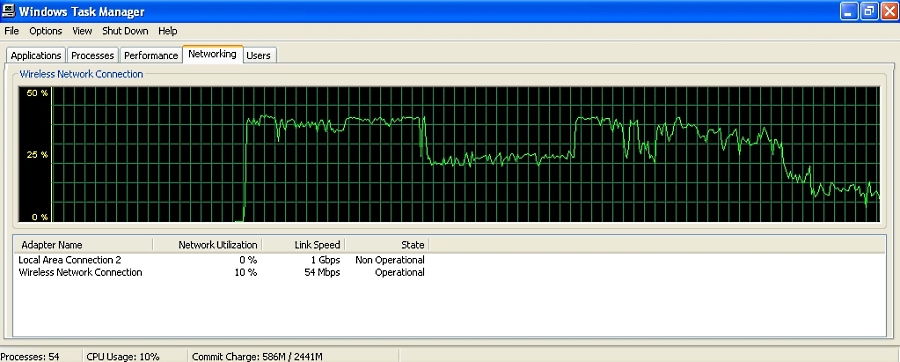 FINAL THOUGHTS
More than just a simple NAS, the ineo Poseidon NA316N1 NAS does so much more than the competition. The device is fan-less so it can remain in operation almost indefinitely without worry of overheating like other products that try to do the same thing. Yet, it also offers a comprehensive suite of functions that will help this NAS quickly become the backbone of your home network. Amazon is currently selling this ineo product for about $60 which is an amazing bargain considering all that it can do. For peak functionality, I recommend adding the Western Digital 2 TB WD20EARS Caviar Green SATA 64 MB Cache Hard Drive to this device. With the 2TB hard drive, you will spend approximately $140 and have a fully functional media server at your home. If you are looking for a way to archive files on your home network or just want to play with BitTorrent safely then the ineo NA316N1 SATA NAS is the perfect product for you!