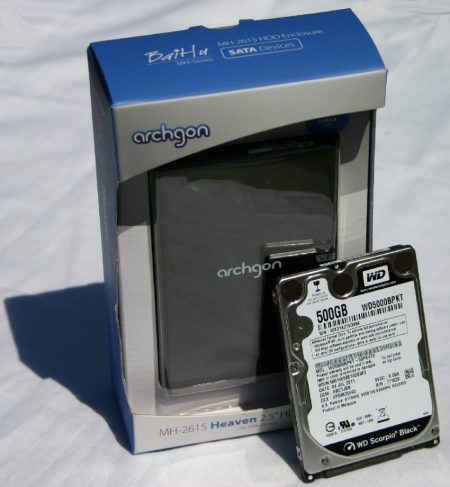 Cost effective way to connect SATA devices to USB 3.0!
Summary
An ideal accessory for any PC Technician or hobby computer enthusiast, the Archgon MH-2624 USB 3.0 is both a portable hard drive enclosure and universal SATA to USB adapter with blazing fast transfer speeds!
Pros
Works flawlessly with many 2.5", 3.5" and 5 1/4″ SATA drives and high file transfer rates.
Cons
Only for temporary use of drives other than 2.5″ in size due to cable length.
Our dependence on digital media and state of the art portable netbook computers has created the need to efficiently move files quickly. Whether you are an aspiring graphics artist with an eye on HD video or a computer technician who needs to move data, the Archgon MH-2624 SATA HDD Enclosure is going to be your best choice for making your daily tasks much easier.
In this review, we will examine the benefits of having a multi-function, portable, USB 3.0 SATA hard drive interface that literally fits in the palm of your hand. You will be able to create a handheld, 750 GB portable HDD enclosure for storing 1080P video content or add a 5 1/4″ DVD RW SATA drive to your computer instantly. The options are truly limitless with this product.
WHATS INCLUDED IN THE BOX?
The Archgon MH-2624 SATA USB 3.0 Enclosure comes ready to run in minutes after you open the box. The kit comes in a protective cardboard box which securely holds the parts in original condition until you are ready to use it.
Inside the box, you will find the 2.5″ glossy black detachable hard drive case, the SATA adapter, a 120VAC power plug, USB 3.0 cable, and a detailed instruction manual.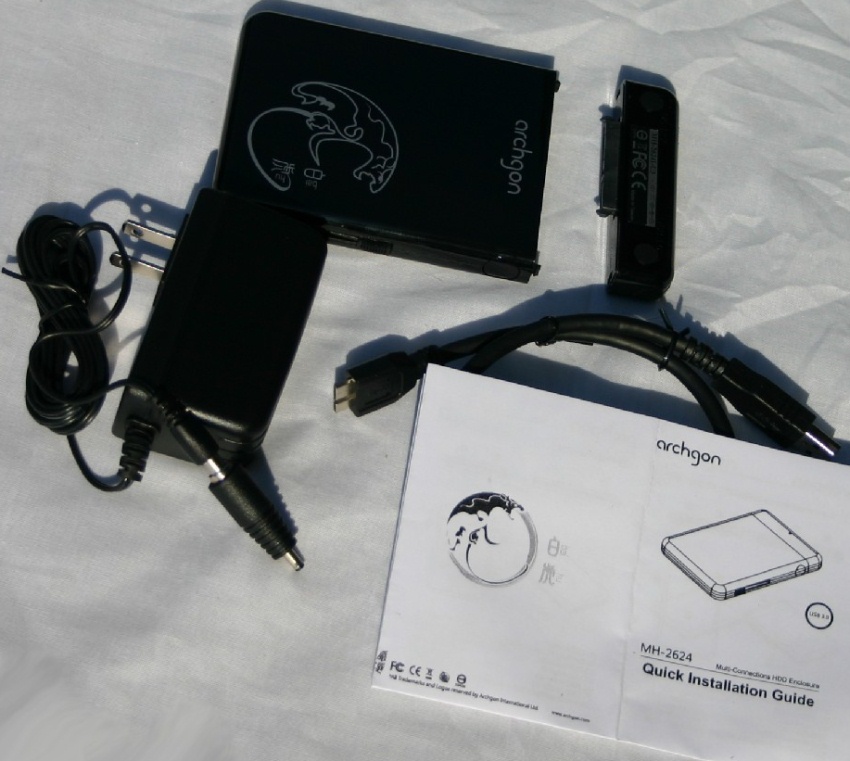 The instruction manual features drawings that focus on the various functions of the adapter. While the setup is fairly straight forward for the experienced PC technician, I am confident that you can use this manual to get started even with little knowledge of the inner workings of a computer.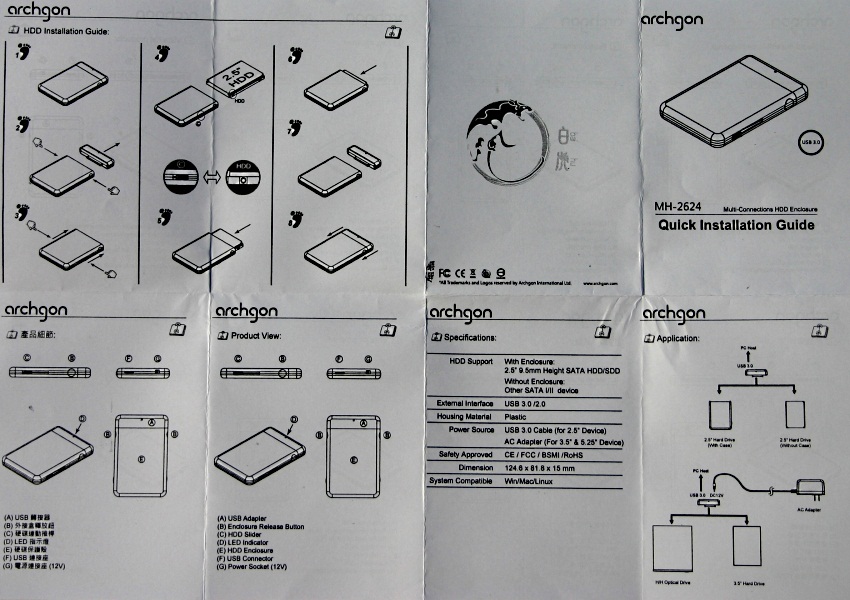 THE STYLISH DESIGN
The key component in this entire kit has to be the SATA to USB 3.0 adapter. On one side are the power lead and USB 3.0 port. The other side contains the SATA connection with features full power and special plastic ends that will grab hold of your data drive while in use.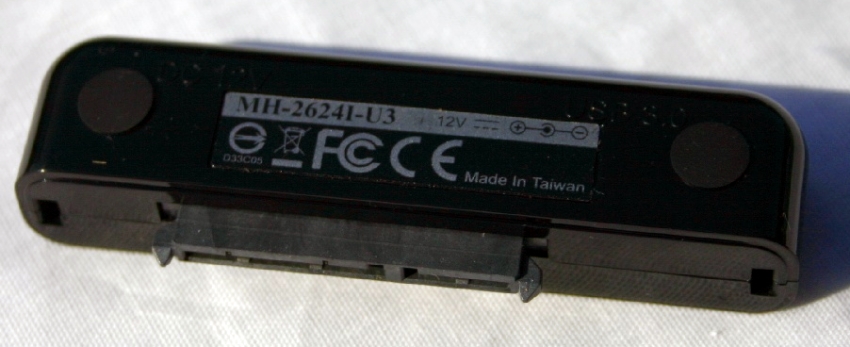 On a final note about the appearance of this portable USB 3.0 device, the Archgon logo itself is imprinted brilliantly on the surface of the glossily black, plastic case. Intricate logos, like this one, make working with computers fun again!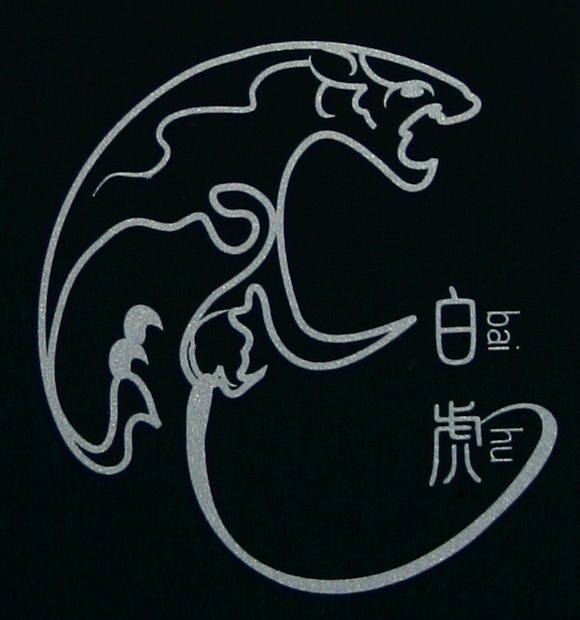 HARD DRIVE DATA RECOVERY USING USB 3.0 TECHNOLOGY
Many computer hardware enthusiasts find themselves besieged by people asking for help. Once you have accepted your talent, the next step will be to build a toolkit worthy of a foot soldier on the front-line of the PC virus war. The Archgon MH2624 can help you recover almost any SATA hard drive. If you repair computers, netbooks, or laptops for friends and family then you will save hours of work by keeping this handy SATA to USB 3.0 adapter nearby.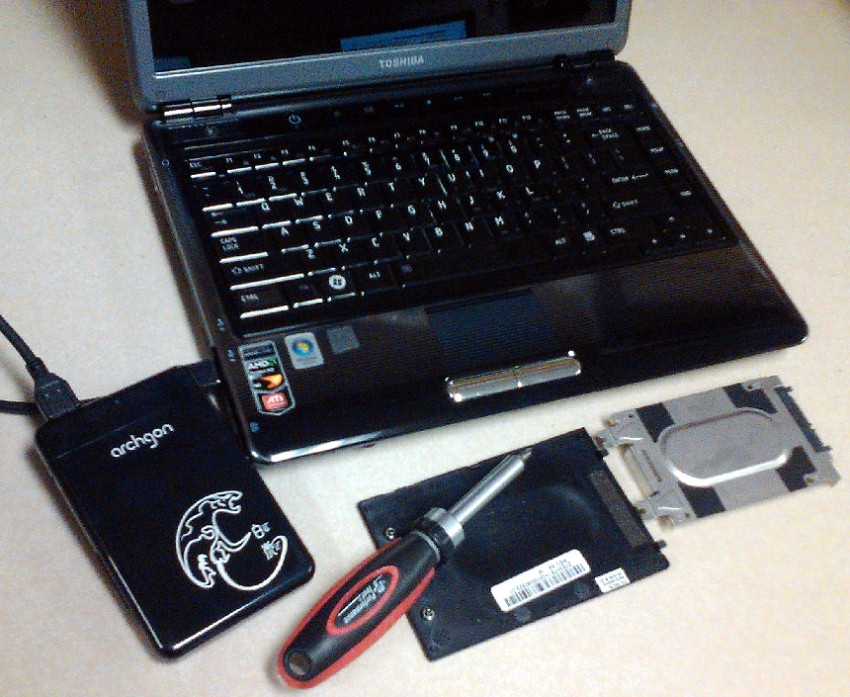 Using this Archgon product, I was able to remove the 2.5″ SATA hard drive from the broken notebook computer seen above. I then connected it to a Dell Precision T2300 workstation and created a DVD disc of all the critical files on the laptop hard drive. The whole procedure took just 30 minutes of time but for most people, it would have been nearly impossible to accomplish because they would have had to open their PC case and attach the hard drive to their motherboard. A USB to SATA adapter allows you to hot-swap the data into your desktop computer.
Here is how the Archgon transfer cabling and your hard drive will appear when ready to plug into a USB port.
In addition to the ability to connect to 2.5″ hard drives, you can also connect larger 3.5″ hard drives thanks to the universal SATA and power port on this product. In fact, you can also plug in SATA DVD or Blu-Ray drives to simply operating system installs. The connector fits rather well into the Western Digital Raptor 36 GB SATA drive seen in the photo below.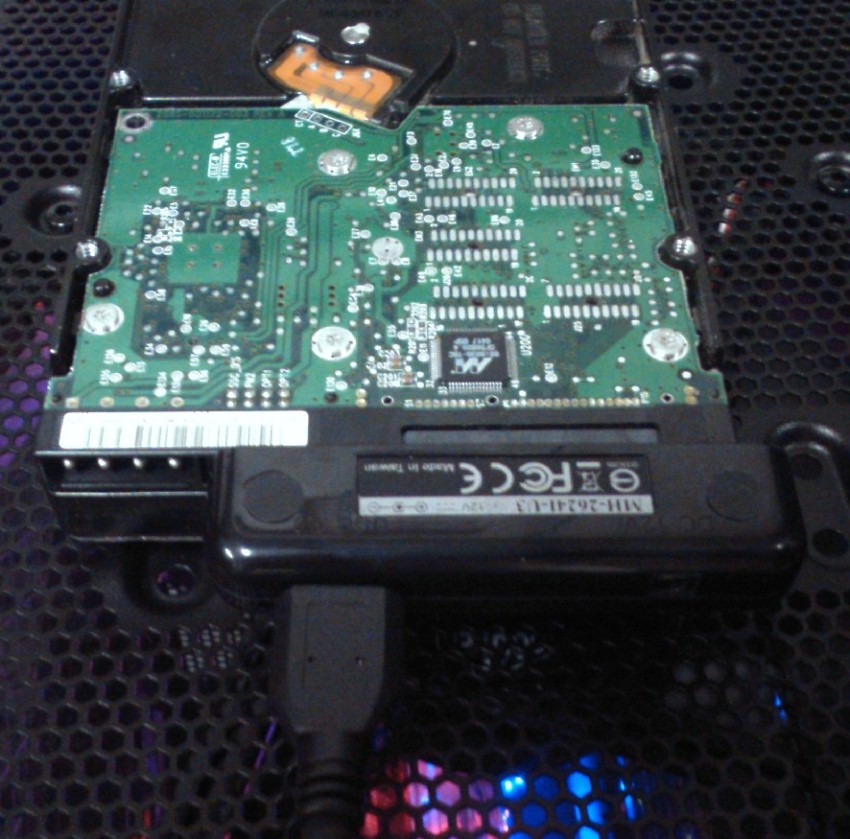 USB 3.0 PLUG AND PLAY CAPABILITIES
As stated on the back of the box of this HDD enclosure, you can also hot-swap your SATA devices. We tested this with both the hard drives tested below and found it worked flawlessly under the intense scrutiny of Microsoft Windows Server 2003 x64 Edition. If a five-year-old operating system supports this feature, you can rest assured that it will work on your new ASUS 1201N netbook or newer computer running Windows 7 Ultimate.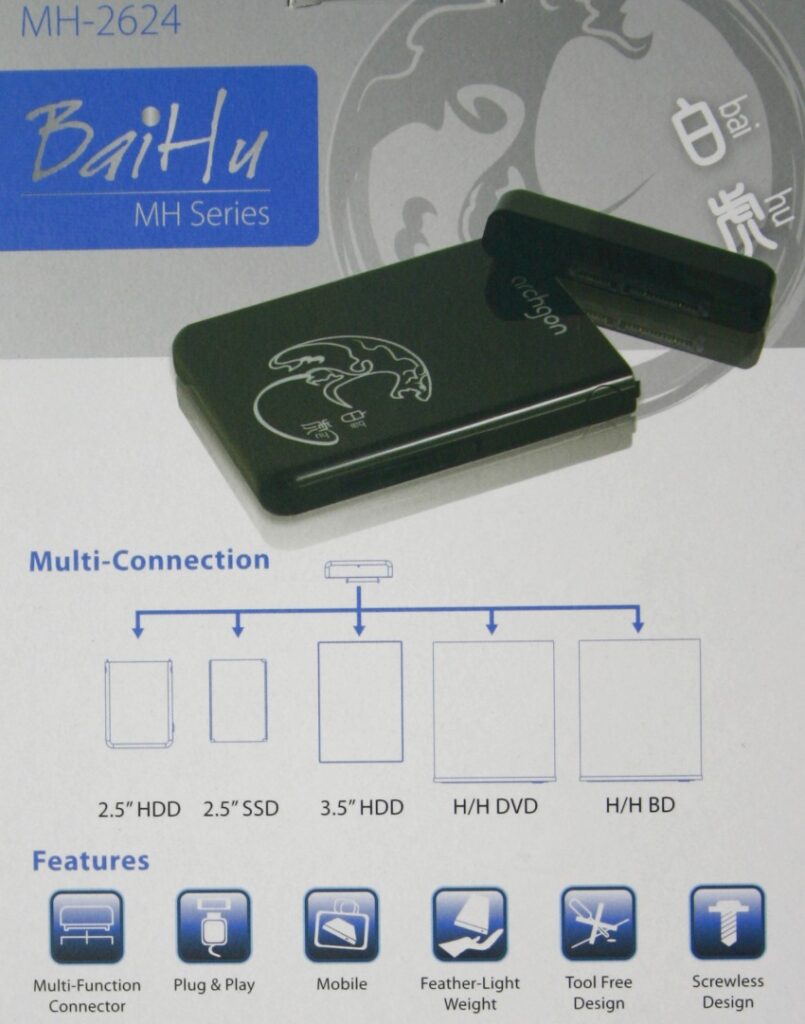 OPERATING SYSTEM COMPATIBILITY
Most modern operating systems from Apple, Linux to Microsoft offer support for USB 2.0 devices. Here is a list of operating systems that we tested this product with and had no problems:
Microsoft Windows XP Professional SP2 x86
Microsoft Windows XP Professional SP3 x86
Microsoft Windows Server 2003 Enterprise Edition x64
Microsoft Windows 7 Ultimate x64
Microsoft Windows 7 Ultimate x86
PERFORMANCE TESTING
Getting the most out of your new Archgon MH-2624 will require more than just a state of the art SATA SSD drive. The following performance testing shows that you will also want to find a motherboard supports USB 3.0 technology or a handy StarTech USB 3.0 PCI-e card.
In the following series of benchmarks, we used HD Tach which has shown itself to be one of the most reliable disc speed analysis tools on the Internet today.
HD Tach Figures
We used HD Tach 3.0.4.0 in Long Bench (32Mb zones) mode on the USB 2.0 port of the Asus KGPE-D16 motherboard to get a few baseline performance figures for this USB 3.0 Enclosure. To offer some constructive comparison, a Western Digital Raptor WD36 was also used. An older USB 2.0 WD Elements 3200BEV drive was also used to compare transfer rates over the slower and older communications port.
As these benchmarks show, USB 2.0 transfer rates are notoriously slow and will complicate any attempt at using a software utility like Ghost to make a backup of your laptop hard drive. Archgon realized this and added support for USB 3.0 transfers to this product. As a result, the transfer speeds jumped dramatically when connected to the USB 3.0 port. If you look closely at these disc benchmarks, you will also notice that the WD Raptor was boasting 8.8ms access speed which shows the USB 3.0 interface takes full advantage of the 10,000 RPM spin rate of the hard drive.
During our testing procedures, we quickly discovered that the USB 3.0 cable is a little short. Rather than place the WD Raptor hard drive on top of the Cooler Master HAF 932 Advanced computer case, the data drive was placed on the floor so that it could be connected to the StarTech USB 3.0 PCI-e card.
FINAL THOUGHTS
The Archgon MH-2624 Portable HDD enclosure and multi-function USB 3.0 to SATA adapter is an incredibly useful product for the home user and PC technician alike. The only drawback we could find was the short length of the USB 3.0 cable which underscores the intended temporary use of this product for drives that are larger than 2.5″ in size. As seen by the benchmarks of various drives in USB 3.0 mode, this product will assuredly help you transfer your data files at blazing speeds. We recommend this USB 3.0 kit to anyone seeking to build a computer repair kit and are confident that it will save you hours of time over the older USB 2.0 transfer rates. All for one and one for all, you need to get your equipment connected today!