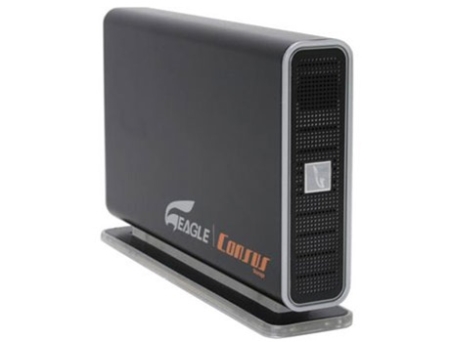 Solid fast and easy to install!
Summary
A very easy to use and fast enclosure for everyday use.
Pros
Up to 2TB limit, solid design, includes everything you need and very easy installation.
Cons
No cooling fan (not really needed though).
We recently looked at the SunbeamTech Airbox USB 3.0 hard drive enclosure and now we have the Eagle Tech Consus USB 3.0 enclosure to test. Obviously, USB 3.0 is supposed to be faster than USB 2.0 but we will compare our test results with results from our eSATA and USB 2.0 tests.
The Consus can handle one 3.5″ drive at a time. We will test it with our Samsung HD501IJ 500GB SATA 3.0GBps hard drive and compare the results with other interfaces like USB 2.0 and eSATA. Unlike the Airbox enclosure, this one doesn't have a cooling fan, so we don't know how it will cool the drive. It can support drives up to 2TB (terabytes) so you have a lot of room to expand. Let's see what it can do.
DESIGN, CONTROLS, AND PACKAGING
The Consus is packaged in a very easy on the eyes box. Good pictures on the front with some of the major features like 3.0 compatibility, 5GBps transfer rate, blue LED, and more. The back lists some more specifications and how to use the enclosure (what you can store on it). One of the sides lists the package contents and a chart that shows data transfer rate comparison between different interfaces such as USB 3.0, eSATA, Firewire, and USB 2.0. The other side lists the full specifications including dimensions, weight, and compatible operating systems. The top and bottom have the Eagle Tech logos.
Inside the box, you will find the Consus enclosure itself, a USB 3.0 cable, an AC power adapter, and a quick user guide. The overall exterior of the enclosure is clean looking and solid. While I don't really care how it looks as long as it does what it says but doesn't hurt to look good while you are at it. The LED light is on the base stand itself instead of the front or the back like on other enclosures. The steady blue light means the power is on and the drive is idle, but a flashing light means the drive is being accessed. There is nothing on the left and right sides of the enclosure beside the Eagle Tech logos. The front of the enclosure has a grill so air can flow easily and keep the drive cool. The back has the power switch, power input, and a USB 3.0 port. There is only one small screw on the bottom of the base stand that will allow you to slide the disk mounting tray out to install a hard drive. The tray has the PCB on the front portion where the hard drive will connect to the SATA II connector.
INSTALLATION
The installation is very simple–just open one screw, slide the tray out, insert a SATA drive, secure the hard drive with a screw on the bottom, slide the tray back in place and replace the screw on the base stand. Then plug in the power adapter and the supplied USB 3.0 cable and you are all set to go. Oh, don't forget to plug the other end of the USB cable to your computer.
TEST SYSTEM
Motherboard
Gigabyte GA-870A-UD3 AM3 (USB 3.0)
CPU
AMD Phenom II X4 965 Black Edition 3.4GHz (4 cores)
RAM
G.Skill Ripjaws Series 4GB (2 x 2GB) 240-pin DDR3 PC3 12800
Graphics Card
PNY GeForce Verto GTS 250 1GB
Storage (internal)
Seagate Baracuda 320GB SATA (3.0 Gb/s)
Power Supply
Thermaltake Thoughpower XT 775W
Optical Drive
Sony CD/DVD RW
PC Case
Thermaltake Element G
CPU Cooler
Noctua NH-C12P SE14 CPU Cooler
Operating System
Microsoft Windows 7 Enterprise 64-Bit
Drive Enclosure
Eagle Tech Consus USB 3.0
Thermaltake BlacX Duet
Test Hard Drive
Samsung HD501IJ 500GB SATA 3.0GBps 8MB
TEST METHOD
I will use a Samsung HD501IJ 500GB SATA hard drive in this Eagle Tech enclosure and test the data transfer rates using HD Tune Pro 3.5. I will also use the same hard drive on the Thermaltake BlacX Duet eSATA/USB docking station to get eSATA and USB 2.0 transfer rates. Then I will compare all of the results to see how much faster USB 3.0 really is.
RESULTS
Well, it's not a surprise anymore that the USB 3.0 interface is clearly faster than both eSATA and USB 2.0 as expected. Looking at the chart, USB 2.0 uses the most CPU when transferring data and eSATA uses the least, but USB 3.0 CPU usage is a huge improvement overall. I saw average transfer rates of 25.25 MB/s (maxed out at 26.9 MB/s) with USB 2.0, 29.38 MB/s (maxed out at 37.57 MB/s) with eSATA, and 64.4 MB/s (maxed out at 82.75 MB/s) with USB 3.0. So with some of these real-world tests, we can see what USB 3.0 has in store for us. I don't think it will disappoint us at all. We should start seeing more and more USB 3.0 devices in the market soon. Do note that the data on the chart are averages from multiple test runs.
FINAL THOUGHTS
I have been using the Eagle Tech USB 3.0 enclosure for weeks now and it does not disappoint at all. This enclosure is inexpensive for the performance it delivers; you can probably find it for less than $45 at online stores like amazon.com. The installation is fairly easy and simple but you need a screwdriver (supplied). USB 3.0 will definitely not disappoint at all and it will be around for a decade if not more (just like USB 2.0). I would rate this enclosure 4.5 out of 5 and present it with our Highly Recommended award.