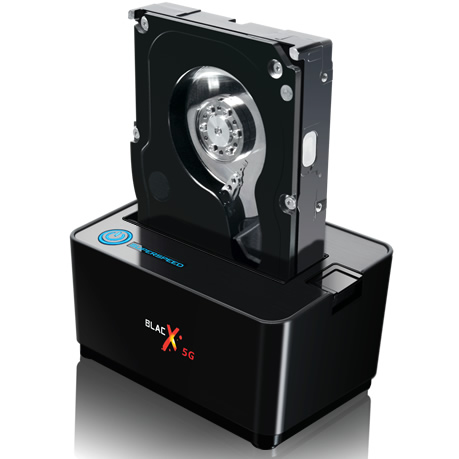 Unleashing The Speed Of USB 3.0 And SATA 6Gbps Technology!
Summary
The Thermaltake BlacX 5G USB 3.0 Hard Drive Docking Station is certainly a tremendous bargain for anyone looking for an ultra high speed, data storage upgrade!
Pros
Hot Swap SATA hard drives! USB 2.0 and USB 3.0 compatible, built-in drivers simplify installation.
In this review of the Thermaltake BlacX 5G ST0019U SATA HDD Docking Station, we look at the differences in access speed between a StarTech PEXUSB3S2 PCI-e USB 3.0 controller card and an Intel ICH10 USB 2.0 Controller.
The combination of SATA 3.0 and USB 3.0 technology is relatively unheard of in the technology industry today which left me with a million questions about how they would operate on a desktop computer. What does USB 3.0 do for hard drive access speeds? USB 3.0 vs USB 2.0, who will ultimately win the battle using a Western Digital SATA 6Gb/s hard drive?
OVERVIEW
An HDD docking station allows you to place any 2.5" or 3.5" SATA disc inside and read its contents at blazing-fast transfer speeds. The Thermaltake ST0019U takes this technology to the next level with USB 3.0 compatibility. In the past, the USB standard has been bottlenecked by a lack of sufficient bandwidth to feed today's high performance 3.5" hard drives. In fact, most of these 3.5" hard drives cannot even operate at full speeds due to inefficient SATA interconnect architecture on most OEM motherboards. Older socket 775 and even some socket AM3 motherboards only support SATA II technology and my hardware testing has shown that a lot of the SATA hard drives on the market today just cannot reach their reported peak transfer speeds as a result.
The Thermaltake ST0019U Docking station, when used with a simple to install StarTech USB 3.0 PCI-e card, can virtually eliminate these slow file transfer problems for your OEM computer or Socket 775 motherboard. By using an available PCI-e port on your motherboard, you can get a direct high bandwidth connection to your processor's front-side bus. Keep in mind that this still can be used with any USB 2.0 port if you so choose.
IN THE BOX
The Thermaltake BlacX 5G box is crammed with all the gadgets and cables that you will need to make almost any SATA 3.5" or 2.5" drive work. Inside you will find a long USB 3.0 cable, two HDD silicon jackets (2.5" and 3.5"), the power supply for the docking station, an installation manual, and your product warranty.
To be honest, I have yet to purchase a USB 3.0 cable and was impressed that Thermaltake included a one in the box! The cable has an odd-shaped connector on the end which appears to be the new docking standard for enabling USB 3.0 transmission. The cable is noticeably thicker than the older USB 2.0 cables that you may have laying around but its extra-long length gave me the ability to place the docking station on top of my Thermaltake Armor A90 computer case.
CREATING HIGH-SPEED USB 3.0 WORKSTATION USING PCI-E
First, you do not need any drivers to use this Thermaltake USB product. Simply plug it into an available USB port and hit the power button on top. Done. Windows Vista Ultimate x64 Edition instantly recognized the new hardware and proudly announced that it was ready for use. Cool!
Now, we need to find a SATA hard drive. You can plug any 3.5" or 2.5" SATA hard drive into the Thermaltake BlacX 5G. In fact, it will even take a Western Digital 2TB hard drive without any qualms! When placing your hard drive in the docking cradle, only a minimal amount of force is needed since the connectors will slide right into place. To test the connection, depress the round power button on the front left corner. If it worked, the light will turn on and you will feel the hard drive spin up.
Hot Swapping For The People!
One of the greatest features of this docking station is its native ability to hot-swap your data drives. In the past, most consumer motherboards and Dell workstation computers only allowed you to replace your SSD SATA hard drives when the power was turned off. Now, you can replace your Intel SSD SATA hard drive at the touch of a button. Simply press the power button on the Thermaltake BlacX 5G and Windows 7 x64 will alert you that the USB drive has been safely disconnected. You can then swap out your discs and hit the power button again in a matter of seconds.
PERFORMANCE TESTING
Believe it or not, USB 3.0 is faster than SATA II for all file transfer operations. One of the major reasons for this is due to the fact that USB 3.0 expansion cards use the PCIe expansion bus on your motherboard. The compute used to conduct this testing featured an ASUS P5QL-VM DO/CSM LGA775 motherboard, Crucial Ballistix Tracer 4GB (1GBx4) DDR2 1066 all running under Windows 7 Ultimate 64bit edition in a Thermaltake Armor A90 case. As an added bonus, the 200MM fan mounted under a grill at the top of the case provided cooling for the hard drives that were resting in the BlacX 5G Docking Station.
In this review of the Thermaltake BlacX 5G SATA HDD Docking Station, we used a broad range of hard drives to determine which will work the best of your home or office computer. First, to get ultra-responsive disk access times, we choose the Western Digital Raptor WD360 EL36 which is a classic SATA 1, 10,000 RPM hard drive. Second, a 2.5" Western Digital WD2500BEKT was picked for the notebook user. Finally, the high capacity, 1Tb Western Digital WD1002FAEX SATA 6Gps with 64Mb of the onboard cache was added to take advantage of the BlacX 5G access speeds.
HD Tune 2.55 Hard Disk Utility Benchmark
HD Tune analyzes the performance of several critical areas of your hard drive. In a few brief minutes, HD Tune measures the raw performance of hard discs including transfer rate, burst rate, and access time. Keep in mind that the only true benchmark of a drive's performance is actually writing a full file to it. As a result, this is considered a synthetic benchmarking tool but it still shows some interesting characteristics of the BlacX 5G bay.
The following charts show how the consistent access rate offered by the BlacX 5G over the ASUS P5QL-VM onboard SATA 2.0 ports. Notice the resulting reduction in access times as well.
In this chart, I tested three different hard drives with HD Tune and recorded the results.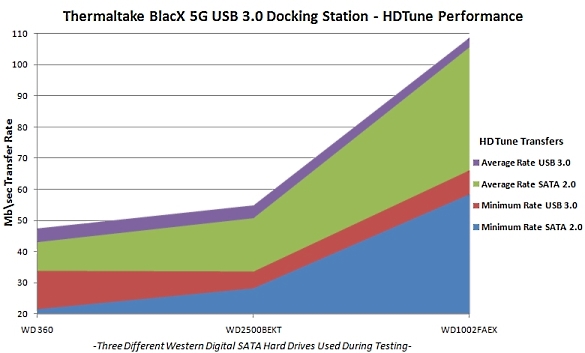 SQL Server 2003 BAK File Transfer
As a database administrator, I routinely copy files called BAK files from one hard disk to another. SQL Server BAK files are essentially images of the MDF and LDF database file structure. They can be used to recreate an exact copy of the database on another computer. The only problem is that they can become rather large beasts that exceed 20Gb of space on your portable hard drive or tape backup device. The BlacX 5G HDD Docking Station gave me a way to move these files rapidly without purchasing other expensive data storage systems.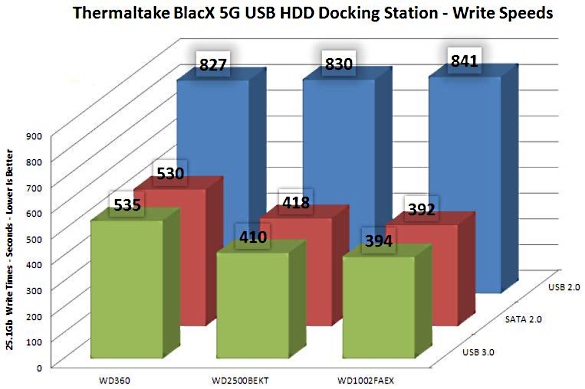 As you can see from this chart, USB 3.0 technology is just as fast, if not faster than SATA 2.0. Considering the fact that the hard drive was in an external docking station while running the USB 3.0 and USB 2.0 portions of the test, we have a clear winner in this situation.
TMPGEnc 2.5 MPEG Encoding
One of the many uses for external hard drives is to convert DVD, Blu-Ray, or Apple Quicktime video into other media formats for playback on media center computers or DVR (digital video recorder) devices. In the past converting large videos was a chore because you had to connect the hard drive from your DVR to a SATA port on your ASUS motherboard and then boot the computer. Now, you simply have to plug it into the Thermaltake BlacX 5G docking station and watch the data stream into your computer.
For this new benchmark, I am encoding an 1867 frame 1080P animation created in POV-Ray for Windows. The files consume over 10.7Gb of disk space which means plenty of disk read requests. Yet, in addition to this TMPGEnc is also writing simultaneously to the hard drive the new encoded MPEG-1 1920×1080 30fps 30,000kbps video stream. The final file size is 231Mb. To truly flex the muscle of these USB ports, I put both the source and destination folders on the same hard drives for this round of benchmarking. Please note that the speed of your processor also determines how quickly you can complete a MPEG-1 encoding. To keep these numbers as accurate as possible, I used the same motherboard and processor clock speed for all tests seen below.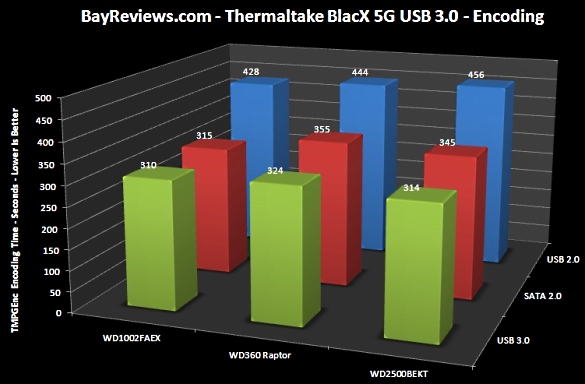 The reduced access time of USB 3.0 technology allows the SATA interface of your hard drives to come to life. While the encoding operation used to create this chart only resulted in a 231mb movie file, larger files will create an even greater imbalance between these data transfer technologies.
You may also want to compare these test results with the Thermaltake BlacX Duet eSATA / USB Docking Station review that also did very well using USB 2.0 and specially eSATA interfaces.
FINAL THOUGHTS
I really enjoy working with hard drives. The higher-end models like the Western Digital Raptor series that spin at 10,000 RPM has long been bottle-necked by SATA technology that just cannot satisfy their need for high disk transfer speeds. As seen in this review, an external USB 3.0 drive cradle can unlock their hidden potential and make them a veritable force over five years after their initial manufacturing date.
While I keep repeating myself on the topic of the PCI-e USB 3.0 controller card, you must consider purchasing one of these if you want to reach the maximum potential of the Thermaltake BlacX 5G docking station. Once you do, you will be able to purchase a 2.0Tb SATA III hard drive for your home DVR or entertainment center. Since most Blu-Ray movies now come with a digital download option, you can collect these downloads on your home pc and transfer them in a matter of minutes to your multimedia workstation. Taking this step of purchasing the right hard drive equipment now to bolster your digital media capacity is very important since a lot of these free Blu-Ray movie downloads have an expiration date.
The Thermaltake BlacX 5G ST0019U USB 3.0 Hard Drive Docking Station is highly recommended for anyone who manages computers on a daily basis. You can grab important files faster than ever with 5.0Gbps transfer rates and stop waiting for lengthy file operations to complete. The price of this docking station is very low. In fact, you can pick up a StarTech USB 3.0 PCI-e card and this speedy docking station for less than the cost of a new hard drive. For that reason alone, the Thermaltake BlacX 5G USB 3.0 Hard Drive Docking Station is certainly a tremendous bargain for anyone looking for an ultra high speed, data storage upgrade!
Yes, we have very competitive pricing plans and accept a variety of formats. Please contact us for more details.
Yes, you can. Just use the contact us form to send us a message and we will consider reviewing the product. It does depend on a few factors such as product availability, funding, and time.
Please provide as much of the following information as possible:
Manufacturer Name
Manufacturers Website
Product Name
Product Model / Serial Number
A link to the product itself
Unfortunately, we do not accept user reviews at this time. But feel free to voice your opinion in the comments section of recent articles.
We do, however, have plans to implement this feature in the future.
Yes, please contact us for more details.
Please note that we test and review all products fairly and will not change our review and rating of products.
No, we do NOT sell anything on BayReviews. And we will never sell anything on BayReviews. We do, however, display ads that may direct you to other sites that probably do want to sell to you.
We buy products we review because we review what we own first.
We do, however, sometimes receive review samples but we still test and review everything fairly. When a review sample is provided by a partner, they cannot dictate how the review will turn out.
Our review and ratings are always based on our testing and experiences with the products.
All reviews on BayReviews are written by the editor-in-chief and our very knowledgeable staff writers and editors.