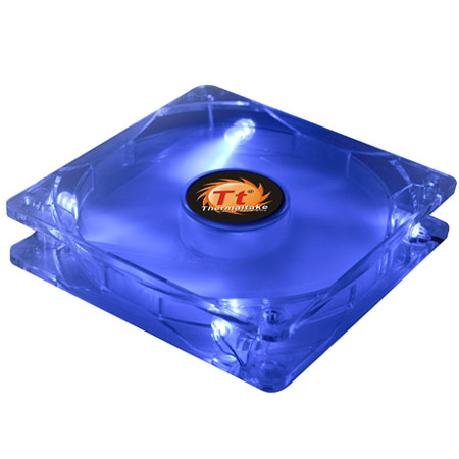 A new 120MM fan can help your motherboard!
Summary
Keep your ASUS GTX 580 video card cool with the Thermaltake Blue-Eye 120MM AF0026 cooling fan and let its precise control help you get the job done.
Pros
Adjustable fan speed, 120MM ensures broad fan flow and 4 Blue LED's.
Cons
Will not fit on some computer cases.
All 120mm cooling fans are not made the same. In this review, I will outline why the Thermaltake Blue-Eye AF0026 120mm cooling fan is a wise purchase towards keeping the heat out of your gaming computer. I needed this fan to cool the chipset's in my fractal design and rendering computer.
The ASUS motherboard inside the computer seemed to suffer from an overheating Intel B43 chipset that needed a little more direct airflow to unleash its true potential. Here are some key questions answered in this review that will help you make an effective buying decision. How can a 120mm Thermaltake fan help overclock your computer? What comes with the Blue-Eye series cooling fans to aid with installation?
PACKAGING AND DESIGN
I ordered my cooling fan from directron.com because their main warehouse is located in Houston, Texas which is right down the road from me. The box for this fan is made of stiff cardboard and can actually be hung as a display from a rack. The packaging inside protects the fan from any impacts that may damage it during shipping.
The box is stuffed with a wide variety of goodies that will help you get this fan installed. Four vibration-absorbing soft mounts are inside to help you attach this fan to a Scythe heat-pipe cooler. Four long threaded screws are included to allow you to hard mount this fan to the rear of a case or metal side panel. The adjustable fan speed control comes as a separate unit that can be suspended outside your case and then plugged inside so you can make quick adjustments without reaching inside your computer. All the wiring for the fan is encased inside a black cable sleeve so it will match the interior of your computer case and at the same time reduce the appearance of multicolored wiring.
PERFORMANCE
I found this Thermaltake 120mm fan was indistinguishable while running at its lowest setting of 1,300 RPM. The specifications claim this noise level to be 24.6 DBA but since the fan was blowing into my Armor A90 case it was really not that loud at all. Now when cranked up to its maximum level, you will be able to hear it from about 10ft away. In fact, at its peak, 2,500 RPM, the 120MM put out so much airflow that the other fans in my computer case could be heard cranking up faster and pushing out a lot more air.
CASE COOLING CONSIDERATIONS
The side panel of the Thermaltake Armor A90 has a mounting location that can be used to install this 120mm fan. In operation, the blue LED lights to shine brightly into the room and look great. The fan works great with this case and gave me the stability needed to take my Intel E3300 above 3.25Ghz.
The Rosewill CHALLENGER Black Gaming ATX Mid Tower Computer Case can use two of these Thermaltake 120MM Blue-Eye fans in the optional ports on its side panel.
FINAL THOUGHTS
I only purchased the Thermaltake AF0026 to get its impressive 97.5 CFM of airflow at work on my overclocked Intel E3300 Socket 775 processor. I was having problems keeping it stable above 3.2Ghz and discovered that my south-bridge chipset on the ASUS P5QL VM motherboard was overheating while playing DC Universe Online. Using this fan helped me keep the Intel B43, Intel GMA X4500HD, and Intel ICH10D chipset's well under 60 degrees Celsius so that I could continue gaming without crashing.
Whether you are building a new computer using a Thermaltake Armor A90 VL9000 or just need to keep your Nvidia GeForce GTX 480 video card cool, the Blue-Eye 120mm AF0026 cooling fan is going to give you the precise control you need to get the job done. You are given a wide variety of accessories to help get this fan installed in practically any situation that you can think of. The four bright LED lights not only light up the spinning fan blades but will make the inside of your case much brighter. You can find this at many online retailers for an affordable price so why delay? Pick one up today and add some eye-catching fan appeal to your computer today!