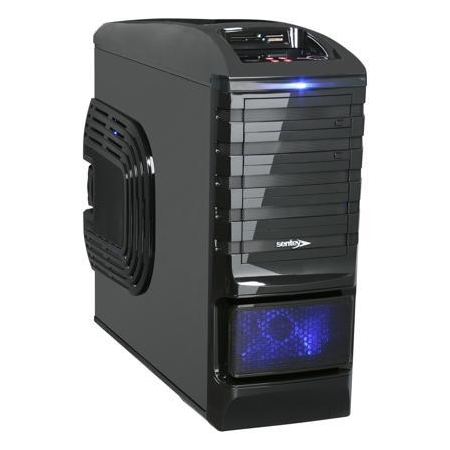 Discovering new computer products and exploring their features is what hardware reviewing is all about. The Sentey Extreme Division line of computer cases is a cut above nearly all of their competitors in this market sector. The GS-6500 is stacked with features like USB card readers, water cooling ports, and removable hard drive cages.
In fact, one of my biggest challenges while writing this review was simply finding the right place to show off this cool case to my friends and neighbors!
The Sentey GS-6500 Burton computer system case caught my full attention the moment I removed it from its protective shipping box. A total of six high-velocity case fans and a deep interior compartment, allow this attractive computer case to hold E-ATX motherboards (33cm x 30cm) but that is just half the story here. You will also discover that all hard drive and DVD drive bays have an innovative locking mechanism that eliminates the need for using screws. As you read this review, I encourage you to look at your own computer case and see how it compares. What do the advanced filtration systems in the Sentey Extreme Division mean for your PC components? How does the Sentey GS-6500 Burton help you install new hardware faster? Read On To Find Out!
SHIPPING AND HANDLING
The Sentey Extreme Division Burton GS-6500 computer case comes in a rather large shipping box. The box is made of thick cardboard that will protect your purchase from most damage incurred while it is transported to your home. The outside is printed with bright and colorful illustrations of this quality Sentey product.
I want to stress the care and attention given to the shipping of this case since it arrived without a scratch or dent. Notice the thick cloth that covered it inside the box in the pictures below.
Two large pieces of the white plastic foam cover the front and rear sections of the case once it is taken out of the box. The foam is layered so it will not shatter like Styrofoam will when crushed. No other manufacturer today is doing this. Couple that with the mirror-like finish on the paint of the door panels, Sentey surely has something to be proud of.
Once the Burton GS-6500 has been removed from its box, foam, and protective fabric shipping materials the next step is to open it up and begin assembling your computer.
Inside the computer case, is a little white cardboard box and a flier showing the Sentey product line. Several power cables leading from the plethora of computer fans and the top-mounted USB docking station can also be seen inside the case.
Inside the white cardboard box are a product demonstration CD, motherboard mounting fasteners, and a handy toolkit. The toolkit has a space expansion slot filler and a wipe down cloth so you can clean fingerprints off the glossy black paint job on the case itself. A space SATA cable and power cable will help you get your computer running rapidly.
Exploring the construction of the GS-6500 was quite fun. In this photo, you can see how the video card cooling fan arm will swing out of its side-mounted case hinge. On the upper front section of the case, you can see two plastic buttons where the 5 ¼" drive bays are located. The buttons allow you to hit the eject button from your Blu-Ray or DVD RAM drive while preserving the clean lines of the computer case itself.
In this detailed side view of the Extreme Division gaming computer case, we can see the advanced air intake systems that have been built into the base of the product. The SECC 1mm metal forms a thick frame all around the interior compartment but the frame is also rounded to protect your arms from harm while working inside.
EXTERNAL FEATURES
Before we dig too deep into the internal components that you will get this product, let's first look at the outside comfort options. The three key external features offer almost anyone something that they could use a regular basis.
High Speed USB Digital Card Reader
On top of the GS 6500, you will find what can only be best termed as a digital photographer's connectivity studio. A Sony Memory Stick, SDHC, XD, Secure Digital, Compact Flash, MD combination card reader sits above a retractable plastic panel. Underneath the black plastic panel on the Sentey GS-6500 are 4 USB ports, I used the Compact Flash and USB ports to upload photos from my digital camera while writing this review. To activate the ReadyBoost feature in my Windows 7 Ultimate x64 operating system, I left a SanDisk 8GB Extreme SDHC Class 10 High-Performance Memory Card in the slot. Doing this helps SuperFetch by caching certain disk I/O functions in Windows 7. Imagine what else you could do with this computer as your home photography studio!
External Native SATA and USB Ports
Also integrated into the top panel of this Extreme Division computer case are an e-SATA connection and even a Native SATA port with power! Now you can plug in a SATA hard drive and use Clonezilla to make a perfect partition image of your boot drive in minutes.
Locking Side Panels
Why does it always seem you are in a hurry when opening your computer case? Sentey solved this problem by including latches on each of the black painted side panels. Depress the plastic latch and push. Presto… open!
COOLING FANS AND WATER-COOLING OPTIONS
The Hidden Cooling Fan Option!
On the bottom of the Burton EATX full tower computer case, is yet another cooling fan mounting location. It is highly likely that Sentey did not provide a cooling fan for this area because of the high chance for interference with wiring within the Burton tower. The power supply rests behind this fan location and you will need to use a generous amount of Ziotek Plastic Zip Ties to get the wires clear of the fan blades. Nevertheless, you can still sneak in a 120MM fan here to increase the airflow in your system. I highly recommend this for anyone running dual Intel Xeon X5690 processors on a Tyan S7016 LGA1366 E-ATX motherboard which can fit in the GS-6500.
Bottom Power Supply Mounting Reduces Heat Concentration
You should also notice in the photo below that there is a filter placed on the SECC 1mm metal grill outside of the EATX case. The air filter is used by both the power supply intake fan and the optional cooling fan to prevent any chance of dust buildup on your hardware components inside. Air filtration also acts as a sound dampener for silent PC operation.
Water-Cooling
On the rear of the case, just above the exhaust fan, are two rubber grommets that are fitted into the SECC steel casing. The water-cooling inlet and outlets allow you to put a rather large diameter hosing for cooling your core microprocessor or video graphics processors. The rubber grommets should be kept in place when used because they will prevent the metal case from slicing into your water piping.
Powerful SLI Video Card Cooling Fans
Here you can see the two powerful SLI video card cooling fans that swing out on a hinged arm for easy access to PC components. A pressure, reed contact system on this cooling fan array instantly shuts off the power when opened so you can work inside the case with this accessory automatically powered off. My testing showed a 2 degree Fahrenheit temperature drop on the Intel Southbridge chipset with these fans powered on.
EXPANSION SLOTS AND DRIVE BAYS
Rear Panel Expansion Slots
The rear of this Sentey case has a total of seven, vented expansion slots encased in the thick SECC 1mm metal case material. Each of these expansion slots features a self-locking mechanism that eliminates the need to bolting down your new hardware to the case. You can easily install three AMD Radeon HD 6990 video cards in a crossfire configuration to build the ultimate graphics workstation.
Numerous Self Locking Drive Bays
You can stuff this case with a total of ten data drives. Since the digital card readers are on top, you are already +1 on almost any other computer case on the market today.
The five HDD trays are compatible with traditional 3.5″ and the 2.5″ SSD SATA hard drives. The front-mounted 120MM blue LED fan sends cool air across all your drives. The trays can be quickly pulled out and their side mounting increases the motherboard footprint elsewhere inside the case.
To attach 2.5″ netbook hard drives to these trays, use the four bolt holes that are etched into the metal to fasten the item securely. In the photo below, you can see that a Transcend V Series TS32GSSD25S-M 32Gb SATA SSD hard drive will work in this tray.
You can fit a total of five 5 ¼" drives in this case. A self-locking mechanism can be found on these bays as well. Leave your screwdriver in the drawer!
COMPATIBLE MOTHERBOARDS AND NIGHT GLOW
You can fit three standard motherboard types in this case: E-ATX – ATX, Micro ATX.
The footprint of the Sentey GS-6500 will accept a motherboard that is 33cm x 30cm. This extreme floorboard will put you into dual-processor motherboard territory. In fact, right now you can jump on eBay.com and buy an AMD Opteron dual-processor motherboard for less than $75 and equal the strength of most Intel-based SLI gaming options on the market today. You can also use this power on BOINC distributed computing projects. I personally led the world in SETI@HOME with a dual Xeon motherboard a few years ago. At this time Intel QX9650 processors tried to catch me but it took them over six months to catch up since my dual processors had more available high-speed memory bandwidth than they did. If you ever wanted to do something other than game on your computer and get worldwide attention then the Sentey Burton series is your best option right now.
In this Cannon digital photo, you can see the massive sunken area that you get to work with. The hard drive cages should steal the show because they can all be removed to fix a really extreme configuration. On option I am considering is mounting a dual-processor motherboard and a MINI-ITX in the same case. I recommend using the ASUS KCMA-D8 motherboard for its robust SATA features and dual AMD C32 sockets. You can network them both at 1 Gb via a simple bridge connection run between both networking ports. Next, install an N wireless network card on both motherboards to allow for independent WIFI connections. The combination would also give you the chance to throw up to 6 more cores on any BOINC project from within the same case. Yes, MINI-ITX motherboards are that powerful now.
Here are some photos of the glow put off by the numerous case fans at night.
All that blows also glows.
FINAL THOUGHTS
Sentey is definitely setting a new standard with the quality craftsmanship found in their Extreme Division series of computer cases. The Sentey GS-6500 Burton has an impeccable paint job bolstered by smooth flowing case lines and a robust air filtration system that helps to protect your valuable Nvidia or ATI video cards from dust. Sentey is so confident in the quality of the construction that they offer a 1 year limited (for Parts and Labor) warranty.
I highly recommend the Sentey GS-6500 to anyone looking for a new gaming computer case. You can then join me at SETI.USA on the BOINC project called Androinc and see if you have what it takes to build a true high-speed system worthy of being ranked the #1 personal computer in the world.