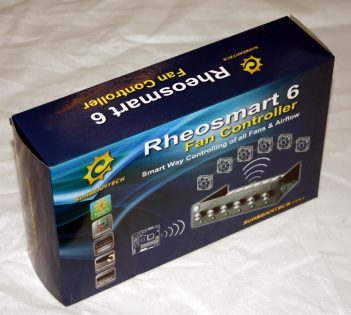 Since 1996, I have been looking for a PC fan controller that could survive the demands of multiple cooling fans. Numerous times, the fan controllers I ordered would fail due to ineffective DC circuitry that would simply overheat and fail after just a few hours of use.
The SunbeamTech RheoSmart 6 Fan Controller solves these problems with integrated heat-sinks on each of the six fan buses. In addition to these six independently controlled fan buses, a 4 pin PWM cable and header on the RheoSmart 6 instantly expands the single motherboard fan port into a squad of six fans that can tackle almost any temperature problem automatically. Granted nothing can cool a power-hungry Intel i7 processor once overclocked, this fan controller can still do a very good job a keeping your entire computer case and only increase the fan speed when needed.
Here are some key questions about this SunBeamTech product that this review will answer for you: How effective are four 120MM cooling fans and the RheoSmart 6 at reducing the temperature of 3 NVIDIA GeForce GTX 550Ti Video cards? Why do PWM and manual override features of the PL-RS-6 fan controller result in dramatic cooling capabilities? Do you have to plug in PWM cable to your ASUS KGPE-D16 Dual AMD G34 motherboard?
SHIPPING AND BOX CONTENTS
The SunbeamTech Rheosmart 6 Fan Controller comes in an attractively printed box. Once opened, you will find a re-closable, white, cardboard box that is strong enough to survive almost anything that the USPS can do to it. Inside the box, the Rheosmart 6 sits upon a soft foam pad with its instruction manual and other accessories organized into compartments.
The fan controller comes ready to run with a wide selection of cables and power adapters to help you make your purchase work as soon as it arrives at your front door.
CONSTRUCTION QUALITY AND APPEARANCE
The fan controller is 5.25″ wide but only half the depth of standard drives of this size that you may find. The front panel of the SunbeamTech fan controller is made of a custom black meshed grill that has been firmly formed over the top of the circuit board underneath. The two side panels are made of aluminum and painted black as well.
The attention to detail is present in every area of this 5.25″ 6 channel fan controller from SunBeamTech. The six aluminum heat-sinks inside this fan controller are designed to cool down the MOSFET that is dedicated to each fan channel. We were very impressed to find that SunBeamTech even took the time to place heat-sink thermal compound between each MOSFET and heat-sink. Great work!
INSTRUCTION MANUAL
The key to any getting the most value of the state of the art electronics is a good instruction manual. The Rheosmart 6 PWM Fan Controller comes with an eight-page manual that features full-page illustrations that detail all the functions it provides.
On page 4 of the manual, you will find an illustration that shows a SunbeamTech TWISTER 120 CPU cooler being used as part of the PWM wiring diagram. The Intel i7 compatible CPU cooler uses two large cooling fans and the wiring diagram outlines how you can connect these fans to the Rheosmart 6 PWM controller. I liked the idea because the Rheosmart 6 could be an indispensable part of any air-cooled computer system. You would be able to dial up the performance as needed and turn it down again when not in use.
INSTALLATION
The fan controller will fit inside a standard 5.25″ drive bay. The PL-RS-6 has a total of six 3-Pin Fan Connectors on the back to provide power for your accessories. Whether you plug in one 3 pin fan or all six, the controller will operate the same.
Looking at the rear of this fan controller, notice how SunbeamTech placed the power and fan ports in an easy-access location at the back.
When mounting this fan controller, I strongly suggest placing this in a 5.25″ drive bay closest to your mounted cooling fans. SunbeamTech does provide a total of four immediately usable extension cables but they are rather long and can give the inside of your computer case a spaghetti wire appearance if not tied up and pinned down properly.
I picked a location at the bottom of the Cooler Master HAF 932 Advanced case so that the four 120MM Excalibur cooling fan power leads could be accessed quickly.
REAL-TIME TEMPERATURE CONTROL OF SIX FANS
As a computer geek, I enjoy switches and knobs on my computer cases. To crank up the speed on your fans, simply turn the knob clockwise. You can also switch to manual control by depressing the black button under the knob to switch over to manual control. In manual control mode, the PWM signal is ignored which allows increased fan output.
TESTING WITH FOUR 120MM COOLER MASTER EXCALIBUR FANS
The hardware testing server was getting very hot after adding three NVIDIA GeForce GTX 550 Ti Video Cards. The Cooler Master HAF 932 Advanced side panel had a Cooler Master A23030-07CB-3MN-F1 230MM cooling fan that was not moving enough CFM to handle the job of keeping the three video cards cool. Additionally, a total of 16 Crucial Ballistix Tracer BL3CP25664TN1608 DDR3 PC3-12800 CL8 memory sticks were throwing off much more heat than we ever thought they would and the heat was getting trapped around the ASUS KGPE-D16 motherboard in the case.
In the following tests, I installed four Cooler Master 120MM Excalibur High Velocity (R4-EXBB-20PK-R0) fans that pullover 12VDC 0.45A at full speed to both tests the ability of the Rheosmart 6 to handle a high power draw and demonstrate the flexibility that four PWM ports can provide.
For each round of testing, I ran the computer for 24 hours to in a 72 degree Fahrenheit temperature-controlled server room. The fans were obviously mounted on the side panel of the computer case for each of these tests.
Testing Detail
Single Cooler Master A23030-07CB-3MN-F1 230MM cooling fan
Four Cooler Master 120MM Excalibur High Velocity (R4-EXBB-20PK-R0) fans set to low
Four Cooler Master 120MM Excalibur High Velocity (R4-EXBB-20PK-R0) fans set to high
FINAL THOUGHTS
Without the flexibility of the SunbeamTech Rheosmart 6 PWM Fan Controller, I would have never been able to precisely dial in the perfect ratio of sound and cooling capabilities on my computer case. The temperature also dropped on the Samsung HD502HJ and WDC WD1002FAEX SATA Hard drives in the computer system as well. Even though they were not in the direct path of the airflow, the temperature drop in the computer case seems to have helped these hard drives as well. Yes, I approve of this fan controller and recommend it to anyone seeking a way to manage more systems or CPU fans than their current motherboard allows.
The design and appearance are as important as the function of the fan controller. The Rheosmart 6 looks fantastic in any black painted computer case with its glowing LED lights and futuristic knobs. You can find this fan controller online for less than $40 at many retailers today which is a bargain compared to the various other controllers I have tested in the past. After several weeks of testing, we could find no apparent problems with this fan controller. We at BayReviews, give this product a 5-star rating for its combination of value, durability, and appearance.