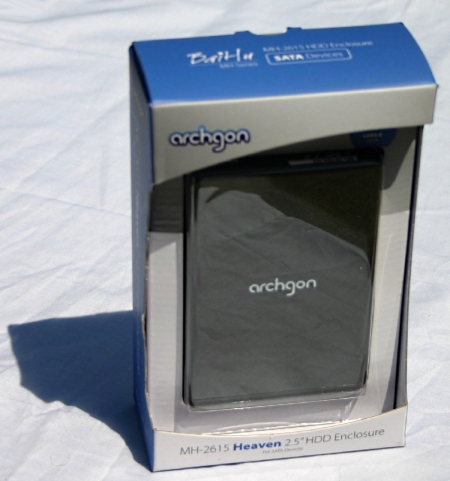 Digital media files are getting bigger every day. Today, we find our Blu-Ray discs come with a digital copy and Canon digital images consume a lot of file space on your netbook. After just two years of use, my ASUS 1005HA hard drive is full of these large files and I had to find something to back up on to.
The solution has always been to purchase an external hard drive. Yet the dirty secret is that moving 25GB of files over USB 2.0 has always been slow. Archgon has released a portable USB 3.0 hard drive enclosure that is the solution to many of these problems. The MH-2615 is a 2.5″ SATA to USB hard drive device which supports USB 3.0 transfer speeds. The enclosure is constructed out of a metal case that is so small it will fit in a purse or your pocket. After you install a 500GB or 750GB SATA hard drive in this case it is quickly recognized by Windows 7 Ultimate or Windows XP Professional in a matter of seconds.
We, at BayReviews, enjoy exploring the potential of USB 3.0 devices because they offer unmatched speed to the desktop consumer at highly affordable prices. Looking at the back of the box for this Archgon product, we see there are many other advantages to consider when purchasing a portable USB HDD.
In this review, we will answer the following questions about this product for you: Will my computer recognize the Archgon MH-2615 portable hard drive without drivers? What is in the Archgon MH-2615 USB 3.0 HDD box? Read On To Find Out!
SHIPPING, PACKAGING AND PACKAGE CONTENTS
The Archgon MH-2615 HDD enclosure comes inside attractive multi-part cardboard and clear plastic box with all the supplies needed inside. The seamless, glossy black aluminum HDD enclosure itself is approximately 5″ long x 3.25″ wide x .5″ thick and with a hard drive installed weighs at most 4 ounces. You will only find one single port on this enclosure, the USB 3.0 connection. The port handles both the data and the power needs of the device.
In addition to the Heaven 2.5″ Enclosure, a USB 3.0 Y-cable, packet of 4 screws, and Instruction Manual are provided. The USB 3.0 cable is approximately 17.5″ long and is compatible with USB 2.0 computer ports as well.
WHY IS USB 3.0 SO IMPORTANT?
As its predecessor USB 2.0, USB 3.0 allows data transfers between computers and devices, such as storage drives, but 10 times faster. USB 3.0 data transfer speeds up to 5 gigabits per second. USB 2.0 only supports 480 megabits per second. If your computer has a spare PCI Express 2.0 port, you can install an adapter that will enable the high transfer speeds of USB 3.0 technology. At BayReviews, we have found the StarTech PEXUSB3S2 to be an excellent 2 port USB 3.0 controller card.
INSTALLING A WD SCORPIO 500GB STATA II WD500BPKT HDD
Currently, my 2.5″ SATA II hard drive of choice is the Western Digital Scorpio Black 500 GB 7200 RPM WD5000BPKT for its high capacity, silent operation, and of course low cost. Using a newer SATA II hard drive will also give you the benefit of increased cache size and more advanced disc access I/O technology as well. Remember, you are seeking performance. Prepackaged USB hard drive kits are notoriously slow because manufacturers use the cheapest hardware they can find. Archgon gives us the opportunity to pick and choose the ideal hard drive and as a result, ensures your portable hard drive will be faster than anyone else's at work or school.
The provided instruction manual will assist you step-by-step through the installation of the 2.5″ SATA hard drive. First, you remove the front end cap by sliding it carefully to the right.
With the plastic front end cap removed, push the internal components out the rear of the black aluminum case.
One of the benefits of building your own portable hard drive enclosure has to be the ability to look at the electronics, in this photo you can see the blue LED that shines when the drive is in operation.
Next, you will want to place the 2.5″ SATA HDD drive in the tray and slide it into the connector on the circuit board.
Now, using the four screws that came in the box for this product, attach the hard drive to the tray. Finally slide it back into the enclosure and place the locking front cap back into position.
The whole procedure took less than 5 minutes to complete. Once your portable USB 3.0 hard drive is ready, attach the USB cable and plug it into a port on your computer or netbook. The longest time will be spent actually formatting the monster 500Gb SATA II in Windows 7 Ultimate.
OPERATING SYSTEM COMPATIBILITY
Here is a list of operating systems that we tested this product with and had no problems:
Windows XP Professional SP2 x86
Windows XP Professional SP3 x86
Windows Server 2003 Enterprise Edition x64
Windows 7 Ultimate x64
Windows 7 Ultimate x86
PERFORMANCE TESTING
Getting the most out of your new Archgon MH-2615A HDD will require more than just a state of the art 2.5″ SATA drive. The following performance testing shows that you will also want to find a motherboard supports USB 3.0 technology or a handy StarTech USB 3.0 PCI-e card.
In the following series of benchmarks, BayReviews.com used HD Tach which has shown itself to be one of the most reliable disc speed analysis tools on the Internet today.
HD Tach Figures
We used HD Tach 3.0.4.0 in Long Bench (32Mb zones) mode on the USB 2.0 port of the Asus KGPE-D16 motherboard to get a few baseline performance figures for this USB 3.0 Enclosure. To offer some constructive comparison, a WD 3200BEV External USB USB 2.0 drive was also compared in this round of testing.
In this graph, the MH-2615 and WD5000BPKT are connected via the USB 2.0 port of the AMD Opteron motherboard.
The WD Element3200BEV was connected via the USB 2.0 port to the AMD Opteron motherboard to slightly faster transfer time.
In this graph, the MH-2615 and WD5000BPKT are connected via the USB 3.0 port of the StarTech USB 3.0 card on the AMD Opteron motherboard.
The disk access speeds possible with the MH-2615 HDD are amazing when it is coupled to a USB 3.0 port. Due to the limitations of a disc-based hard drive, I have yet to see the true peak transfer rate of USB 3.0. The USB 2.0 performance is clearly due to the limitations of the aging standard. Regardless of this fact, you can clearly see from these benchmarks that the Archgon BaiHu MH Series of external HDD enclosures can deliver the top transfer speeds that you need to move hundreds of gigabytes worth of digital media files in a few minutes.
FINAL THOUGHTS
The glossy black Aluminum case and high-speed data transfers possible with the Archgon MH-2615 make this the perfect accessory for anyone going to college. We really liked the simple 2.5″ SATA hard drive installation for this device as well. The only real drawback seems to be the plastic end cap but that should only be a concern if you drop the case repeatedly. Overall, with support for older USB 2.0 ports, the Archgon MH-2615 portable HDD enclosure is a cost-effective product that will give you years of dependable service at your home or dorm room.