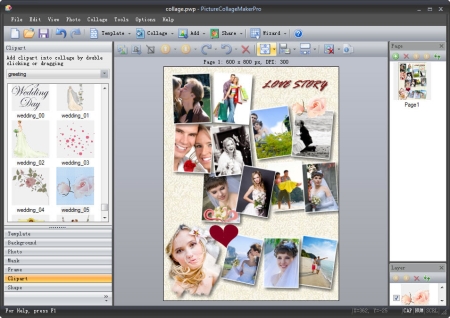 Make beautiful collages of home photos in seconds!
Summary
Young or old, your family will enjoy spending hours creating treasured memories in Picture Collage Maker Pro 3 to share with friends and/or relatives.
Pros
Intuitive, fun and productive.
Cons
Awkward load for some systems.
Picture Collage Maker Pro brings the joys of making custom collage prints to your home computer. Gone are the days of fumbling with scissors and getting glue stuck to your fingers with this 100% digital software package. All you have to do is take a few digital photos and upload them to your computer to begin creating stunning greeting cards, calendars, and of course collages. In this review, we will examine the various aspects of this software package, from start to finish. Here are just a few questions that will be answered for you: How fast will this collage editing software function on a new Intel i7 computer? How easy is it to install Picture Collage Maker Pro?
INSTALLATION
It started out awkward but acquitted itself well the rest of the time. After downloading it, the starting icon was not displayed. Firefox had placed the file in a random location on my hard drive. I downloaded it again, watching where it was being stored, and found both copies of the program in that location. Starting the program from there produced the icon and registration procedure. The install on my Intel i7 processor went quite smoothly with easy to read steps at each stage.
USING PICTURE COLLAGE MAKER PRO 3
I have always admired a collage on someone's wall, knowing how many hours it took to collect, cut, and glue those pictures in place. Print Shop Pro can be used to do this, but it is still not easy. Picture Collage Maker Pro 3.0.2 from Pearl Mountain Software makes this easy and fun. Pearl Mountain allowed us to try it out. This is not a how-to, since the program is so intuitive. Instead, I will give some pointers that I discovered while working with this ingenious photo editing, software program.
I recommend using one of the TEMPLATE modes the first time you use this software package. The TEMPLATE will acquaint you with the program's nuances and help you get a good result. Afterward, you will be ready to use the CREATE mode which offers many more collage creation possibilities.
In CREATE mode, one of the first steps is to select a resolution or dimension. I didn't understand why anyone would select anything but the highest resolution until I made some collages. Let's look at a collage of five birds: Juvenile Northern Cardinal(Cardinalis cardinalis), Chipping Sparrow(Spizella passerina), Prohonotary Warbler(Protonotaria citrea), Pileated Woodpecker(Dryocopus pileatus), and Eastern Bluebird(Sialia sialis).
Fig. 1 is 800 x 600 pixels while Fig. 2 is 1440 x 1080 pixels. Fig. 1 could be sent through email with no problems. Fig. 2 might be difficult to get through some email systems. Of course, the higher resolution will produce straighter lines and sharper images.
You can select portrait or landscape to display your collage. Now you can begin to put in your pictures. Don't bother to adjust them beforehand, as I did at first. The adjustments must be made after you have them in the collage. What I do suggest is that you write down the location of the pictures that you want to add. The initial select screen is a bit small, for that use. Once you start to edit the picture in the collage, it is enlarged to help you make the adjustments. My pictures run about 4 Mb and none of the adjustments showed the slightest delay on the Intel i7 processor on my computer. When I would click on a large group, say 75, some of the higher numbered pictures would stay black for about 20 seconds, but that's faster than windows finds the pictures.
Here is an example of what multiple photos in a single collage look like: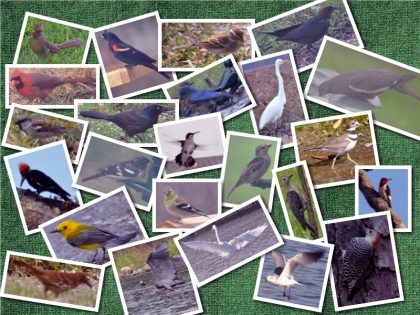 There are many adjustments that the program allows, but this is not a portrait program. You can eliminate that divorced son-in-law or add-in that new baby for the family portrait. You can even get that over-sized shot of Uncle Harold down to the same size as the rest of the pictures. Other than that your picture will live on its own merit.
Speaking of those adjustments, there are two anomalies that I came across:
The pop-up edit window to adjust the pictures has a rotate in it, but it only allows 90°. When you click on the center of the picture, however, you can get a circle with an arrow that will allow rotation to any degrees that you desire.
The pop-up edit window also has an ASPECT check that I quickly learned to turn off. When you click on any corner of the picture, it uses ASPECT to keep the ratio while you are increasing or decreasing the size of the picture.
As you finish adjusting pictures, be sure to left click to get the adjustment arrows cleared from the picture. Adding another picture before you remove those arrows, replaces the picture that you just adjusted with the new one that you called up. Quickly clicking UNDO will correct that mistake.
The optional frames and masks are a nice touch, but be prepared to bounce back and forth to get the picture fitted into them properly. I was pleased to see that the FRAME fits around any rectangular shape the I chose for the picture. The MASK will not fit easily around your picture. You may have to adjust the picture to fit the mask.
The backgrounds are handy and you can even put one of your pictures as a background as I accidentally did. You have at least two ways to save the collage. One is a standard jpg and the other is stored as a collage. The collage save can be recalled and you have all of the pictures in their original form as well as the background. This is where you eliminate that son-in-law and add in the new baby.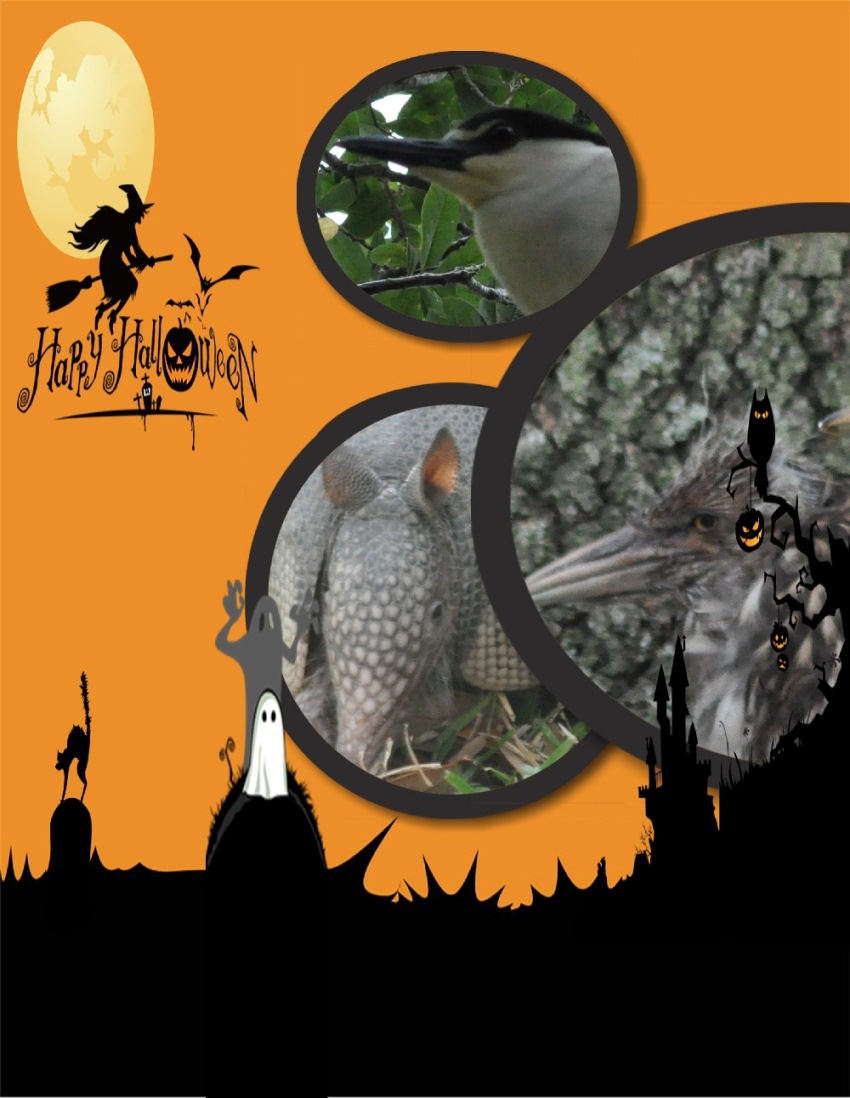 There are two other activities that the collage maker can help produce:
One is the greeting cards. There are birthday, Father's Day, new baby, anniversary, graduation, April fools, Christmas, Easter, Mother's Day, New Year, Thanksgiving, wedding, and the one that I chose, for now, Halloween. We see three creatures-of-the-night, an adult Black-Crowned Night-Heron(Nycticorax nycticorax) a juvenile Black-Crowned Night-Heron(Nycticorax nycticorax), and a Nine-Banded Armadillo (Dasypus novemcinctus). Although you can print greeting cards, they are not made to fold into the standard format. They look like an excellent way to send recognition of an occasion by email. This is where you consider how large a picture file you can send to that email address.
And everyone needs a calendar. I chose a sunrise and a Hibiscus flower on mine. Thankfully, you don't have to do anything but choose the type of calendar and put in your pictures. It is set for the year 2011.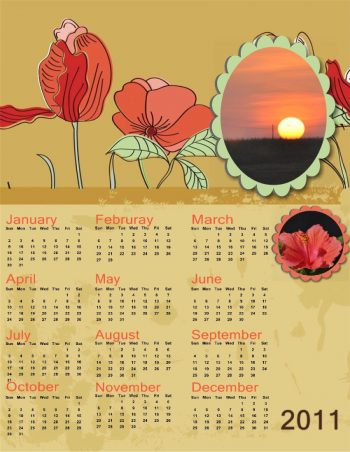 FINAL THOUGHTS
We found the Picture Collage Maker Pro 3.0.2 from Pearl Mountain Software fun, intuitive and functional. The collages, greeting cards, and calendars that would normally take hours to produce were made in minutes. Now I can show off my collages, but I will have to admit that I had a little help and it didn't take hours.
Collage Maker Pro is a great software package for the whole family to enjoy. Young or old, you can spend hours creating treasured memories for the entire family to create and share.