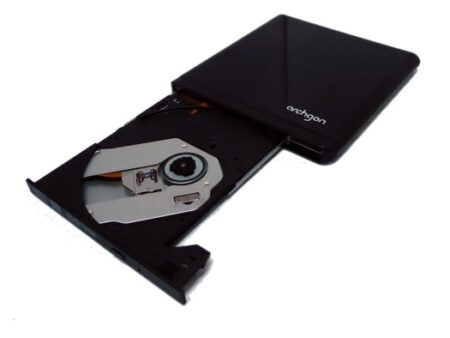 Ultra Fast and Portable!
Summary
A very compact and ultra fast drive that can read, write and re-write on the go.
Pros
Ultra fast, portable and slim. No drivers needed.
Cons
May not be available everywhere.
Nowadays, everybody seems to either have notebooks or netbooks because they are small and portable. They are great but sometimes they don't come with any optical drives built-in or the optical drive is built-in to a docking station/port replicator that you have to purchase separately. But since you are going to have to buy an external optical drive sooner or later, you may want to consider the Archgon Mobile Optical Disk Drive (MD-9102).
Why would you buy the Archgon drive when there are so many to choose from in the market today? Well, that's exactly the question we are here to answer today. We will put it to the test and see how it performs then you can decide for yourself. The Archgon MD-9102 has rated speed of 8x / 8x / 24x and can read/write/re-write to CD-ROM / DVD / DVD RAM / CD-R/RW / DVD-R / DVD-RW / DVD+R / DVD+RW. So let's get to it and see what it can do.
DESIGN, CONTROLS AND PACKAGING
The Archgon Optical Drive comes in a small retail package made of cardboard that is very easy to open. On the front/top you will find the Archgon logo and the name and model number of the optical drive. There is also a picture of the drive itself and a list of features. The back has the list of specifications, package contents, supported formats, and their speed ratings. Opening the box you will find the Archgon Optical Drive itself covered in a protective plastic covering. Once you take that out, you will notice a USB cable that will provide power and allow IO to and from the drive, a Nero Essentials CD, and a user manual (actually a quick setup guide).
The MD-9102 is black and has a very glossy finish on the top and there is of course a logo of Archgon. The drawer of the drive has the Eject button, a LED light, the usual pinhole (to eject the drive manually if needed), and the various logos (CD-ReWritable, RW, Multi-Recorder, etc). The drive is only 9.5mm thick so it will fit in almost any notebook/netbook case without taking much room. The bottom of the drive has four rubber feet/stands so the drive doesn't slide easily. The middle part of the bottom has another Archgon logo and model information. Their USB interface port is located on the back of the drive which is used to power the drive and to IO.
TEST SYSTEM
While I don't think the speeds will differ much if I used a desktop because USB 2.0 speed stays the same, but here is the system I used for this test.
| | |
| --- | --- |
| Type | Lenovo Thinkpad T60 Laptop |
| CPU | Intel T2500 2.0GHz Core Duo |
| RAM | 4GB |
| Graphics Card | ATI X1400 128MB |
| Storage | 160 GB 5400 RPM SATA |
| Operating System | Windows 7 Enterprise 32-Bit |
THE TEST
To test the read and write speeds of the Archgon optical drive I will use Nero DiscSpeed 5 which is part of Nero Essentials. I will use a non-name brand DVD+R disc with a movie written to it for the read test. For the write test, I will use a Memorex 12x DVD+R. The MD-9102 has a speed rating of 8x for DVDs 24x for CDs. Nero also has an InfoTool that will show all sorts of useful information (disc, drive, system, etc).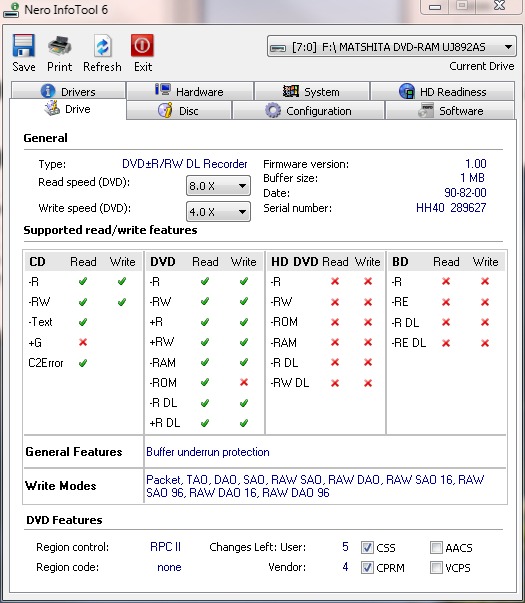 THE RESULTS
The Archgon MD-9102 optical drive achieved very good read and write speeds. The average read speed was 6.06x with it starting at 3.39x and peaking at 8.10x. The average write speed was 5.89x with it starting at 3.39x and peaking at 8.16x. The write time from beginning to end was only 10.36 minutes.
FINAL THOUGHTS
The Archgon MD-9102 Mobile Optical Disk Drive DVD Re-Writer performed at the rated speeds as stated in the specifications. Everything was as expected but the CPU usage did go as high as 50% and 65% for 4x and 8x while reading. To make sure you get good speeds and quality with reading and writing, I would highly recommend using good quality discs at all times. The only thing missing on this drive (in my opinion), is support for Blu-Ray discs. I don't mention this as a con because not many notebooks or netbooks have built-in Blu-Ray drives or for that matter, not many notebooks or netbooks can handle Blu-Ray movies anyway. You need a good CPU and a good graphics card (with hardware acceleration) for optimal Blu-Ray experience so no big deal there. One con that I think is worth mentioning is that it is very hard to find these drives in the US and therefore I cannot mention any price points. But if you do find it, I would highly recommend this drive to all in need of excellent quality CD / DVD reader/writer/re-writer.