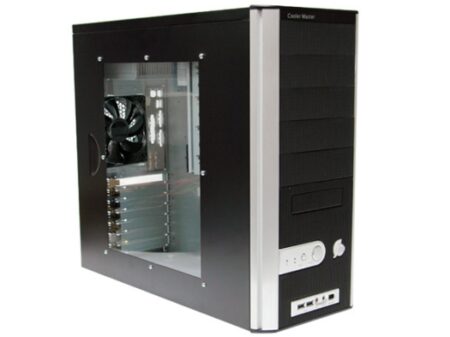 Well Ventilated, See-Thru Window and Cool LED
Summary
Overall a very stylish tower case with transparent window with lots of cooling capabilities.
Pros
Stylish. Blue fan LED, and transparent window gives the tower a good look. Also Plenty of ventilation and room for five fans.
Cons
Poor Cable Management from I/O module to motherboard. Once you put the Hard drives in the case space is a issue. Not a lot of physical space inside the tower.
Today we are looking at the Cooler Master Centurion 5 II Mid Tower case. It has room for five fans and can hold approximately five 3.5 inch drives. Has black steel mesh design with a transparent window on the side, so that you can see inside of the case. The I/O panel consists of two 2.0 USB ports, One Audio port, One MIC port, and one IEEE 1394 port.
PACKAGING AND EXTERIOR
The box is the classic Cooler master purple and white colors with a picture of two towers I'm assuming the two designs that this particular tower comes in. All-black steel mesh and the black steel mesh with silver trim. Also on the other side of the box, you have the specifications of the tower. Pictures of the different views of the tower are also available on the box. It shows cases all the stand out features of the chassis. The features are also listed on the box. Inside the box, the tower was covered in a clear plastic cover and wedged inside of the box with Styrofoam to make sure that the tower was safely secured inside of the box. Inside the chassis was a box that had screws, zip ties, hard drive rails, a tray for your 5.25-inch devices, and the installation guide. The right side panel of the tower was made up of solid black steel, and the left side is also black steel trim with a clear plastic panel in order for you to be able to look inside the case. The Back is a plain steel design and the front of the tower is a black mesh design that has the I/O panel and slots for four 5.25 inch drives.
INTERIOR
The interior of the case is all steel with the exception of the top which is a black steel design. At the bottom of the case is room for your standard ATX PS2 with a mesh design in order to supply proper airflow for your power supply. With the I/O port panel located at the front along with a fan, so space is a bit tight and I think that the cable could have been managed a bit better. It seems cluttered in the hard drive area because all of the cables have to be brought through that area. There is plenty of ventilation with air vents and space for fans on the top, bottom, front, back, and one of the covers of the tower. This case was designed with ventilation and airflow in mind. There are also slots for five 3.5 inch drives and four 5.25 inch drives. Included was also one 140 x 25 Blue LED fan 1200 RPM, 19 dBA.
EXPERIENCE
I have installed an Asus M2E motherboard with an AMD Athlon 64 X2 6000+ dual-core processor with a Vortex Plus CPU cooler and an ATI Radeon HD5450 512 MB Graphics Card. Then I installed a Fusion 550 power supply. A Hitachi LG DVD writable/CD-RW Drive and a Western Digital Caviar Green 500GB SATA hard drive. I used the computer over the weekend with no problems. I connected my printer an Epson Workforce 500, My external Hard drive, and it worked beautifully. I synchronized my blackberry and iPod and transferred some pictures with my digital camera without any issues. The installation of the motherboard was a bit of a challenge because of the physical space issues, things were a bit tight inside trying to screw things in and install my video card.
FINAL THOUGHTS
Overall I think that the Cooler Master Centurion 5 II is a very stylish case and looks good. The Blue LED fan really adds a nice touch. It what designed for ventilation and airflow. With five fans blowing in a case that size, all of your components should stay fairly cool. If you are a user that has a big heat sink and wants to install a bunch of expansion cards you might want to go with something with a bit more room. If you are not adding a bunch of extras to your computer and don't need that big heat sink the Centurion 5 II is a very nice case. I would definitely recommend this case.
Yes, we have very competitive pricing plans and accept a variety of formats. Please contact us for more details.
Yes, you can. Just use the contact us form to send us a message and we will consider reviewing the product. It does depend on a few factors such as product availability, funding, and time.
Please provide as much of the following information as possible:
Manufacturer Name
Manufacturers Website
Product Name
Product Model / Serial Number
A link to the product itself
Unfortunately, we do not accept user reviews at this time. But feel free to voice your opinion in the comments section of recent articles.
We do, however, have plans to implement this feature in the future.
Yes, please contact us for more details.
Please note that we test and review all products fairly and will not change our review and rating of products.
No, we do NOT sell anything on BayReviews. And we will never sell anything on BayReviews. We do, however, display ads that may direct you to other sites that probably do want to sell to you.
We buy products we review because we review what we own first.
We do, however, sometimes receive review samples but we still test and review everything fairly. When a review sample is provided by a partner, they cannot dictate how the review will turn out.
Our review and ratings are always based on our testing and experiences with the products.
All reviews on BayReviews are written by the editor-in-chief and our very knowledgeable staff writers and editors.