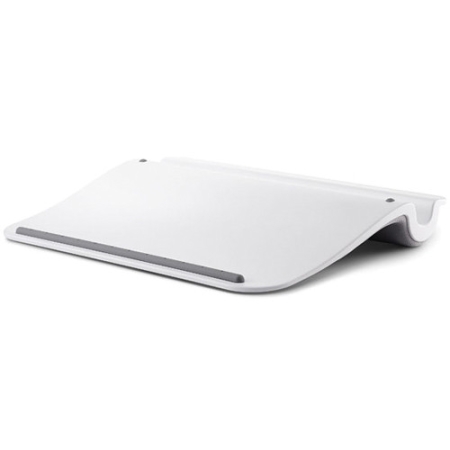 Sturdy Comfortable and Reversible
Summary
Overall this is an average notebook stand.
Pros
Comfortable and reversable!
Cons
No built-in cooling system (fan).
A laptop cooler is a must-have nowadays, to ensure a prolonged laptop life. I usually use a portable USB laptop cooler, but sometimes get tired of adjusting it to the right angle and making sure the USB cable doesn't get tangled in anything. I just want to sit down, get comfortable, and use my laptop without having to make many adjustments.
The Choiix Comforter Lapdesk form Cooler Master has allowed me to do just that. Get comfortable place my laptop on top of the cooler and work without any hassles. No adjustments, no plugging in cables, and no fan noise. Just place the cooler on your lap or desk and get to computing. The Choiix does not cool as effectively as a cooler with a built-in fan but makes up for it in comfort and durability.
LOOK AND FEEL
The Choiix Comforter Lapdesk is a bit spacious with dimensions of 458 x 341 x 62mm. It is big enough to fit a 17″ laptop on it with no problem. I have 14.1″ Dell Latitude D620 that I use on the Lapdesk and it leaves me at least two inches of room on each side of the Lapdesk. The Choiix is made up of sturdy plastic, so it can take some physical abuse. If you have small children you will not have to worry about them accidentally dropping the Lapdesk or banging on it with their favorite toy. It also has an easy to clean surface so that spills will not be a big issue and be easily wiped clean. The bottom of the cooler is padded with a sponge type of material and is covered in a gray cloth material, so the Choiix has a sleeking looking design and will fit into almost any office decor. The Choiix Comforter Lapdesk has an ergonomic aspect to it. If you turn over the Lapdesk so that the padding is facing upward you have a built-in wrist rest, so you have less strain on your joints. If you turn the Lapdesk back over so that the plastic side is facing up you also notice that there are rubber anti-slip props so that your laptop will not slide off the Lapdesk when you are working. There is also a deep indentation where you can place things like pens, highlighters, and small power supplies. Overall I like the look and feel of the Lapdesk, although I think it is a bit too large to be portable. It will have to be used at home or in an office.
USAGE AND TESTING
There actually was not any configuration at all to use the Cooler Master Choiix Comforter Lapdesk. It is one solid unit. All you have to do is take the Lapdesk out of the packaging and put it on your lap or your desk and you are ready to go. All you have to decide is what side of the Lapdesk you want to use. There is actually more real estate if you have the padded side facing down and place the laptop on top of the plastic surface, so I would recommend using the plastic side up. The plastic surface displaces the heat from the laptop fairly well and the sponge padding protects your lap or whatever surface you are working from collecting too much heat. The Choiix Comforter Lapdesk does not cool as well as your standard laptop cooler with a built-in fan so I was not expecting stellar results when it came to testing the temperatures.
To test the Cooler Master Choiix Comforter Lapdesk I tested the idle and the load temperatures using my Dell Latitude D620 with a Core 2 Duo processor. I used SpeedFan v4.40 to measure the CPU temperatures and I used CPU Burn-in v1.01 to put a load on the CPU. Each test was conducted for one hour to ensure accurate test results.
RESULTS
On idle with no laptop, cooler my laptop the temperature was 62 degrees Celsius and on load, the laptop temperature was 75 degrees Celsius. Using the Cooler Master Choiix Comforter Lapdesk my idle temperature was 58 degrees Celsius and on load, the temperature was 72 degrees Celsius so there was a three to four-degree difference using the Lapdesk. I was happy with the results. I was only expecting a degree or two but to see a four-degree difference I was pleasantly surprised.
FINAL THOUGHTS
The Cooler Master Choiix Comforter Lapdesk is lightweight and no configuration is required to use it. The padding on the bottom of the Lapdesk allows for comfortable user experience if placed in your lap. The heat is displaced well and I could not feel a change in temperature. Also if you need the ergonomic support you can turn the Lapdesk over and use the hand rest for more comfortable typing. Has rubber stoppers so that your laptop does not slide out of place when using it and is stylish looking so is easy on the eyes. The only thing I am concerned about is that it does not cool my notebook like a laptop cooler with a built-in fan. I would still be more comfortable with a laptop cooler that has a fan cooling my notebook. For that reason, I give the Cooler Master Choiix Lapdesk a 4 out of 5. I would need a cooler with more cooling power.