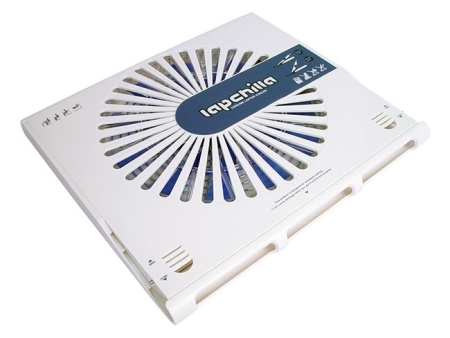 Simple Design, Light-Weight, Quiet, Good Ergonomics!
Summary
All around very good notebook cooler for the everyday user.
Pros
Light weight, quiet and easy to use.
Cons
Maybe a little bulky to fit in laptop cases.
Coolink is offering a USB Lapchilla laptop cooler, it has a simple design, is light-weight, has a huge 220mm fan, and has the ability to adjust to a 15 or 32-degree angle. It connects easily to your laptop using a loop-through USB connector.
There are plenty of stylish and sleek laptop coolers on the market, but Coolink decided to keep their design basic and practical. All you need to do is take it out of the box and connect it to one of your USB ports. Keeping your laptop properly cooled is an important part of preventive maintenance, Helping to reduce hardware failure due to overheating issues. Coolink provides an easy to use solution with their Lapchilla cooler, let's see how it performs.
LOOK AND FEEL
The Coolink Lapchilla comes in packaging the size of a small pizza box. Part of the front packaging is clear, so you can actually look at the product inside before opening the box. On the back is a picture of the Lapchilla along with Packaging and Product information. Inside the packaging you have the laptop cooler itself and the user instructions which is simple and to the point. The design is simplistic there are no LED lights or any type of other features, it's just the fan and the USB connector. The Lapchilla is made of ABS plastic, which makes it fairly light-weight (0.8kg). The dimensions are 300(H) x 270(W) x 25(D) mm, which is large enough to cool a 15.4-inch laptop without any issues. You will need a bit of extra room in your laptop bag to fit the Lapchilla, but once in your bag, you will not notice much of a weight difference.
USAGE AND TESTING
The setup for the Lapchilla is really quick and simple. All you have to do is take the Lapchilla out of the box, adjust it to your preferred angle, connect the loop-through USB connector, and the fan powers on. The Lapchilla has four rubber feet at the bottom, which allows you to place it on most surfaces. It is light enough to keep in your lap and portable enough for you to use it while lying in bed or stretched out on the sofa. The USB connector is retractable, so there are no excess cables to manage. The fan is 220mm which is fairly big and allows you to cool a large surface area (like a 15in laptop) at a lower speed. It's also quiet with an acoustical noise level of 16 dB/A at full speed (600 rpm). You will barely be able to hear the fan running.
To test the Lapchilla, I measured the CPU temperature on idle with and without the laptop cooler and recorded the results. Then I tested on load (CPU usage is full capacity) with and without the laptop cooler and monitored the results. I used SpeedFan 4.40 to measure the CPU temperatures and CPU Burn-in 1.01 to put the CPU at 100% load. Each test was conducted for one hour. I will be using my handy Lenovo T40 Thinkpad laptop to test this cooler.
RESULTS
On idle, my laptop ran at 56 degrees without the Lapchilla and 47 degrees with the Lapchilla. When tested at load the temperature without the Lapchilla was 87 degrees and 81 degrees with the Lapchilla. From the results of the test obviously my laptop ran cooler using the Lapchilla. With its 220mm fan, the Lapchilla can cool a significant amount of surface area. As soon as you put the laptop on the Lapchilla the temperature immediately starts to decline. Now let's see how these results compare with the Titan TTC-G9TZ and the Thermaltake massive23 ST notebook coolers.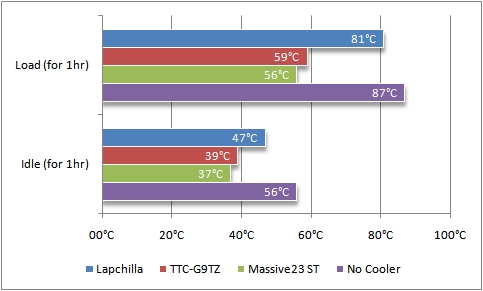 Yes, we have very competitive pricing plans and accept a variety of formats. Please contact us for more details.
Yes, you can. Just use the contact us form to send us a message and we will consider reviewing the product. It does depend on a few factors such as product availability, funding, and time.
Please provide as much of the following information as possible:
Manufacturer Name
Manufacturers Website
Product Name
Product Model / Serial Number
A link to the product itself
Unfortunately, we do not accept user reviews at this time. But feel free to voice your opinion in the comments section of recent articles.
We do, however, have plans to implement this feature in the future.
Yes, please contact us for more details.
Please note that we test and review all products fairly and will not change our review and rating of products.
No, we do NOT sell anything on BayReviews. And we will never sell anything on BayReviews. We do, however, display ads that may direct you to other sites that probably do want to sell to you.
We buy products we review because we review what we own first.
We do, however, sometimes receive review samples but we still test and review everything fairly. When a review sample is provided by a partner, they cannot dictate how the review will turn out.
Our review and ratings are always based on our testing and experiences with the products.
All reviews on BayReviews are written by the editor-in-chief and our very knowledgeable staff writers and editors.
FINAL THOUGHTS
The Coolink Lapchilla is a basic, light-weight easy to use laptop cooler that can adjust to two different angles. It's not fancy but it gets the job done and cools my laptop significantly. It is a bit bulky, so you will need some extra room to fit it in your laptop bag. The 220mm fan runs at 600 RPM and the noise is only at 16 dB/A, so it will not disturb you while you are working. To adjust the Lapchilla to your desired angle is a bit challenging at times, but once you get it adjusted you are all set. I feel that the results were significant and the Lapchilla deserves to be considered when looking at laptop coolers.