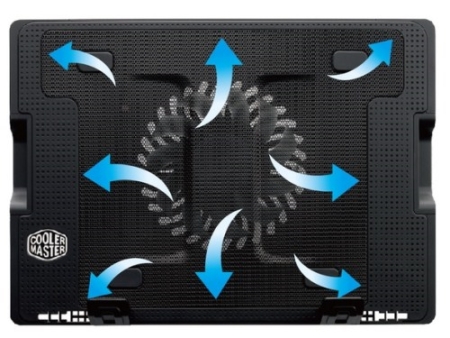 Awesome Cooler-Stand-USB Hub!
Summary
An excellent notebook cooler and stand with a four port USB hub.
Pros
Quiet fan, has USB hub and holds notebook upright.
Have you ever used those monitor stands for your laptop at work? Yes, I have until I got the chance to try this Cooler Master NotePal ErgoStand notebook cooler. It is a notebook cooler and stand in one with a four-port USB 2.0 hub built-in as a bonus. It also has clips on the back so you can manage your cables a little better too.
There are plenty of notebook coolers and notebook stands on the market, but only a few offer both options. A stand and cooler in one is just what I needed at work. I have been looking for a laptop stand for a while but wasn't too concerned about cooling, but that's just a bonus. I was also running out of USB ports but that issue is resolved too with the NotePal ErgoStand. Another thing I like about this cooler/stand is that it folds flat so you can carry it with you anywhere. So let's see how it handles and performs in our tests.
LOOK AND FEEL
The Cooler Master NotePal ErgoStand comes in an average-sized simple looking package. There are pictures of the stand itself on the front and back–the back also has the list of features and specifications. Inside the box, you will find the ErgoStand itself, the Mini-USB, the user guide, and the two little holder/feet. From the top, you see the metal mesh grill under which is the 140mm fan and the two feet at the bottom. You will also notice the Cooler Master logo on the left side. There are rubber bumpers on the stand so your notebook can rest comfortably. Use the metal bar to secure the stand upright and you get to choose from five different heights. On the left side, you will notice a power button with a power LED, and right below is the fan speed controller that can reduce the fan speed to as low as 700RPM. The right side has a Mini-USB port that powers the cooler and below it are four USB 2.0 ports that you can use as a hub.
USAGE
To set up the stand, all you need to do is slide the two feet/holders at the bottom of the cooler and plug in the Mini-USB cable for power. Then just lift the back and choose the comfortable position/height for yourself. Well, that's all you need to do and it is ready for use. I have it sitting on my desk at work right next to my 22″ Viewsonic VX220VW monitor that I use to extend the desktop of my Windows 7 Professional on the Lenovo Thinkpad x301. This the first notebook cooler/stand that has a USB hub built-in as a bonus and believe me it does come in handy for those quick plug-ins. I also used an Apple iPad WiFi 16GB on this stand and typing becomes a breeze (sorry I didn't get a chance to test record the temperatures as I only had the iPad for a little while). You can keep the fan off or at low speed with the iPad as it is not needed.
TESTING METHOD
To test this notebook cooler/stand, I will measure the temperatures of the CPU at both idle and on load and use SpeedFan v4.40 to record the temperatures. To test at idle, I will leave the computer running for an hour without running anything and then take the temperature measurements. To test at load, I will use CPU Burn-in v1.01 for another hour to load the CPU at 100% and then record the temperatures. I will be using my Lenovo Thinkpad x301 work notebook with Microsoft Windows 7 Professional 32-bit running on it to perform these tests. Then I will compare the results with my results from the tests I performed with the Thermaltake Massive23 ST notebook cooler and others that we have tested.
RESULTS
At idle, my laptop ran at 41oC without any cooler, at 37oC with the Massive23 cooler, 39oC with this TTC-G9TZ cooler, 47oC with the Lapchilla cooler, and 37oC with this NotePal ErgoStand. At load, my laptop ran at 51oC without any cooler, at 56oC with the Massive23 cooler, 59oC with this TTC-G9TZ cooler, 81oC with the Lapchilla cooler, and 46oC with this NotePal ErgoStand. So as you can see, the ErgoStand performed very well at both idle and load. It actually cooled the notebook down to the same temperature as the Thermaltake Massive23 ST (which was the best so far) did and beat it on load and kept the temperature way down. I think the ergonomic design has a lot to do with the awesome cooling power.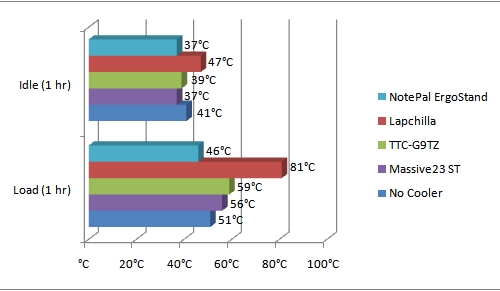 FINAL THOUGHTS
The Cooler Master NotePal ErgoStand is without a doubt a very impressive notebook cooler, stand, and USB hub. It is easy to use and setup. It is designed to look good and also to be easily stored or carried with its fold-flat design. Cooler Master also put in some clips on the back so you can manage the cable a little better. The 140mm fan is virtually silent and will keep your computer running cool at all times. A nice touch in my opinion is the ability to control the fan speed but it is not necessary (in my opinion). I was very pleased with the cooling that this ErgoStand provided and also how it looked while in use. I would highly recommend this notebook cooler and stand to anyone looking to improve the cooling on their notebooks, netbooks, or tablets (iPad anyone?). I didn't come across any issue with this unit, therefore the 5 out of 5-star rating. I would also like to present the ErgoStand with our Editors Choice award along with the Highly Recommended award. Congratulations to Cooler Master on a job well done! I would also like to thank them for letting us test this unit.