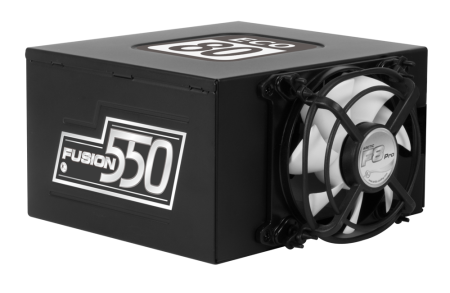 Cool, Quiet and Stable!
Summary
Very stable power supply that runs cool and quiet.
Pros
Runs very cool and quiet and provides stable power.
Cons
No moduler connectors. Fan grill is fragile and sticks out.
When shopping for a new power supply unit (PSU), most people just look at the advertised watts and base their entire purchase on that alone. That's fine for most average users but when you get into more power-hungry systems, you want to have the best and most stable power supply that can provide consistent and stable power at all times. This may require investing in a higher quality power supply.
Today we are looking at Arctic Cooling Fusion 550RF power supply units to see how efficient, quiet, and constant it is. Arctic Cooling has been around since 2001 and the main goal of the company was to provide thermal solutions with reduced noise levels. The Arctic Cooling Fusion 550RF looks great so we want to see if it performs as well or not. What it basically comes down to when shopping for a new PSU is the PF (Power Factor of an Alternating Current). I have tested other Arctic Cooling products so I expect high quality and performance. Let's see how it stands.
CLOSER LOOK
The Fusion 550RF comes in clear plastic packaging that gives you a clear picture of exactly what's inside. I personally like everything enclosed in a box so the product is more secure than plastic. The package includes the 550RF power supply itself, a power cable, installation screws, a user guide, and an Arctic Cooling badge. The Fusion 550RF is black in color which is standard on most other PSU's. There are two Fusion 550RF logos on the left and right sides and a huge 80 Plus logo on the top. The specifications sticker is on the bottom unlike other PSU's, but that's not an issue.
One thing that sets the Fusion 550RF apart from other PSU's on the market is the cooling fan. Instead of being in the PSU case itself the fan sticks outwards and is surrounded by a protective grill. The grill can protect against large objects but you may have to be careful about cables in the case. The grill also feels cheap so do not put pressure on it or lift the PSU by it. The fan itself is an 80mm Arctic F8 Pro with fluid dynamic bearing. The speed of the fan will range from 700 to 2000 RPM and it is controlled by the built-in intelligent fan control system.
CONNECTORS
1 x 20+4 motherboard connector (17″)
1 x 4 pin 12 volt connector (18.125″)
6 x Sata connectors (14″, 17.5″, 21.25″, 24.75″,31″ & 38″)
3 x 4 pin drive connectors (12″, 18.5″ & 24.5″)
1 x Floppy disk connector (31″)
2 x 6 pin PCIe connectors (20″ & 23″)
2 x 6+2 PCIe connectors (20.5″ & 23.5″)
2 x Fan connectors (4″ & 6.5″)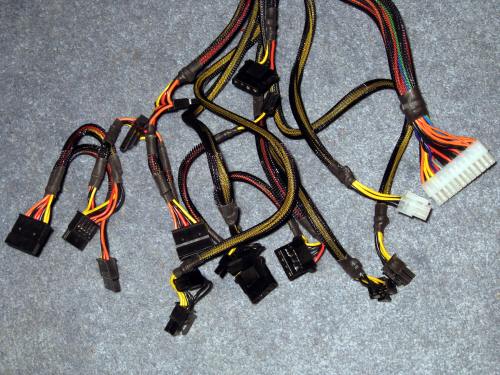 TEST SYSTEM
| | |
| --- | --- |
| Motherboard | Asus M2N-E |
| CPU | AMD Athlon 64 X2 6000+ dual core |
| CPU Cooler | Coolink Corator DS |
| Graphics Card | PNY GeForce Verto GTS 250 1GB |
| Storage | Maxtor 320GB SATA HDD |
| Optical Drive | Sony DVD-RW drive |
| PC Case | Thermaltake Element G |
TESTING METHOD
I will test the power supply both at idle and load. To test at idle, I will leave the computer idle with nothing running for an hour. To test at load, I will run 3DMark Vantage at maximum settings and also use Prime95 to load the PSU. We will use our multi-meter and reading from SpeedFan v4.40 and output our average results. I know this may not be the best way to test a power supply but we will try to perform some real-world tests (everyday normal use) to determine how reliable this power supply really is. Also, it would be out of our budget (right now) to acquire the equipment needed to test this to the fullest extent. For this reason, we try to keep our test results simple and easy to read for the average consumer. You should not base your purchase of power supplies solely on this review because we may not be able to provide complete information.
RESULTS
As you can see on the table and graph below, the 3.3 V rail stayed pretty much stable between 3.35 and 3.36 volts on idle and load. The 5 V rail wandered around 4.98 and 4.99 volts (load and idle), which is also very good. The 12 V rail had the most change from 11.96 volts on load to 12.01 volts on idle. We also calculated the power factor and as you can see on the table below it was 99.49% on load and 99.79% on idle. These results suggest that the Arctic Cooling Fusion 550RF is very efficient. As for the fan noise, it was almost shocking to not even hear the 80mm fan running at full speed (2000 RPM). Usually, 80mm fans spin a lot louder but Arctic Cooling has done a great job with this one to keep the noise level to a minimum.
| | 120 V | Watts | Amperes | 12 V | 5 V | 3.3 V | VoltAmps | Power Factor |
| --- | --- | --- | --- | --- | --- | --- | --- | --- |
| LOAD | 119 V | 206 W | 1.74 A | 12.01 V | 4.99 V | 3.36 V | 207.06 VA | 99.49% |
| IDLE | 118 V | 119 W | 1.69 A | 11.96 V | 4.98 V | 3.35 V | 199.42 VA | 99.79% |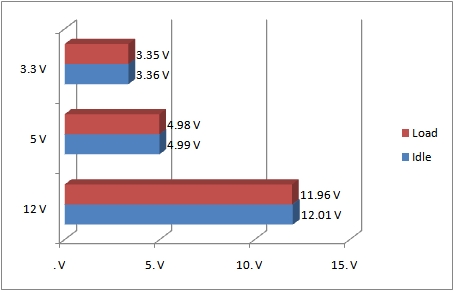 EXPERIENCE
Installing the Fusion 550RF was simple as expected on the Thermaltake Element G case. The only thing I had issues with was the fan sticking out which didn't allow me to use the PSU support plate in the Element G case, but I don't mind. You just have to keep other cables in the case away from the fan so they don't make their way in there and get stuck. You don't want the power supply overheating and blowing up, do you? The is PSU has all the connectors that I needed especially the really long (18″+) 4 pin 12-volt motherboard connector. This is because my Asus M2N-E motherboard is built for top-mounted power supplies so I need something that can reach from the bottom of the Element G case to the top. And this does the job without any issues.
FINAL THOUGHTS
I used the Arctic Cooling Fusion 550RF power supply unit for about two months without any issues. I couldn't hear the fan at all in the Thermaltake Element G case. One thing I would like to see Arctic Cooling do is to design the PSU's modular connectors so I don't have connectors that I don't need in the case. Overall I was very pleased with the performance and stability of this PSU and would highly recommend it to everyone looking for a decent power supply that won't hurt the wallet. Arctic Cooling says the MSRP for this PSU is around $95 US dollars but you may be able to find lower prices online with some research (though I think they are hard to find in the US).