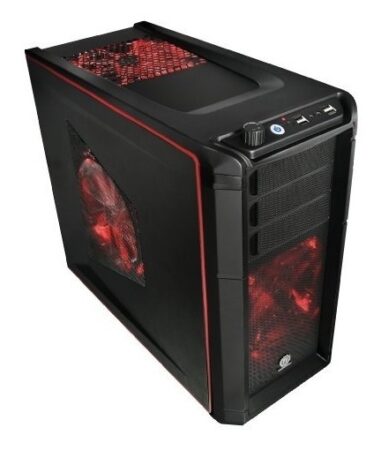 Colorful Lights and Just Right!
Summary
A nice case with lots of room, cool LED effects and some other cool features to talk about.
Pros
Lots of room, fan controls, 4 USB ports on the front and plug & play left panel door.
Cons
A little pricey, LED's my not be a necessity for everyone and noise control could be better (maybe the Element S spoiled me).
We are taking a look at the Thermaltake Element G ATX mid-tower case today that is one of the high-end cases available today. It's not as big as the Element S but it still has lots of room and also has a nice touch of color with the TouchColor LED fans. It is a mid-tower case with some very cool features.
The exterior is mostly black with some red trims on the side panel doors. There are TouchColor LED fans on the front, top, side, and back so you can change the colors as you wish or according to your mood. The front plan is actually on the top with a dial/button to control the case fan speeds and color, power/reset buttons, power/HDD LEDs and four USB 2.0 ports.
PACKAGE AND EXTERIOR
The Element G comes in a nice and big cardboard box that protects the precious treasure inside which is wrapped up nicely in a blue microfiber bag (like most high-end cases by Thermaltake) with Styrofoam paddings. Inside, we find the user guide, warranty information, and other necessary documents. Once you have the case out of all its protective packaging and the left cover open, you will notice a box with all the necessary accessories like screws, zip-ties, clips, and more that will come in handy during setup.
The case itself looks cool and interesting with all of the built-in ports, fans, and unique design. The exterior is all black except for the left and right panel doors (they have a red trim) but the rigid design is what sets it aside from other cases. There is no front panel door because there is no need for it. The top-front panel has the Power and Reset buttons with the four USB 2.0 ports, a LED fan control, and the power and hard drive LED. The audio out and microphone jacks are snugged in between two USB ports on each side. There is no eSATA port like the Element S, but no need because I have a PCI-e card for that. On the front, you will notice three 5.25″ drive bays and a large 200mm intake fan. You can use the top bay for your floppy or card reader drives (adapters included). On the top of the case towards the back, there is also a 140mm fan that is used to push air out. The left side panel also has the largest intake fan that is 230mm in size. All of these fans have TouchColor capability, meaning they can change color on the touch of a button. The right panel doesn't have any fans as expected. The left and right panel doors are secured using three thumb screws each.
On the back of the case has the power supply (PSU) opening towards the bottom of the case. There are two small grills that can be used for small 60mm fans (option) that can cool your graphics card(s). Right next to them are the seven expansion slot covers. Then towards the top, there is a 140mm exhaust fan right next to the I/O shield (that can be removed to install the one that came with your motherboard).
INTERIOR
The interior is all black also to match the mostly black exterior. The case has better cable management where the case fan cables run under the motherboard tray. There is a bracket for the power supply but you can easily remove it if you need more room. You can also install two 2.5″ hard drives if you wish. Right next to the motherboard tray on the top is the 5.25″ drive bays and below is the hard drive cage where you can install seven 3.5″ hard drives. The left door is a plug and play door because there is no power cable necessary for the fan. There is a touch connector built-in that supplies the power when it is securely fastened to the case.
EXPERIENCE
I installed my Asus M2N-E motherboard with the AMD Athlon 64 X2 6000+ dual-core processor and on top of that the Coolink Corator DS CPU cooler. Then I have my new PNY GeForce Verto GTS 250 1GB graphics card that I will be writing about soon. Then I installed the Arctic Cooling Fusion 550RF 550 watt power supply (also pending review) and a Maxtor 320GB SATA hard drive. Then to finish it off I have a Sony DVD-RW optical drive too. I didn't install my floppy drive or card reader this time (don't use it or need it anymore).
I had the system running smoothly and without any issues for about three weeks. As usual, the case power button has a one second or so delay which is good. Even with five or six fans running at or near full speed inside the case, I can somewhat hear the hissing sound of air flowing inside. The four USB 2.0 ports come in handy all the time, especially when you want to plug in your USB drives, cameras, or other external drives. Then there are the audio and microphone jacks that help me to relax by allowing me to listen to my music while I surf the web or write reviews. The overall setup and installation were nice and easy. Just use your instincts if you can't figure something out. You can always look at the manual which will tell you exactly where everything goes.
FINAL THOUGHTS
I have used and tested a few Thermaltake products and I can say without any hesitation that the Element G is one of the best high-end mid-tower cases out in the market. It costs around $125 but is worth every penny to enjoy cool colors and want built-in controls for your fans. The simple all-black design is perfect for any home computer and also stands out with the cool colors to fit your mood. I would highly recommend this case for anyone looking for an excellent case for home, small office, or basement needs. So after testing this case for about three weeks, I would rate it 4 out of 5 and present it with our Highly Recommended Award.