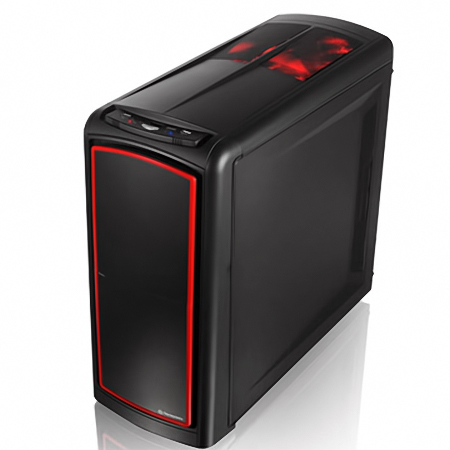 Lots of Room and Ultra Quiet!
Summary
Excellent case for gamers, enthusiast and even for every day user.
Pros
Lots of room. Ultra quiet. Easy install.
Cons
Very big for a mid tower case.
Today we have the Thermaltake Element S ATX mid-tower case that can be used in a gaming system or even a regular everyday system. It has lots of room and is designed to be very quiet. It is a mid-tower case but is very close to being a full tower case. It's not too bold but is also not an average case either.
The exterior is mostly all black with red trims on the drive bay door (looks pretty cool). There are no windows or fans on the side as you would find in most other cases. The front control panel is not really on the front, but on top. It's unique and I like it that way. There are cooling fans in the back, top (has red LEDs), and the front. Read on to see what else it has to offer.
PACKAGE AND EXTERIOR
The Element S comes in a big secure box and inside the box, the case is enclosed in a blue microfiber bag (compare to a regular plastic bag) which is expected for higher-end cases. Inside we also have the user guide, warranty information, and other documentation. Once you have the case unpacked and out of all the bags, you will have a little box full of accessories like (screws, zip-ties, clips, etc) that you will need when doing the install.
The case itself looks very simple from the outside with all black except for the red trim on the front door. This case isn't all that bold but still has something to it. The top-front panel has the Power and Reset buttons along with two USB 2.0 ports, an eSATA, and the regular audio/mic ports (no fan controls here). If you open the front door, you will notice there is no floppy/card reader drive bay and it all looks the same–there are nine 5.25″ bays from top to bottom. On the top (a little towards the back) you will also notice a huge 230mm exhaust fan. The left side panel is nice and simple with a vertical meshed vent near the end (this model does not have a side panel fan but there is a VK6001W2Z model that does have one). The right side panel is the same. The panel doors user three thumb screws to fasten and also has an anti-vibration and noise reduction material that goes all around it.
The back of the case has the power supply (PSU) opening at the bottom of the case. There are also two small grills that can be used for optional 60mm fans (that you can use to cool your graphics card) and right next to them are the expansion slot covers. Then there is a 140mm exhaust fan and right next to it is the I/O shield (that you can remove and install the one that came with your motherboard).
INTERIOR
The interior again is all black or stealth black as Thermaltake puts it. It does have some cable management so the front panel and fan cables run under the motherboard tray and out of the way. There is also a PSU bracket to secure and separate the power supply from the rest of the components (you can remove this if you would like). Right next to the motherboard tray on the top are the optical drive (5.25″) bays and right below are the hard drive cage (they are both removable). The hard drive case has some nice features such as a dedicated place to mount 2.5″ Solid State Drives (SSD) and you can also turn the drive cage to face the front if you liked (direction-free HDD cage).
EXPERIENCE
I installed my Asus M2N-E motherboard with the AMD Athlon 64 X2 6000+ dual-core processor and on top of that the Noctua NH-D14 CPU cooler. Then I have my old PNY GeForce Verto 7600 GS PCI-E graphic card with the Arctic Cooling Accelero Twin Turbo Pro GPU cooler. I also installed the Arctic Cooling Fusion 550RF 550 watt power supply and a Maxtor 320GB SATA hard drive. Then to finish it off I have a Sony DVD-RW optical drive too. I didn't install my floppy drive this time (don't use it or need it anymore).
I have had the system running smoothly and without any issues for about two weeks now. I didn't know this before but I think all Thermaltake case power buttons have one second or so delay. Even with five or six fans running at full speed inside the case, I can barely hear the hissing sound of air flowing inside. The two USB 2.0 ports and the eSATA ports come in handy when you want to plug in your USB drives or other external drives that use the eSATA interface. Then I have the audio jack that helps me to relax by allowing me to listen to my music while I surf the web or write reviews. The overall setup and installation were nice and easy. Just use your instincts if you can't figure something out. You can always look at the manual which will tell you exactly where everything goes.
FINAL THOUGHTS
I have used and tested a few Thermaltake products and I can proudly say that the Element S is one of the best high-end mid-tower cases. It costs around $110 but is worth every penny. The simple all-black design is perfect for any home computer but it doesn't stand out too much either. I would highly recommend this case for anyone looking for an excellent case for home, small office, or basement needs. So after testing this case for about two weeks, I would rate it 4.5 out of 5 and present it with our Highly Recommended Award.
Yes, we have very competitive pricing plans and accept a variety of formats. Please contact us for more details.
Yes, you can. Just use the contact us form to send us a message and we will consider reviewing the product. It does depend on a few factors such as product availability, funding, and time.
Please provide as much of the following information as possible:
Manufacturer Name
Manufacturers Website
Product Name
Product Model / Serial Number
A link to the product itself
Unfortunately, we do not accept user reviews at this time. But feel free to voice your opinion in the comments section of recent articles.
We do, however, have plans to implement this feature in the future.
Yes, please contact us for more details.
Please note that we test and review all products fairly and will not change our review and rating of products.
No, we do NOT sell anything on BayReviews. And we will never sell anything on BayReviews. We do, however, display ads that may direct you to other sites that probably do want to sell to you.
We buy products we review because we review what we own first.
We do, however, sometimes receive review samples but we still test and review everything fairly. When a review sample is provided by a partner, they cannot dictate how the review will turn out.
Our review and ratings are always based on our testing and experiences with the products.
All reviews on BayReviews are written by the editor-in-chief and our very knowledgeable staff writers and editors.