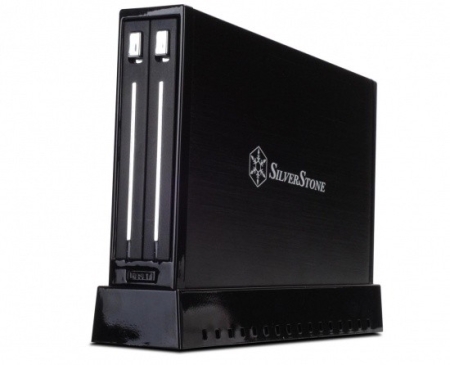 Small, Fast and Portable!
Summary
Small, light weight and hot-swappable enclosure.
Pros
Hot-swappable, slim, light weight and supports RAID as well as JBOD.
Cons
Hard drives warm up a bit. 3.5″ drive support would have been nice.
A little while ago we tested the Thermaltake BlacX Duet eSATA & USB Docking station and now we can compare it to this DS221 2.5″ HDD Enclosure by SilverStone Technology. It has two bays that support 2.5″ SATA drives that are hot-swappable. This DS221 usually retails for around $80 but you can probably find great deals if you search online (the lowest I found it for was $73.99). This is a plug-n-play docking station kind of unit but it supports RAID0/1 and also JBOD (just a bunch of disks) modes.
It looks great and is small enough to go almost anywhere. Let's see how it compares to the Thermaltake BlacX Duet.
DESIGN, CONTROLS, AND PACKAGING
The DS221 has two 2.5″ SATA drive bays with doors. On the front, you have the two doors for the drive bay (these doors have locks that allow you to secure them in place) and there is also a Reset button at the very bottom. Each door also has drive activity LED's for power (obviously) and activity notifications. On the back, you will have the RAID0/1 and JBOD mode slider, the 5V DC jack, USB 2.0, and eSATA ports. There is also a stand that you can use to well, stand this enclosure upright. The enclosure is small enough to be portable so you can carry it with you anywhere. It is 168mm (6.6″) in length, 120mm (4.7″) wide, 28.3mm (1.1″) dept and weighs only about 370g ( 0.82 lbs). The package includes the DS221 enclosure itself, the AC adapter, a USB type A-B cable, eSATA cable, a stand, and the user guide.
THE TEST
I used two Hitachi HTS541612J9SA00 5400rpm 120GB 2.5″ SATA hard drives to test this enclosure. Both of these drives have Windows XP Pro SP3 (NTFS file system) installation on them so I didn't format them again. It only takes a few seconds to detect and mount the drives after you close the drive bay doors. I will use HD Tune Pro to perform all the benchmarks using both USB 2.0 and eSATA interfaces in RAID0/1 and JBOD modes.
THE RESULTS
So using the USB 2.0 interface the drives read speed was at an average rate of 23.63 MB/s and the random access time was around 15.93 ms on average. This interface used up on average 25.63% of CPU time. On the other hand, using the eSATA interface the drives read speed averaged out to 29.57 MB/s, the random access time was around 16.87 ms on average and it used up only about 5.67% of CPU time on average. Compared to the Thermaltake BlacX Duet, this enclosure performed way better (about 42% better at transferring data, about 2% better access time, and 35% improvement on CPU usage).
FINAL THOUGHTS
I have used this SilverStone DS221 2.5″ HDD Enclosure for about two weeks to copy between two drives and also to get data off some drives that I didn't want to install on a computer. It only takes minutes to install the drives you want and get the job done quickly. This will save you time, money, and resources. I also found out that this enclosure is much faster than most other docking stations or enclosure out there (especially with the eSATA interface). For around $70 to $75 you can get this enclosure and stop wasting any more time. I would like to highly recommend the DS221 2.5″ HDD enclosure to anyone looking for a portable, fast, compact, and easy hard drive access.