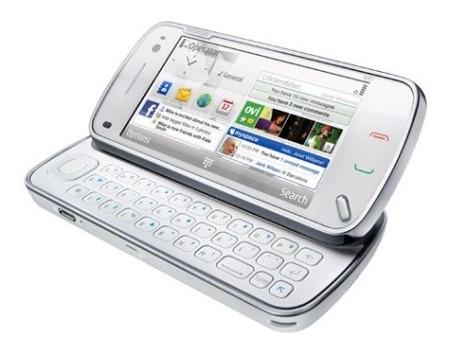 Awesome Touch!
Summary
Excellent phone to stay connected anywhere and has touch also.
Pros
Full QWERTY slide and tilting keyboard. Excellent touch screen. Unlocked!
The Nokia N97 mobile phone is a compact phone with a slide-out full QWERTY keyboard and a huge 3.5″ touch screen with tilt. I would mostly use this as a personal phone to get all my emails, surf the web, take pictures and videos, and of course, store them in the huge 32 GB storage space.
The N97 is unlocked so you can use any SIM card and it even has WiFi built-in. Email setup is a walk in the park also (type in your email address and password and it will do the rest for you). There is also a 5-megapixel camera with an LED flash and a video camera with video light. So I tested it for about two weeks and these are my results.
LOOK, FEEL AND BUILD
The N97 is a compact tilt slider mobile phone with a huge 3.5″ touch screen. It is slightly larger than the E75 but we really can't compare it to that because it is not of the same class. It's a little on the heavy side but it is also thin and solid built. Nokia phones have always been well built and can take lots of beating before they even hiccup. The slider feels solid and the tilt is a nice touch because it feels natural, unlike the E75. The huge touch screen responds to your taps and slides very well and watching videos on that baby is very good. Since it is a touch screen device, there are no keys on the front panel itself besides the Menu, Send, and End. The dial pad is virtual and you also get a virtual alphabet keypad too if you prefer. I personally like the slid out keyboard better.
The camera button on the lower right-hand side is placed well and the volume control buttons are on the top right side (these come in handy quite often). When you rotate the phone horizontally to take a picture these buttons act as the zoom for it. The camera button works as the shutter. Makes sense! The 3.5-inch display has 640 x 360 pixels resolution and 16 million colors. On the left, you have the micro USB port the screen lock slider button, and the speakerphone holes on the top and bottom. The power button is on the top left and the 3.5mm headset jack is in the middle (also on the top). It measures 4.61 x 2.18 x 0.63 inches in dimensions and weighs 5.29 ounces. There is also a little stylus that is the size of a USB drive but you would be better off using your fingers instead (if there was a hidden slot for it on the phone itself then that would have been a different situation).
BATTERY LIFE
According to the specifications and my experience, the battery should give you anywhere from 6 to 9.5 hours of talk time and about 16.6 to 17.9 days of standby time. Now in reality on a single full charge, it lasted over four days with decent phone, camera, messaging, and web browsing usage. This is way better results than most other similar devices out in the market today (better than the E75 also).
THE INTERFACE
The Nokia N97 runs the latest Symbian S60 5th edition with 2.0 firmware. The home screen displays most used functions and information quickly (like your favorite contacts, emails, live content, browser, etc). You also have the Options, Menu, and Contacts icons on the bottom of the home screen. The phone book can store as many contacts as you have friends. Each contact can have unlimited numbers, email addresses, photos, and more. The only limitation is the amount of free memory on the phone. To search for a contact in your phone book, you just start typing the name. That's expected and works well. From the main menu, you can pretty much do anything you want on the phone and change any settings (like the sound profiles and the connectivity settings). The title display is also something I like because it gives you a better view of the screen and its content.
INSTALLED SOFTWARE
There are a few apps that would make things easier for you, like Tweets 60, Numbuzz, or Fring that will allow you to stay updated from Twitter, Facebook, Google Talk, and Skype. The calendar app will help you keep organized and it easy to use. Also pre-loaded on the N97 is Quickoffice that helps you view, edit, and create Office documents. Other software pre-loaded that may be useful is the Flash Lite 3, PDF viewer, and ZIP manager.
NAVIGATING, BROWSING AND COMMUNICATING
The most exciting feature of the N97 is the touch screen and it works very well. The messaging app is well designed and gets the job done pretty nicely. It supports enterprise exchange email but you have to manually set that up. That's not too hard to do; you may need to contact your administrator. The built-in GPS performed pretty well without any disappointment. While acquiring satellite signal initially takes a long time but every other time it had almost instant signal acquisitions. The web browser is very nice and displays real web pages with support for Flash and other components. The touch controls and the full keyword allows you to navigate web pages quickly. This device has Bluetooth and other usual connectivity capabilities too. They all work as expected. WiFi connectivity is what I liked a lot as it searched for and connected to my home wireless without any issues.
CAMERA AND MULTIMEDIA
The 5-megapixel camera is very nice and produces very good and crisp pictures. The picture quality is better than that of my Blackberry Storm 9530 and the Nokia E75. You can capture video at a resolution of 640 x 480 pixels and 30 fps (frames per second). It is better than expected because of the video light. There is also a music player, FM radio, and FM Transmitter with decent interfaces. They all offer a lot of useful features and are easy to use as well. The included headphones will come in handy when you want to listen to your music or the radio. It provides good sound quality and comfort too. But you can always plug-in a higher quality headphone of your choice for a better experience. Video playback is pretty good at the standard resolution of the phone. The FM Transmitter can be used to transmit your music in your car, which is a nice touch (I would prefer plugging it into the auxiliary port instead for better quality).
PERFORMANCE
This N97 performed very well when compared to other similar phones today with touch. I didn't encounter any lags or freezes during my tests (about two weeks). The accelerometer is pretty quick when comparing to the accelerometer on the Blackberry Storm 9530 (which is a drag). The call quality was very good because I get excellent signal strength where I live and work. Voice quality was crisp and clear as expected. from any Nokia device, The T-Mobile and AT&T SIM cards that I used worked without any issues (because this phone is unlocked). You may get different results on different networks though. Reception on the other end of the calls was loud and clear. The speakerphone is very good and loud as well. The battery life is excellent as it gave me around 7 hours of talk time and about 12 days of standby time. Taking pictures and recording videos is a snap and the quality is again very good because it has both a flash and video light. WiFi connectivity was quick and web browsing was as fast as on my computer. I enjoyed typing on the full keyboard as it allows much faster typing and better results. The touch interface works very nicely with the phone and doesn't require special training or getting used to it. Everything works as expected.
FINAL THOUGHTS
The Nokia N97 is built to last and perform while giving you the best experience. The overall voice quality is very good. It has a full QWERTY slide-out keyboard and the display tilts so it is easier to see things. You also get a mix of music, radio, and video players. The touch interface simply rocks. The price is decent but seems to be a little expensive. It should be great for people who want to try the latest and the greatest though. I give this Nokia N97 mobile phone a rating of 4.5 out of 5 and recommend it to anyone who wants a compact, stylish and fun communication tool with touch.