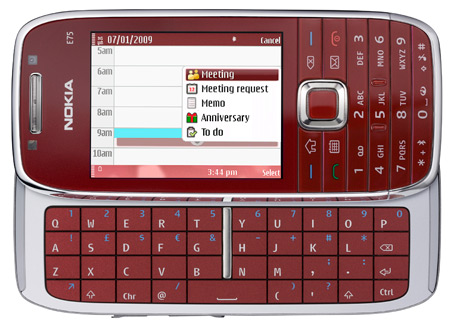 Cool new tool!
Summary
Excellent phone to stay connected anywhere mostly for personal use with a quality fast camera.
Pros
Full QWERTY slide out keyboard. Compact design and good quality pictures.
Cons
Kind of heavy. Front keypad is a bit small.
The Nokia E75 mobile phone is a compact phone with a slide-out full QWERTY keyboard. The E75 also comes with Nokia's new messaging application (Nokia Messaging) that makes emailing a breeze. You can switch between Business and Personal modes depending on your needs.
While I wouldn't use this phone for business use (I prefer Blackberries for business use), this phone makes a great personal phone that will keep you connected almost anywhere in the world. The E75 is unlocked so you can use any SIM card and it even has Wi-Fi. Email setup is a walk in the park also (type in your email address and password and it will do the rest for you). There is also a 3.2-megapixel camera with an LED flash that also has a macro shooting mode (something that is very rare on mobile phones). So this is a pretty high-end device and I will tell you all about it.
LOOK, FEEL AND BUILD
The Nokia E75 is a compact slider mobile phone that's a bit on the heavy side but is also smaller than most similar phones. Nokia phones have always been well built and could take a lot of beating before they gave up. The same applies to this E75. The slider feels solid and provides enough room for the full keyboard.
The front keypad keys seem to be a bit cramped together so you can easily fat-finger things while typing. But that's why we have the full keyboard right? When making calls using the front keypad, you need to be a bit careful. The camera button on the right side feels a little out of place when vertical but seems well placed when you rotate horizontally. The volume control buttons can then be used as the zoom for the camera.
This E75 has a 2.4-inch display with 320 x 240 pixels resolution and 16 million colors. On the left, you have the micro USB port and microSDHC card slot hidden under a rubber cover. There is a 3.5mm jack on the top right on the device too. The E75 measures 4.40 x 1.97/3.15 x 0.57 inches in dimensions and weighs 4.9 ounces. Overall this phone looks stylish with the metallic back battery compartment cover.
BATTERY LIFE
According to the specifications, the battery should give you anywhere from 4 to 5.2 hours of talk time and about 270 to 280 hours of standby time. Now in reality on a single full charge, it lasted over three days with decent phone, camera, messaging, and web browsing usage. This is way better results than most other similar devices out in the market today.
THE INTERFACE
The Nokia E75 runs the latest Symbian S60 3rd Edition with Feature Pack 2. The home screen can display in simple (Personal) mode or all application (Business) mode. Operating in Business mode will give you easy access to most of the phone functions and information. You have an option to easily switch between the two modes if you desire.
The phone-book can store as many contacts as you have friends. Each contact can have an unlimited number of numbers, email addresses, photos, and more. The only limitation is the amount of free memory on the phone. To search for a contact in your phone-book, you just start typing the name or company.
You can view the calendar in day, month, to-do, or agenda mode. The month view shows you all days in a given month and also shows upcoming events. Day view shows you blocks of times for the day and scheduled events for the time slots. The to-do and agenda views show you all scheduled events for a particular day sorted by time.
INSTALLED SOFTWARE
Preloaded on the E75 is Quickoffice that helps you view, edit, and create Office documents. Out of the box, Quickoffice may not be compatible with MS Office 2007 documents but you can get a free update from Quickoffice (through a program that Nokia is sponsoring) that will make it compatible (http://www.quickoffice.com/quickoffice_symbian/free_update). Just make sure to select your device correctly and follow the update instructions. So get it while it lasts and don't be left out. I have no issue with opening Office 2003 documents at all. Other software pre-loaded that may be useful is the Flash Lite, PDF viewer, and ZIP manager.
NAVIGATING, BROWSING AND COMMUNICATING
The most important feature of the E75 is the new Messaging application. While SMS and MMS did not have any new features, email communication now has a new look. The new Nokia Messaging application offers an easy email setup. All you need to do is type in your email address and password; the application will do the rest and configure your email account properly. But you will have to manually set up your work/office email. That is not too hard either. You can switch between email accounts right from the messaging app also. It also offers you the ability to sort quickly by the sender, subject, priority, read status, attachment, or attachment size. Unlike other similar phones of the same form factor, this device allows you to read HTML emails. Search functionality is pretty decent and gets you what you need.
The built-in GPS performed pretty well without any disappointment. While acquiring satellite signal initially takes a bit too long, all other instances had almost instant signal acquisitions. There is a pre-loaded Nokia Maps application that offers a voice navigation option. It is a very nice touch and has all the basic navigation features.
The web browser is very neat and displays Java, Flash, and other content properly. When you have a long page, there is a minimap feature that you can use to scroll through quickly. RSS option is also available within a click or two. Moreover, this device has Bluetooth and other usual connectivity capabilities. They all work as expected. Wi-Fi connectivity is what I liked the most. It will search and connect with any issues quickly.
CAMERA AND MULTIMEDIA
The 3.2-megapixel camera is very decent and produces very nice and crisp pictures. The picture quality is better than that of my Blackberry Storm 9530 (although that might have improved with the Storm 2). You can capture video at a resolution of 640 x 480 pixels and 30 fps (frames per second). It is decent and expected like other similar devices.
There is also a music player and FM radio with decent interfaces. They both offer a lot of useful features that are easy to use. The included headphones will come in handy when you want to listen to music or radio. It provides decent sound quality and comfort. But you can always plug-in a higher quality headphone of your choice as the E75 has a 3.5mm common jack. Video playback is pretty good at the standard resolution of the phone.
PERFORMANCE
This E75 is very fast performance-wise when compared to other similar phones today, but it could be faster. I didn't encounter any lags or freezes during my time testing this device (about a week). The accelerometer is pretty quick as in light speed when comparing to the accelerometer on the Blackberry Storm I (which is a drag).
The call quality was very good as I get an excellent signal where I live and work. Voice quality was crisp and clear as expected. The AT&T SIM card that I used worked like a charm. You may get different results on different networks though. Reception on the other end of the calls was loud, clear, and life-like. The speakerphone is average as it is not as loud as I would have liked it to be (might be difficult to hear when in a speeding car). The battery has a very good life as it gave me 4 to 5.2 hours of talk time and about 270 to 280 hours of standby time.
Taking pictures and capturing videos is a snap and the quality is again very good. The camera shutter is almost instant but is extremely fast. Wi-Fi connectivity was quick and web browsing was as fast as on my computer. I enjoyed typing on the full keyboard as it allows much faster typing and better results.
FINAL THOUGHTS
The Nokia E75 is built to last and perform at its best. The overall voice quality is good but could be better. It has a full QWERTY slide-out keyboard that comes in handy when typing SMS or emails. You also get a mix of music, radio, and video players. I believe the E75 is one of the best messaging mobile phones from Nokia. The new Nokia Messaging app makes emailing fun again on a mobile phone (when compared to PDA's like Blackberries). The price is not too much but might still be a bit on the expensive side for some people. I give this Nokia E75 mobile phone a rating of 4 out of 5 and recommend it to anyone who wants a compact, stylish and fun communication tool.