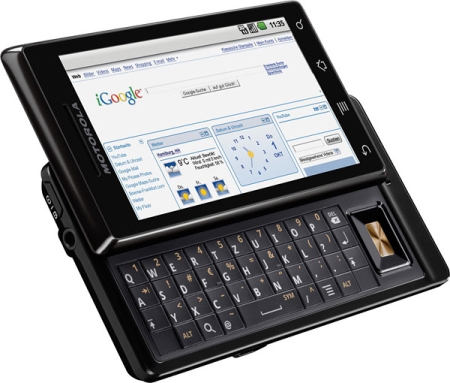 The Droid Really Does... More!
Summary
Excellent OS with flexible interface. Easy to use and setup. A little bulky and battery life could be better. One of the best Android phone out today, but not for long (see the HTC Incredible)!
Pros
Excellent OS with flexible interface. Easy to use and setup.
Cons
A little bulky and battery life could be better.
I recently acquired the Motorola Droid smartphone from work after a co-worker left the company. You can say being in IT has its little perks. So since it was used, I didn't get all the accessories that usually come in the box (AC adapter and manuals). But the old Micro USB chargers that came with my Blackberry Storm still worked so it was all good.
I had been wanting to test the Droid for a while now because I had been asked about it by fellow co-workers a lot. So I finally got the chance. Now keep in mind that I have been a strong Blackberry (such as the Blackberry Storm I and the Blackberry 8830) user for a while now, so I do have a lot of expectations from any device (especially a touch device). I know that the Droid is somewhat of old news nowadays, but they are still very popular. So I decided to provide my two (or four) cents worth. Can you already see the grin on my face?
DESIGN AND BUILD (4/5)
As I said, I got a used Droid therefore it was somewhat beat-up, so I did a warranty replacement (yup it was still under warranty) and got a refurbished unit that was in better shape. In any case, the Droid is built to last and is very solid. Motorola did a great job with the overall design to come back into the smartphone market. It's thinner than other slider form factor phones and it also packs a punch with a powerful CPU and also a pretty good graphics processor. The WVGA 3.7″ LCD has an 854 x 480 pixel resolution which is twice as sharp as the one on the iPhone 3GS. I believe the Nokia N900 has almost the same specifications as the Droid.
The slide-out QWERTY keyboard is nice to have but not necessary in my opinion. The sliding mechanism is also solid but may wear out quickly over time. There is a nice click when you slide it open or close. There are a few things I don't like about the keyboard like the keys are all flat and it just doesn't feel right to type on it. There is also a D-Pad on the right of the keyboard but it's not placed correctly. I wouldn't get rid of the D-Pad because it comes in handy when you are in Recovery mode to flash a Custom ROM. What are custom ROM's you say? We will get to that a little later. I am by no means fast when it comes to typing on a phone (even on the Blackberry), but I was even slower when using the physical keyboard. I personally prefer the virtual keyboard over the slide-out one. The physical keyboard is just extra weight in my opinion for the Droid but I guess it's one of the reasons the Droid is so popular.
The front of the device has the 3.7″ WVGA LCD with the speaker right above it. There are the four capacitive touch buttons right below the screen for the Back, Menu, Home and Search functions. What may confuse some people is that some Android devices have these same buttons in a different order (they seriously need to standardize on the order). The top part of the device ends there but you can see the bottom part with a small hole for the microphone and a Verizon logo (personally I think that's a waste of valuable space).
The left-hand side of the Droid has the Micro USB port that is used to charge the thing and also to connect it to your computer. There is a dedicated camera button on the lower right-hand side of the device. It's a dedicated button but if you just press it, nothing happens because you have to be in the camera app for it to work. I don't know, but it would make sense to start the camera app if you press that button from the home screen or another app (just seems like common sense). The top right-hand side has the volume rocker which works great. What I like about Android is that the volume rocker is smart so that it will adjust the volume depending on what you are doing. If you are listing to music then it will adjust the Media Volume and if you are on the home screen then it will adjust the Ringer Volume, but this sometimes is a pain too. What if you want to lower the ringer volume while watching a video? Yup, you guessed it, you have to back out of that video player and then adjust the volume.
The top of the phone has the small power button and the 3.5mm audio jack right next to it. I personally would have liked the power button to be slightly larger/longer because it was always a pain for my fingers to find it in the beginning (you will get used to it eventually). The bottom has just about nothing. Now the back of the Droid is a different story. It has the 5MP camera with the dual-LED flash, the battery compartment cover, and the speakerphone speakers right below with copper color coating. The battery cover has the Motorola and Verizon logos but there is also a "with Google" logo on the right of the camera.
MAKING CALLS (4.5/5)
Coming from a Blackberry, I expected dedicated call and end buttons but that isn't the case here or any other Android-based smartphone for that matter. So it took a little getting used to, but the on-screen icon to start the phone app is easy to use. Tapping on the Phone app brings you to the dial pad and you also have the call log, contacts, and favorites options at the top for easy access. Dialing phone numbers are very nice and the virtual keypad is very responsive. You can also browse or search through your contacts to place a call. The favorites option is like a speed dial feature for your frequently used contacts (I suggest limiting the number of contacts you add to your favorites). The call volume is pretty loud, but when you connect a Bluetooth headset, I feel it's not loud enough. Maybe the Blackberry Storm I was too loud and now my eardrums are shot.
WEB BROWSING (4.5/5)
This is one feature that I like a lot. The Webkit HTML 5 browser is awesome and to top it off, Android 2.1 also added the Pinch to Zoom feature that makes it even better (you still have the double-tap to zoom though). Zooming is smooth and it also automatically adjusts the touched section to fit the screen (so nothing is out of view). This works perfectly 99% of the time but there are some sites (that are poorly designed) where it can't figure out the section boundaries correctly so things tend to not display properly. Clicking on links on websites is easy and works as expected. I had a very hard time with links on the Blackberry Storm's browser. The browser overall is very nicely designed and works great on a day to day basis. Unfortunately, sites that use Flash like Hulu and YouTube may not work on the browser. There is a YouTube app that works great for searching through and watching videos. I would, however, recommend switching to the high quality mode for best quality videos.
MESSAGING (3.5/5)
In my opinion, messaging is one of the areas where Android is still a little behind. What I like about it though is that it supports a lot of POP3 and IMAP accounts, like free Hotmail and Yahoo mails. Exchange email works very nicely too but it doesn't support a lot of the Exchange protocols, like accepting or replying to calendar invites. Other smaller but important features like email signatures, select all, mark all and search are also not available. I think if Google takes some pointers from the way RIM does the message on the Blackberries, it would make Android a better device for the corporate world. I like the fact that the email app handles email in either a combined view or you can see them separately for each account. Setting up push accounts for Yahoo or Hotmail is easy. I would highly recommend using IMAP over POP3 because it works way better. There is a separate app for Gmail which could have just been part of the email app. There really is no need to have a standalone app for Gmail (seems like Gmail gets all the special attention; it gets to search, signature, and more). Overall, the email app is well designed but with the few missing features. Contact list management has improved from Android 2.0 to 2.1 but it could be better. Even though your contacts are displayed in a unified list, they really don't sync/merge throughout all your accounts. I think I would like to be able to sync my contacts throughout all my accounts but also have the option to opt-out for certain accounts. This would be another plus for Android in my opinion.
CONNECTIVITY (4.5/5)
The Droid has CDMA, WiFi, Bluetooth, and USB connectivity, so use what you want when you want. I usually like to connect to my home or work wireless to get a faster connection (this can save you on data if you don't have an unlimited data plan). Bluetooth pairing with my Jawbone II headset was quick and easy. You can connect the Droid to your computer using the Micro USB cable that comes with it. It can be used to charge also. When plugged into the computer, you can mount the microSD card and access the data on there quickly and easily.
SECURITY (4/5)
The Droid has a pattern lock feature for security and it works pretty well. It's a 9 point pattern lock system that is easy to use and remember. I think it's pretty secure unless someone sees my pattern and remembers it. Or if they know how to get to Recovery mode to reset the device to factory defaults. I wish these smartphones could have fingerprint scanners like a lot of laptops do. They save the prints in the hardware so even if you reformat your hard drive, the prints are still there. In any case, this works as I don't have any sensitive information on the Droid.
CAMERA AND MULTIMEDIA (3.5/5)
The camera is another feature that needs improvement on the Droid. First of all, it's slow like the one on the Blackberry Storm and second is that the picture quality isn't all that great either. I personally think it's the camera app that is slowing things down. The auto-focus is also not as good as I would have liked it to be. When taking a picture the shutter takes a second or two to take the actual picture. You can turn the flash off and adjust a few things here and there to speed it up a little bit, but still, you have to have something better. They also need to work on the options drawer to make it easier to get to and use. Video capture suffers the same issues with focusing and quality. They say its near DVD quality but I think it's not all that great. The resolution of the videos is 720 x 840 pixels (3Mbps / 24fps); much higher than that of the iPhone's (I think it has 640 x 480 pixels). There are some improvements from Android 2.0 to 2.1, but nothing major for the camera. What I like though is the ability to quickly and easily share pictures and videos via Facebook, MMS, Email, etc. Also, there is no way to edit videos, but who cares–that why you have a computer with specialized tools. But the ability to at least cut/crop videos would be nice.
ENTERTAINMENT (4/5)
I think the Droid does a great job in the entertainment arena. The 16 GB microSD card that comes with the phone has plenty of space to store your pictures, videos, music, and more. But you can easily upgrade to a faster 32GB card if you needed one. The music player app works really well with all the functions like repeat and shuffle. It allows you to quickly skip to the next or skip within the song without any issues. You can view your songs by album, songs, playlists, or artists. If you open the keyboard and start typing, it will allow you to search which is cool. I have a fairly good pair of earphones from Arctic Cooling (E351) and they work great with this. The sound quality is very good but the only thing that's missing is the EQ settings. Video playback is very good either using the YouTube app or using the built-in player. I suggest using a High-Quality setting on the YouTube player for way better quality. You cannot watch videos from Hulu because it doesn't have Flash yet. The mono speaker is loud enough for speakerphone calls or listening to music without headphones. It's not stereo quality but is good enough.
SOFTWARE AND APPS (4.5/5)
Android 2.0 and 2.1
When you first set up your device you will be asked to sign-up or sign-in to your Google account. Doing so will allow you to access the Market and also use other Google services like Maps and Gmail. You will not be able to remove the Google account. The phone activation feature is very simple–just follow the simple prompts and you are done. There is the standard app drawer that holds all your installed and system applications. You can touch and hold to bring them to one of the three home screen pages if you choose. A lot of people were hoping to get 5 home screens with the 2.1 updates but that didn't happen, but there are ways to get 5 or 7 screens if you wanted. We will discuss that a little later when we talk about custom ROMs. Also, the boot time on the Droid is around 30 or 40 seconds which is way better than the Blackberries that are known to take a couple of minutes to boot up. Overall OS performance is good but could be better because Motorola under-clocked the CPU to 550 MHz when it should have been 600 MHz or more.
Maps and Navigation
The Google Maps and Navigation app is really cool and useful. You have a voice search and the navigation work very nicely. You can find for instance the nearest Starbucks by just sayings "Find the nearest Starbucks" or "Navigate to the nearest Starbucks". The nice female voice will guide you to your destination with turn-by-turn instructions and she even says street names. At the end of your journey, she will say that your destination will be on the right or left and show you the picture of the building or place using Google Street View. And best of all, this is all free. I own and have owned many portable navigation systems (TomTom) but this is just great for the price you pay for it.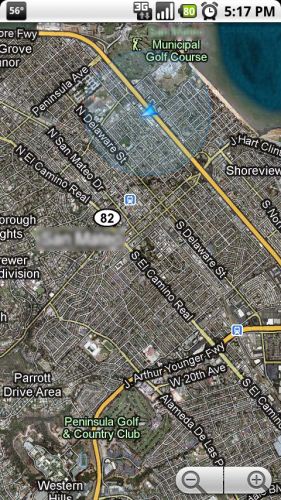 Searching
The quick search button on the front of the screen allows you to search for almost anything. You can search through your apps, contacts, music, YouTube, eBay, or browser. So basically anything besides your messages. Voice input has been built-in to all text fields on Android 2.1 so you can pretty much search by saying.
Multi-Tasking
This is one of the selling points for me when comparing the iPhone, Blackberry, and Android devices. Multi-tasking is good if you really are going to be multi-tasking (like listening to music and surfing the web or downloading an app while browsing for other cool apps and so on). So basically, everyone will be multi-tasking one time or another. But multitasking shouldn't be the only thing you look for in a smartphone because it's certainly not the most important. But with multitasking, we should have better ways of managing open applications so we don't have to hunt for things that are running. But it's nice to have in any case.
Android Market
The Android Market now has over 30,000 apps that you can choose from. There are lots of free apps and games too. The market is growing fast as more and more developers are getting on the Android band wagon because of the Apple App store and Apple SDK restrictions (now more than ever).
BATTERY LIFE (3/5)
This is another area where the Droid needs more improvements. Frankly speaking, the battery life sucks. I have to charge it daily–which I don't mind, but I also want to be able to use it for hours and hours without worrying about the battery dying. Yeah, Android 2.1 improved on the battery life, but not enough. Maybe get rid of the physical keyboard and put in an extended battery? I know the LCD is the main cause of battery drain but what is the point if you can't enjoy it long enough. I expect to be able to use my phone for a day or two without charging. Is that too much to ask? I don't think so! But I guess this should be expected if you have a process-intensive, multi-tasking, power hogging smartphone that can do a lot more than other phones.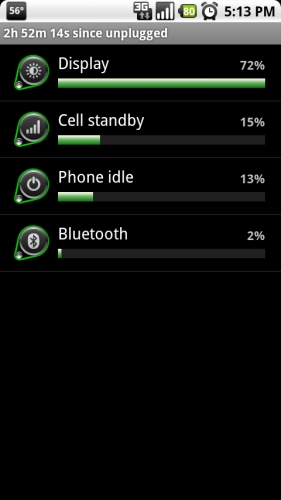 PERFORMANCE (4/5)
The ARM Cortex A8 TI OMAP 3430 process runs at 550 MHz but it should run at 600 MHz standard. This is basically the same as the iPhone 3GS and the Palm Pre smartphones. The Droid performed very well during the month I have had this. The scrolling, dragging, zooming, and flipping performance is very good at stock speed. The accelerometer is pretty quick but could be faster. The call quality was very good because I get excellent signal strength where I live and work. Voice quality was crisp and clear as expected. Call quality on the other end of the calls was loud and clear. The speakerphone is very good and loud as well. The battery life is could be better but it's okay. Taking pictures and recording videos is good and the quality is again good too. WiFi connectivity was quick and web browsing was as fast as on my computer. I enjoyed typing on the virtual keyboard rather than the physical one as it allows much faster typing and better results. The touch interface works very nicely with the phone and doesn't require special training or getting used to it. Everything works as expected.
ROOTING AND CUSTOM ROMS
Let me first of all say that rooting and/or install custom Rom's will void your warranty and can also brick your Android smartphone. So try it at your own risk and do not blame anyone else because that will get you nowhere. So you have been warned (but it's rare). No, don't come crying back to me when you brick your phone. Just to make you feel better, I have a rooted Droid and I am running a custom ROM that allows me to overclock the CPU to 900 MHz.
What does Rooting mean?
Rooting your Droid or any other Android phone basically means getting Super User (SU) access to the Linux kernel that Android runs on. So once you have SU access, you can pretty much do whatever you want like overclocking the CPU from the stock 550 MHz to anywhere up to 1.2 GHz (but be careful) or install custom ROMs that give you more features. Yes, you can overclock your Droid and yes it will run faster. But do note that running the CPU faster uses up more battery power and also has the tendency of heating up more. But people have reportedly overclocked to 1.25 GHz safely. I don't know how long their battery lasts or how hot their Droids get.
How to Root your Droid?
Unfortunately, I can't help you with this. You will just have to search on your own (do a Google search or read some Droid forums). It's fairly easy to do if you are somewhat tech-savvy.
What is a Custom ROM?
Custom ROM's are essentially created from the official Android OS (like 2.0 and 2.1) but with more features built on it. So you can have features like a 3D app drawer or have the ability to rotate the screen 360 degrees and more. The possibilities are endless.
FINAL THOUGHTS
The Droid is a very well built and high-end smartphone that works and performs very well with the Android 2.x operating system. It's also very good as a phone besides some of the minor issues in my opinion. But no device will ever be perfect so it will be unfair to compare it against a perfect device that I can imagine. The touch interface is very solid and performs great when compared to the Blackberry Storm I or even II. Overall there are some polishing that needs to be done hardware and software-wise to get the best out of the device combined with a powerful OS. Now you may want to know if this is an iPhone killer or not right? But do you really need a smartphone to kill the iPhone to use it? Does it do what you need it to do? If you answered yes then you can get the Droid or stick with your iPhone. One more thing to keep in mind is that the Droid runs on Verizon top of the line 3G network while the iPhone runs on AT&T's barely there 3G network. The overall user experience of the Droid and the Android OS is very good and better than a Blackberry, though the messaging area needs some work and fine-tuning. The camera also needs some improvement but it's only expected that there are only improvements you can expect from an open system. So I would highly recommend the Droid or other similar Android smartphone to anyone looking for a very good experience for a lot less than the iPhone. Also, look forward to the HTC Droid Incredible which is supposed to be the next best and the hottest smartphone. So keep an eye out.