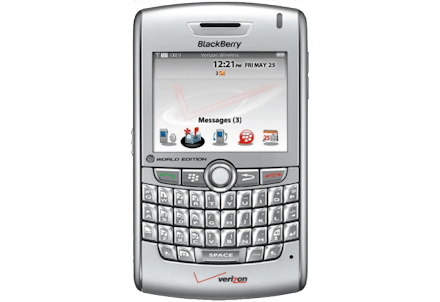 Another Blackberry to brag about...
Summary
This is my third Blackberry and I am very pleased with its performance, quality, and the way it is built.
Pros
Voice command, broadband Internet capability, trackball, and much faster…
Cons
Ringtone volume is too low and the side button is not designed properly.
About three months ago I upgraded my Blackberry 8703e and got this excellent Blackberry 8830 World Edition Smart Phone. Now I have used Blackberry devices for a while and would never go back to just regular phones or even other PDA devices.
I guess the saying "once you go 'crack', you never go back" applies perfectly to me. Getting used to it was pretty easy as I was already familiar with the full keyboard by using the 8703e, but the trackball was the new thing this time. I was so used to the track-wheel and now I had to get my thumb to work on the trackball instead of the track-wheel on the side.
THE PACKAGE
Blackberry 8830 handset
Travel Charger
Leather Belt Holster
CD Installation Discs
Verizon CD Install Disc
Quick Reference Guide
Installation Booklet
WHAT IS IT?
As you already know, the 8830 is a smartphone or PDA that can manage your day-to-day tasks, hold all your contacts, provide you access to all your emails, and lets you browse the Internet without even a tad bit of hesitation. Basically, it keeps you connected even when you don't want to be. This 8830 is a World Edition so you can travel with it and still have access to everything. It just requires a SIM card (that's right first Version Wireless device that works with a SIM card) and an International plan.
You can still use one of these Blackberries as a modem to access the Internet and Broadband speeds from your Laptop or Desktop. Just add the Tethering feature to your account, download the software, plug the phone into your computer with a USB cable and you are good to go. No more crappy wireless at hotels that opens your computer to vulnerabilities like viruses and spyware.
Comparing this to the 8703e, I notice two major differences/enhancements. First is the thinner design and eye-catching look and feel. Fits flat in my pocket with being notices from the outside. Second is the voice command feature that allows you to place a call without actually touching the device itself. I was starved of this feature when I using the 8703e. This device also comes with upgraded software so there are some nice enhancements and bug fixes that were not available with the 8703e. The interface is similar to the 8703e's but it works faster and has more icons to find things quicker.
HOW AND WHEN?
Like I said before, I use this Blackberry mostly for work so I can always access my emails, calendar items, and contact. I have also set up the BIS (Blackberry Internet Service) feature so I can have my personal emails (such as Yahoo, Hotmail, Gmail, etc) delivered to the device also. And it works like a charm. Once you have BIS configured with all your email accounts (10 max I think), you will not have to configure it ever again. If you ever switch your device, all you have to do is log in to your BIS account and change the device Pin and all your emails will start coming in.
I also travel a lot (for work and pleasure), so I often need to have Internet access to stay up-to-date. So what I usually do at airports or hotel rooms that do not provide free Internet access is to connect my 8830 to my laptop with a USB cable and use the VZ Access Manager software to connect to the Internet. Now, this feature will only work if you have Tethering enabled on your account and the fact that you have a good signal on the device. But I have not had much trouble with it.
There are a few things on this device that I wish worked or worked better. The GPS function that Version crippled to the bone is useless on this device. You cannot use the Maps software to navigate unless you pay Verizon to use their software – which in my opinion is a rip-off. Other providers have this feature enabled on their similar devices. There is also a little bug in Verizon's version of the operating system of this device. The ringer volume is always set to medium. Even if you turn it all the way up, it will always ring at medium. You can play your ringtones at high when you listen to them, but when you set them as ringtone for the phone it will always ring at medium loudness. But you tend to get used to it – and if you don't then you learn to cope with it by downloading louder tones. The customizable button on the left of this device is poorly positioned. I always tend to get that pressed by mistake whenever I remove it from my pocket or pretty much do anything. I have set it up so that the Profile setting comes up when I press that. I think it would make sense to have that button be flat instead of sticking out.
The trackball takes some time to get used to, but once you do you wouldn't want to go back. My thumb used to hurt once in a while when I used to over-work the 8703e, but I have no such issue with this new trackball design. I give two thumbs up to the engineers at Blackberry.
The Speaker phone is loud and clear, but I hardly ever use it because I always use my Plantronics Discovery 665 Bluetooth headset with it. And now that it's the law, I am always on it.
BATTERY LIFE
This Blackberry 8830 has 5-hour battery life. It is obviously better than that of the 8703e's. I usually have my Blackberry plugged in when I am at work, but I really get to see how the battery performs during long weekends because I hardly ever charge it then (since I like to carry it with me all the time). With normal use, this device lasts me three days without charging (four if I don't play any games). By the end of a three day weekend, I will usually have 1 bar in the battery icon left.
THE SOFTWARE
The two applications that come with this Blackberry 8830 will make your life much easier. First is the Blackberry Desktop Manager, which allows you to update the operating system or load application that you have downloaded from the Internet. You can also backup and restore your Blackberry with this utility. This utility also helps synchronize your Blackberry with your computer (if you use Blackberry Internet Services instead of Blackberry Enterprise Services). In other words, install this utility even if you are not going to use it.
The other software is the VZ Access Manager (since our service provider is Verizon) helps us use this Blackberry as a broadband modem (tethering feature). Meaning, I can access the Internet anywhere Verizon's service is available. All I have to do is plug the Blackberry into my laptop or desktop using a USB (the one you use to charge the thing) and connect using the VZAccess Manager utility. But before you can do this, there is a service you have to get enabled for your account.
THE GOODIES
I have come across lots of websites that will let you download games, themes, ringtones, and applications for free. Want to know where you can get them too? Well, Google is your best friend, and keywords like "free blackberry games, free blackberry apps" will make Google your soul mate. I like the Yahoo Go utility that I can use to check my Yahoo email and also access all kinds of new quickly and easily – and best of all, on the go. Berry Phone Lookup is another I use a lot that allows you to reverse any landline phone number. I also love to play Magmic Texas Hold'em 3 in my spare time (costs around $10). Blackberries are fun to have and customize, so why wait. Get one and experience it for your self.
FINAL THOUGHTS
I have been using this Blackberry 8830 for over three months now and I love this more than my 8703e, especially since it has voice command and is way faster. I would recommend this device to everyone who is in the market for a Blackberry. It is light and thin so it fits perfectly in my pocket. Don't wait and starve yourself for a smart phone. Get one and experience the joy for yourself.