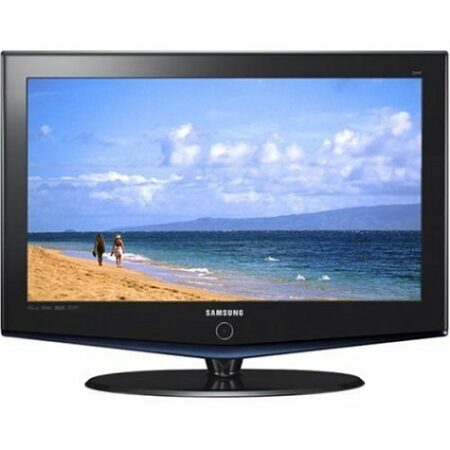 Huge Quality HDTV for a not so 'Huge' price tag!
Summary
Great TV for your bedroom or other non-living/entertainment rooms.
Pros
Has HD Tuner, excellent picture quality, good sound, and just the right size for me.
Cons
Doesn't tilt down that much and takes a bit to turn on.
Last June, I was started looking for a TV for my bedroom. I wanted something that wasn't too big but was of good quality and had a high definition tuner built-in to it. Keeping this in mind, I shopped around for Sony, Panasonic, and Samsung televisions but I also looked at the LG, JVC, and Sharp brands as my last choices.
The size of television I was looking for was something under 24 inches because it was going to sit on a drawer. After about a week of looking around, I decided on this Samsung LN-T1953H 19 inch LCD HDTV because it is the right size even though it is a widescreen TV, has an HD tuner built-in, and is one of the brands from my first choice list.
STORES I SHOPPED
I looked for prices at cdw.com as my work has an account with them and they also have an employee purchase program. The price they gave me was the lowest but the shipping was too much. I check eBay.com also but didn't see anything cheaper—plus I don't trust eBay sellers anymore after some bad experiences. Then I looked at Frys Electronics but I did not like their prices either. So then I went to Circuit City and saw this TV on display. I liked it. A day later I went and purchased it from there. Overall I saved a bunch and paid $431.99 plus tax. That was the cheapest I could find this TV at the time and guarantee that it was not defective or a lemon.
THE INSTALLATION & SETUP
Installing this TV basically involves unpacking everything from the box, attaching the base (no screws), setting the unit on a shelf/stand/drawer, plugging in the AC cable, and plugging in the TV Cable or the Cable from your Satellite receiver. In my case, I plugged in the cable from my Dish Network receiver. Then if you have any other accessories like DVD players/recorders or game consoles, plug them in. This unit has a High-Definition Multimedia Interface (HDMI) port that I used to plug in my Samsung DVD-HD870 DVD Player that I purchased a few weeks later. I purchased the same brand of the DVD player for the best compatibility between the two.
When you turn on this TV for the very first time, it will go through the channel scanning process if you have cable or an antenna. This process will take a few minutes to scan through and find all available channels. It's a one-time thing so it is worth the wait. Once the scanning completes you are all set and ready to enjoy your new TV.
If you have a Satellite TV then you will probably use an AV (Audio/Video) or S-Video with Audio cable to connect to this TV. Doing this will basically skip the scanning process as you will not be using the TV mode instead you will be using either the AV or other input modes. Then you will just have to tune your receiver and you are all set to enjoy your new TV.
I have experience with both of these setups and I had Comcast Cable at first and then I switched to Dish Network later on.
THE INPUTS
There are many different inputs on the back of this TV: Component, Composite, DVI, HDMI, Audio (RCA), RF, and USB. The component input is basically the next best thing if don't have an HDMI compatible device such as a DVD player. The Composite connection can be used to plug in your digital camera or camcorder to view your home productions. You will need to plug in the audio to the RCA audio port for sound. You can use the Digital Video Interface (DVI) input to use this TV as a computer monitor. I prefer HDMI as it has way better quality and all using just one cable. But do note that HDMI cables can cost around 10 to 30 dollars (just have to look around). You can use the RF port to plug in your TV cable.
LOOK AND FEEL
The TV looks great in my bedroom. Now I cannot say the same for all the wiring I have in there for the Satellite cables, DVD player cables, and the power cables. The speakers are hidden below the LCD. Almost looks like there are no speakers at all in this unit. The shiny look also makes it look expensive and of great quality.
SOUND QUALITY
I have this TV in my bedroom so I really don't need it to be too loud even though it can be. I have no home theater system or other sound enhancement system added to this because there is just no room or the need. The volume is sufficient enough that I can turn it up as loud as I want when there is external noise in the area or as low as I need it at night to not disturb anyone. The sound is also very clear so even at low volume you can still understand the voices. The sound on this unit is great for pretty much any room. But if you put this TV in your entertainment center, then I would recommend plugging this into your stereo or home theater system for enhanced audio performance and quality.
PICTURE QUALITY
This is probably the best feature of this HDTV. The picture quality is unprecedented and exactly as expected from Samsung. The videos and pictures are clear, crisp, and very sharp; even better than some larger TV's. I have experience watching high definition channels on this TV when I had Comcast cable. The quality was just unbelievable; not grainy, blurry, or overexposed like on other competing televisions. If you visit a store that has these TV's on display, you will notice right away that the Samsung's have way picture quality that does not hurt your eyes.
Now if you try to watch this from angles more than 45 degrees (roughly) vertically, you will see dark areas. If you watch it from more than 60 degrees (roughly) horizontally, the picture will start to get darker and darker. But this is not too much of an issue for me as I have this TV sitting on a 6-inch stand on top of my drawer. So when I watch TV while relaxing on my bed without any kind of elevation, I do not have any visibility or neck problems. Now I cannot set this too high as this unit does not tilt too far downwards. If you need it tilted further down, then you should put something under it or wall-mount it and use the wall mounts to tilt.
This is a widescreen TV so DVD viewing is excellent. My DVD player has 1080i (HDTV) up-conversion or up-scaling so the quality is even better than regular DVD quality. It is almost at HD quality but not exactly HD.
EXPERIENCE
I personally watch TV a lot so I use this TV a lot. I turn it on in the morning when I wake up and leave it running while I dress up for work. Then when I get home from work, it's on again. It stays on until I go to bed at around 11 PM or midnight. So basically I have a lot of experience with this television and I also give it a good work out daily. I have not had any problems with the TV itself. All the issues I have had were either related to my Dish Network service or DVD player. I have always had a good experience with this TV. The only thing I would change on this is the start up time. Takes around 10 or maybe 15 seconds to start up (I really don't mind).
FINAL THOUGHTS
If you are in the market for a small television, then do not hesitate to get your hands on this one or a similar model. The price went down since when I bought it so there are even more reasons to buy this. Samsung has gotten to be one of the best brands on television along with Sony and Panasonic (in my opinion of course). I wouldn't hesitate to buy another Samsung in the future. So run off and get this now.