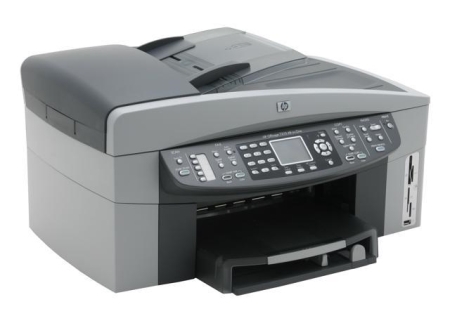 My All-In-One-And-Only!
Summary
Will print/copy/scan/fax its way from your desktop to your heart…
Pros
Anything and everything…
After using the Lexmark x75 for about a year and a half, I finally decided to buy the HP Officejet 7310 All-In-One to rid the pain of constant paper jams and lousy print quality. I had my eye on the 7310xi model for this unit for about six months before I could not live without it anymore. So to finally cure my hunger for new technology, I went to Costco and purchased this unit, and best of all it was on sale with an additional $70 discount from their already low $350 ($400 was the MSRP) price tag. So technically I saved close to $120 (a dream come true for me).
HARDWARE & SOFTWARE INSTALLATION
The hardware setup is fairly simple if you follow the steps on the hardware setup guide. It took me less than 15 minutes to unpack and setup the unit and connect it to my computer.
The software installation is a time-consuming process (even on my fast AMD Athlon 4000+ 2.4 GHz PC), but it is worth the wait. All of the drivers and software that gets installed with the CD helps control every feature of the printer from your computer. It will make your life much easier if you just wait.
INSTRUCTION MANUAL
The user manual is very simple to read and comprehend. I mean, if my wife can read, understand, and follow it, then anyone can. My wife is not the best computer person, but I am still teaching her. After a couple of instructions, she figured out how to print photos just like I do (perfectly). I think HP spent a lot of time and did a really good job writing this manual because as far as I am concerned, it is almost idiot-proof. It is very helpful and informative.
DESIGN & CONTROLS
When comparing the size and the amount of desk space it takes with Lexmark x75, I can only say that it is a little bigger in size (except for the height). But this unit can not be fairly compared to the x75 in its features because the x75 is obviously no match in performance, quality, or reliability. As per the specification, the 7310 is 21.6 inches in width, 17.2 inches in depth, and 11.4 inches in height. It weighs a whopping 26.2 pounds whereas the x75 only weighed 9.92 pounds. But who is going to pick this baby up every day; just set it and forget it.
When it comes to the controls and buttons, all I can say is that you can get lost and have a hard time finding your way out. There are close to fifty buttons on the control panel of this machine (it takes a while to get used to them). The best way to find out what each button does and how to use them is to read the manual (thoroughly) which provides a lot with details and some pictures.
My particular model the 7310xi can store 130 speed-dial numbers, which is 20 more than the regular 7310 and the 7313 models. There are many different ways to set up the speed-dial entries, and many ways to use the speed dial feature on this machine; all of which are explained with details in the manual. I would not say that it is hard to set up and use, but once you read the manual and try it out for yourself, you will think it is a piece of cake. This unit also has five one-touch speed-dial buttons for easier access to your five most-used fax numbers. This feature comes in handy when you do not have the time to search through the 130 speed-dial fax numbers. So store your mostly used numbers here.
The paper feeder is located on the bottom to reduce paper jams; an HP representative visiting a store, I was at this one time, provided me with this information. I can also confirm this from experience with the Lexmark x75 (a paper feeder is on top) because it used to get paper jams a lot of times and crooked prints most of the time. The paper tray can hold 150 plain & legal sided paper, 30 cards labels, and 4 x 6 photo paper, 20 envelopes and 8.5 x 11 photo paper, and 25 transparency films. That is amazing.
There is a built-in flash memory card reader that can read eight different card types which include: CompactFlash, Smart Media, Memory Stick, Memory Stick Duo, Memory Stick Pro, Secure Digital, MultiMediaCard (MMC), and xD-Picture Card. However, there are certain restrictions for using this card reader; HP recommends that the number of pictures in any memory card must be less than 1,000, each of the files must be equal to or less than 12 megapixels or 8 megabytes in size, and last but not least the memory card size should be 1 gigabyte (solid-state only – not sure what this means) or less. They say that "approaching any of the recommended maximums on a memory card might cause the performance of the unit to be slower than expected."
One of the most useful features of this unit is the full-color Liquid Crystal Display (LCD) screen which will help you in doing everything you can with this unit. The LCD can be used to view pictures from flash memory cards or pretty much everything the printer can do. You will get up-to-date information on the LCD about the state of the printer, ink cartridges, and problems (if any). You will be notified via the LCD about the ink cartridge status, and even wired or wireless network status.
The document feeder tray (located on the top) works hand-in-hand with the flatbed scanner which is a new thing for me because the x75 did not have a document feeder tray. Heck, it only had three buttons on it altogether. On the other hand, the output tray can handle up to 50 sheets at a time on this unit, which is very good.
One other feature I admire about this unit is that it came with an automatic double-sided printing cartridge. It allows you to print on both sides of a page without having to flip the paper over yourself. All you have to do is connect the cartridge to the back of the unit and you are all set to go. I really like the way this unit handles any double-sided paper whether it is for printing, scanning, copying, or faxing.
THE NEED-FOR-SPEED & MEMORY
If you are someone who has the crazy need-for-speed from everything, well guess what, you are in luck because this baby is fast. The maximum speed for black prints and copies is 30 pages per minute; way too fast for me. For color prints and copies, it is 20 pages per minute; which is also great.
The fax transmission speed could have been a bit faster but it is good enough for my needs because I hardly ever fax anything; transmission takes 3 seconds per page at 33.6 Kbps according to the specifications, but it depends on your phone line mostly. Mine is slower, between 5 and 10 seconds per page which is still good. You don't see me complaining. Printing photos takes about a minute per 4 x 6 page set at the highest quality. At normal quality, it takes about 30 seconds for the same paper size. If you are like me and want to print everything with high quality and want them quick, I would suggest using this unit.
OPERATIONS USING A COMPUTER
The installed software guides you step by step to print what you want and how you want it. I really like to use the ImageZone utility which helps me print my photos perfectly and the way I want to. I prefer to use the ImageZone software more than the Windows built-in utility to print photos. The software is easy to use and manage, but when it comes to managing your photo library, Adobe Photoshop Album leads the pack. All of the utilities and software that comes in the driver CD-Rom are great and very helpful but they are just not powerful enough to manage my 4000 plus pictures efficiently.
OPERATIONS WITHOUT A COMPUTER
The ability to print photos without turning on my computer was one of the reasons I bought this unit. You can use your memory card from your camera and use it to print the photos you want without even turning on your computer. You can even print out an indexed preview sheet with all of the pictures on your memory card to help you choose the pictures you want. Once the sheet is printed, you use a no. 2 pencils and shade in the little ovals under the pictures you want to print and the type of paper you are using and re-scan that sheet using the flatbed scanner; your pictures will start printing right away. I was amazed when I tried this feature the first time; my jaw was hanging wide open (I think a bug flew in during that time). I use this feature the most after I had just taken a memory card full of pictures and want to print them to see how they look. 
PHOTO PRINTING
Photo printing is a breeze with this unit, whether you want to print from your computer or without the computer. Well first of all, before you begin I would suggest using the 99 ink cartridge for superb photo print quality instead of just the regular black. Plus you also need high-quality paper for high-quality prints; I suggest getting Kodak Professional Lustre (8.5 x 11) paper. Just yesterday I printed some 4 x 6 prints on this paper (3 on a page), and they turned out great when combined with my 97 color and 99 photo ink cartridges.
DOCUMENT PRINTING
Printing everything else is just as easy as printing photos. HP has made a lot of improvements from their past year's experiences. I think HP is one of the fastest improving companies when it comes to printers.
OPTIONAL ADDITIONS
You can also add up to three additional input paper trays from HP for about $100.00 each. This is useful if you different types of paper frequently and do not want to keep switching. If you use regular paper and photo paper a lot, so you can buy an additional tray and just select which tray to use the paper from when printing; no need for switching paper in one tray.
WARRANTY INFORMATION
HP provides a one-year limited hardware warranty backed by HP Customer Care, service and support; one-year technical phone support; plus a toll-free number. You can visit hp.com or dial 1-800-474-6836 (-800-HP invent) to get warranty support. You will be asked for the unit's serial number and service ID which can be found by following instructions in the manual.
Warranty Duration : (information gathered from the manual and/or hp.com)
Duration of Limited Warranty (hardware and labor): 1 Year
Duration of Limited Warranty (CD media): 90 Days
Duration of Limited Warranty (print cartridges): Until the HP ink is depleted or the "end of warranty"
date printed on the cartridge has been reached, whichever occurs first. This warranty does not
cover HP ink products that have been refilled, remanufactured, refurbished, misused, or tampered
with.
INK CARTRIDGES
This all-in-one machine is compatible with a wide variety of HP ink cartridges. Here is a list of these cartridges and how they are helpful (information gathered from hp.com):
HP 94 Inkjet Print Cartridge

This cartridge provides laser-quality black text and graphics. Using this cartridge will ensure optimal and genuine HP performance.

HP 95 Inkjet Print Cartridge

This cartridge provides rich, lifelike color for vibrant, professional-quality photos and bright, bold graphics that resist fading for generations.

HP 96 Inkjet Print Cartridge

This cartridge provides professional, laser-quality black text and graphics. This cartridge is designed for faster printing and higher yield.

HP 97 Inkjet Print Cartridge

This cartridge provides rich, lifelike color for vibrant, professional-quality graphics and photos that resist fading for generations. It is designed for higher yield and frequent printing.

HP 99 Inkjet Print Cartridge

This cartridge produces crisp, true-to-life colors for vibrant photos that resist fading for generations. It is designed especially for color photos.

HP 100 Inkjet Print Cartridge

This cartridge is useful for printing professional quality black and white or color photographs. Photos printed using this cartridge will resist fading for generations (except where noted, all prices are estimated U.S. HP prices. Actual prices from other locations or websites may vary.)
All of the ink cartridges are easy to install and replace; all you have to do it open the cover and unlock the cartridge which allows you to remove and replace the cartridge. All of these cartridges cost anywhere between $19.99 and $34.99. But if you want a good deal, I would purchase my ink supplies from Costco; you can get a better deal if you buy a three-pack. A three-pack usually costs me around $50.00. These prices are way cheaper when compared to the ink cartridges for the Lexmark x75.
QUALITY
Every single print I have made so far, whether it is text graphics or photos, this unit produces them in perfect condition. All text are laser quality, or at least they look better than the prints from my old Lexmark x75.
Text Prints
All text print I make is either normal or draft quality, but the normal quality still looks very close to laser-quality to me. I never have to use higher quality for my text needs because the normal quality is already better and efficient for my needs.
Graphics and Text Prints
Whenever I print graphics and text together, like a web page or something similar, I just select what I want to print and let the printer handle the rest. At normal quality, the prints are crisp and very close to laser print quality. In the draft setting, the quality is the same but the print is lighter because it uses less ink.
Photo Prints
I have never had a ruined photo due to printer malfunction or printer problems. This all-in-one always produces excellent high-quality pictures. I use the 97 tri-color cartridge and the 99 photo printing cartridge to get professional quality photos every single time.
I spoke to an HP representative at a store I was at who said that the quality will only be as good as the paper and ink cartridge you use. So if you are looking for high quality and long-lasting prints, I would suggest using the best paper and the best ink cartridges from HP.
PROTECTING YOUR INVESTMENT
The manual suggests some useful tips on how to maintain your HP OfficeJet 7310 series multi-function machine, but there some things you learn to do by using the unit every day.
Maintaining as per the manual
The manual show you exactly how to clean the unit inside and out. It also shows how to check the ink level and perform self-tests. It has very helpful tips on how to handle/clean/dispose ink cartridges (new or used) properly.
My own experiences
I have come to find out the hard way that when you leave your printer on for really long periods of time, the glass on the flatbed scanner where the scanning light usually rest turns a different color. Now, this does not affect the scan or copy quality (yet), but it would have been nice to prevent it. So the best way I found to reduce this is to turn off the unit when I do not need to use it. I only turn it one when I want to print and turn it back off.
Printing when the unit off takes about a couple seconds longer because it has to turn itself on and initialize, but it is noticeably fast at that too. So when I print something when the unit is off, I do not have to press the power button, it turns on by itself and prints then stays on. I just have to turn it off when I am done.  Dust does tend to collect over time so it is best for the printer and it performs that you clean the exterior and the interior once a month. Follow the instructions in the manual.
FINAL THOUGHTS
I have been using the HP OfficeJet 7310xi for about six months now and there has never been a time when I was disappointed with the quality, speed, and performance of any job that I gave it. As of now, I have been fully satisfied with its features and abilities. I am glad I made this investment and I am sure that it will last me for years to come and keep providing me with high-quality prints. I do not think I can praise it enough because I cannot think of enough words that can describe my true feeling for the 7310xi. Go ahead and get this baby…