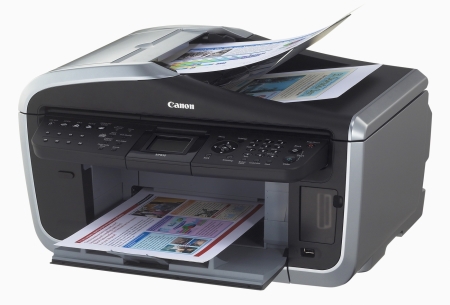 Does photos, like a charm...
Summary
One of the best all-in-one machines out there…
Pros
Fast, great quality, and cheap cost of operation…
Okay, so you have a digital camera and now you want to print those pictures from your computer… right? Well, you can save a lot of money with this Canon PIXMA MP830 All-In-One Printer.
My sister just bought a new computer and with that, she purchased this all-in-one printer upon my recommendation. She already has a digital camera and has been printing photos at home for a while now but the printer she used before was old and the quality was extremely unacceptable. I know Canon makes great printers but had never owned one for myself, so I suggested it to my sister.
HARDWARE & SOFTWARE INSTALLATION
If you have installed as many printers and all-in-ones and I have, the installation will be a breeze for you. But if this is your first time installing this kind of printer, it may take some getting used to. Fortunately, it comes with a quick setup guide that helps you install your printer properly and easily. It took me about ten minutes to unpack and set the whole thing up for my sister, it may take you longer or even less time depending on your knowledge of installing these. The software and driver installation were also quick and simple. Some manufacturers offer you a package to install that requires a lot of time.
THE INK CARTRIDGES
This multi-function printer is compatible with all of the following ink cartridges. Here is a list of these cartridges and how you can get them:
PGI-5 Pigment Black
CLI-8Bk Black
CLI-8C Cyan
CLI-8M Magenta
CLI-8Y Yellow
All of the ink cartridges are easy to install and/or replace; all you have to do is open the cover and unlock the cartridge which allows you to remove and replace the cartridge.
These cartridges cost anywhere between $10 and $15 each. But if you want a good deal, I would suggest purchasing your ink supplies from Costco Wholesale as they provide good prices on packages.
DESIGN & CONTROLS
This Canon PIXMA MP830 is about 19.7 inches wide, 19.2 inches deep, and 11.5 inches high. This is a pretty small printer, but it could have been a little smaller. Once this machine starts working for you, I bet the size will not matter at all to you. By the way, this all-in-one weighs about 32.3 pounds so make sure you lift or move this unit carefully to avoid any problems or injuries.
There are lots of buttons on the main control panel, but it is not too complicated to get used to. You can also use the manual if you get stuck or just need to know what a certain button does. The manual describes everything in great detail so you can get the job done quickly and easily.
The MP830 has two paper input sources; a top-mounted auto sheet feeder and an internal cassette at the bottom. Both the upper and lower paper trays can hold up to 150 sheets of letter-sized plain paper (also 4 x 6″ photo paper, 5 x 7″ photo paper, letter-size photo paper, and #10 envelopes). The lower tray is ideal for photo paper as it is protected against dust and dirt. You can also change the paper type in the bottom tray easily when compared to the upper tray.
You can load different types of paper in each tray and then select either with the printer driver or the control panel buttons to print from your choice of the tray. Both trays can be loaded with plain paper and the printer can be set to automatically switch between them when one runs out of paper; which I think is a very nice feature.
This printer also has an automatic duplex document feeder (ADF) that can read both sides of a 2 sided document; it can hold about 35 pages of originals at one time. This unit is capable of super G3 (33.6 kbps) fax that can transmit at about 3 seconds per page in black and about one and a half minutes per page in color. There are 8 one-touch speed dial buttons and 100 internal memory slots and also has enough to hold up to 250 incoming pages. You can also fax directly from your computer and most applications (like MS Word) will allow you to take full advantage of this feature.
There are two built-in flash memory card slots (Compact Flash I and II, Smart Media, Secure Digital, MultiMedia, Memory Stick, and Memory Stick Pro) on the front of this machine so you can print directly from your compatible digital cameras. You can also use this as a flash memory card reader to transfer your photos to your computer. You can use other memory cards like the xD picture card, miniSD, and Memory Stick DUO with proper adapters. There is also a USB direct print bridge that allows you to connect your digital camera directly to this printer to print your pictures or just to transfer them to your computer.
THE MANUAL
The user manual/guide is extremely simple to read and comprehend as it is written in simple English. Canon has done a really good job of writing this manual because it is really easy to follow. You can download the manuals and user guides Canon's website.
THE SPEED & MEMORY
The maximum speed for draft quality black prints is about 30 pages per minute (about 2 seconds per page) and about 24 pages per minute (about 2.5 seconds per page) for color. You can print a good 4 x 6 photo in approximately 36 seconds or so.
If you are like me and want to print everything with high quality and want them quick, I would suggest using this all-in-one machine.
OPERATIONS FROM YOUR COMPUTER
The installed software and drivers will help you print what you want and how you want it quickly and easily. You can do just about everything with this printer from your computer. But when it comes to managing your photo library, Adobe Photoshop Album makes life much easier. All of the utilities and software that comes in the driver CD are great and very helpful but they just do not have the ability to manage the 3000 plus photos my sister and I share.
OPERATIONS WITHOUT A COMPUTER
You can print photos without even turning on your computer with this all-in-one printer. All you do is, insert a compatible memory card or plug-in your digital camera (into the USB port) and print the photos you need.
My sister likes this feature a lot as she sometimes gets lazy and does not want to turn the computer on to print photos. This feature saves a lot of time because it gets the job done quickly and easily.
WARRANTY INFORMATION
Canon provides a one-year limited hardware warranty and plus a toll-free number for telephone support. You can visit canontechsupport.com or dial 1-800-828-4040 to get warranty support. You may be asked for the model and serial number which can easily be found by following instructions in the manual.
PROTECTING YOUR INVESTMENT
The manual suggests some useful tips on how to maintain this photo printer, but there some things you just learn to do by using the unit every day.
Maintaining as per the manual
The manual shows you exactly how to clean and have it performing at its best all the time. It also shows how to check the ink level and perform self-tests. It has very helpful tips on how to handle/clean/dispose of ink cartridges (new or used) properly.
My own experiences
Dust does tend to collect over time so it is always best for the printer and it performs that you clean the exterior and the interior at least once a month (maybe use some kind of compressed air blower to blow the dust away then wipe it with a dry piece of cloth or paper). Follow the instructions in the manual.
QUALITY
My sister and I have printed many 4 x 6 photos, some 8 x 10, and have done lots of scanning. We were amazed at its accuracy and speed. My sister really likes the overall shape of this printer. Every single print we have made so far (whether it is text, text with graphics, or just photos) turned out to be great. The text quality is similar to those from a laser printer or they sure look smooth like laser prints too.
Text Prints
All the text prints we make are usually of normal or draft quality, but the normal quality looks better because it is very close to laser quality. We never have to use higher quality for our text needs because the normal quality is already better and efficient for all our needs.
Graphics and Text Prints
Whenever we print graphics and text together, like a web page (like driving directions or reviews), we just select what I want to print and let the printer handle the rest. At normal quality, the prints are clearly readable and sharp. At the draft setting, the quality is the same but the prints are lighter because it uses less ink.
Photo Prints
We have printed lots of photos and have never had a ruined photo due to printer malfunction or printer problems. This printer does not know how to waste paper at all and every photo printed was of the highest quality. I would say it was better than store prints.
FINAL THOUGHTS
My sister has had this Canon PIXMA MP830 printer for just over a month now and she has never gotten disappointed with the print quality, printing speed, or the performance of this unit. She is fully satisfied with all features and abilities of this machine. She is glad that she purchased this machine for all her photo printing needs. I am sure this printer will last her for years to come and will keep providing her with low-cost high-quality photos.