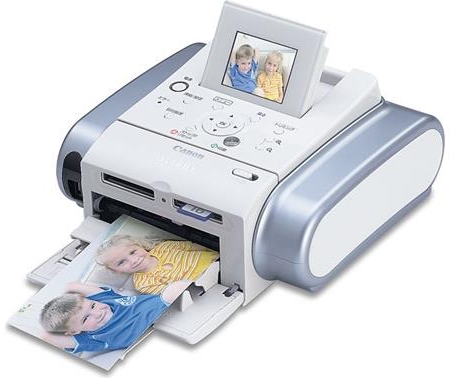 It's good but not good enough!
About two months ago my brother-in-law bought this Canon Selphy DS810 InkJet Photo Printer because his regular printer could not print photo's that well.
I think he said that he bought it for about $125. Personally, I think he got ripped off because this printer prints good quality photos, but sometimes it leaves visible ink droplets on the photos that over time ruin the photo. So basically, stay away from this printer even if it is a Canon. I was surprised at first to see the big ink drops on some of the photos; I mean I would have never expected that from Canon. All disadvantages aside, this printer does have some good features that I liked. Anyways, let's get down and dirty with the details where I tell you my experience with this little ink wasting devil.
DESIGN & CONTROLS
One of the things I liked about this printer is that it is small and portable. This means you can have it sit on your bed and spit out photo after photo without having to connect to a computer (just insert the memory card or just connect your digital camera). But you also have the option to connect it to a computer and print from your photo library stored on your computer's hard drive.
It has a nice 2.5" color LCD screen that comes in handy when you print directly from a flash memory card. There are many buttons on the top of the printer just below the LCD screen, which will help your turn this thing on or off, handle printing from memory cards, or your camera. The memory card slots are located on the front just above the photo paper tray. It is compatible with SmartMedia, Memory Stick, Secure Digital (SD), Multimedia Card, xD Picture Card, MicroDrive, MiniSD, Memory Stick Pro, and Memory Stick DUO.
There is a USB 1.1 port on the left of the photo paper tray. The specifications also say that with the correct software, you can take advantage of the Bluetooth feature that allows you to print photos wirelessly from saying your cell phone (with Bluetooth capabilities of course). I have not tried this feature yet so I cannot that anything about it, but just wanted to note that it is possible.
SPEED
It will take just over a minute (about 63 seconds) per photo for all your high quality 4″ x 6″ photos (this is what the manual says). But in reality, it takes on average about a minute and a half for the highest quality possible with this printer and about a minute and ten seconds for normal quality prints. So it is not the fastest photo printer around. To tell you the truth, my HP OfficeJet 7310xi prints 4″ x 6″ photos faster and with better quality than this photo printer.
PRINTING FROM YOUR COMPUTER
This is very simple because just like any other printer, all you need to do is connect it to your computer via a USB cable and install the appropriate drivers either from Canon's website. Printing is really simple as you can use any software to print with this photo printer from your computer.
PRINTING FROM FLASH MEMORY CARDS
From all the features, I would have to say that this is the easiest feature on this printer. All you have to do is insert the memory card into the appropriate slot and select the photo or photos you want to print and finally print. Just make sure to leave the memory card in the slot until the printing is completed.
PRINTING DIRECTLY FROM YOUR DIGITAL CAMERA
This would be the second easiest feature that allows you to print directly from your camera with just a USB cable. So just connect your camera, select the photo you want to print on your camera, and print them.
INK CARTRIDGE
This Canon DS810 photo printer uses the BCI-16 ink cartridge that will provide you with 35 high-quality prints. Because I printed around 16 highest quality photos and the ink level went from full to half. You can purchase these cartridges from your local computer store, Staples.com or officedepot.com for around $23 and they promise a yield of around 75 (but I doubt you will get anywhere near that).
PHOTO QUALITY
Well, I guess you have been reading through this review waiting for this. The prints are good with this printer. From the 16 prints I made, all of them were a bit darker in color and some of them (maybe 3 or 4) had big (or visible) ink drops on the photos. I guess if you print about six to ten at a time and let the printer rest for a minute or two then you probably will not get the ink drops that ruin your photos, but who has the time to wait these days. I mean, if you pay around a $125 for a name brand photo printer, you expect it to do its job flawlessly.
When I compared the photo quality from this photo printer to and from my HP OfficeJet 7310xi, I was disappointed to see that Canon let me down by providing darker photos. It also provided me with a few ruined photos as a packaged deal as a result of visible ink drops. I think I will stick with my 7310 for all my photo printing needs from now on.
FINAL THOUGHTS
My brother-in-law has used this printer for a few months now and I did not see him complain about it because he did not have any choice but to use this printer since he did not have any other printer. Now that he has a nice HP Photosmart C4180 All-In-One he has set this aside to collect dust. The HP has proven itself yet again over Canon, in my opinion. So if you are looking to purchase a nice photo printer, I would suggest staying away from this and go with an HP that will never fail or disappoint you.