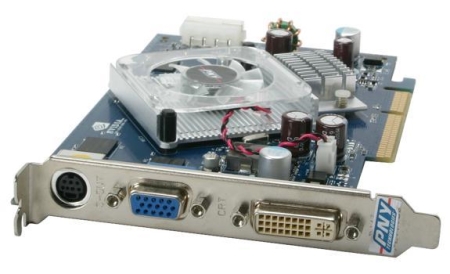 PCI-E and Me!
Summary
One of the best video cards that will allow you to play almost all new video games on your computer.
Pros
Fast, PCI-E, and not too expensive…
About a month ago, my older video card (the PNY Verto GeForce 6800 GT 256 MB AGP) died and I was once again out hunting for a nice mid-range card to replace it.
Now I did not want to spend too much so I went to CompUSA and picked up a BFG GeForce 7600 GT 512 MB AGP card for $150. It worked for about two days and that too died. I immediately knew that something else was the problem, so I returned that and got a new motherboard (Asus A8N-SLI Deluxe), and this new PNY Verto GeForce 7600 GS 256 MB PCI-E video card. I have not had a problem since then and I am also happy that I upgraded to PCI-Express. This card cost me about $170 but I received a $20 mail-in-rebate so it was even cheaper.
ABOUT MY PC
It took me a while to troubleshoot and figure out what was wrong with my computer and what to replace. So after researching for about a week I decided to replace the motherboard, video card, and power supply (motherboard requires 24 pin power instead of 20 pins).
I was upgrading from my old PNY Verto GeForce 6800 GT 256 MB video card which was great while it lasted, but now since it has past away I wanted to get something similar or a bit powerful than it. The reason I chose PNY is that I have always had good experiences with it and I have also tried other brands and they do not last.
SYSTEM SPECIFICATIONS
Motherboard
Asus A8N-SLI Deluxe
CPU
AMD Athlon 64 4000+ 2.4 GHz
RAM
Kingston 2 x 512MB PC3200 400MHz
Centon 2 x 512MB PC3200 400MHz
Storage
1 x 200 GB 7200RMP
1 x 160GB 7200RMP
Optical Drives
1 x Lite-On DVD-DL 16x
1 x Sony DVD-RW 8x
Power Supply
Mad Dog SurePower 430 Watt
PC Case
Kingwin Inc. Mutant X ATX Mid-Tower Case
Operating System
Microsoft Windows XP Professional
ABOUT THE VIDEO CARD
This particular version of the nVidia 7600 GS is for the new PCI-E (PCI-Express) interface; PCI-Express expands on and doubles the data transfer rates of the original PCI. PCI Express is a two-way, serial connection that carries data in packets along with two pairs of point-to-point data lanes, compared to the single parallel data bus of traditional PCI that routes data at a set rate. Initial bit rates for PCI Express reach 2.5 Gb/s per lane direction, which equates to data transfer rates of approximately 200 MB/s.
This video card has three output connectors (digital DVI, S-Video, and regular analog VGA) which will allow you to connect most display devices. VGA and DVI can be used to connect the huge and bulky CRT or the lightweight and space-saving LCD monitors. The S-Video can be used to connect your TV monitor, but some of the newest TV's have DVI connections available. Since I have an old TV, I cannot use the S-Video and test it. Also, if your TV has HD (High Definition) capabilities then you can use the included S-Video to HD (composite) adapter to get the high-quality video to your TV.
Two things I like about this card is the size; it is about 1/3 smaller than my older 6800 GT and it does not require an additional power dongle. The heat-sink on the GPU (Graphics Processing Unit) is also not as big as it used to be on the 6800 GT. PNY provides a one-year standard warranty, but it is generously extended to three years after you register it with them by visiting their website at pny.com. You can also find more warranty information on their website.
THE PACKAGE
PNY Verto GeForce 7600 GS 256MB PCI-E Video Card
Quick Installation Guide
CD which includes:

Detailed Installation Guide (PDF file)
Nvidia GeForce Drivers
Microsoft DirectX 9.0c
Nvidia GeForce Demos
PNY & nVidia Desktop Wallpapers

DVI-to-VGA Adapter
S-video Cable
S-video to HD (Composite) Adapter
Addition CD with complementary software.
THE INSTALLATION
The installation did not take too long at all (5 to 10 minutes maximum). There is nothing new in the installation process so it should be straight forward. Just make sure you have to correct motherboard and if you want to use more than one video card follow the instruction that came with your motherboard (it may require additional power).
I did not use the drivers that were provided in the CD because I wanted to have the latest up-to-date drivers, so I went to nvidia.com and downloaded the latest available drivers. Up-to-date drivers provide better performance and stability. The 90 series Nvidia ForceWare drivers provide a new user interface and more powerful features.
THE DRIVERS
Once you install the drivers an additional tab is added to the "Display Properties Advanced Settings" window; this tab will have the name of the video card (in this case Verto GeForce 7600 GS or something similar). Now there are two different interfaces available for these settings. One from this "Display Properties" window and one from the Windows control panel. This tab and the control panel utility manage all of the settings that can be controlled by the driver. You can change the display settings, performance and quality settings, color, refresh rates, multiple or single display options, and some other helpful settings.
There are ways to hack the drivers to enable overclocking settings, but I would highly recommend against that because you may just be reducing the life of your new video card. But if you have a good cooling system on your computer and you play a lot of games, then you may play around with it and see what is best for you.
EXPERIENCE
I have been using this video card for about a month now and I have had no problems of any kind so far. My benchmark scores and my game performance have increased dramatically.
I performed some benchmarks with 3DMark 2003, 2005, and 2006 at stock speed; here are the results:
| Benchmark Type | Graphics Card | Score |
| --- | --- | --- |
| 3DMark 03 | 6800 GT | 11,489 |
| 3DMark 03 | 7600 GS | 12,962 |
| 3DMark 05 | 6800 GT | 5,695 |
| 3DMark 05 | 7600 GS | 5,735 |
| 3DMark 06 | 7600 GS | 2,914 |
By looking at these results, I can proudly say that the PNY Verto GeForce 7600GS 256 MB video card is one of the best I have ever used. Combined with my system components I think this video card performs extremely well. Even at full load, the temperature stays well below 56 degrees Celsius (with the stock heat-sink). Well, compared to the noise of the heat-sink fan of my processor the heat-sink fan of this video card is silent. I never hear the fan at all. The overall noise emitted from the computer is minimal so I am not disturbing anyone (including myself).
FINAL THOUGHTS
So far I am very satisfied with my new video card and I feel even more confident that it will last for a long time since it is made by PNY. It has provided me with flawless performance and stability, and no major disadvantages. The three-year warranty is another advantage that I like because I would like to be protected in case a defect surfaces after a year or so of use. My older one died so I am in the process of getting that replaced or repaired. The drivers are easy to install and use. I think it was worth every penny for me to purchase this video card. I will highly recommend this video card to everyone in need of more power graphic wise.