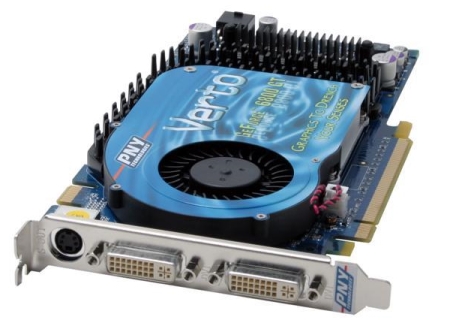 Great performance and stability worth conquering!
Summary
Best of the best from the time of purchase until now…
Pros
Great performance, stability, reliability, and warranty…
A month or two ago I upgraded my PC one of the components I needed to upgrade was the graphic card. I had always used graphic cards made by Nvidia and will continue to use them until I find something better and easier to use. This PNY Verto GeForce 6800GT 256 MB graphics card as I wanted to be able to play the latest games and have the best possible video quality on my computer (it is not the best now, but it was when I bought it). I paid about $400.00 for this card, but let me tell you this, it is worth every penny; I did not want to get the GeForce 6800 Ultra because I knew I could overclock the GT and make it perform the same as an Ultra or even better. I did not get the regular 6800 because it would require a lot of overclocking and that would result in overheating as well.
ABOUT MY PC
After researching for about a month or two I decided to upgrade my computer about two months ago. I did a lot of research on the processor (AMD Athlon 64 4000+) I wanted to buy, the motherboard (Asus A8V Deluxe) I had in mind, but I knew exactly which graphics card I wanted. When I bought this the EVGA GeForce 7800 GT was still in the making, so the 6800 GT was the best graphics card for me at that time. I was upgrading from my old PNY Verto GeForce 5200 FX 128 MB graphics card which was good, but I craved more graphic power and I would need to spend a much greater amount to acquire that. The reason I chose PNY is that I read good reviews about them and I have on-hand experience with one of their products.
TEST SYSTEM
Motherboard
Asus A8V Deluxe
CPU
AMD Athlon 64 4000+ 2.4 GHz
RAM
2 x Kingston 512MB PC3200 400MHz
1 x Centon 512MB PC3200
Graphics Card
PNY Verto GeForce 6800GT 256MB
Storage
1 x 40GB 7200RMP Internal
1 x 160GB 7200RMP Internal
1 x 200GB 7200RMP External
Optical Drives
1 x Sony DVD-DL 8x Drive
1 x Sony DVD-RW 4x Drive
CPU Cooler
ThermalTake Silent Tower
Power Supply
ULTRA X-Connect Modular 500W
PC Case
Kingwin Inc. Mutant X ATX Mid-Tower Case
Operating System
Microsoft Windows XP Professional
Fedora Core 4 Linux
ABOUT THE GRAPHICS CARD
This particular version of the Nvidia 6800GT is for an AGP (Accelerated Graphics Port) interface; AGP is faster than PCI (Peripheral Component Interconnect) which means faster graphic performance as well. There is a new much faster interface available now called the PCI-E or PCI-Express which is twice as fast as AGP. It was available when I purchased the 6800GT, but the reason I did not go the PCI-Express way is that I already had a motherboard that supported AGP only and there are no graphics cards available today that can harness the full power of PCI-E. I am not saying that you should not buy PCI-E if you want to because it is clearly the future of graphics cards; as technology advances, future graphics cards will eventually be able to take advantage of the PCI-E technology.
The PNY Verto GeForce 6800GT has three connections (DVI, S-Video, and VGA) which will allow you to connect most display devices. VGA and DVI can be used to connect the huge and bulky CRT or the lightweight and space-saving LCD monitors. The S-Video can be used to connect your TV monitor, but some of the newest TV's have DVI connections available. Since I have an old TV, I cannot use the S-Video and test it. The card itself is pretty big lengthwise, but it is thin enough to only use up one slot in the back of your computer. The heat-sink is very large also keeps the GPU (Graphics Processing Unit) cool at all times (even after overclocking). PNY provides a one-year standard warranty, but it is generously extended to three years after you register it with PNY. Just visit pny.com to register your product and find out more about the warranty.
PACKAGING
Nvidia GeForce 6800 GT AGP 8X Graphics Card
Quick Installation Guide
CD which includes :

Detailed Installation Guide (PDF file)
Nvidia GeForce Drivers
Microsoft DirectX 9.0c
Nvidia GeForce Demos
PNY & nVidia Desktop Wallpapers

DVI-to-VGA Adapter
S-Video Cable
External Power Cable
INSTALLATION
The installation did not take too long at all (5 to 10 minutes). The only thing new you have to do in this installation is to plug in the extra power connector. This card requires more power than the AGP interface can provide; you must also have a power supply that is 350 watts or higher as recommended by Nvidia. I did not use the drivers that were provided in the CD because I wanted to have the latest up-to-date drivers, so I went to nvidia.com and downloaded the latest available drivers. Up-to-date drivers provide better performance and stability.
Since the card is longer and a bit thicker than older versions, it may be a bit troublesome to install if your computer case is small. So make sure it will fit in your computer before you open the packaging. The thickness does not bother me at all as I have a lot of slots in my computer and do not need the PCI slot next to the AGP slot, but would still be able to use it if I needed it. Just for installation purposes, free the PCI slot next to the AGP slot and reinstall it after installing this graphics card.
DRIVERS
Once you install the drivers an additional tab is added to the "Display Properties Advanced Settings" window; this tab will have the name of the graphics card (in this case Verto GeForce 6800GT or something similar). This tab has all of the settings that can be controlled by the drivers available. You can change the display settings, performance and quality settings, color, refresh rates, multiple or single display options, and some other helpful settings.
There is a Microsoft Windows registry settings add-in (hack) that will allow you to unlock some advanced features like the overclocking mechanism, the card temperature monitor, and more. I like this because I do not have to download an additional utility that will do this for me and take up hard disk space and system resources.
EXPERIENCE
I have been using this graphics card for a little over three months now and I have only had been happy with it. My benchmark scores and my game performance have increased dramatically. I played Doom 3, Half-Life, Need-4-Speed, Deer Hunter, and Flight Simulator games at all of the settings at high and this card do not blink, flicker, or twitch ever.
I performed some benchmarks with 3DMark 2003 and 2005 at stock speed and overclocked speed. Here are the results:
| TEST | RESOLUTION | SPEED | SCORE |
| --- | --- | --- | --- |
| 3DMARK 03 | 1280 x 768 | Stock Clock | 11,489 |
| 3DMARK 05 | 800 x 600 | Stock Clock | 5,695 |
| 3DMARK 03 | 1280 x 768 | Overclocked | 12,657 |
| 3DMARK 05 | 800 x 600 | Overclocked | 5,885 |
By result looking at these results, I can proudly say that the PNY Verto GeForce 6800GT 256 MB graphics card is the best I have ever owned. I have searched and found out that my result beat most of the GeForce 6800 Ultra 256 MB benchmark results. Combined with my system components I think I this graphics card performs extremely well. Even at full load and with overclocked speeds, the temperature stays well below 63 degrees Celsius (with the stock heat-sink). Well compared to the noise of the heat-sink fan of my processor the heat-sink fan of this graphics card is silent. I never hear the fan at all.
FINAL THOUGHTS
From my personal experience, I can proudly say that I am fully satisfied with my new PNY Verto GeForce 6800GT 256 MB graphics card. It has provided me with the ability to overclock, flawless performance and stability, and no major disadvantages. The three-year warranty is another advantage that I like because it protects your investment if a defect surfaces after a year or so of use. The drivers are easy to install and use. I think it was worth every penny for me to purchase this graphics card. I will highly recommend this graphics card to everyone in need of more power graphic wise.